Questions still abound about what caused the tsunami that hit beaches in Lampung and Banten on Saturday night, killing at least 168 and injuring 750.
The lack of a powerful earthquake or strong volcanic eruption caused the Meteorology, Climatology and Geophysics Agency (BMKG) to initially announce that the waves did not constitute a tsunami but were instead caused by high tide.
"The BMKG has not recorded any earthquake occurring tonight. What happened in Anyer [Banten] and the surrounding area was not a tsunami, but a tidal wave. There is also a full moon tonight, which causes high tidal waves. Stay calm," the BMKG stated on its Twitter account on Saturday night, in a tweet that has since been deleted.
It was only discovered hours later that the tide was three meter high, and potentially caused by volcanic activity of Mount Anak Krakatau, which is located in the middle of the Sunda Strait that divides Sumatra and Java.
BMKG head Dwikorita Karnawati confirmed there had been a tsunami but no tectonic activity in the area, and that they suspected the tsunami was caused by an eruption from the volcano.
"At 21:03 [Saturday night] Krakatau erupted again and damaged nearby seismometers, but the Sertung Seismic Station recorded continuous tremors," she said in a statement on Saturday.
She added that seismic sensors in Cigeulis, Banten also recorded seismic activity lasting around 24 seconds.
The Center for Volcanology and Geological Hazard Mitigation (PVMBG) said it was still looking into the connection between the Anak Krakatau eruption and the tsunami. It said the volcano had been active since June and stronger eruptions from the mountain had not resulted in tsunamis.
"To trigger a tsunami that large, there needs to be a massive landslide that falls into the sea […] and that requires a large amount of energy, which has not been detected by seismographs in volcanic observation posts," the center said in a press statement.
A monitoring station of the volcano in Pasauran, Anyer Beach, which is located about 40 kilometers away from Anak Krakatau, recorded lava eruption to the southern part of the mountain on Saturday night, but the eruption had been deemed too minor to cause a tsunami.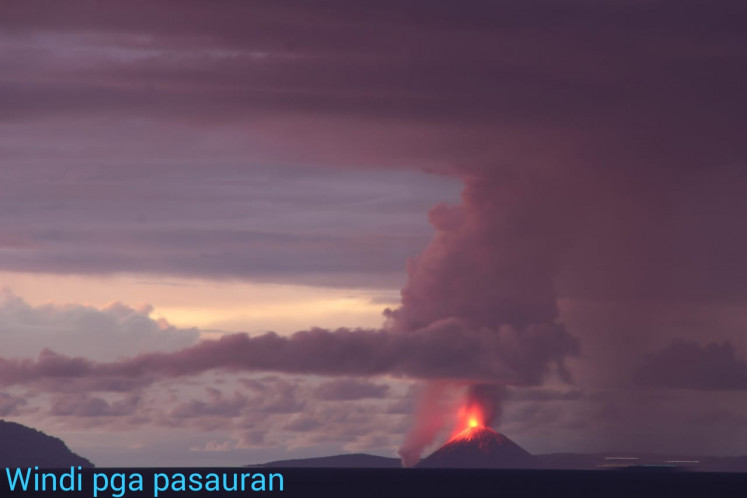 Tsunami expert Ahmad Muhari said there were two possible causes of the tsunami: a landslide caused by the Anak Krakatau eruption or a sudden change in meteorological conditions, but added that both theories had their limitations.
"Right now it's still a blind debate because we have limited information, only the tide gauge data from four stations," he told The Jakarta Post on Sunday.
"If the tsunami was caused by a landslide from the eruption, we would expect the four stations to record the waves at around the same time, but the tide gauge at Panjang Port in Lampung recorded it significantly later than the other stations," he said, adding that the three islands surrounding Anak Krakatau should have blocked any waves resulting from an eruption.
Meteorological factors could have also caused the tsunami, Ahmad said, but BMKG data do not show any sign of sudden changes in air pressure that would be required to trigger such a "meteo-tsunami."
"But the data does show that there were very high wind speeds and this could have combined with the landslide to exacerbate the size of the tsunami," he said.
Authorities were continuing efforts to trace survivors and retrieve bodies of the deceased as of Sunday.
National Disaster Mitigation Agency (BNPB) spokesperson Sutopo Purwo Nugroho through his Twitter handle @Sutopo_PN said that as of Sunday at 1 p.m. the agency had recorded at least 168 dead and 750 injured, while 35 remained missing. Hundreds of houses and other buildings were destroyed.
Indonesian Geologists Association (IAGI) chairman Sukmandaru said that based on currently available data, he felt that an underwater landslide was the best explanation for the tsunami.
"The Anak Krakatau eruption probably caused a tremor that resulted in a landslide on an underwater slope that in turn triggered the tsunami," he told the Post on Sunday.
He said that while the volcano's activity had not shown any significant increase in intensity in recent days, the repeating tremors may have weakened one of the underwater slopes and eventually caused a landslide.
"This is still interpretation, we need more information to confirm the real cause," he said.
---
---
---