The Jakarta Post has collaborated with media organizations Tirto.id and VICE Indonesia look into survivors' stories.
After huge public pressure and several reports of sexual harassment and abuse in Gadjah Mada University (UGM), the university finally set up a special team to formulate a policy to prevent and handle sexual violence on campus.
The head of the team, a senior scholar on public policy, Muhadjir Darwin, said it had finished the first draft and it was being examined by a string of gender experts from various universities. "We're also meeting with students to finalize the draft," he said in a recent interview for the #NamaBaikKampus collaboration.
He admitted that such a move should have been made a long time ago but when the draft is finished and passed as a university regulation, he said it would be the first of its kind in the country.
Indeed, it took UGM a long time to arrive at this point. However, other universities are no better.
'Not a gross violation'
In Semarang, Central Java, a lecturer, Kodir (not his real name), against whom allegations of harassment were made, continued teaching and later allegedly harassed three other students. The dean of the School of Humanities in Diponegoro University (Undip) in Semarang at that time only "reprimanded" Kodir, following a report against him by two students in 2016.
An official at the School of Humanities who requested anonymity confirmed that in 2016 two students reported that Kodir had harassed them. One of them, Dias (not her real name), said Kodir had groped her and tried to kiss her while she was waiting for the dean at the program study office. The official told Tirto.id that he reported the case to the dean, at that time Redyanto Noor. He said the dean had merely reprimanded the lecturer.
Dias told #NamaBaikKampus that the dean's office did not see it as a "gross violation". Redyanto declined to comment when Tirto.id contacted him, nor did Kodir reply to Tirto.id's request for an interview.
Later this year, another student, Gia (not her real name), suffered a similar experience. Kodir allegedly groped her, pinched her cheek and hugged her waist in a lecturers' room when no one was around. Two other victims told the same story although they refused to give details for fear of being identified. They are still studying at Undip at present and did not make any official complaints to the school authorities.
Nurhayati, the new dean of the school, told Tirto.id that she had not known about the allegations against Kodir. She claimed not to have received any reports on the matter so could not comment, but she assured that if the dean's office had received a report, she would launch an investigation and follow the required procedures.
Another chance to harass women?
Giving such a lecturer a second chance may only put more women in harm's way as the School of Social and Political Sciences (Fisipol) of Gadjah Mada University (UGM) learned the hard way.
After receiving a string of reports from students, the International Relations Department at Fisipol stripped a high-profile lecturer, EH, of his teaching jobs in 2016, as uncovered by The Jakarta Post's investigative report in June 2016. He was no longer permitted to have close contact with students in the department. However, at that time EH was also a thesis consultation professor outside the department, including at the Political Science and Government Department.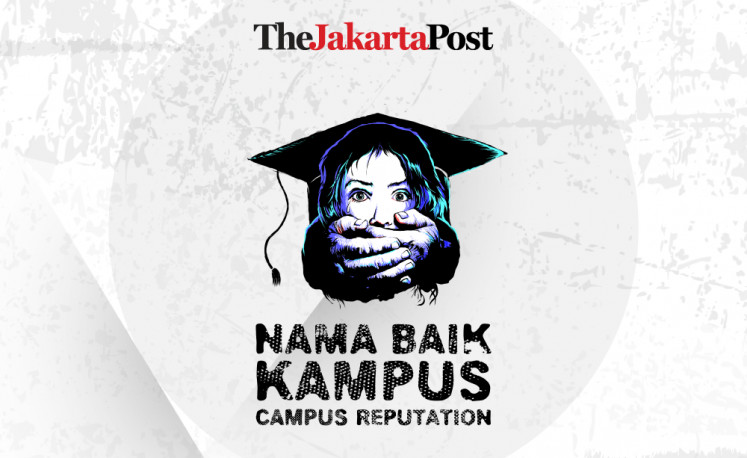 A staff member at Fisipol who requested anonymity, Rika (not her real name), told the Post that EH was given "a second chance" by the Political Science Department. The reasons cited, she said, were "technical", such as difficulties in finding a replacement and the need for EH to meet his deadlines in academic projects or a continuation of thesis consultation with some graduate and post-graduate students.
His second chance ended when a fresh report of sexual harassment arose. A staff member at the department filed a complaint, saying EH was sexually harassing her.
Rika said some people who defended EH always considered EH's welfare. "They always think about the perpetrator's fate. Have they ever thought about the survivors' lives?" Rika said.
But she praised the faculty, saying that it had processed the report according to proper procedures.
The dean of Fisipol, Erwan Agus Purwanto, declined to comment when the Posttried to interview him on March 5.
Dismissal with honor
The new head of the International Relations Department, Nur Rachmat Yuliantoro confirmed that a fresh case had arisen, although he said EH denied any wrongdoing. However, the faculty decided to ask EH to resign. A month later, on Nov. 26, 2018, EH submitted his resignation, more than two years after the first official reports from students were filed and at the height of another sexual abuse case in UGM, known publicly as the Agni's case.
Rachmat told the Post that the faculty had received EH's resignation and "forwarded" his status to the hands of the rectorate.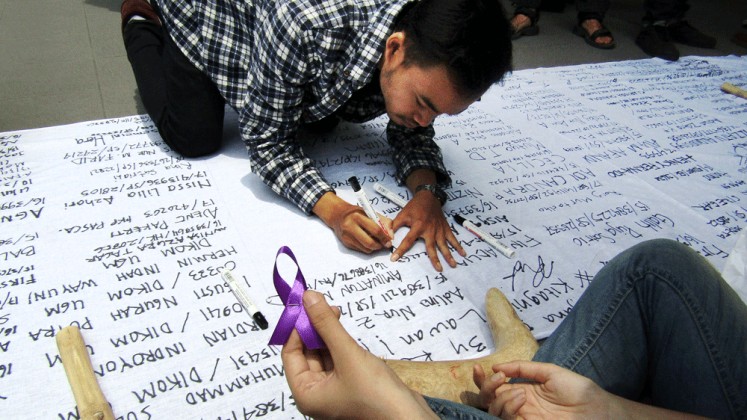 UGM's rectorate public relations officer, Iva Ariani, said the rectorate was "processing" EH's status in accordance with Government Regulation No. 53/2010 on civil servants.
"The heaviest possible punishment will be involuntary dismissal with honors," she said on Wednesday through text message.
The regulation stipulates that a civil servant can receive disciplinary punishment for several types of violations, including preventing people from receiving a service.
It has three degrees of punishment, from light to heavy, and the heaviest punishment stated in Article 7 Clause 4e is "dismissal without honors".
The heaviest possible punishment for EH is stipulated in Article 7 Clause 4d.
In spite of his status at Fisipol, however, EH is still around. He occasionally uses his room at the International Relations Department. A person who requested anonymity told the Post she had run into EH on Feb. 25 this year on the Fisipol campus. Rachmat confirmed that he still saw lights on in EH's room on, but he said he had never run into him personally since EH had submitted his resignation. "He's probably waiting around for the decision about his UGM staff status," Rachmat said.
Ministry reluctant to step in
Both lecturers, Kodir of Undip and EH of UGM are still on the Research, Technology and Higher Education Ministry's database as active lecturers.
In a recent interview with VICE Indonesia, the ministry's Director General of Learning and Student Affairs Ismunandar explained that universities in Indonesia are "autonomous" entities and such sexual abuse cases should be handled by each individual institution.
"We expect the universities to handle the cases on their own. But if in some cases they need us [to help], we can help," Ismunandar said. He cited an example in which Indonesia had so far let each university deal with plagiarism cases. The ministry, however, felt the need to draft a regulation to tackle plagiarism at the national level and it is formulating one right now. There is still no plan to draft a national regulation for sexual abuse cases in educational institutions.
---
---
---