February 14, 2023
SINGAPORE – Ahead of Valentine's Day, The Straits Times interviews couples who found that their love burned brighter after hard times.
When storms in life erupt, even long-married couples can feel alienated from each other, say marriage experts.
"Conflict may arise with differences. People may process loss and grief differently, for instance. It helps to keep in mind that you are rooting for each other, on the same team," says Ms Vicky Ho, chief strategy officer of the charity, Focus on the Family Singapore, which has an annual Celebrate Marriage campaign that helps couples grow more resilient (www.family.org.sg/CelebrateMarriage).
Couples such as former convict-turned-chef-entrepreneur Benny Se Teo and his wife, Ms Chan Mei Kam, talk about how they found love in middle age, as well as how difficult it was to adjust to each other and deal with pandemic financial losses.
But while it might be a season of chocolates, roses and love, the occasion is not always the most pleasant for everyone.
In a survey conducted by dating app Bumble on 1,000 single men and women aged 18 to 41 in Singapore, more than one in five feel the pressure to be coupled up during the festive season.
A lot are fed up with persistent questions of why they remain single, while others are self-conscious about their singlehood. Still, only 12 per cent of those surveyed would settle for less in a partner due to societal pressure.
For a light-hearted look at how some habits can break a relationship, check out Lee Chee Chew's comic strip on "the ick" – a dating term for a turn-off that makes someone instantly unattractive.
And for those who want to treat their loved ones to food, consider quirky options such as cubes of wagyu packed like a box of chocolates.
Bernard Lim and Pim Suvarnakuta: Overcoming differences to get married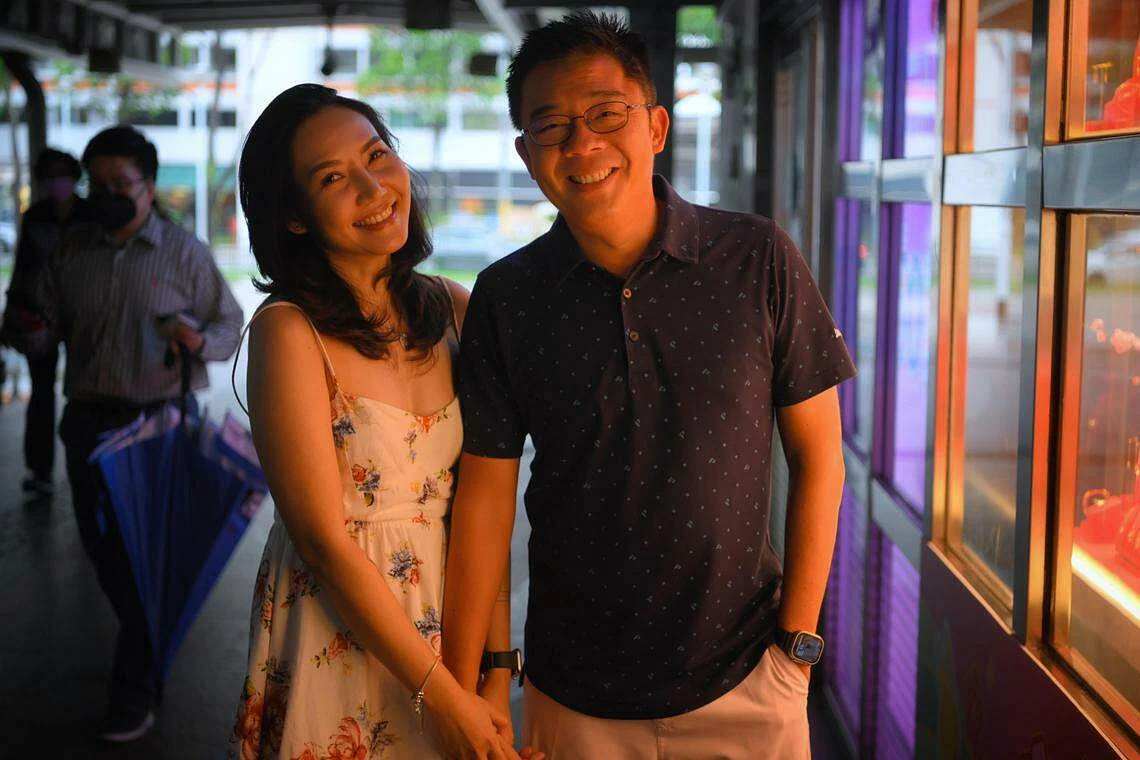 He is Singaporean, she is Thai. He is a Catholic and she a Buddhist. This is his second marriage and her first.
Before Mr Bernard Lim, 55, director of advocacy and communications at social service agency Dementia Singapore, married Ms Pim Suvarnakuta in 2019, he used to spend "stupid amounts of money" on the women in his past relationships.
---
Ernest Yeo and Benecia Ng: Overcoming tragedy of losing two children in three years
Theirs is a marriage strengthened by tragedy.
Ms Benecia Ng, 38, and Mr Ernest Yeo, 40, lost two children within three years.
In 2018, their son died hours after he was born and, in 2021, Ms Ng suffered a miscarriage.
The couple have two other children, but pregnancy and childbirth have always been the biggest tests of their marriage.
---
Muhammad Faisal Mohamed Ayub and Nuritah Abdul Rahim: Dealing with cancer, Covid-19 and cashflow issues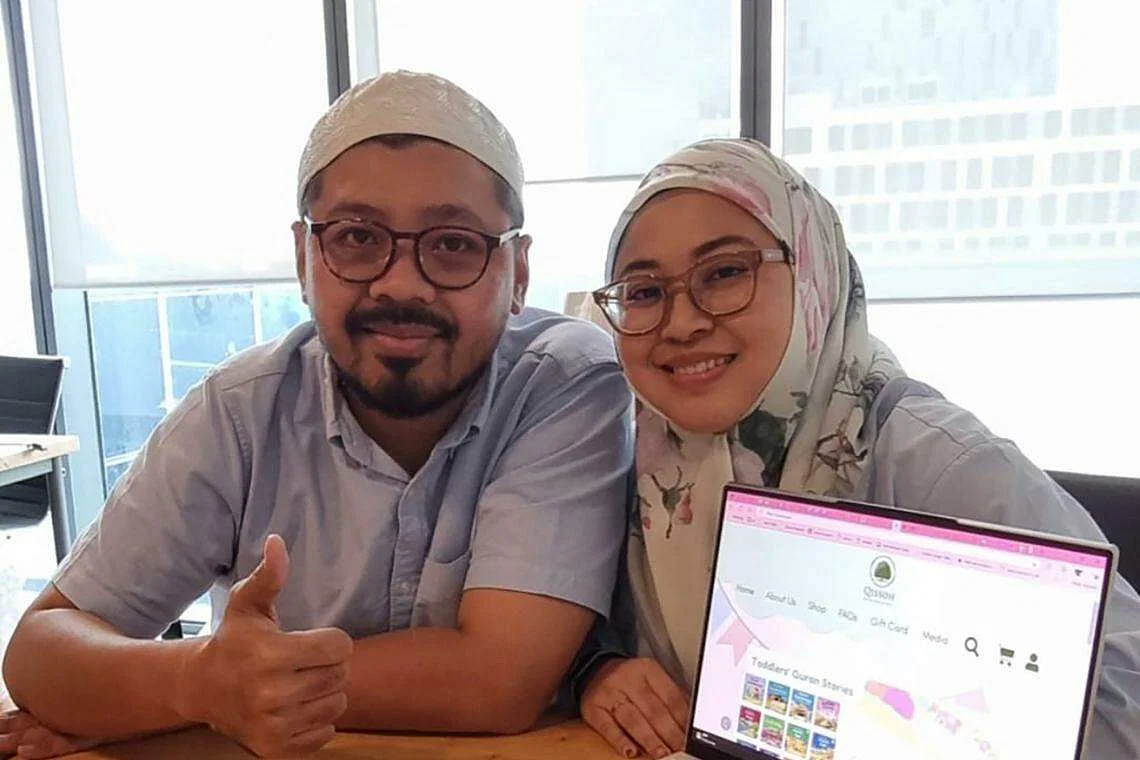 One step at a time.
That was how Ms Nuritah Abdul Rahim and her husband, Mr Muhammad Faisal Mohamed Ayub, made it through the storm when cancer, Covid-19 and cashflow issues struck.
In February 2020, Ms Nuritah, 35, was weeks away from giving birth to her fourth child when she was diagnosed with stage two breast cancer.
She had quit her job as a programme officer at a non-profit organisation as she constantly felt tired and unwell, which she attributed to her pregnancy.
---
Benny Se Teo and Chan Mei Kam: For richer or for poorer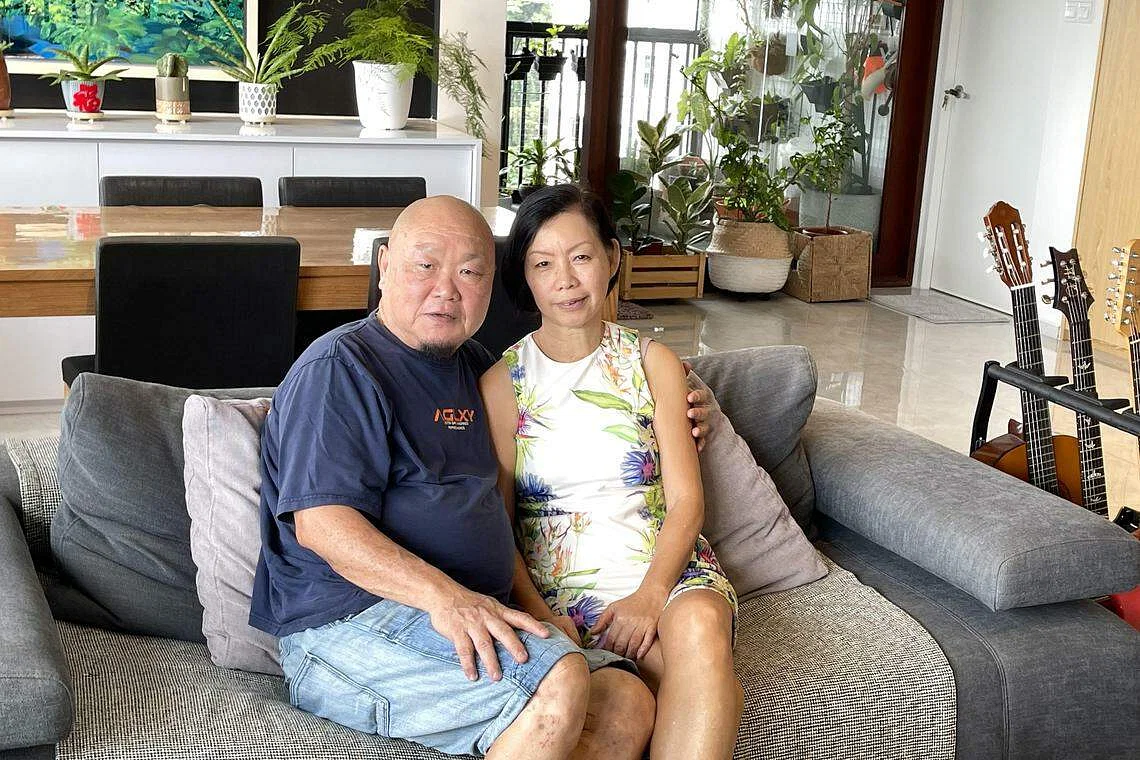 Theirs is no conventional love story. They were in their 50s when they met in 2013 through mutual friends.
He was 54, never married, and a former heroin addict-turned-chef and entrepreneur with a big Facebook fanbase.
She was a 58-year-old divorcee with a grown-up son. She worked as an architectural associate.
After dating for two months, the pair decided to tie the knot, which they did six months later on July 26, 2014.
---
Single and looking: TikToker gets 900 replies to an open call for a date to Harry Styles concert
When Mr Nicholas Teo landed a pair of front-row $588 tickets for the upcoming Harry Styles concert at the National Stadium on March 17, with no one to accompany him, the content creator decided to turn it into an opportunity for love.
He went on TikTok and put out an open call, seeking a girl to take to the British pop star's show, with a Google form link for those interested to sign up for a date with him.
The 28-year-old says: "I bought the tickets at about 11am. For about 30 minutes, I was trying to find someone to go with me. This was around the time I transitioned to being a full-time content creator on my own, and I'm single anyway, so I thought: 'Hey, why not?'
---
Vanessa Mostafa, 37, has never been in love and 'that's okay'
Ms Vanessa Mostafa will turn 38 this year. She is an "evergreen" in dating slang – someone who has never been in a romantic relationship.
The ticketing manager at a theatre company, who is also a freelance writer, calls herself an old-school romantic.
---
I'm 29, single, and I might need a smartwatch: Jan Lee

I remember the moment clearly. It was a Friday, and I was surfing The Straits Times website, as all good employees do. Then, I saw a headline that made my blood run cold: S'pore woman stuck for 4 days in Bukit Timah penthouse toilet after door handle broke.
I put my hand over my heart. I gasped. I felt chills.
Even though the woman survived the ordeal and has reportedly moved on with life (albeit vowing never to shut her bathroom door again), as a single 29-year-old woman who has not celebrated Valentine's Day in five years, this story hit a nerve.
---
Staying Grounded with John Lui: Love, programmatically
The ChatGPT artificial intelligence website is getting stretched to its limits by users asking it to write jazz, design gadgets and run businesses.
I feel sorry for the mental gymnastics it has to perform because it was designed to do only one thing: Help students cheat at essays.
I was playing with it, asking it to write my Tinder profile ("Meet [Name], a charming and confident man in his late 50s with a sparkling personality that shines brighter than the stars. With a maturity that comes with experience, he's a catch that will have both men and women envious of your connection.").
No normal woman would be attracted by that kind of writing, unless she is the type who reads LinkedIn articles as erotic fiction.
But maybe I was not looking for a normal woman.
---
Body odour, a baby voice, being too clingy: Poll reveals common relationship 'icks'
Wondering why you cannot find love? Maybe it is time to buy a new deodorant and relook the way you communicate.
A survey of 2,000 adults in Britain has found that half of them have broken up with their partner because of an "ick" – the spontaneous feeling of disgust you get when someone you are attracted to does something off-putting.
Ahead of Valentine's Day, The Straits Times highlights 40 of biggest relationship icks that got people dumped.
---
Trending Food: 8 ways to satisfy your foodie Valentine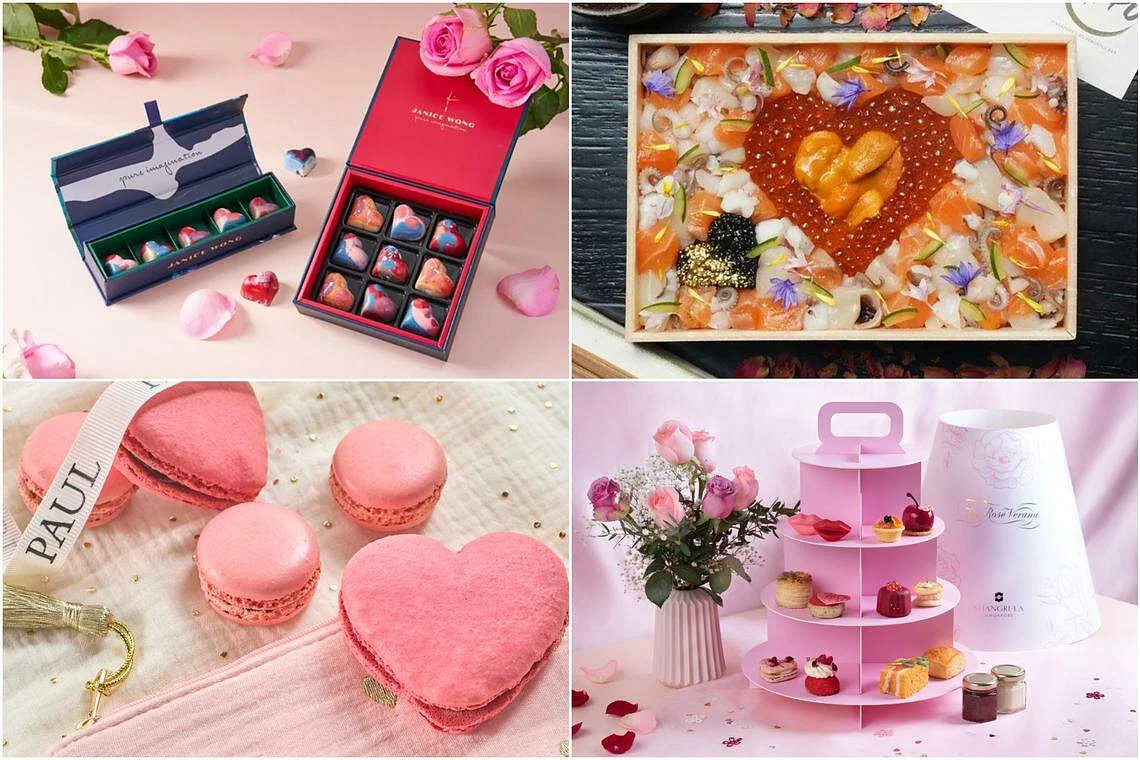 If food is your language of love, here are some ideas to whet your appetite this Valentine's Day.
Some new quirky options feature premium Japanese beef. They include cubes of wagyu packed like a box of chocolates, as well as heart-shaped maki stuffed with lightly torched Miyazaki wagyu.
Fall for sweet treats in the form of blush-pink, heart-shaped macarons, chocolate bon bons and cakes.
Here are eight ways to your foodie Valentine's heart.