January 19, 2023
KUALA LUMPUR – Michael Wong's relaxed confidence is something that you will instantly detect when you first see him in a restaurant kitchen where he is both efficient as well as enthusiastic. But then again, Wong's familiarity with the kitchen stems from his humble beginnings.
Born and bred in Lenggong, Perak, Wong started cooking for his five younger siblings when he was 15 to help out his parents, who were rubber tappers.
At 17, he started working in a Chinese restaurant as a commis chef and was discovered by Michelin-starred Hong Kong celebrity chef Joseph Tse, whom Wong credits with being instrumental to his career.
"I learnt so much from my Hong Kong master and that style of cooking has now become the permanent way I cook Chinese food," he says.
Since then, Wong has spent nearly 40 years climbing up the ranks at Chinese restaurants, winning awards and learning from some of the best chefs in Hong Kong as well as through his travels through Hong Kong, Guangzhou and Shenzhen in China.
These days, he has refined his skills in Cantonese cuisine, with a focus on Hong Kong style dishes.
As the executive chef at the Mandarin Oriental's acclaimed Chinese restaurant Lai Po Heen, Wong frequently crafts all sorts of delicious Chinese meals – most notably during Chinese New Year, when he looks to put his best foot – and food forward.
On the seafood front, Wong has devised a series of recipes that will likely be firm favourites on many CNY tables this festive season.
"For CNY, most people normally focus on dried seafood like abalone or fatt choy or premium seafood like giant prawns. Most Malaysian Chinese families will use ingredients that are special during this season, because everyone wants the best produce to kick off their new year with auspicious connotations," he says.
Wong's fail-safe sautéed prawns with butter sauce for instance is a house favourite.
"Prawns are a must-have on the CNY table, because it is associated with laughter and laughing the whole year. And this is a very easy dish to put together on CNY – deep-frying the prawns might take some time, but the sauce literally takes five minutes," says Wong.
Then there is his braised melon ring with sun-dried scallops, dried oysters and fatt choy. It is also Wong's clever way of introducing as many auspicious elements as possible into a single dish.
Fat choy (dried black moss) is a CNY staple that represents prosperity while dried oysters are centred on good deeds and good fortune. Dried scallops are particularly popular during CNY and signify 'reunion' and 'making money'.
Wong's dish of stir-fried assorted vegetables with scallops and mushrooms is a simple, fuss-free affair that highlights the premium vegetables in the mixture like asparagus and young lotus root as well as the scallops, which are cooked perfectly.
"It's a simple match for CNY because people want to spend more money on all these premium, luxury ingredients with good meanings," he says.
Lotus root for example, signifies never going without or having plenty every year while mushrooms are supposed to usher in luxury, abundance and auspiciousness.
To nail this dish, Wong says the key thing is not to overcook the scallops. "Scallops shouldn't be fully cooked, because then they will have a rubbery texture, so it is best to cook them until they are half-cooked and then they will be very tender and soft," he says.
STIR-FRIED ASSORTED VEGETABLES WITH SCALLOPS AND MUSHROOMS
30g fresh China lotus root, sliced
30g Australian asparagus, cut into short strips
30g Australian celery, cut into triangles
20g gingko nuts
20g jade ear wild dry fungus
20g monkey brain mushroom
chicken stock powder to taste
salt to taste
150g frozen Japanese scallops
2 cloves garlic, sliced
Boil all the ingredients, except scallops with some chicken stock powder and salt to taste.
Poach scallops until ¾ cooked.
Heat up a wok, add oil and garlic and stir-fry. Add the rest of the ingredients, along with some chicken stock powder and salt and stir-fry. Serve hot.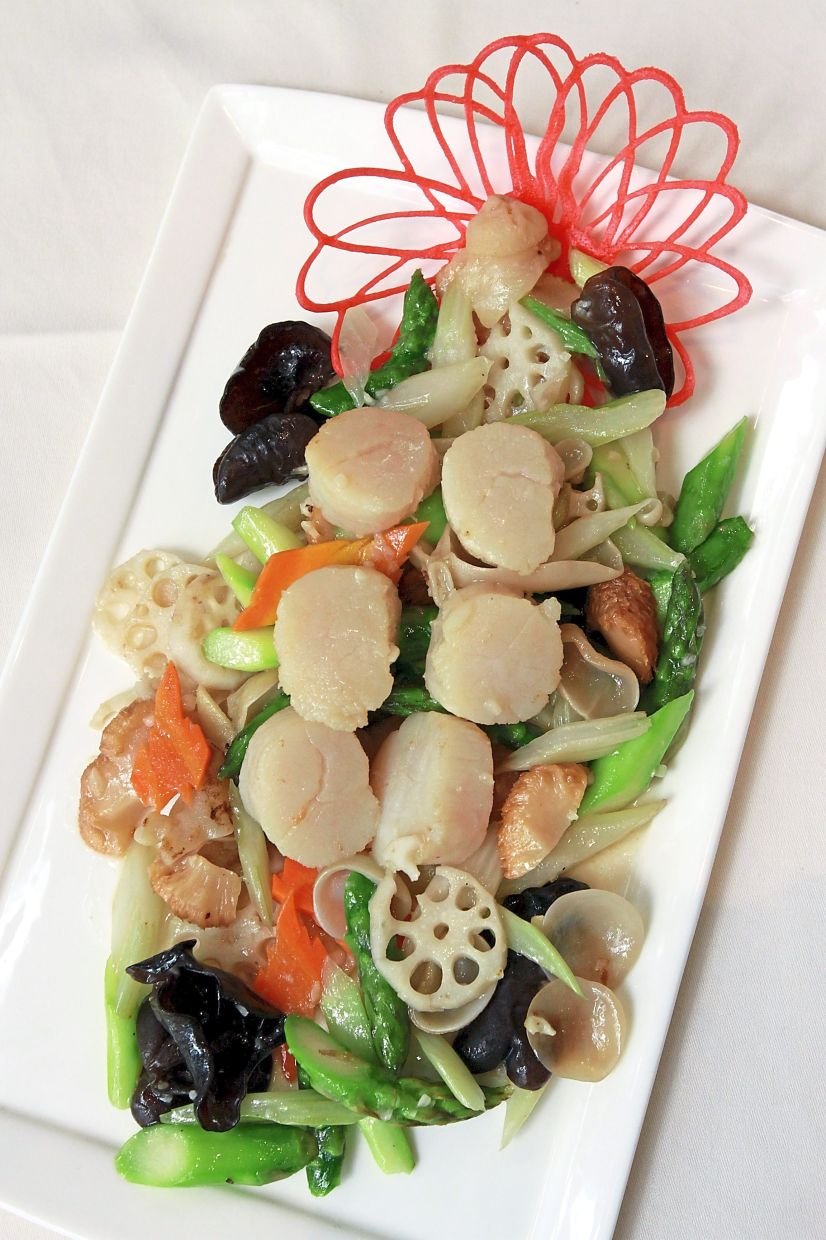 BRAISED MELON RING WITH DRIED SCALLOPS, OYSTERS AND FAT CHOY
75g chi qua (hairy melon), cut into rings, seeds removed
60g Japanese dried scallops
120g Hong Kong dried oysters
15g dried black moss (fat choy)
75g China broccoli, cut into florets
30g whole garlic cloves, peeled
For the sauce
200ml chicken stock
2 tsp oyster sauce
potato starch, as required
Braise the chi qua with scallops for 30 minutes. Set aside.
Braise dried oysters and fat choy until done. Set aside.
Stir-fry the broccoli until slightly softened.
Deep-fry the garlic cloves.
Arrange the petola rings on a plate and top with scallops, oysters, fried garlic and broccoli.
In a pan, cook all the ingredients for the sauce together until sauce thickens. Pour sauce over the other ingredients and eat hot.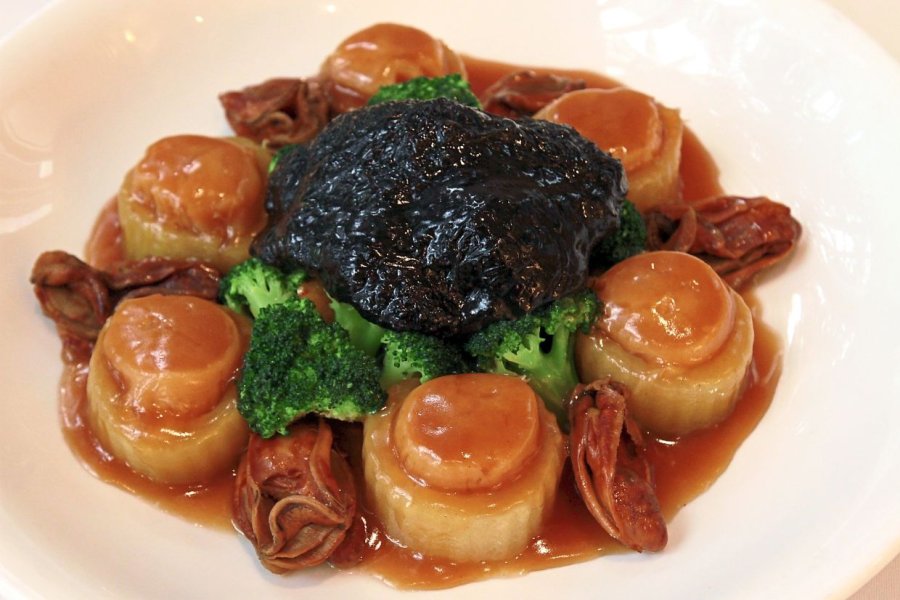 PRAWNS WITH BUTTER SAUCE
50g raw egg yolk
150g prawns
a few curry leaves, shredded
1 cili padi, minced
75g margarine
150ml evaporated milk
salt to taste
In a pan, add oil and deep fry the egg yolks, stirring constantly until crispy and shredded. Set aside.
Deep fry the prawns and set aside.
In a pan, add margarine and stir-fry the curry leaves and chilli until fragrant. Add milk and boil until creamy, adding salt to taste as required.
Add prawns and stir to coat. Serve the prawns on a plate and top with shredded egg yolk (egg floss).