June 26, 2023
TOKYO — An increasing number of Chinese tourists are taking domestic trips to their nation's border with North Korea, apparently as an alternative to visiting North Korea itself, which still prohibits cross-border traveling as part of its measures to prevent the spread of the novel coronavirus.
Some observers are wary that this may provide North Korea with foreign currency, which could be used to fund its weapons of mass destruction.
Earlier this month, a number of large sightseeing buses were seen along the Yalu River, which runs along the border with North Korea in Dandong, Liaoning Province. Passengers on a popular sightseeing boat on the river used binoculars to eagerly watch people living in North Korea's Sinuiju on the other side of the river.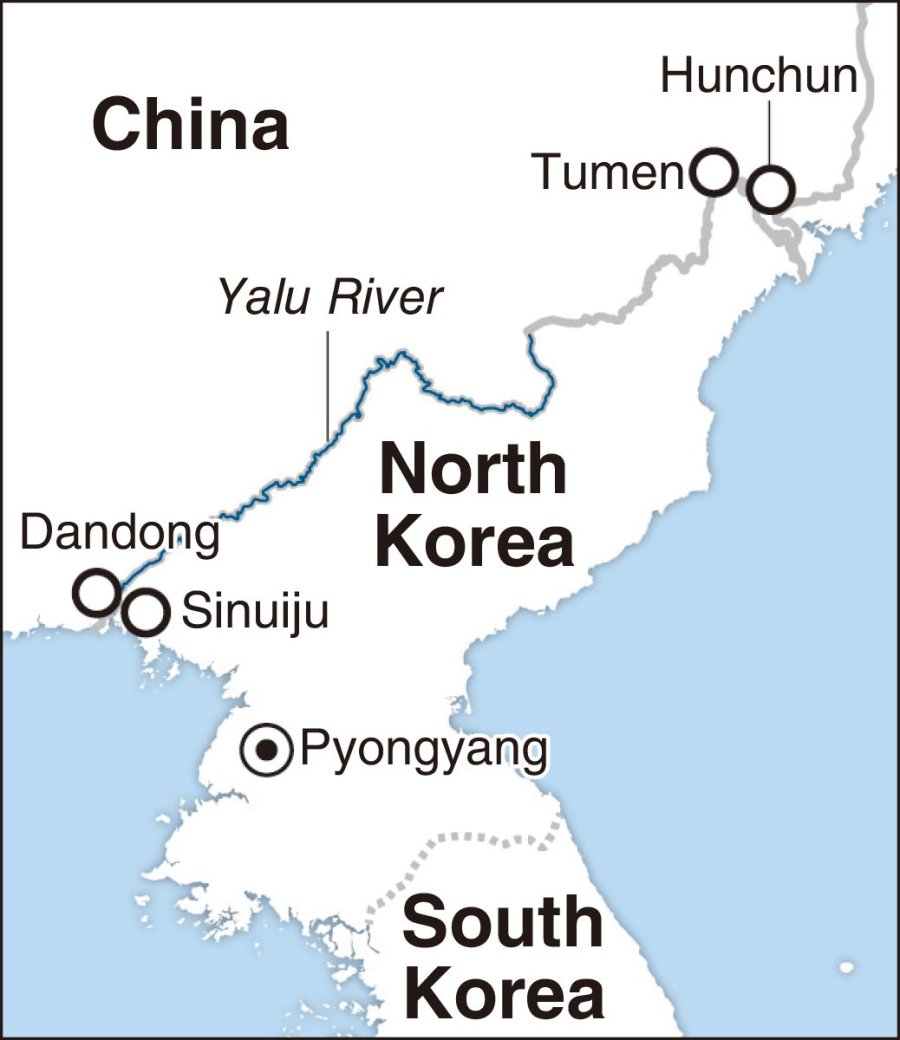 Around the area, souvenir shops selling items such as North Korean banknotes and national flag pins lined the streets. Taedonggang Beer, which is said to have gone into production with the support of the late leader Kim Jong Il, was served at restaurants offering North Korean food.
"Taking photos with North Korea in the background is popular on social media. I came because I was curious," said Liu Li, 25, who was visiting the border city from Dalian in the same province with a friend.
Nostalgia
A travel agency in Dandong created a 4½-hour tour around the city called the "Feel North Korea Tour." It is said to be popular at a price equivalent to about 2,560 Japanese yen.
A woman in her 60s was taking pictures while dressed in a traditional Korean hanbok. Regarding the North Korean scenery, she said, "It makes me feel nostalgic because it seems idyllic, just like China during my childhood."
A Chinese social media user who claimed to have visited North Korea put up a post saying, "Ordinary people in North Korea are simple, reminding me of Chinese people in the 1970s and the '80s." Although North Korea is harshly repressed by the Kim Jong Un regime, it has become a place of nostalgia for Chinese people, who live in a highly competitive society after experiencing rapid economic growth.
Foreign currency
According to the Dandong municipal government, approximately 1.038 million tourists visited the border city during China's May Day holidays from April 29 to May 3. This was about 200,000 more than the same period in 2019, before the coronavirus pandemic.
According to local media reports in Jilin Province, tourism to the border city of Hunchun was 3.5 times the 2019 level, while the border city of Tumen saw tourism reach 2.8 times higher.
South Korean government officials fear that the increase in tourists in the border areas is providing an opportunity for North Korea to earn foreign currency.
If money from souvenir stores and North Korean restaurants that employ migrant workers flows to North Korea, "It could become a major source of funding for the country to continue the development of nuclear missiles." one such source said.
In 2018, there were about 200,000 foreign tourists to North Korea, of which over 90% were Chinese.
Keio University Prof. Atsuhito Isozaki, who specializes in North Korean politics, said if North Korea starts accepting tourists again, "Many Chinese will visit, becoming a major pillar for North Korea's foreign currency earnings."