July 20, 2023
PHNOM PENH – Chinese tech giant Alibaba has expressed interest in bringing a number of fisheries products from Cambodia to its online marketplaces, although some of the species mentioned by the company are not widely farmed in the Kingdom, according to Cambodian Aquaculturist Association (CAA) CEO Lempho Suthavaridh.
This came during a meeting last week between Alibaba representatives, a CAA working group and officials from the Ministry of Economy and Finance's Entrepreneurship Development Fund (EDF) to discuss entrepreneur-led production and processing of fisheries products for export to China.
Beijing allows certain fresh and saltwater fishes, langoustines and eels to be shipped in from the Kingdom. Suthavaridh told The Post on July 18 that some of the items on Alibaba's wish list include "khcheung" and "chhlonh" fish as well as eels, freshwater and marine langoustines, and snails.
"Khcheung" and "chhlonh" refer to spiny eel-like fishes of the Macrognathus and Mastacembelus genera. Species of the former have more snake-like patterns and tend to be larger and longer, while those of the latter have more solid colours.
The Ministry of Agriculture, Forestry and Fisheries points to Macrognathus semiocellatus and Macrognathus siamensis as archetypal representations of "khcheung" and "chhlonh", respectively.
Suthavaridh noted that last week's meeting was the second of its kind, and stressed that the Cambodia-China "Fish and Rice Corridor" agreement would facilitate trade between the two countries in fish and milled rice.
The special corridor concentrates on northwestern Cambodia, notably the region around the Tonle Sap Lake, and reportedly aims to foster modern ecological agriculture.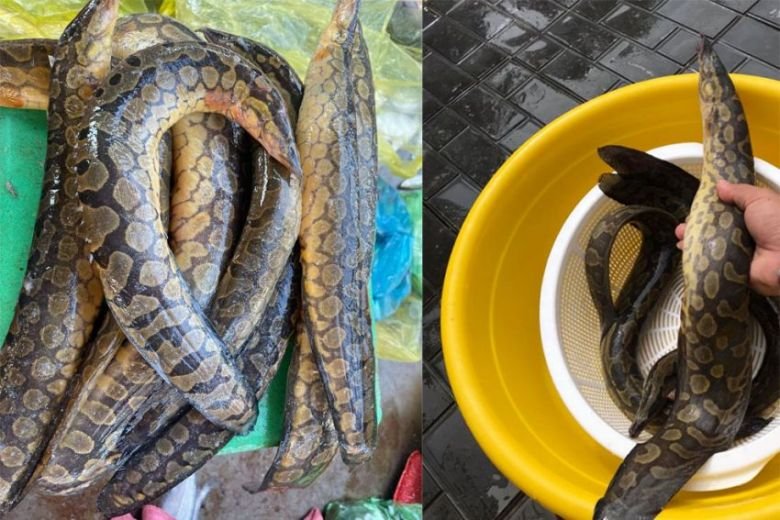 "Cambodia does not have many of the fisheries products that the Chinese side needs. It might take the association at least two years to recruit and organise any members who may wish to raise or process the fisheries products as they [Alibaba] desires," Suthavaridh said.
He remarked that on-site pre-export inspections would be required to guarantee that production complies with sanitary and related requirements, and reaffirmed the CAA's commitment to work with Beijing and the local aquaculturists.
However, not all is rosy for the Cambodian aquaculture community. Since the start of the Russo-Ukrainian conflict last February, fish feed prices have surged "between 25 and 40 per cent", prompting "about 60 per cent" of the Kingdom's aquaculturists to abandon their fish farming operations, he lamented.
The Cambodian government is also working with Alibaba to promote sales of locally-grown products on the Chinese market, such as longan – a member of the soapberry family, which also includes lychees and rambutan.