March 17, 2023
JAKARTA – Beyond the crazed fans they have spawned over the years, Arctic Monkeys' songs run deeper within the Indonesian music world.
From dangdut to K-Pop, Indonesians' music preference always changes from time to time, but rock, like clockwork, always makes its way to new ears. "It just won't go away," singer Alex Turner said of the genre's cyclical nature in 2014.
That statement by Turner, front man of the English indie rock band Arctic Monkeys, was from his speech at the BRIT Awards for the band's critically-acclaimed fifth album AM, a back-to-basics approach to rock that infuses pop and hip-hop sensibilities. It was the album that catapulted their status internationally, and the sound reverberated all the way to Indonesia.
"I think almost everyone knew that album when it first came out. My whole high school knew about it, so were other students outside," 23-year-old South Tangerang freelancer Ghina A.M., Arctic Monkeys' avid listener, said to The Jakarta Post on March 9.
Two albums later, the band is finally greeting its Indonesian fans on March 18 at Beach City International Stadium Ancol, Jakarta. The concert tickets sold out in less than five minutes.
Mad sounds, in everyone's ears
Many Indonesian fans warmed up to Arctic Monkeys' music from their AM album, but some had also been familiar with their earlier records, from the 2006's debut Whatever People Say I Am, That's What I'm Not to 2011's Suck It and See.
"I first listened to them in elementary school, but I started to really dig their music in junior high," Bandung-based copywriter Prihatur told the Post on March 10, being introduced to the band by his classmates.
"During the time when Maroon 5 and Coldplay dominated the local airwaves, among playlists filled with "Alone at Last," "Trivium" and "Avenged Sevenfold," Arctic Monkeys managed to give the young me a new perspective in music," he shared.
When AM was released in 2013, Prihatur saw how it became the talk of his high school, similar to Ghina's experience.
"There were even people who started impersonating Alex Turner and copied his fashion style," Ghina said. Her senior, a fan of the band, would wear a black leather jacket and bring a small comb to style his slick pompadour hair, similar to the front man.
Because of the album's relevance, the band's whole discography became obligatory homework for others to remember during sing-alongs.
"I don't know how, but suddenly people started knowing the lyrics to [the fan favorite] '505' and the band's earlier songs," she said.
Loyal fanbase
The voice of the masses also factors into the hype that Arctic Monkeys has been getting in Indonesia. The band has a devoted fan base that brings everyone from Bandung to Bali together.
"There were many Arctic Monkeys' communities already back then, like in Bandung and Jakarta, but it wasn't integrated," 25-year-old Refo, founder of the Arctic Monkeys Indonesia fan page on Instagram with over 15,000 followers, said to the Post on March 9.
Seeing the many big pages for the band's enthusiasts on Twitter and Facebook, Refo decided to link up with the others and make a national fan hub.
"From that platform, we just started hanging out and meeting up, talking about Arctic Monkeys or Britpop [bands] in general, or just anything else," said Refo.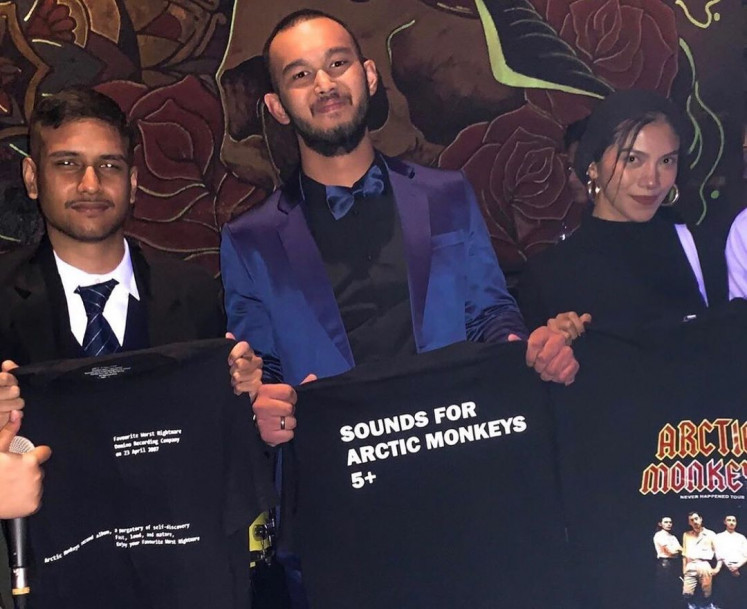 Devoted fanbase: Winners of the best dressed award from the Sounds for Arctic Monkeys event are pictured in this Instagram post on Sept. 30, 2019. (Instagram/Courtesy of Arctic Monkeys Indonesia) (Instagram/Courtesy of Arctic Monkeys Indonesia)
Tired of waiting for the band to come to Indonesia, the community also initiated the annual Sounds for Arctic Monkeys event starting in 2015, where several local bands covered Arctic Monkeys songs as a tribute. Every year, it has gathered an audience of 400 to 800 people in various venues.
"The goal was just for us to have fun, but we also promote a campaign called Indonesia Wants Arctic Monkeys to show how big our enthusiasm is for the band," Refo said.
And as the band finally visits the country, the whole community felt like their efforts were not in vain.
"The community's enthusiasm is going through the roof, [their concert here] is beyond our expectations as well," Refo grinned.
So big was the nation's love that when someone got vocal about their dislikes toward the group, they were met with great reactions as well. Local rockers Alpha Mortal Foxtrot, for example, took to Twitter and posted a bantering jab about the band that went viral and prompted a backlash.
"It's a good sport, basically. The backlash is part of free speech and we're okay with it," Alpha Mortal Foxtrot members all told the Post on March 8.
"Even our guitarist's guilty pleasure is Arctic Monkeys and [Turner's side project] The Last Shadow Puppets," they said with a laugh.
Influential figures
Due to their exposure to the Indonesian music scene, Arctic Monkeys has seeped into many local bands' musical vernacular.
"I know a lot of late Gen Z to millennials who were inspired to form a band because of Arctic Monkeys," Prihatur shared.
One vocal fan of the band is singer-songwriter Baskara Putra of the famed rock units .Feast, Lomba Sihir, as well as his solo recourse Hindia.
"Arctic Monkeys' notations, which are often note-per-note notation, was easy to learn for me who at the time was still trying to learn how to play guitar," Baskara, who first got introduced to their early records in junior high school, shared to the Post on March 12.
And Baskara agreed that the band's sounds influenced him, intentionally or not.
"Sometimes there are specific sounds that I want to pursue whenever I listen to some of Arctic Monkeys' materials. There must be times when I wrote something and, without realizing it, was inspired by Alex Turner's writing style," he said.
Music writer Hasief Ardiasyah also sees Turner's songwriting as one of the band's hallmarks and the hardest aspect that "Arctic Monkeys' Indonesian disciples" could pull off.
"The only exceptions I care to mention are Reality Club and .Feast, both of whom not only have outstanding lyrics in English and Indonesian respectively, but also continuously evolve their sound just like Arctic Monkeys do," Hasief said to the Post on March 10.
Reality Club's Faiz Novascotia, who is one of the main songwriters in the band, said the Sheffield rockers are his biggest role models.
"I think globally, one of the band's charms has been their dynamic sounds […] but the thing that I love most about them is their lyricism, it's almost unparalleled," Faiz told the Post on March 14.
"I do look up to them a lot. I look at the words they use, how they're able to communicate things and write lyrics without being too direct or overly complicated," he gushed.
But Hasief saw that, as the band changed musically, their appeal now lies more toward them entering a legacy act status.
"I think [their quickly sold-out tickets] has more to do with the fact that this will be their first time performing here in the 17 years since they burst onto the music scene. As a result, there are several generations of Indonesian Arctic Monkeys fans who will attend simply because they never had the chance to before and might not get another opportunity," he assessed.
Regardless, Indonesian fans who love the band's recent records will be ecstatic to see how the Sheffield youngsters have turned into baroque pop rockers.
"They keep evolving, sound-wise, but there's still that Arctic Monkeys' feel that never goes away, even in their most pop album, like AM," Baskara said.
As for Prihatur, who followed the band's progression, their growth taught him a lesson.
"Their progress throughout [the years] taught me that there's so much to lose in this world if we don't allow ourselves to be inspired by many things," he said.