January 19, 2023
DHAKA – When the Israeli newspaper, Haaretz, reported that Israeli cybersecurity companies sold spyware systems to Bangladesh – a country that does not recognise Israel – the response from our government was that it had not bought the systems "directly" from Israel. Haaretz didn't say it either, but revealed details of the technology and the identities of the owning company and its intermediaries spread in three countries: Cyprus, Switzerland, and Singapore. Just one day after this revelation, on January 12, home minister Asaduzzaman Khan told MPs that the government has taken initiative to introduce an Integrated Lawful Interception System (ILIS) to monitor social media and thwart various anti-state and anti-government activities.
First came a non-denial of the fact that the government agencies have indeed procured highly sophisticated Israeli technology, which many experts describe as a surveillance weapon; then a confirmation of the existence of an integrated interception system, which according to the minister is "lawful." A closer examination of the minister's response, however, raises serious questions about misinterpreting the law, since he has equated anti-government activities with anti-state acts.
Since when has being anti-government or not supporting the government's actions and policies been a crime? This happens only in a totalitarian state. Is the minister suggesting we are no longer a democracy? Doesn't the job of the opposition require criticising, challenging and opposing the government, and putting forward alternative arguments to hold it to account?
Responding to a parliamentary question, the minister added that law enforcement and intelligence agencies were working relentlessly to foil any conspiracies against the country. He said, "Besides, modern technology like Open Source Intelligence Technology [OSINT] has been included in the National Telecommunication Monitoring Centre [NTMC under the home ministry] to prevent anti-state and anti-government activities through monitoring social media."
Again, his answer appears to be an attempt to obscure facts and confuse us. The legitimacy of using open source intelligence has never been questioned by any rights group. Rather, snooping or breaching citizens' privacy has been opposed, as it violates their fundamental rights guaranteed by the country's constitution and various international treaties and instruments.
In addition, there are genuine reasons to be concerned over the deployment of such surveillance mechanisms without any judicial oversight, as there are plenty of allegations of abuse of authority against members of our law enforcement agencies. Rights groups have listed a number of cases in which people have been charged for sedition for criticising politicians belonging to the ruling party on social media. Without legal safeguards, putting in place such surveillance systems aimed at suspected anti-state activities carries serious risks of innocent victims being harassed.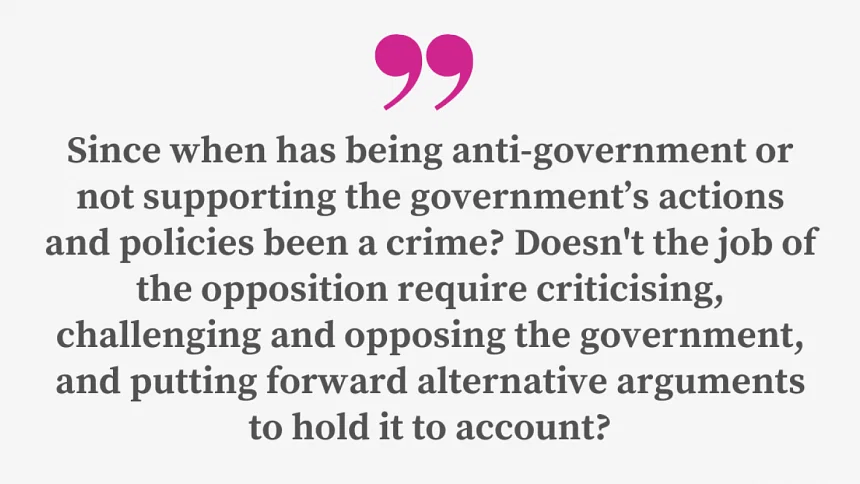 Transparency International Bangladesh (TIB) has justifiably expressed alarm by arguing that, in the absence of any specific policy related to cyber surveillance, the advanced tools would erode fundamental constitutional rights related to privacy, communication, and freedom of expression.
It is not the first time that we are having a debate on the issue. In July 2021, a Washington Post report on Pegasus software being used for spying on politicians, journalists and rights activists in 45 countries, including Bangladesh, stoked a similar debate. The Bangladesh government denied buying the software. The report was based on research carried out by a Canadian cybersecurity organisation, Citizen Lab, which, however, didn't specify whether the spyware was actually deployed by the government or any other entity. Experts say that Pegasus can harvest data, turn on the microphone and camera of a smartphone without the user's input, track locations, and record keystrokes.
Well before the Pegasus controversy, a number of foreign media outlets reported that Bangladesh had procured a few other Israeli surveillance technology and equipment from Cellebrite and Picsix Ltd to acquire the capabilities of hacking phones and obtaining encrypted data. Those, too, were bought from affiliated entities registered in a third country.
As the home minister acknowledges acquiring greater surveillance capability, TIB reminds us of previous examples of private phone chats and conversations of politicians, businessmen, journalists, and opposition figures being intercepted and leaked on social media to embarrass them. A court filing by a group of lawyers in August 2021, seeking an immediate probe into leaked telephonic conversations, listed almost 20 such leaks between 2013 and 2021 in their petition, which was rejected by the court.
But it's a different story in neighbouring India.
When the Pegasus story broke in July 2021, the names of several Indian politicians, journalists, activists, lawyers and judges popped up on the list of people surveilled, and fingers were pointed at the Indian security agencies. In October 2021, the Indian Supreme Court ordered an independent inquiry into whether the government had used the spyware to monitor its citizens, following a petition filed by a number of victims and the Editors Guild. The court-appointed probe committee was headed by former chief justice Raveendran and included top cybersecurity experts. The Indian Supreme Court rejected the government's offer to form its own panel of experts to probe the allegations, saying that indiscriminate spying could not be allowed, and highlighted the "chilling" effect it could have on freedom of speech and freedom of the press. The judges added that they were compelled to "determine the truth and get to the bottom of the issue."
On August 25, 2023, the Indian Supreme Court said that the committee had found five phones that had some kind of malware, but could not determine whether it was Pegasus. Without revealing the full probe report, the court said that Justice Raveendran had recommended changes in the existing law governing surveillance in the country and that privacy protections must be enhanced along with the cyber security of the nation.
Another historic order made by the Indian Supreme Court, which has suspended the sedition law, should be referred to here. On May 11, 2022, a three-judge panel said that the law has been used to quash dissent and is not in tune with the times.
Many observers believe that the Bangladeshi government's enhanced surveillance capacity is aimed at silencing dissent and weakening opposition parties, and that this would only intensify ahead of the general election, which is due within a year.
India is an example of what an independent judiciary can do in protecting citizens' constitutional rights to free speech, expressing dissent, and protesting.
Can we expect similar judicial protection in Bangladesh?
Kamal Ahmed is an independent journalist. His Twitter handle is @ahmedka1