July 12, 2023
PETALING JAYA – "I didn't know" is not a good enough reason to defend oneself after mindlessly forwarding false posts online, says legal expert Prof Datuk Dr Shad Saleem Faruqi.
He said although, in most cases, the "forwarders" would use the excuse of saying they had no intention of spreading fake information, such an act would still be seen as a crime.
Prof Shad Saleem explained that in the defamation law, "I didn't know" cannot be used as a defence.
"You can't say 'Oh, sorry, I didn't know' because we all know that we must always check the information given to us. Verify them first.
"And you can't say you did not intend to cause harm because you intended to share the unverified information that sounded controversial.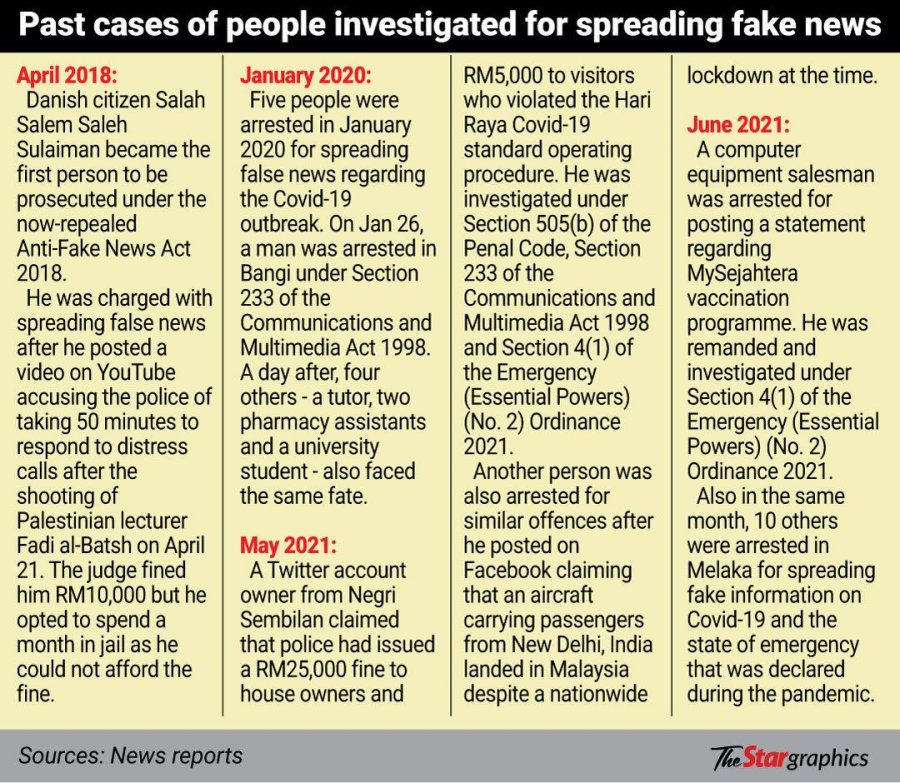 "(Forwarding fake posts) would be a crime because even forwarding would likely hurt someone else," he said.
The same view was echoed by Sinar Project programme officer Kelly Koh, who warned that it not only creating and posting sensitive content on social media platforms that could get you in trouble; forwarding the information could also land you in hot water.
Koh said forwarding unverified information is seen as "an act of transmission" when it comes to the spread of sensitive news on social media platforms.
Looking into the existing laws, Koh said Section 233 of the Communications and Multimedia Act 1998 covers the "transmission" of the content.
"Forwarding (content) itself is an act of transmission. I rarely see cases of arrest for sharing content involving sensitive content, and I have yet to see them proceed to be charged for forwarding," she said.
Section 233 (ii) refers to individuals who initiate the transmission of any comment, request, suggestion, or other communication that is obscene, indecent, false, menacing, or offensive in character with the intent to annoy, abuse, threaten, or harass another person.
No individuals found forwarding or sharing content that covered sensitive topics have been charged by the authorities.
Previously, Communications and Digital Minister Fahmi Fadzil said two laws under his ministry's purview, namely the Communications and Multimedia Act 1998 and the Malaysian Communications and Multimedia Commission Act 1998, would be amended to tackle insensitive comments on race, religion, and royalty (3Rs).
Given that the two Acts are related, Fahmi said it was high time to look into enhancing them as no amendments had been made since they were enacted in 1998.
Prof Shad Saleem, also a law professor, suggested that social media platform owners adopt a better and stricter verification method before allowing a person to post online.
"The media has this system in place. For example, if you want a media outlet to publish your opinion, your identity must be properly verified.
"Social media platforms should not allow people to post anonymously and upload anything they like.
"Will social media platform owners do this? I believe it's necessary so people can't defecate in cyberspace."
Meanwhile, the Centre for Independent Journalism (CIJ) is preparing to observe social media platforms for the upcoming elections in Selangor, Negri Sembilan, Penang, Kedah, Kelantan and Terengganu.
CIJ executive director Wathshlah G. Naidu said it seemed to be an ongoing strategy by politicians and social media users to spread sensitive issues closer to the state polls.
"We are in the midst of preparation and will start just before the nomination day (July 29). We are also engaging with the various stakeholders to prepare for some mitigation and response mechanisms," she said.
The media watchdog, also part of the Social Media Monitoring of Malaysia's 15th General Election (GE15) report, found many social media posts consisting of ethnic and religion-based narratives.
The report also cited PAS and its president Tan Sri Abdul Hadi Awang as among the biggest contributors in inciting ethnic-based narratives online leading up to GE15.