June 13, 2023
SEOUL – Amid dwindling sales in China, South Korean beauty companies are pivoting away from the lucrative market and decamping for greener pastures in the US.
Industry watchers say the strategic shift in K-beauty companies comes due to a slew of reasons — the rising demand for K-beauty products in the US, growth in China's own cosmetics industry and increasingly nationalist consumers in China. But they also agree China is still "too big to ditch."
Stellar growth in US
Korea is one of the top three cosmetics importers to the US after France and Canada, according to the Korea Trade-Investment Promotion Agency. Since 2020, it has maintained a two-digit market share in the all-important market. In 2021, its exports to the US soared more than 30 percent to $712.15 million from a year ago.
K-beauty's brisk growth in the US comes as the increased popularity of K-pop and K-content is driving up the demand for Korean commodities overall. The products' creative, fun packaging and cheaper pricing are also cited as reasons for their surge in demand.
"The US has long been a key market for us. But after years of slowing sales in China, US expansion has become a must for survival," said an official of a Korean cosmetics producer for top beauty companies.
"Fortunately, 'Made in Korea' is no longer a discount factor for K-beauty. Now it is well received by local consumers," he said, adding the company plans to boost production in the US to meet growing demand from corporate clients.
Taking advantage of the recent momentum, Korea's top two beauty giants are investing heavily to expand their presence in the US market.
Amorepacific, the nation's No. 1 beauty company, last year made a marketing pivot in refurbishing its flagship brand Sulwhasoo in the US. For decades, Sulwhasoo, whose products are based on Korean herbal medicinal ingredients, had been the beauty conglomerate's bestselling brand in China. The company modernized the packaging with an English logo and invited Rose of K-pop sensation Blackpink to be its brand ambassador.
Laneige, another popular Amorepacific brand, started selling at almost all Sephora stores across the US this year. In September last year, the company acquired US luxury skincare firm Tata Harper for 168.1 billion won ($130 million) in its second-largest purchase deal to augment its brand power there.
Its crosstown rival LG Household & Health Care is no exception. It has expanded its US business through a string of mergers and acquisitions.
In recent years, the company invested a total of about 606.1 billion won in four M&As in North America alone. In 2019, the company acquired US beauty firm the Avon Co. for 145 billion won, as well as the Asian and North American business rights for US skincare brand Physiogel for 191 billion won in 2020. In 2021, it acquired a 56 percent stake in US hair care brand Boinca for 116 billion won, along with a 65 percent stake in US cosmetics brand the Creme Shop a year later for 152 billion won.
Such a rapid expansion in the US led to their commercial success there.
Amorepacific made 181.4 billion won in its North American sales last year, an 83 percent growth from a year ago. LG H&H, which also produces consumer goods, posted a robust growth in sales from 513.6 billion won in 2021 to 577.5 billion won in 2022.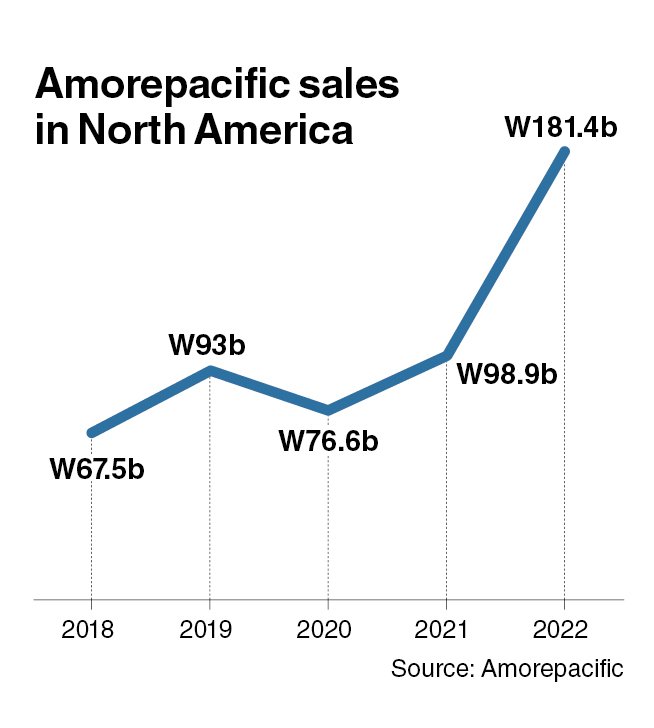 No breakthrough in China
K-beauty's US push is also part of their risk hedging in their sagging sales in China. Like many other Korean retailers, beauty companies fell victim to geopolitical tensions amid the escalating US-China rivalry. Last year alone, Amorepacific and LG H&H each suffered more than 30 percent falls in their Chinese sales.
Many experts predict no immediate breakthrough for Korean firms in the Chinese market, saying the "golden age of K-beauty" has ended in China.
Korean beauty companies had their heyday in China until 2018. According to the Korea Trade and Investment Promotion Agency, China's imports of Korean cosmetics skyrocketed by 6,223 percent between 2009 and 2018. Korean firms topped beauty sales there in 2017 and 2018.
However, starting 2018, Korea slid to being the third-largest importer in the Chinese market.
"Starting in 2010, China's state-run cosmetics research institutions scouted many Korean cosmetics engineers to nurture their own industry," said Kim Joo-jeok, a professor of the beauty industry department at Sungshin Women's University.
"With the rise in quality, coupled with a lot cheaper pricing, China's beauty industry soared, while Korean products started losing their competitive edge."
And nationalist consumption also gained traction among China's young consumers in the aftermath of "han han ryeong" — a Chinese ban on Korean goods. The move was an apparent retaliatory action against the Korean government's decision to install a US-made missile defense system, which China considered an action to counter its growing influence in the region.
"The anti-Korean consumer sentiment is heightened by the belief that Korea sided with the US over the conflict involving Taiwan," the professor added.
In search of plan B
Experts say Korean beauty companies should pivot away from mainly selling low- to mid-priced goods in overseas markets in order for its business to grow.
"Korean beauty companies need to change their tactics to mainly sell high-end cosmetics, or products with creative, high-quality health functions in the overseas market," he said.
"In the past, K-beauty itself was very popular, but now, rather than focusing on the title 'K-beauty,' Korean beauty firms need to increase the function and effectiveness of the products."
Korean beauty companies have begun implementing new tactics to boost sales in markets outside China, while emphasizing that they are "not dropping the Chinese market."
"We are preparing for the launch of the sixth-generation Sulwhasoo products in China. Laneige and Innisfree are also scheduled to release brand new products later in the year," said an Amorepacific official.
Another industry official said China's growth potential is still too big to ditch.
"Korean beauty companies call for lessening dependence on China, but, no matter how they scale down their business, China will always play a crucial role in the K-beauty business because of the sheer amount of sales they make," the official said on condition of anonymity.
Despite buoyed expectations about the effect of china's reopening later in the year, the official showed concerns about the soured relationship between Korea and China in recent years.
"The recent deterioration in Korea-China relations poses a risk in the hopeful sentiment. The Korean beauty industry should not be too optimistic, and diversify sources of its overseas sales," the official said.