October 31, 2022
PETALING JAYA – The outcome of the 15th General Election (GE15) could well be in the hands of nearly 4.5 million voters who have yet to decide on their choice of political party to lead the next government.
With the votes clearly divided between Barisan Nasional, Pakatan Harapan and Perikatan Nasional, this bloc of undecided voters will be the target of the contenders.
In a finding by research firm Ilham Centre, this pool of voters, which comprises one-fifth of the electorate, still has not decided on which party to vote for.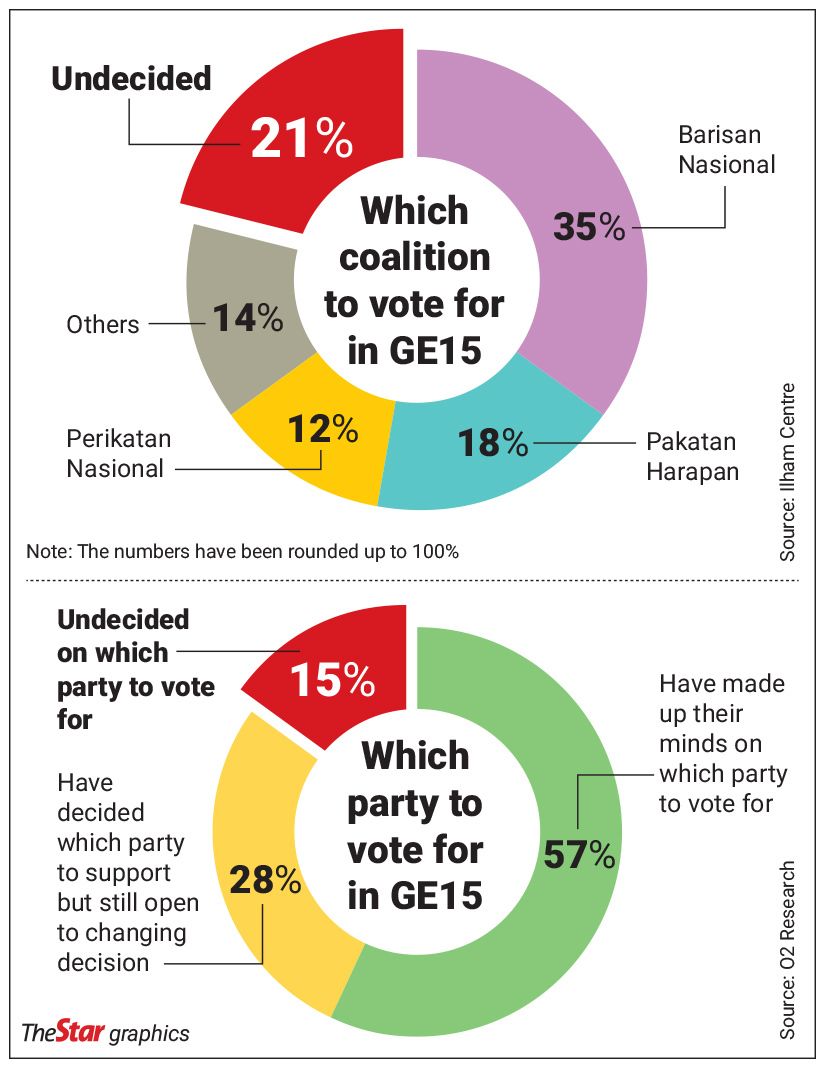 "The competition is still widely open between parties to explore and attract their support.
"The votes of this group have the potential to influence the outcome of GE15," said Ilham Centre in its study.
Titled "Memahami Selera Rakyat" (Understanding the choice of the people), it also said there are 36% or over 7.6 million voters who have no allegiance or obsession to any political parties.
"This group has the potential to be enticed during campaigns and they can influence the outcome," said the research firm.
The study is part of a mega survey known as "Suara Rakyat Malaysia Menuju PRU15" (Malaysian Voices: On the Road to GE15), conducted by Ilham Centre with two other research firms – Huayan Policy Institute and O2 Research Malaysia.
It was supported by five major media outlets, which formed an alliance tagged as Media in Arms early this year to pool resources to offer readers diversified and in-depth content.
They are Sinar Harian, The Star, Sin Chew Daily, Astro Awani and Malaysia Nanban.
A total of 21,173,638 individuals are eligible to vote in GE15, said the Election Commission (EC).
According to Ilham Centre, 21% of its respondents are unsure who to vote for while 35% said they will support Barisan, followed by 18% for Pakatan, 12% for Perikatan and 14% other parties.
It also said voters aged 18 to 29 are still open to which party to support, while Barisan remains as the main coalition choice for Malays and Indians.
"GE15 will be the benchmark on how far parties will be able to understand the wishes of voters by fielding new faces as candidates," said Ilham Centre.
Similar findings were found in O2 Research Malaysia's study "Apa Yang Rakyat Mahu?" (What do the people want?).
A total of 57% of its respondents said they have made up their minds on which party to vote for while 28% said they are leaning towards a particular party but still open to change their decision and vote for another party.
The remaining 15% of its respondents are undecided.
"Around two-fifths of voters (8.4 million) still haven't finalised their party of choice for GE15 and on-the-fence votes will affect the outcome of the election," said the two research firms.
Meanwhile, a majority of respondents in Ilham Centre's survey are of the opinion that the general election should not be held until the government finishes its full term on July 16 next year.
However, 83% of its respondents said they will vote in GE15, while 3% said they will abstain.
The remaining 14% said they are still undecided.
"A majority of voters want GE15 after the government finishes its full term.
"But, due to the dissolution of Parliament at an earlier date, coalitions must ramp up their campaigns to encourage Malaysians to come out and cast their ballots.
"The EC and its related agencies must take action to increase the voter turnout rate," said Ilham Centre.
GE14 in 2018 saw the highest turnout with 12.3 million Malaysians turning up to vote, compared to GE13 with 11.3 million Malaysians casting their ballots.
However, analysts have noted the turnout in GE15 might be lower, owing to political fatigue and disinterest.
Low voter turnout was also seen in the Melaka state election last year with 65.85% eligible voters turning up to cast their ballot, followed by 54.92% in the Johor state election in March this year.
A total of 5,081 Malaysians were polled via online and face-to-face interviews in the three studies of the mega survey.The field research by Ilham Centre was conducted over a period of two months involving 1,622 respondents across all racial segments, gender, age, education, socio-economic backgrounds, income levels and localities across the country including Sabah and Sarawak.
The online survey by O2 Research Malaysia involved 1,105 respondents.
See the third part of the What Rakyat Want series tomorrow that looks at the prime minister of choice for voters in GE15.