January 20, 2023
JAKARTA – For the sake of family legacy or business, many Chinese-Indonesians have decided to "find" their Chinese names through online services.
Chinese-Indonesians often have complicated histories with regard to their names. Many changed their names in the early days of the Soeharto regime, after Cabinet Presidium Decision No. 127/1966 instructed them to change their names to Indonesian-sounding ones. Before the New Order, some Chinese-Indonesians had changed their names as well, but this was by choice.
Many tried to incorporate elements of their Chinese names into the Indonesian versions. Some people with the Oey surname in Hokkien, equivalent to Huang in Mandarin Chinese, meaning yellow, chose the Indonesian name Wijaya.
Usually, Chinese-Indonesian elders help name their descendants. However, nowadays, many services, including online services, help Chinese-Indonesians decide on their Chinese names. Tjing Tek Sen, 60, is a Surabaya native who has been using the service to choose his grandchildren's Chinese names. Although Tek Sen can speak Mandarin, online services have helped him find more ideas for his fifth granddaughter.
"It's really helpful to find the perfect name for the child because if the child has a lot of water elements, you can look for a name with a wood or metal element so that the child will have a balanced life," Tek Sen said.
Tek Sen was referring to the five traditional Chinese elements: wood, fire, earth, metal and water. They are believed to be the fundamental aspects of everything in the universe and have characteristic interactions.
Forty-seven-year-old Hazel Andreana found her Chinese name Lín Zǐ Táng, which can be translated as lucky and charming, through an online service.
"I believe that having the right Chinese name for me will eventually bring me luck," Hazel said. Though of Cantonese descent, Hazel and her family chose to hire an expert to select a name.
Digital and cultural shift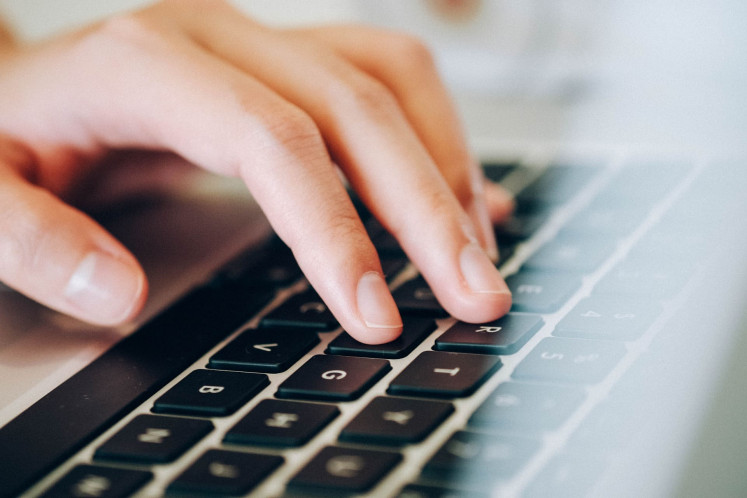 New resources: In the digital era, online Chinese name services are an alternative means for people to find their Chinese names. (Pixabay/fancycrave1) (Pixabay/fancycrave1)
Johanes Herlijanto, a 60-year-old anthropologist and sociologist focusing on Chinese-Indonesians and based in Jakarta, noted that the post-Suharto and digital eras had combined to open up options for selecting a Chinese name.
"I think there are individuals who feel that now they live in a different era, so they feel that a name, as part of their identity, is something meaningful. But again, there are older generations who no longer think about [Chinese names]. Therefore, the younger generations have opted for online help," Johanes said.
Djohan is one of the few Chinese-Indonesians who offer services to help others find their Chinese names online and offline. The 44-year-old has been in the business for the last five years, with most of his clients based in Jakarta. Influenced by Confucian teaching, there are several points that Djohan highlights when helping others.
"Using the digital platform is almost the same, and indeed the technology helps me to connect with more clients," Djohan said.
Djohan explained that ba zi meant eight characters in Chinese. It is a Chinese astrological concept that a person's destiny or fate can be divined by characters assigned to their birth year, month, day and hour.
"I'm trying to match someone's Chinese name according to each person's character. I won't suggest translating their literal name, because eventually, it will have a different meaning," Djohan said, adding that certain naming trends such as those inspired by flowers or clouds were no longer desirable.
Ria Suriani is another person helping other Chinese Indonesians find their Chinese names.
"It's a pity that there are a lot of Chinese-Indonesians who don't know their Chinese names," the 32-year-old said.
Sugiri Kustedja, a researcher and Bandung native focusing on Chinese-Indonesian culture, noted that younger generations had begun to seek out their Chinese names in earnest after President Abdurrahman Wahid lifted the ban on Chinese names. However, from 1967 to 1997, many Chinese-Indonesians nearly lost their Chinese names because of Soeharto's regime.
Johanes added that online services had helped people consult with each other as well. Johanes himself got his name, Lín Hàn Sheng, from his mother-in-law. Johanes' name can be translated roughly as "excellent man".
Growing interest in China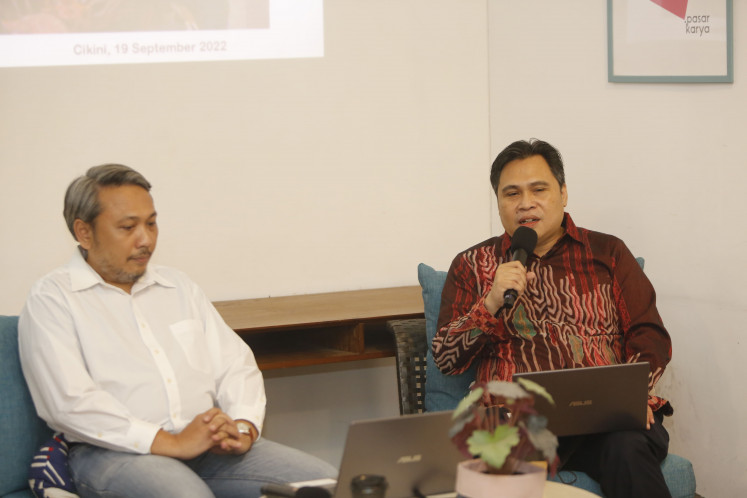 Personal reasons: Sociologist and anthropologist Johanes Herlijanto (right) shared that the rise of China had encouraged many people to revive or create Chinese names to build more connections. (Courtesy of Johanes Herlijanto) (Courtesy of Johanes Herlijanto/.)
Aside from being inspired by the family legacy, Johanes added that the economic rise of China was another reason many sought to revive or create Chinese names.
"The rise of China is also impacting Chinese descendants overseas to be proud that they belong to a modern and advanced culture," Johanes said.
Ria added that over the last few years, more individuals had been seeking out their Chinese names because they were working with Chinese companies and it was harder for Chinese colleagues to pronounce their names. Ria noted that more Indonesians had been studying in China over the last few years. The Chinese Embassy in Indonesia reported in 2017 that at least 14,000 Indonesian students studied in China, with an annual rise of 10 percent. The majority of students studied Chinese language and literature.
Tjhen Wandra, a 35-year-old Chinese teacher based in Jakarta added that it was also essential for the requester to check each Chinese character proposed by the service. Tjhen explained that some Chinese characters wouldn't match the Chinese zodiac. For example, one set of characters pronounced shū shān roughly translates to "loss and clothes". Another set pronounced shū shàn, with a slight change in tone on the final syllable, translates to "pretty and good-hearted".
Although online services have been helping Chinese-Indonesians find their names, Johanes noted that discovering a Chinese name was more than just an act of translation. The process had a complicated history, and a lot had been lost under the Soeharto regime.
"Surely, it's more than discovering your Chinese name. Although your Chinese surname might be similar, it could have thousands of different meanings, and you need to be careful whether these online services are trustworthy or not," Johanes said.