December 5, 2022
MANILA — Most of the country's top corporate executives started 2022 brimming with optimism that the worst was over, the COVID-19 pandemic had peaked and there was nowhere to go but up.
Russia's unprovoked invasion of Ukraine in February, however, plunged the global economy into yet another turmoil. Oil prices skyrocketed and global supply chains were broken, making it difficult and more expensive to move commodities around the world.
The painful spillover effects of these global headwinds were acutely felt in the Philippines, thus inflation, or the increase in the prices of basic commodities and services, as well as the rapid depreciation of the peso against the US dollar became the major storylines on the country's economic front.
But despite these daunting challenges, the Philippine economy was able to continue recovering from the COVID-19 pandemic as quarantine restrictions were eased and more sectors were opened up. As a result, a good number of the largest corporations posted profit numbers last seen in 2019 before the pandemic struck. This made them again optimistic about the growth prospects in 2023 of not just their company but also of the Philippines.
Here, we talked to a number of chief executives about the specific lessons they learned in 2022, what they plan to do next year and how they see 2023 shaping up for the country.
1. Manuel V. Pangilinan, president Metro Pacific Investments Corp.
Against a backdrop of robust economic growth for 2023, our businesses did well despite the challenges of high inflation, and its adverse effect on people's wallets—while the impact of COVID on the economy continued to linger.
The major issue in front of us was how to grow revenues against inflationary headwinds which reduced people's ability to spend. And with this, stringent cost controls on our businesses.
Consensus is global growth would slow down in 2023, undoubtedly affected by the war in Ukraine and the collateral adverse inflationary effect on food, power, fuel.
The Philippines will not be spared from this deceleration albeit less so than other economies which rely on exogenous factors for growth. The main hurdles ahead of our businesses are inflation and interest rates.
That said, we expect our businesses to grow in 2023. My main advice to our management is to continue investing—as opportunities would open up amid a difficult environment. And we must create jobs, we must help raise incomes, we must build better.
2. Lance Y. Gokongwei, president and CEO JG Summit Holdings, Inc.
2022 was a year of recovery. It marked a definitive break from the constraining effects of the pandemic which meant greater mobility of our people and with it, a more active and dynamic local economy.
This momentum was further enhanced by a palpable sense of national optimism and stability brought about by a strong electoral mandate given to the Marcos administration and the new government's focus on reigniting the economy.
Against this scenario, our food, retail, and mall businesses saw sequential growth in 2022. Our domestic airline business, which started to recover, also benefited from the reopening of the economy. While surging commodity prices impacted our margins and cyclical challenges affected some of our businesses, our usual prudence in managing and allocating our capital helped cushion the confluence of global headwinds.
As always, our people's hard work, innovativeness, agility, and unflagging optimism helped make 2022 a much better year for us at the Gokongwei Group.
In 2023, I am very hopeful that the post-COVID recovery will only continue, albeit in an even stronger trajectory. I am also hopeful that global headwinds will start to dissipate. Most of all, I am hopeful that we – as a company, and as a nation – will continue to build on all the gains that we have achieved in the past year.
I am excited at the prospect of how our businesses – like those that are tourism-related – can fully benefit from the reopening of the economy. And as the local economy recovers and finds firmer footing domestically and internationally, businesses like ours will have greater confidence to invest even more for expansion and growth.
The landmark economic-related laws passed by the previous Congress, including the economic-related initiatives of the current administration, should also provide the much-needed stimulus to our local economy.
I am optimistic that if the public and private sectors continue to work hand in hand, 2023 will be a banner year that will usher in consecutive years of strong growth.
3. Frederic C. DyBuncio, president and chief executive officer, SM Investments Corp.
2022 was a year of strong rebound with the economy and businesses benefitting from renewed activity and consumer spending.
By the second half, our SM businesses in retail, banking and property were all beating pre-pandemic performance and returned to growth and footprint expansion again, incorporating lessons learned during the last two years that have brought us closer to our customers and communities.
We also invested in new areas like logistics and geothermal steam production for renewable energy that are performing well. In many ways the Philippines was a bright spot in Asia this year, despite global volatility and headwinds that impacted all of us. We adapted and, as a proxy for the country, SM strongly rebounded.
[For 2023], we remain optimistic and we are investing in growth. The Philippines continues to have tremendous potential with a young, industrious population and opportunities in most sectors.
Our businesses all operate in still highly under-penetrated markets and we aim to serve more Filipinos in more regions nationwide. We will continue to watch global markets and take actions to ensure our businesses remain resilient, and also to plan for climate change, where we are keen to support action to ensure our collective resilience as a country.
The long term view for us is very positive and there is strong momentum heading into next year.
4. Ernest L. Cu, president and CEO, Globe Telecom Inc.
2022 was a challenging postpandemic year as geopolitical tensions, among others, weighed down on the global economy. For instance, the war between Russia and Ukraine exacerbated global inflation and supply chain issues, leading to increased costs of goods and services across industries. This has made it difficult for businesses and consumers to cope with daily expenses and needs. The instability in the region has led to a decline in foreign investment, which is essential for economic growth.
Despite this, Globe has shown resilience and is ending the first nine months of the year quite well. Notably, it achieved certain milestones, recording an all-time high of P118 billion, up 3 percent versus the same period last year, which was driven by mobile and corporate data services and contributions from our nontelco subsidiaries.
Globe has closed the largest-ever tower sale and leaseback agreement in the Philippines, bringing overall towers sold to 7,059. Additionally, Globe concluded its first stock rights offer in over two decades and raised P17 billion. Despite challenging market conditions, the offer was oversubscribed, a testament to our shareholders' confidence in the company and management.
As we are expanding businesses beyond telco, Globe sealed a joint venture (JV) agreement during the first quarter of the year with Singapore-based ST Telemedia Global Data Centers to cater to the growing needs of businesses and the emergence of hyperscalers. The success of GCash, ending September 2022 with 71 million registered users and P4.8 trillion in gross transaction value, is a manifestation of Globe's success as the largest digital solutions provider in the Philippines. Further, Globe's KonsultaMD has transformed people's behavior in medical consultations by offering an omnichannel approach to health. The number of people utilizing the platform is growing, despite the ease in traffic movement.
Together with HealthNow and AIDE, Globe seeks to create the largest health tech play in the Philippines and represent the largest user base of over 2 million. Complementing our sustainability efforts, 917Ventures, Globe's corporate venture builder, is ending the year by signing a JV with Taiwan-based Gogoro Inc., a global technology leader in battery-swapping ecosystems that enable sustainable mobility solutions for cities.
We are looking at 2023 with cautious optimism and will bank on our ecosystem of digital solutions to take our businesses further. We think the pandemic accelerated digital adoption in the country, and with that, we're excited to go full-on with the Globe Group.
This beyond-telco initiative is meant to address the everyday pain points of Filipinos through a variety of digital solutions. With connectivity at the core of our business, we believe that the Globe Group will help enable the country to realize its aspiration of becoming a truly digital nation.
In terms of economic indicators, the Philippines is on track with the continuous expansion of 7.6-percent growth in gross domestic product in the third quarter of 2022.
The current administration remains bright about digital transformation plans to keep the Philippines abreast of the changing world. Consequently, Globe and GCash further deepened their collaboration with the national government and local government units (LGUS) to address challenges in delivering faster and more reliable internet connectivity all over the country and address financial exclusion.
The high inflation environment coming into 2023 will continue to be a cause for concern. We predict that consumer spending will be challenged, and the company has to prepare for a year of moderate growth. Despite this, we are working on becoming more efficient in our operations as we continue to improve network performance and maintain a good customer experience.
Maximizing the unfair advantage of Globe as the largest mobile network provider, Globe's vision is to create more industry unicorns in the fields of healthtech, edutech and entertainment.
5. Jose Teodoro "TG" K. Limcaoco, president and CEO, BPI
The past year was one of recovery and renewed strength. Our economy recovered and with consumer confidence returning postpandemic, BPI capitalized on being prepared for this upturn we expected.
We grew our loans and deposits faster than industry; we pulled in over a million new customers: we expanded our reach in the segments that would benefit most from financial inclusion.
Our digital efforts are truly paying off with new customers coming to us through our digital channels rather than our branches. More importantly, while we took care of our employees during the pandemic, we now focus on customer obsession. Our lesson; be focused on banking excellence anchored on trust and the best digital offers.
The new year will be a little more challenging as we need to ride through the global economic issues of inflation and higher interest rates. But despite these circumstances, our country will do well, supported by a young, confident, digitally oriented population.
BPI will do just as well, as we focus on this segment to help build a better Philippines.
6. Edgar Injap Sia II, CEO, DoubleDragon Corp., MerryMart Consumer Corp.
2022 is indeed another peculiarly challenging year that will be remembered for generations, being the year when we had the Omicron COVID-19 breakout, the surprise Russia-Ukraine war, and the very high inflation and interest rate environment globally. All these issues packed the year 2022.
Doing business in the midst of these multidimensional crises have made us learn the importance of stepping up and working doubly hard during difficult times. For adolescent companies like DoubleDragon Group and MerryMart Group, navigating through the past two and a half years of very rough and uncertain waters, on one hand, we view as a rare opportunity for the team to learn firsthand how to sail through the very rough waters and enable the team to demonstrate resilience and grit.
These are traits that we believe our team would essentially need to have to enable both DoubleDragon and MerryMart to solidly stand the test of time.
For 2023, we expect it to be a transition year for DoubleDragon Group and MerryMart Group as they begin to elevate from adolescent to mature companies. We expect both companies to fully transition to full maturity by 2025. We are also excited for 2023 as DD for the first time will start to generate dollar revenues from its Hotel101 overseas, and MerryMart's new wholesale App is expected to reach 1 million customer member base.
For our country, the second half of 2023 could be the U-turn year for the reverse of the economic direction trajectory back to the positive track and we are looking forward and excited for the next boom cycle to begin soon.
7. Sanjiv Vohra, president and CEO, Security Bank Corp.
2022 was a year of recovery and continued growth. In the first nine months of 2022, the bank posted a 77-percent year-on-year increase in net income, translating to P8.6 billion. Security Bank continues to be one of the best capitalized private domestic universal banks in the Philippines.
We channeled our resources to support economic expansion, address inflation impact, and enhance both customer and employee experience.
2023 will be a year of increased digitalization for the bank. We'll continue to work with the best technology partners in different areas like cloud migration, branch banking enhancements, improved customer journeys. We're building a digital-first culture, empowering our teams for success and continuing to enable a hybrid work arrangement, which distinguishes us in the industry.
We foresee inflation possibly hovering at the 7- to 8-percent area by end of the first quarter of 2023. Many factors will come into play in the coming months such as fluctuating oil prices, higher food basket index, and strong local consumption. We also expect the Bangko Sentral ng Pilipinas to continue rate hikes into the first quarter of 2023 until inflation cools down.
We're optimistic that our investments in technology and people will propel Security Bank forward in 2023. We'll remain focused on supporting our clients, investing in what matters to them, as we realize our vision to become the most customer-centric bank in the Philippines.
8. Irwin C. Lee, president and CEO, Universal Robina Corp.
2022 saw optimism from the country's emergence from COVID lockdowns and the reopening of the economy. Geopolitical tensions and supply disruptions were a challenge to navigate, but most companies saw strong growth on the back of consumer confidence. In URC, we learned to be agile and responsive to volatile and dynamic situations, knowing that our people would act in the company's best interests.
2023 may be challenging for the Philippines as the reopening momentum begins to dissipate, and as we work through stubborn cost inflation. Nevertheless, we expect the economy to perform at par with our Asean peers, and surpass the more developed markets that are currently flirting with recession.
9. Edler Panlilio, president and CEO, Cloud4C Philippines
2022 was undoubtedly a recovery year for everyone. I've learned a lot but the highlights are: The reopening of our schools and offices trickled down positively for our economy which helped a lot in the recovery of jobs, livelihood and earnings.
One of the biggest lessons for me is the realization that in every pursuit that we take, there will always be risks, but these risks are all part of the process. One can never be successful without conquering them. Whether it's an unexpected pandemic or a looming recession, everyone needs to identify these risks, learn how to mitigate them and go full steam with your objectives of transforming businesses, as well as changing systems or mindsets.
For Cloud4C, 2023 will be the year when we scale on our aspirations of accelerating businesses of all sizes through digital transformation in every form of cloud adoption.
Whether it's through the expansion of our support for hyperscalers or cloud service providers "Hybrid Cloud"; our own private in country cloud "Sovereign Cloud" or through our growing set of "industry clouds" i.e. banking as a service, health care as a service.
For the country, I think 2023 will be the true test of whether we will sustain our economic growth. 2022 is growth from recovery since we were all coming from low baselines from the pandemic years of 2020-2021.
Following the reopening of the economy would be the resumption of business expansions, building infrastructure and the continuation of digital transformation initiatives stalled or slowed down by the pandemic. Seeing all these in 2023 will assure us all of an economic growth that will hopefully lead us to one of the fastest growing economies in the world.
10. Jose Victor P. Paterno, president and CEO, Philippine Seven Corp.
2022 was better than the last two years of course, but surprisingly even better than 2019, both year-to-date and especially since restrictions eased in February 2022. We were the worst performer in the 7-Eleven system globally during the pandemic, as we had not only the most restrictive and lengthy lockdowns, but were also the only country where under 18s, who comprise a significant portion of our customer base, were restricted from going out.
We did our best to keep as many employed as possible, and financed our franchisees—we have a culture of "walang iwanan" that was tested then but is benefiting us now as it has in the past, where we are able to expand at speed because of the strong culture of trust.
This year, we also learned that while the recovery is strong, it is unevenly distributed. Metro Manila stores are underperforming significantly vs 2019 relative to the Visayas, Mindanao and more remote areas of Luzon. We believe this is because people have moved, and are finding employment in those areas, perhaps because of remote employment from abroad.
If this decentralized growth continues, it bodes well for the country's future—this is something that many administrations have attempted to achieve for some time, and I hope this one will build on one of the few "blessings" of the pandemic.
Because of all of the above, and because we spent the lockdown focused not on cost cutting but on preparing for its end, we knew that things would be very different after, but didn't really know what to expect. We built analytics and processes with the aim of being the first to see and act on the new trends that would emerge.
We had no idea then about all the global uncertainty that would follow, but are happy that we essentially invested in uncertainty, and are confident we will benefit from it, at least on a relative basis.
Finally, if the past few months are any indication, I believe the current administration will handle the turbulence well, and continue to surpass the expectations of many I know in the business community.
11. Macy Castillo, CEO and co-founder, Enstack
We launched our SME superapp Enstack in the Philippines this year, and we're fortunate that we're ending 2022 on an even higher note. We've managed to build a strong base of merchants, integrate an extensive partner network to give our users best-in-class services, and introduce innovative app features that directly address the specific needs of underserved MSMEs in the country.
This year showed us that the future for small businesses is shaping up to be a balance of offline and online commerce. As we revert back to pre-pandemic life, small businesses need to adapt to this hybrid model to future-proof their operations. We will continue to do our part in helping merchants pivot to this post-pandemic reality.
In the next year, we look forward to expanding our community of food, services, hospitality, and even travel merchants that have joined us this year. Beyond retail shopping, people are also investing in experiences to make up for lost time during lockdowns.
2023 will be challenging as we face shifting economic conditions. This is true for new companies like us, and even the small businesses we serve, but these obstacles only make businesses stronger and more resilient.
The coming year is shaping up to be a time when small businesses are expected to clearly define how digitization fits into their short-term and long-term goals to help navigate market shifts. For Enstack, this means implementing on-pulse and on-trend innovations to create an empowering and enabling business environment that fosters collective growth for us, and the MSMEs we serve.
12. Pammy Olivares Vital, president, Ovialand Inc.
The January Omicron surge set up my mindset for 2022. That while we looked forward to saying goodbye to Covid, it's better to keep your guard up and fighting stance rather than hope for better days. And with the Ukraine war, global supply issues, inflation – the cynicism paid off.
We prepared and kept ourselves disciplined, evaluated every layer of our business – that we ended a year with a 75 percent growth rate. So the lesson of 2022 which we hope to carry on for a long time: keep your guard up.
We are still preparing for growth in 2023, motivated by the strong housing backlog and demand for value for money house and lot packages. Focusing on creating the best value options for the home-buyer and client satisfaction allows us to focus on what we can control, rather than what we cannot. That said, it is our hope that year by year, more Filipinos have an improving quality of life and we hope to contribute to this thru our industry.
13. Henry Albert Fadullon, president, Phoenix Petroleum Philippines Inc.
Given the uncertainties ahead, it is always best to be prepared–plan for the worst scenarios, and hope for the best outcome–an important takeaway in the past years. We thought the pandemic was it until it was followed by the war in Europe, inflation, strengthening of the US dollar, rising interest rates, slowdown of economy, and on and off lockdowns in China—all weighing down on market sentiment and investor confidence.
Despite all that, we've been navigating a challenging environment, but we've kept the team focused, engaged, as well as motivated, and we continue to manage our stakeholders.
While I am hopeful for 2023, we have multiple, unique challenges to overcome, and it will take time for most parts of the industry and the economy to get back to growth and investment mode. We would have to be ready to adapt and evolve.
14. Earl Melivo, country director, WorldRemit (Philippines)
Remittances to low- and middle-income countries (LMICs) grew an estimated 5 percent to $626 billion, according to the latest data from World Bank. As preference for digital tools and services to send money overseas increases, digital remittances will continue to grow steadily beyond 2022. This has been greatly beneficial so far for platforms like WorldRemit.
To date, WorldRemit has a robust payout network of more than 100 banks, leading mobile wallet services and 25,000 cash pick-up locations in the Philippines, providing customers the flexibility to send (from abroad) and receive (for the families of OFWs) however they prefer.
Our success is not only attributed to how rapidly fintech is growing but also how WorldRemit offers low-cost, accessible, and secure money services that can keep up with the needs of its customers. For instance, WorldRemit's technology allows for 95 percent of transfers to be ready within minutes.
There are definitely a lot of opportunities waiting in 2023 to continue tailoring services, working with our robust partner network, and supporting an increasingly diverse customer base. WorldRemit is working towards more efficiency and effectiveness, which means ensuring that money transfers become as easy as sending a text. Of course, this comes with the responsibility to explore even tighter security with the rise of cybersecurity threats and scams.
As more and more of our target customers become financially literate, particularly in the use of digital services like WorldRemit, we will in turn continue to experience rapid growth in our transaction volumes in the coming year.
15. Raul B. De Mesa, president and CEO, AbaCore Capital Holdings Inc.
For AbaCore, the year 2022 has been full of potential and growth. During this period, we have announced a number of initiatives that will accelerate our bottom line for the long term.
For one, we continue to be an investment gateway to Batangas given we are selling land to investors that want to expand their operations into the province. We were able to do that with the Gaisano group and a national meat processing chain.
In Surigao del Sur, we are set to earn royalty fees from the exploration work Oriental Vision Mining Philippines will conduct on our coal assets. In our core market in Batangas, we are set to execute a joint venture with Highsource Prime Building to build multiple infrastructure in the Monte Maria Shrine, such as a hotel and a water park.
What we have learned this year is that despite this ongoing uncertain operating environment, we need to continue being aggressive in our expansion plans. We must not be distracted by short-term headwinds, and instead focus on what we can achieve in the years to come.
For 2023 and the years to come, we will continue to pursue new business ventures and work to successfully implement the existing ventures we have announced. We look forward to the development of ABA Energy Hub, which will provide clean energy to the citizens of Batangas, and pursuing multiple infrastructure projects in the key markets we operate in.
As for the Philippines, while it is likely that economic headwinds such as an elevated inflation rate would persist, we believe our country still has a strong foundation for long-term growth. For example, we consistently have robust consumption spending and our labor force is relatively young.
As such, we believe an economic rebound could eventually take place next year, and this will benefit AbaCore as a stronger economy would attract businesses to invest their money in the country. With that, we look forward to partnering with these businesses in the markets we operate in.
16. Emmanuel V. Rubio, president and CEO, Aboitiz Power Corp.
There are many lessons to be picked up in 2022 as the energy sector continues to face many challenges like supporting the energy transition while meeting the country's growing energy demands. One of them is addressing and mitigating risks. To survive and thrive in this volatile business environment, we need to understand the risks involved and if they are going to be acceptable to our shareholders, stakeholders, and customers.
A significant risk that we dealt with this year is the price of fuel. We have had a comprehensive hedging program for commodity and currency as early as 2018. In the midst of rising commodity prices and Peso devaluation, the company, as a result of good planning and forecasting, was able to manage its fuel costs, honor its fixed-priced contracts, and protect its customers.
There are many more risks that we constantly monitor and mitigate. The environment constantly evolves, and as a company, we must always adapt and learn from the challenges and uncertainties presented to us.

We look at 2023 and beyond with great excitement and optimism.
Recently, we made known our goal to transform Aboitiz Group from a conglomerate to a "techglomerate" as a way to literally move forward faster. For AboitizPower, our transformation will be anchored on three pillars: Sustainable Energy Transition, Innovation, and Growth Beyond the Core. In the area of innovation, we are particularly delighted with our digital transformation as this help improve our operations that in turn provides exponential value for our assets, people, and customers.
In terms of our projects, our 1,336 MW GNPower Dinginin, the newest addition to AboitizPower thermal portfolio, is poised to become a major contributor of much-needed baseload power to the country's energy grid especially now that the country's peak energy demand continues to grow, even surpassing pre-pandemic levels.
On the renewable front, our RE portfolio continues to grow. We currently have over 1,000 MW of disclosed renewable energy projects, spanning different energy technologies of solar, wind, and geothermal.
We will continue supporting Philippine economic growth with our diversified fleet of assets. Our existing capacities will help power the country during this change, while we aim to triple our renewable energy portfolio and develop new complementary solutions to help the country decarbonize.
17. Valerie Soliven, SVP and chief revenue officer, Rockwell Land Corp.
2022 has been a year of recovery. As the country gradually re-opened, we saw our businesses rising up from the dark days of the health crisis and have started exceeding pre-pandemic performances. We've learned that in times of crisis, agility in terms of strategy, execution and organization is key. This together with strong relationships built with all stakeholders enabled us to bounce back quicker than expected.
We expect 2023 to continue to be bumpy, uneven and vulnerable to external shocks. We however remain to be cautiously optimistic in the markets we are serving.
18. Ricardo P. Isla, CEO, AirAsia Philippines
There are several takeaways from 2022 as it is the onset of the exit from the pandemic.
The most prominent ones are the shift in consumer behavior toward digitized touchpoints; the role of brands in releasing timely, relevant and factual content to combat disinformation; and the solidification of a company's role in the changing reality across key facets such as corporate citizenship and post-pandemic consumer lifestyle. And lastly, we as a company are establishing a corporate structure that is more cost-efficient as we aim for full recovery from pandemic-related losses next year.
AirAsia Philippines is on the path to full recovery in 2023. Our key goals in the coming year are the following: Growth of fleet and flight frequency to pre-pandemic levels, reactivation of hibernated international routes and launch of new ones, and the expansion of our domestic route network.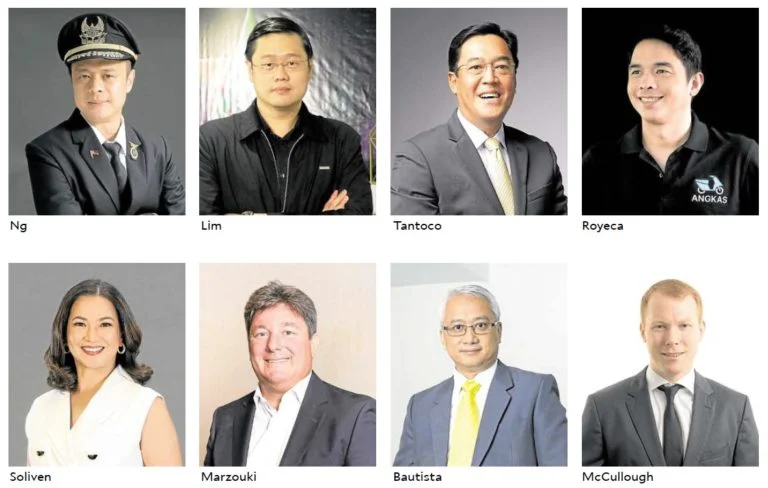 On a macro-level, we are optimistic that the tourism and transportation industries are set to exceed pre-pandemic figures with the implementation of better-fitted strategies and more systematic processes; strengthened collaboration with the private sector; and the investment in improved infrastructure.
19. Atsuhiro Okamoto, president, Toyota Motor Philippines Corp.
In 2022, I saw Filipino people's overall optimism and positive energy, and I think this mindset helped many of us in our goal of constant improvement. When it comes to lessons, this year proved once again that when you focus on a vision that will give people the chance to address challenges and contribute to society, your organization can build something great despite the many challenges.
This year saw many milestones in TMP, like the establishment of Toyota Mobility Solutions Philippines. In 2023, I am confident that we will continue to maximize the power of people and technology to make mobility more accessible and efficient to many.
With these solutions, and with our vehicles for various segments, especially MSMEs, we hope to help further boost Philippines economy by enabling not just the large companies but more importantly the livelihoods in smaller communities.
20. Eduardo Francisco, president, BDO Capital and Investment Corp.
Covid-19 taught us that we should be prepared and there's no playbook in dealing with things we haven't experienced before. Just when we thought we were recovering and reopening, Ukraine, oil price shocks and supply side problems occurred. The lesson here is that we should be ready for anything and be ready to face adversity.
Despite the challenges, we had a very busy 2022 and while there has been some slowdown in the last few months, we are hopeful that 2023 will surprise us. We will be ready and look forward to servicing our customers' needs.
The country will have slower growth but it is still in a very bright spot compared to the rest of the world. Even with slower growth resulting from higher interest rates, we hope SMEs will find ways to grow. Inflation should subside in 2023 and our people should have more food on the table.
21. Steven Tan, president, SM Supermalls
As the economy opened gradually in 2022, we realized that our assistance to our various stakeholders and communities during the pandemic was rewarded with a strong return to the malls.
Giving our tenants rental concessions made their recovery quicker and their funds went towards helping their employees during hard times – hence many did not suffer from losing people and were able to open sooner and reap the sales from revenge shopping and dining.
Our Safe Malling campaign and helping the government's vaccination program, where SM became the venue for over 10.5 million jabs nationwide, made people more confident of coming out to our malls – knowing we care for them and maintain high cleanliness and public safety measures.
We are bullish about the coming year but are rooted in the reality that the worldwide economy may shrink in 2023.
Here in the Philippines, we are fortunate that our Overseas Filipino workers have gone back abroad and are sending back remittances to their families which – with the adjustments in dollar-peso exchange – will continue to be beneficial for consumers.
SM has always been about value and fair pricing, and we have always advised our tenant partners to stay true to this consumer promise.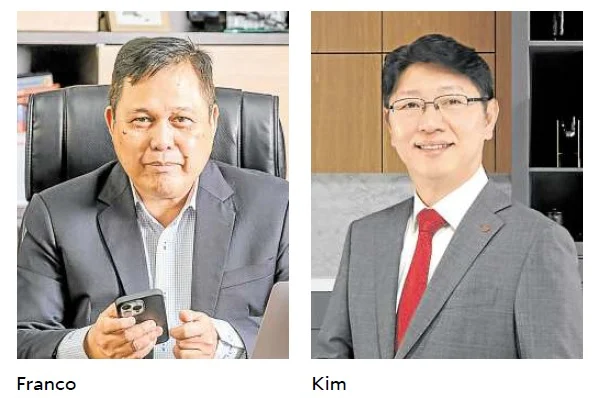 We are opening four malls in 2023, five in 2024 and six in 2025 and we hope that these will help the LGUs we will locate in, with more jobs, more MSMEs, more revenue for the local communities all around.
As we commit to serving more MSMEs in the coming year with our 82 malls and counting, we hope that the entrepreneurial spirit of the Filipino and our thrust to help Filipino businesses thrive, will be good for the country.
22. Dennis Anthony H. Uy, CEO and co-founder, Converge ICT Solutions
We started the year 2022 with a lot of optimism, as the lockdown was lifted and we enjoyed a more relaxed environment. Finally, we are able to travel again and go out with our friends and family.
However, we were faced with several challenges that were once again beyond our control. The continuing inflationary pressures, a weakening currency, and rising borrowing costs have all impacted our business.
Our stock price had gone lower than our listing price. This is a sad but expected outcome of the external pressures we're faced with today.
But earlier this year, I already shifted my perspective. There are many factors beyond our control now, which is why we must focus on strengthening our core business. Focus on what we do best – to fiber-power the Filipino nation.
I am thankful that we front-loaded investments on our digital infrastructure and it is in place by now. Our backbone connecting all the major islands is laid out so we can expand deeper into the provinces, municipalities and cities.
I am thankful that I have a strong management team with a heart for our customers and others. When we felt the financial pressure affecting our customers' ability to subscribe to our plans, we went back to the drawing board and started making plans for more affordable options for the different sectors.
Most of all, I am thankful for my family, my wife and Converge Cofounder, Grace, who has always been my partner in this mission to bring world-class connectivity to our country and our people. This year, she has been working non-stop to ensure our operations are sound and that the company remains profitable.
In 2020, when the Covid-19 pandemic hit us all unexpectedly, many businesses suffered. But the resiliency and entrepreneurial spirit of our people carried us through.
Because of the lockdown, everyone had to embrace digitalization. As we move towards recovery, I believe that digitalization will continue to be central in ensuring sustainable growth over the long-term.
Thus, our work here is not yet done. In fact, it has become more important than ever.
My dream is to give Filipinos from all walks of life, access to digital connectivity. We believe that everyone should have access to the internet. No matter their location, gender, and social class. No one must be left behind.
I'm optimistic that 2023 will give us even more opportunities to bring about digital democracy – meaning, bringing our products and services closer to the D & E market.
We are creating products and services to aid the digital transformation of SMEs and Enterprises such as cloud solutions and other platforms.
Overall, since no lockdowns are foreseen and the economic activity continues to recover, we are moderately optimistic for what the year ahead looks like for Converge.
23. Michael McCullough, managing director, KMC Savills
2022 was a year of learning. We learned that flexibility for our employees was a must. We learned that tech companies, like all companies, needed to be profitable. We also learned to connect with our community and have been fortunate enough to get our CSR activities back.
Our vision for 2023 is to continue finding ways to add value for all stakeholders in the real estate industry. For KMC Savills, we continue to want to be the employer of choice by fostering a positive work environment that inspires growth and excellence. We are proud that the Philippines is being recognized as a global talent hub.
24. George T. Royeca, CEO, Angkas
Since we eased through the new normal at the beginning of 2022, we have been operating at full speed. Angkas remained committed to the very heart of why we started this endeavor in the first place: to enable inclusive mobility for Filipinos and contribute to economic growth by creating livelihood.
By remaining true to these core values, we learned and realized that grit and a deeply held sense of purpose in providing a service for which Filipinos have yearned for decades have allowed Angkas to not only survive but thrive.
Our journey has never been without hurdles. We overcame decades of bias and stigma, legal and regulatory obstacles, and a pandemic that forced us to adapt in order to survive. Despite several roadblocks, Angkas is thinking even bigger— because any problem can be solved, or even be presented as an opportunity if you have the endless will to do so.
We have created something special at Angkas, in providing a viable solution to traffic by establishing a safe and professionalized motorcycle taxi service, we solved a whole other set of problems for individuals from a still marginalized sector of society.
For our 30,000 biker partners, Angkas has been their way out of poverty. We are now in the position to help reduce economic inequality by creating jobs for the available labor force and realizing the potential of what was previously viewed as an "informal economy."
Our successful model for poverty reduction is based on two things: empowering our biker partners through training as well as a viable fare-sharing scheme, and giving them a sense of dignity and ownership by making them partners rather than employees. This model can benefit 18 million motorcycle owners in the Philippines, most of whom are low-income earners, by creating more industries centered on two-wheeled motorcycles.
We hope that other startups and entrepreneurs will be inspired to replicate our model by giving Filipinos a fair shot to hone their skills and be productive members of society. Empowered Filipinos are those who are willing to rise to the occasion and deliver so much more than what is expected of them. We see a brighter future for if we continue to give them opportunities and pave the way to Filipino talents. Angkas will definitely be at the forefront of this undertaking.
Angkas will also continue to work with the government to ensure that a measure will be passed on the proper regulation of motorcycle taxis in the Philippines as this will further legitimize motorcycle operations and will open more opportunities to 18 million motorcycle owners in the country.
25. Rico T. Bautista, president and CEO, Etiqa Philippines
The beginning of 2022 was a big challenge for Etiqa Philippines as it was the time when the Omicron Covid-19 variant hit our country. Our company was put to test as we needed to attend to the mounting medical requests of our customers and clients.
As the entire world struggled, we progressed towards a digital transformation journey. We focused on insurance technology or "insuretech" to address our service challenges. This paved the way for the launch of our Letter of Guarantee (LOG) portal – a digital and efficient way to respond to the needs of our customers. As a bonus, it was even recognized by Insurance Asia Awards as the best Customer Service Initiative in the Philippines for 2022.
A great lesson we have for the company is that, when faced with a challenge, you need to involve and empower your key people in finding the solution and follow through the progress along the way. Another lesson is that, despite the challenges, one can still deliver results as we are looking at having positive growth for our company in 2022, especially in capitalizing the use of technology and digitalization partners in expanding the business!
The year 2023 will surely bring its own sets of challenges and issues. But, we are hopeful that we will continue to see growth in our company. We will anchor on our key thrusts of being the leading advocate of insuretech in the country and in offering life and non-life insurance products under our "Go Unified" campaign.
Through these strategies, we strengthen our commitment to innovate, improve, and invest in people, products and services. Guided by our mission of making the Philippines a better place, Etiqa Philippines has robust plans on growing business through digitalization, new distribution collaborations, stronger customer and broker partnerships, and employee growth. I am confident that with our focused strategies and steadfast dedication, 2023 will be a great year for us.
26. Eng Teng Wong, president and CEO, Pru Life UK
As part of the Prudential family, taking good care of our loved ones and families––no matter what type or size, traditional or modern––is very much in our culture. The very good reception to our We Do Family thrust in 2022 is put to life further through our launch of PRUHealth FamLove, a first-of-its-kind critical illness protection product accessible to all Filipino families, including same-sex or common-law partners, parents, and adoptive children.
With a single PRUHealth FamLove plan, a customer can share her/his protection coverage with up to 3 other family members. This is easy to avail as it only requires a customer to answer a simple health questionnaire with no medical examination requirement.
Aside from our innovative products, our digitalization efforts allowed us to expand our reach and provide health protection coverage to many more Filipinos including the underserved and unserved. While there's growing interest in our simple and affordable products accessible online, there is still a huge and irreplaceable need for professional financial advice through our financial advisors.
We are happy to have over 33,000-strong digitally empowered agency force helping further drive up financial inclusion in the country. With technology, we have been able to reach many more Filipino families, along with our like-minded partners, to a level that we have not seen before.
As we move forward to 2023 and beyond, we remain faithful to our purpose of helping Filipinos get the most out of life.
We will continue to drive up financial inclusion in the country through further digitalization, partnerships, inclusive customer-centric products and micro-moment product offers. We will complement it with our financial literacy initiatives including our award-winning Cha-Ching money management program for children and e-FinLit, a free online program for Filipino professionals.
We will grow with the Filipino families as they evolve from traditional to modern, finding more customer-centric solutions and innovative products to address their diverse needs.
We will further our purpose with our like-minded partners by carrying out more health- and wealth-related initiatives and offers to help Filipinos become healthier and wealthier.
And as we celebrate life and mark Prudential's 175th anniversary in 2023, we will strengthen our efforts further to drive up financial awareness, literacy, and inclusion in the country and provide protection coverage to millions of Filipino families to help them get the most out of life.
27. Donald Lim, COO, DITO CME
2022 was like turning the "power on" for most companies after two years of reset.
We restructured and pivoted to ensure that our organizations stay lean and mean while ensuring continued customer satisfaction. Everyone had to learn to read the P&L as every number counts, and everyone had to learn how to manage people in, out, and in-between their organizations.
Partnerships, co-opetition, and stakeholder management and maximization have become the focus for an enterprise's survival and sustainability. Now that the gates of business are open again, we are all revving up to bring all our companies back to pre-covid normal.
Given the unpredictable geo-political landscape and the looming global recession, we face 2023 with cautious optimism like most companies. Covid has been one of the toughest teachers for business leaders. It taught us to be creative and open in adopting to a rapidly changing landscape brought about by technological and biological realities. Competition can become intense for 2023. Every financial point counts. I hope industry leaders will take a long view in investing in the Filipino and in our country.
28. Sungjae Kim, managing director, LG Electronics Philippines
The past few years have been difficult for everyone. All businesses, no matter how big or small, have been directly impacted. As we're slowly coming out of the pandemic, the biggest lesson I feel is the need for adaptability but at the same time, trust in your core. 2020 and the better part of 2021 was focused solely on survival.
2022 thankfully, is more forward looking. Since we are slowly shifting into the new normal, business was good despite the uncertainties in the market. You have the pandemic of course but there's also global recession, worldwide gas price hikes, the weakened peso vs. the dollar, and countless other issues.
But through everything, sales have been consistent, especially with our budget lines and high-end products. Our success can be attributed to seeing the signs in the market and adapting accordingly. We diversified our product mix to cater the various demands of consumers. At the end of the day, it's all about catering to their needs.
Looking at 2023 and beyond, our mission is still the same. Even if the economy is still reeling from the effects of the pandemic, recession, and other global events, we are still committed to serve the needs of our customers while at the same time, creating solutions that provide impactful change. We strive to present cutting-edge consumer-centered innovations that bring new possibilities and experiences to daily life.
29. Richard B. Tantoco, president and COO, Energy Development Corp.
It was messy going into the pandemic in 2020 and it's another adjustment getting out [in 2022]. We saw that technology, systems, and processes–though they make things more repeatable and efficient– do not necessarily fix problems. Sometimes, they just magnify them. It's still people who solve problems and capture opportunities. Teams of people who have strong collaborative relationships have a greater collective capacity to succeed. This is something that no technology can ever replace.
There is an ever-growing demand for renewable energy (RE) not only because of the need to shift to low carbon power as a primary solution to our climate crisis but also because it's indigenous. We don't use precious foreign reserves to power the economy.
EDC recognizes this and will continue to fulfill its commitment to help the country decarbonize by providing clean, reliable, 24/7 RE to its power customers amid the challenges and uncertainties in the global energy sector.
Experts predict that 2023 will be challenging because of inflation, high interest rates, supply chain reliability, the war for talent, and the impact of de-globalization which is going to add friction in terms of costs and time. It should be capable of being navigated though, with planning and prudent management of debt. I am hopeful given how creative and talented Filipinos are. Our country and countrymen have been battle tested and have proven to be resilient time and time again.
30. Stanley Ng, president and COO, Philippine Airlines
The year 2022 is a year of transitions for me. It brought me a lot of unimaginable blessings for which I am thankful for. I've been a part of the operations of Philippine Airlines for 18 years.
This year, I have been given the privilege of leading the country's flagship carrier as countries re-open for travel and global economies recover from the pandemic. My lifelong learning continues as I graduated from an Advanced Management Course at the Harvard Business School.
As for PAL, what defined our story in 2022: exceeding our financial targets as early as October; being there for the country when Filipinos needed us most; providing accessibility to support economic activity; connecting people once again with their families; and being a symbol of hope to all Filipinos.
For 2023, we will focus on improvements starting with the fundamentals of how we do business and how we create the best customer experience. Guided by our purpose, which is to connect people and help them achieve their goals, as we support the government and the private sector in making the Philippines a hub for travelers in the region.
We continue to be prudent in managing our resources and in investing on upgrades for our products to create an even better experience for our passengers. We are excited to announce opening new routes such as Manila-Perth, among many others. You can expect stronger partnerships with the government for better accessibility.
31. Kais Marzouki, chair and CEO, Nestlé Philippines
The year 2022 did not exactly bring the end of the pandemic we had hoped for.
A high degree of uncertainty prevailed, leading to a surge in commodity costs, putting purchasing power under tremendous pressure. Although mobility resumed and life gradually returned to more normalcy for families, consumers had to continue to make difficult choices about how to spend their earnings across categories, services, and brands.
2023 will be a critical year for the country and our organization as it will show whether we will be agile enough to weather the economic slowdown that seems to be getting hold of the world, and demonstrate that we are able to achieve the growth we yearn for. Amid instability, adapting to ever-changing conditions will be the name of the game for 2023.
32. Edgar Saavedra, chair and CEO, Megawide Construction Corp.
You can never put a good man down. As long as you are committed to your values, and do what is right for your people and the country as a whole, people will appreciate this amid criticism and negative publicity.
We found new allies for Mactan Airport and we were welcomed by the Cebu City government for the modernization of the 100-year old Carbon district. We see 2023 as a renewed opportunity for Megawide to leverage on the trust and confidence of our stakeholders as we pursue developments to accelerate the country's growth such as more landport locations, and transport infrastructure like the MCRP and the Subway.
33. Rodrigo Franco, president and CEO, Metro Pacific Tollways Corp.
In 2022, MPTC continued its business recovery from the pandemic. While revenues and profitability already returned to pre-pandemic levels, our projects under construction needed strong push to overcome the delays and extra costs caused by the pandemic. We realized that the business environment has evolved and would never return to pre-health crisis state. We thus had to accelerate our business transformation and are particularly pleased with the rapid development of our mobility ecosystem.
We view 2023 with an optimism bias as the continuing easing of mobility restrictions sustains the country's economic recovery. However, the inflation and supply-chain shocks are unresolved issues. We included in our 2023 business plans some programs that will take advantage of a vigorous economy. But we also have initiatives that will enhance our ability to survive and even thrive in case the current market turbulence deepens further in the coming months.
34. Ramoncito Fernandez, president and CEO, Maynilad Water Services Inc.
There were many positives in 2022. The economy has gradually opened up. Pandemic-related constraints have eased, and the lifting of mobility restrictions has made it easier for us in Maynilad to resume intensified implementation of activities that are critical for sustaining service level improvements, such as the replacement of old pipelines and installation of new sewer lines. Of course, there are still some disruptions to the supply chain, and the current exchange rate pressure is driving up our operational expenditures.
This has taught us to squeeze out more efficiencies from our operations, and to be agile in the face of the constantly changing business environment. At any rate, the recent approval of water tariff adjustments puts Maynilad in a better position to pursue long-term infrastructure projects that will benefit our growing customer base.
For 2023, I am optimistic that the country will sustain its high growth trajectory, with PPPs playing a major role in employment generation and improved service delivery. I look forward to a tamer inflation, and hope for a more stable regulatory environment. These will enable us to accelerate the implementation of essential capital expenditure projects, and continue to meet service commitments to our customers, employees, and other stakeholders.
35. Raoul Antonio E. Littaua, president and CEO, Insular Life Assurance Co. Ltd.
The life insurance business is about expecting the unexpected. Yet again, 2022 has shown this to be increasingly difficult in our rapidly changing and complex world. High inflation as an after-effect of the pandemic, geopolitical risks and threats to global security, the turmoil in energy markets — these were the main issues we have had to contend with this year. And we will continue to confront unpredictability across these themes going into 2023.
Be that as it may, InLife has demonstrated remarkable adaptability in 2022. Our topline growth has been sustained, and we are seeing record-breaking sales increases in several channels. As a 112-year-old Filipino institution, Insular Life's resilience and financial strength have once again come to the fore.