August 10, 2023
BANGKOK – Talks with the new coalition partners was held at Parliament to avoid being confronted by protesters.
The six parties who have joined the Pheu Thai-led coalition are: Prachachart, Seri Ruam Thai (Thai Liberals), Pheu Thai Ruam Palang, Palang Sangkhom Mai, The Party of Thai Counties, and Chart Pattana Kla.
Prachachart, Seri Ruam Thai (Thai Liberals), Pheu Thai Ruam Palang and Palang Sangkhom Mai were also a part of the first coalition put together by Move Forward, which included Pheu Thai.
Though the coalition's eight parties accounted for only 228 seats in the 500-seat House, Pheu Thai leader Cholnan Srikaew reaffirmed emphatically that the alliance has the support of at least 251 seats, giving it a clear majority.
Pheu Thai declared that more members would soon be revealed as the party is scheduled to hold talks tomorrow with Chart Thai Pattana, which has 10 seats.
Cholnan said that the Pheu Thai-led coalition's primary focus would be to urgently help Thailand iron out its three current crises, namely the constitution, the economy, and the political divide in society. He said the party is soliciting support from all individuals, regardless of their political ideology.
Pheu Thai pledged to make the drafting of a new constitution a priority to end all three crises.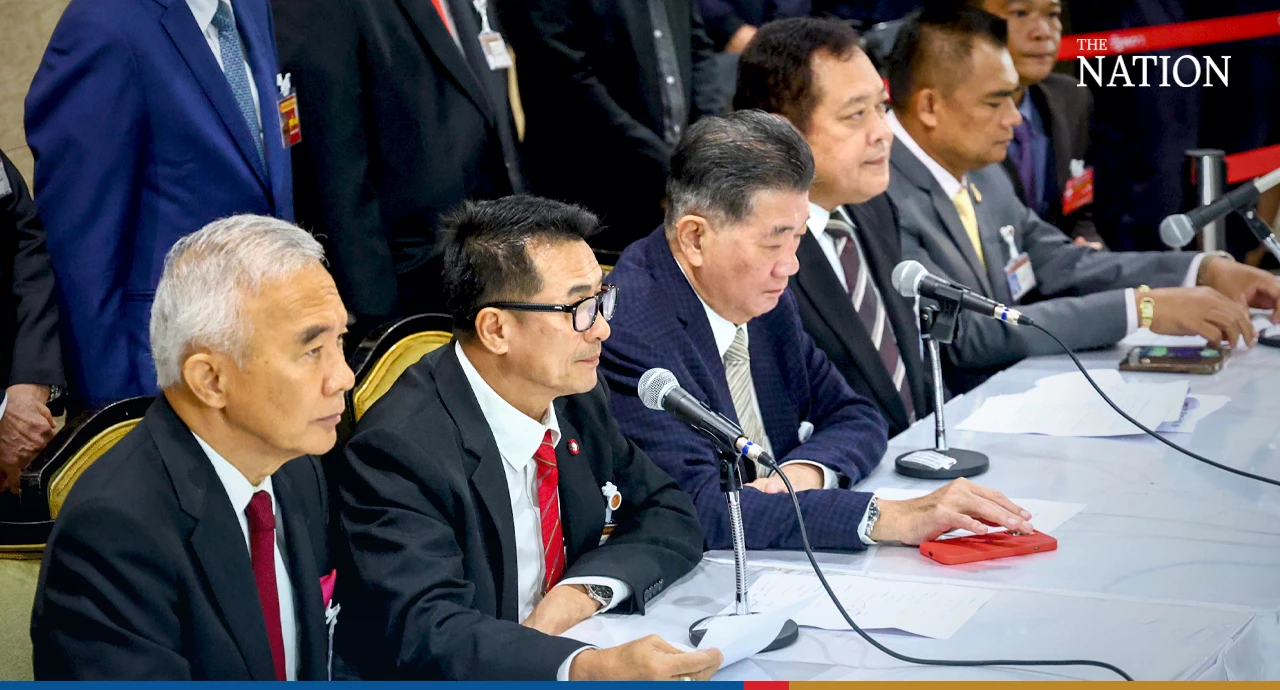 Pheu Thai deputy leader Phumtham Wechayachai told the press that the the new government was being formed at a time of unprecedented circumstances, so Pheu Thai welcomes everyone's support to free Thailand from the woes.
Asked whether the Democrat Party, regarded as Pheu Thai's formidable foe, would join the alliance, Phumtham said that it depends on the Democrats' decision.
"However, we wish support from everyone," Phumtham said.
Meanwhile, Chart Pattana Kla's chairman, Suwat Liptapanlop, said that his party was partnering with Pheu Thai for five reasons.
First, Pheu Thai is the second-biggest party in Parliament hence it has the right to form the government, after the largest party was unable to do so.
Secondly, the Pheu Thai-led coalition has more than half of all seats in the House.
The other reasons are: Pheu Thai would not amend the lese majeste law, would maintain similar economic policies, and, Thailand urgently needs a new administration to instil confidence among foreign investors.
There is a likelihood of the coalition joining hands with two junta-backed parties — United Thai Nation and Palang Pracharath — as one coalition member, Sereepisuth Temeeyaves, the head of the Seri Ruam Thai, advised followers to be "open-minded" if the coalition did so.
The alliance is confident that its PM candidate Srettha Thavisin would win the prime minister's post.
After the meeting, Pheu Thai would meet with Move Forward to ask for support in the next round of voting for PM.