October 23, 2018
Speeding was the main reason behind the deadly derailment of a Puyama express train in northeastern Taiwan on Sunday that has left 18 people dead.
Confirming widespread suspicions that the train was going too fast at the time of the accident, Minister without Portfolio Wu Tze-cheng said the train was traveling at 140 kilometers per hour when the train entered a curve and derailed in Yilan County.
The speed limit for that curved area, which has a radius of 300 meters, is 75 kph, Wu said, but he was unable to explain why the train was operating at such a high speed.
Suspecting that the driver may have been professionally negligent, prosecutors on Monday night filed a motion with the Yilan District Court to detain him for further questioning.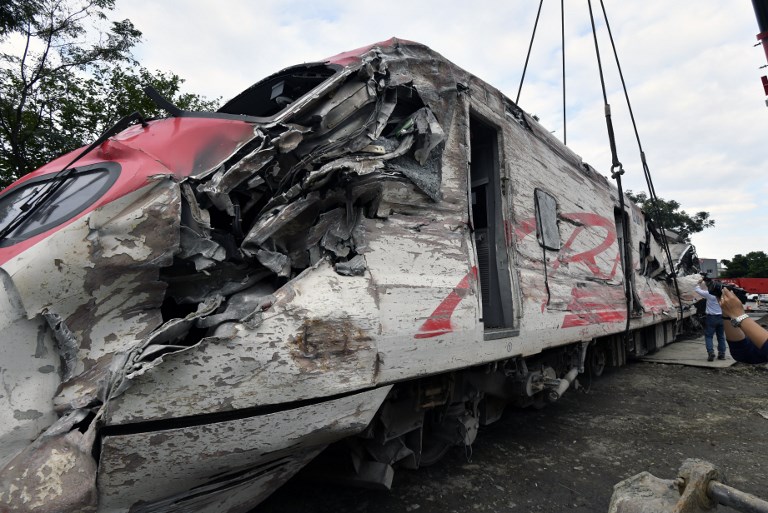 The 48-year-old driver was seriously injured in the derailment but his condition improved Monday and he was moved from the intensive care ward.
Prosecutors suspect the driver was at fault in operating the train at too high of a speed and also for shutting off the train's automatic train protection (ATP) system.
Lu Chieh-shen, director-general of the Taiwan Railways Administration (TRA), said Monday the TRA suspected that the ATP system that would have slowed the train down automatically was turned off manually.
He did not offer further details on how that happened.
Also on Monday, Lu submitted his verbal resignation to Transportation Minister Wu Hong-mo in the wake of the deadly derailment, but Wu did not approve it.
The transportation minister said the current priority is to follow up with victims of the accident, which left 18 passengers dead and 190 injured, investigate the cause of the derailment and resume normal train operations in the affected area.
The TRA has also agreed to complete safety checks by Tuesday of all their 18 Puyuma express trains, known for their tilting features that allow them to maintain relatively high speeds on curves.
The trains, introduced in 2013, are part of a railway upgrade in eastern Taiwan to help increase rail capacity and allow more travelers to bypass the area's main roadway, the narrow Suhua Highway, which is highly vulnerable to traffic jams, landslides and road collapses.
Wu will also give a special briefing on the derailment at the Legislature at the request of lawmakers on Wednesday.
According to the Executive Yuan, families of the deceased on the derailed train can receive NT$5.4 million (US$174,600) in compensation for each victim, while the injured can receive up to NT$2.45 million, depending on their condition.