March 28, 2023
BANGKOK – The first edition of the biennale was held in Krabi in 2018 followed by Nakhon Ratchasima or Korat in 2021.
By alternating locations, the spirit of the Thailand Biennale sparks creativity, highlights provincial cultures and revitalises local relics.
The latest biennale will kick off in December this year under the concept of "The Open World" and run until April 30, 2024. The aim is to promote Chiang Rai's metamorphoses into a "world city of art".
"Local art and culture will be combined with novel and creative ideas to improve tourism and product development, using art to boost community income and propel the province towards a creative economy," Culture Minister Itthiphol Kunplome said at a recent press conference.
The conference held at Chiang Rai's iconic white temple, Wat Rong Khun, also included provincial governor Puttipong Sirimat and Culture Ministry officials.
Also present were festival artistic directors Rirkrit Tiravanija and Gridthiya Gaweewong, and co-curators Angkrit Ajchairyasophon and Manuporn Luengaram.
"Activities such as international art festivals increase the potential of tourist attractions, products, services and income," the minister said, adding that the biennale is part of the government's policy to promote Thailand's "soft power".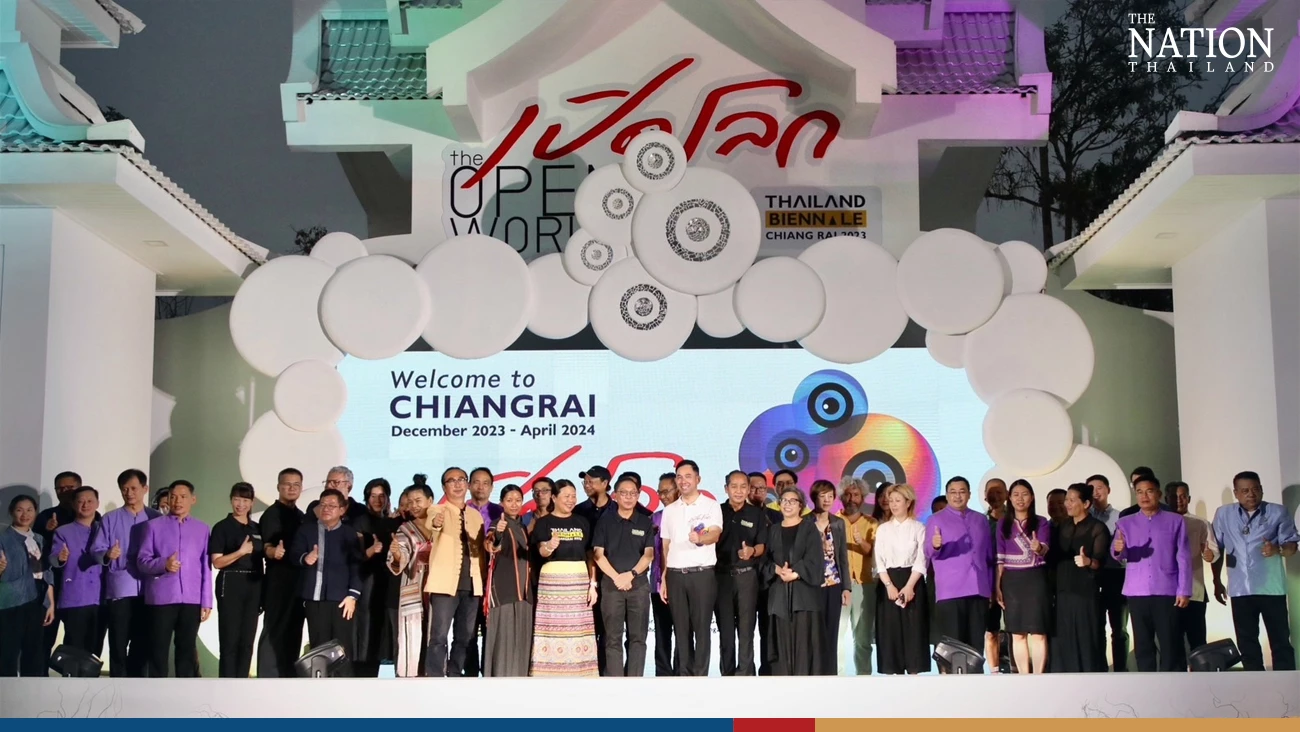 Festival theme
Titled "The Open World", the concept is inspired by a Buddha statute enshrined in Chiang Rai's ancient Wat Pa Sak temple. The posture represents wisdom and awakening as Buddha descends from heaven to perform the miracle of revelation by opening the three worlds of heaven, hell and humanity.
The statue, built in 1295 during the Phaya Saen Phu era, symbolises the Thailand Biennale 2023 aim to "open up" people's world and their perceptions of art.
"As hosts, we will collaborate with local artists, the Association of Artbridge Chiang Rai, subdistrict administrative organisation, the chamber of commerce, companies, shops and foundations," Puttipong said.
The aim is to drive Chiang Rai's dynamic to become a more colourful province that is animated with artwork in different fields.
"The venues, the people and the communities are ready to welcome artists and tourists visiting the event in every aspect," he said.
"Our way of life, the Lanna culture, is an asset with a long-standing history, magnificent art and unique architecture fused from various ethnicities," he said.
"We take great pride in being chosen to showcase world-famous artists. Chiang Rai's art and culture will be publicised, helping cultivate a love of art among the youth and locals."
The governor added that the biennale will also serve as an international stage for local artists to showcase their talents as well as increase revenue for the city and its residents.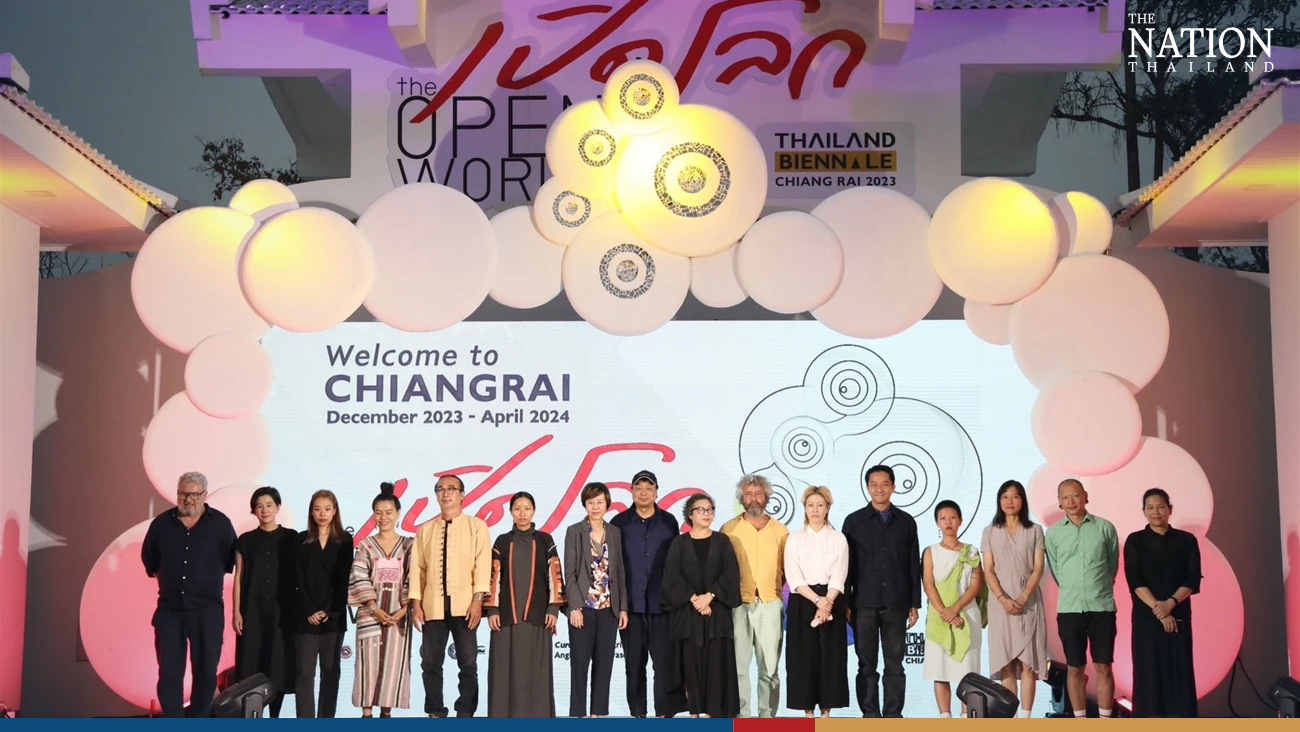 Ancient legacy
The centuries-old Lanna traditions and cultural heritage continue to live on in Chiang Rai in the form of architecture, craftsmanship, storytelling, beliefs and ecology.
The Lanna Kingdom or the "Kingdom of a Million Rice Fields" began in the 13th century and flourished under several monarchs. In 1262, king Mangrai moved his capital from Ngoenyang (modern Chiang Saen) to Chiang Rai.
The northern city's rich cultural heritage has attracted artists from different parts of the country to settle in and around the valley. Among them are Thawan Duchanee, who built Baan Dam (Black House) Museum, and Chalermchai Kositpipat, who created the all-white Wat Rong Khun in the city.
Thawan and Chalermchai have served as role models and inspired other artists to return to their hometown.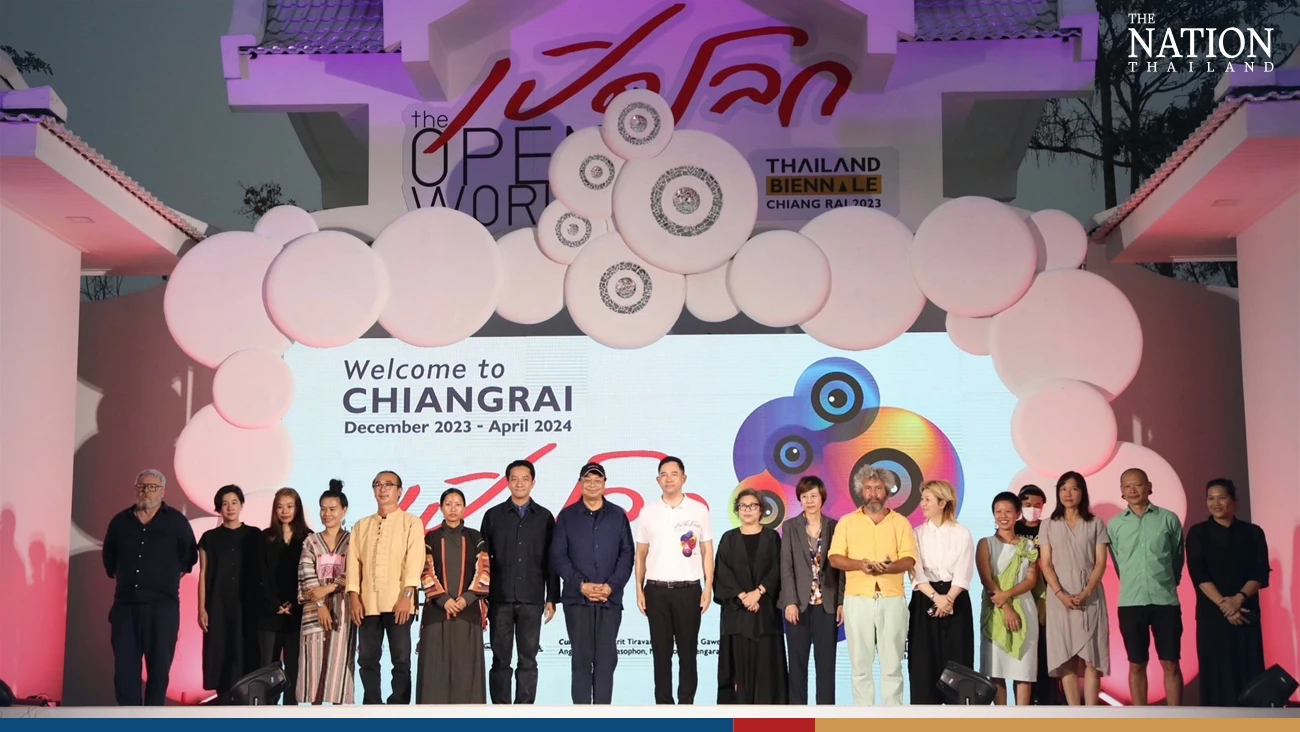 Intersection of cultures
The Thailand Biennale 2023 theme, "The Open World", seeks to celebrate a "borderless" world, in which artists explore the potential of a better future.
The festival will spread across many sites in Chaing Rai and Chiang Saen's Golden Triangle area, featuring artists from the "Mekong to the Amazon and beyond".
The initial list includes Thailand's ground-breaking artists such as all(zone); renowned filmmaker Apichatpong Weerasethakul; Baan Noorg Collaborative Arts and Culture; Busui Ajaw; Kamonlak Sukchai; Navin Rawanchaikul; Nipan Oranniwesna; Roongroj Paimyossak; Sanitas Pradittasnee and Sriwan Janehuttakarnkit; as well as foreign artists like Citra Sasmita from Bali; Ernesto Neto from Rio de Janeiro; Haegue Yang from Seoul/Berlin; Singapore's Ho Tzu Nyen; Michael Lin; Nguyen Trinh Thi; Ryusuke Kido; Sawangwongse Yawnghwe; Soe Yu New; and Tobias Rehberger from Frankfurt.
"Everybody is invited to join 'The Open World' and participate in Thailand's 'Open Country and 'Open Chiang Rai' campaign to connect art to our way of life," Itthiphol said.
"Together, let's create new history through art and a culture-driven creative economy backed by the generous hospitality of the Chiang Rai people. We look forward to seeing you all."
The press conference ended with the start of a countdown to the art festival.
Visit www.thailandbiennale.org, thailandbiennale on Facebook or call the Culture Ministry 1765 hotline for more information.