May 4, 2022
MANILA – Philippines—As sabong (cockfight) went online in 2018, the House of Representatives already expressed its concerns, but as COVID-19 lockdowns were implemented in 2020, the craze even went wilder.
It was in 2020 when Mike Tabelina, 32, was told about e-sabong (online cockfight). Back then, as no one was allowed to go out, except for essential reasons, he gave it a shot: "No more need to shove my way inside the crowded cockpit."
Since then, he has involved himself in e-sabong—risking his savings while taking the chance of winning. However, he told INQUIRER.net that as years passed, he realized: "Sometimes, I win. Most often, not."
This was the reason that this year, he already decided to break out from e-sabong saying that "there were no more gains". He considered himself lucky for realizing this "before it's too late".
Last March, Sen. Panfilo Lacson, who signed a resolution to ask the Philippine Amusement and Gaming Corporation (Pagcor) to suspend the licenses of e-sabong firms, said e-sabong has "social costs".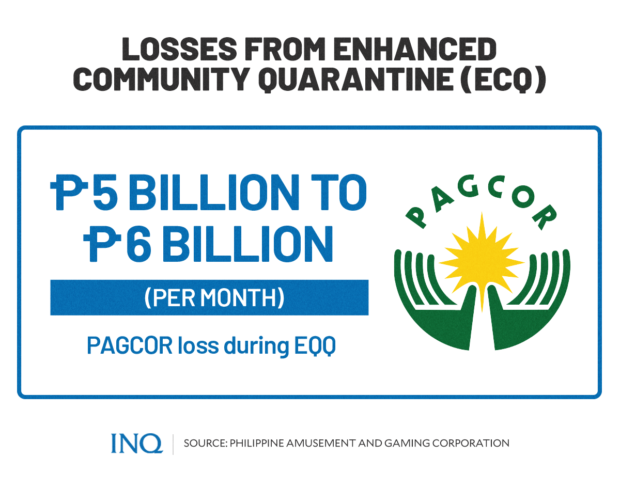 He said then that in Laguna province, a patrol man was mired in debt because of e-sabong, saying that it reached a point where he held up a gasoline station and a convenience store to pay off his debt. "He was caught and jailed. This is the social cost of e-sabong," Lacson said.
On Tuesday (May 3), e-sabong came to an end as President Rodrigo Duterte, who earlier said that it will go on, heeded the recommendation of the Department of Interior and Local Government (DILG).
Pagcor Chair Andrea Domingo, shortly after Duterte's order was reported by media, said the agency ordered an immediate halt to e-sabong.
Duterte said last March that e-sabong gives the government an income of P640 million every month since January 2022: "I did not stop it because the government needs the money from e-sabong. Where do we get that money that easy?"
Pagcor said that last April 25, the gross gaming revenue from e-sabong already hit the P1.8 billion mark. Last year, it said it was expecting to collect P7 billion in fresh revenue every year.
Malacañang's decision
In his Talk to the People, Duterte said he had directed the DILG to conduct a survey on the social costs of e-sabong: "The recommendation of Secretary Año is to do away with e-sabong." He was referring to Local Government Secretary Eduardo Año.
"It's his recommendation and I agree with it, e-sabong will end by tonight, tomorrow, the order will come out […] So Secretary Año did his job, he reported and validated what I'm hearing," he said.
"What we were concerned about is the revenue. P640 million is P640 million but I'm hearing loud and clear that it's working against our values. The impact on families and on people," Duterte said.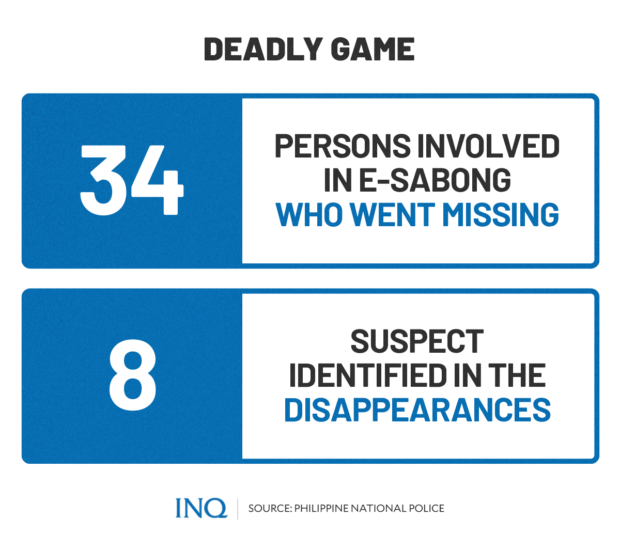 The Senate Committee on Public Order and Dangerous Drugs has held four hearings on the disappearances of individuals who were linked to e-sabong. Senate Resolution (SR) No. 996 was passed shortly after.
SR No. 996, which was signed by 24 senators, asked Pagcor to suspend the licenses of these e-sabong firms until the disappearances of the sabungeros have been resolved:
• Belvedere Vista Corporation
• Lucky 8 Star Quest Inc.
• Visayas Cockers Club, Inc.
• Jade Entertainment and Gaming Technologies, Inc.
• Newin Cockers Alliance Gaming Corporation
• Philippine Cockfighting International Inc.
• Golden Buzzer, Inc.
Malacañang, last March, said e-sabong will go on. Instead, it directed the Philippine National Police and the National Bureau of Investigation to investigate the disappearances within 30 days. Pagcor was likewise directed to investigate violations of e-sabong licenses.
Lives lost?
Since April 2021, 34 individuals linked to e-sabong have gone missing. Sen. Ronald Dela Rosa, chair of the Senate Committee on Public Order and Dangerous Drugs, said they were either "players, masters or agents, recruiters and drivers".
The PNP's Criminal Investigation and Detection Group (CIDG) said on March 17 that they were already investigating eight formal cases of missing sabungeros.
"There are now eight cases being handled by the CIDG, involving 34 reported missing persons engaged in e-sabong within the period of April 18, 2021 to Jan. 13, 2022," the CIDG said.
One of the cases was the disappearance of six sabungeros who went missing on Jan. 13, 2022 at Sta. Ana's Manila Arena. The CIDG said there were already three witnesses for this case.
Even as police were not yet done with their investigation, Duterte said then that the sabungeros are already presumed dead, stressing that they were taken because of game-fixing—an angle being eyed by the police.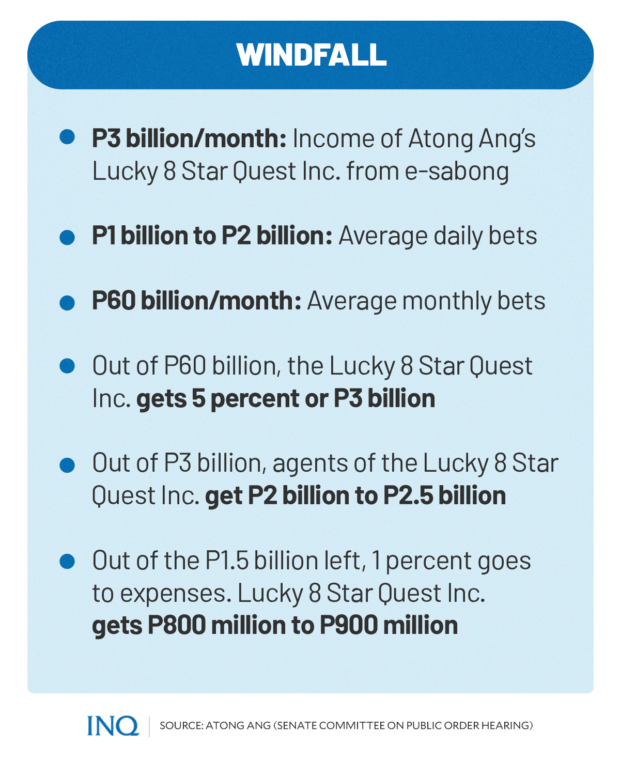 Last March 5, Charlie "Atong" Ang, a businessman and former gaming consultant who owns the Lucky 8 Star Quest Inc., the firm being linked to the disappearances, said his rivals are engaging in a conspiracy to wage "trial by publicity" against him.
Ang's company, Lucky 8 Star Quest Inc., operates three arenas where some of the missing individuals were allegedly last seen. At a Senate hearing, Ang decried the "guilty verdict" that the committee seemed to have already reached on him and his firm.
Kidnapping and illegal detention cases have already been filed against eight suspects tagged in the disappearance of six sabungeros.
Raking in billions
While Duterte earlier defended e-sabong because it generates revenue for the government, the P640 million that e-sabong pays to the government is a "pittance" compared to what Ang and his Lucky 8 Star Quest Inc. are earning.
Asked by Senate Minority Leader Franklin Drilon, Ang said that there is an average of P1 billion to P2 billion "daily bets". This translates to P60 billion a month. Out of this, he said they get five percent or P3 billion a month.
Their "agents" get P2 to P2.5 billion. Out of what is left, one percent is for expenses. He said Lucky 8 Star Quest Inc. gets P800 million to P900 million.
For Drilon, even if there are expenses, the P640 million revenue that is generated by Pagcor from e-sabong is a pittance: "Very small compared to the gross income of Lucky 8 Star Quest Inc."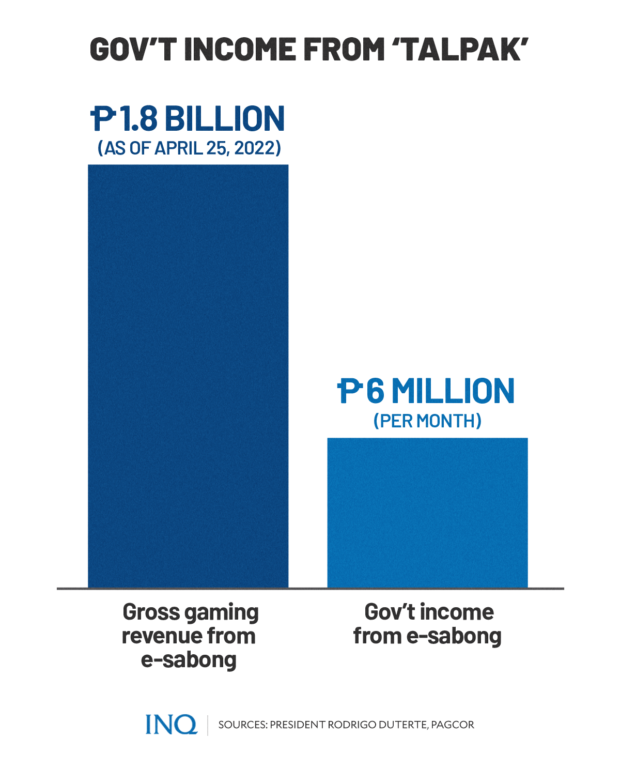 When strict COVID-19 lockdowns were implemented in Metro Manila and the rest of the Philippines in 2020, Pagcor said it was losing P5 billion to P6 billion a month.
Last month, Duterte, once again defended e-sabong, saying that the revenue generated from this is needed: "I need money for those expenses that are not in the budget, [that] you can't get in the budget, so you need money from outside sources."
"Now at the end of the year if I have the billions—and P640 million a month that's what I can help with as the pandemic depleted my contingency plan, and the intelligence fund I just gave the police as well as the military. I said you just have to work on it," he said.
Senate's hope
The decision of Duterte to stop e-sabong was welcomed by senators Grace Poe and Aquilino Pimentel III, saying that they are now expecting a thorough investigation on the cases of the missing sabungeros.
"We agree with the decision to stop e-sabong operations while a thorough study is under way on its ill effects on our people," Poe said.
"Life and family are always of primordial importance. With the President's directive, authorities will be able to focus on seeking justice for the missing persons and their loved ones," she said.
For Pimentel, "it's good that President Duterte has decided to put the brakes on e-sabong, an activity that is ridden with controversy due to the disappearance of 34 people who are suspected dead".
Senate President Vicente Sotto III, who was "very pleased" with Duterte's decision, said it's about time the President ordered an end to e-sabong, also popularly known as "talpak."