July 1, 2019
Talks will restart after an agreement at the G20 summit.
China and the US agreed to restart trade talks based on mutual respect and equal-footing, during the talks between President Xi Jinping and his US counterpart, Donald Trump, in Osaka, Japan on Saturday.
The US said it will not add new tariffs on Chinese exports. The negotiation teams from the two countries are to discuss specific issues.
The meeting took place at the International Exhibition Center of Osaka, the summit venue, at about 11:50 am after the two leaders attended the summit's third plenary session.
During the meeting Xi recalled friendly interactions between China and US ping-pong players at the 31st World Table Tennis Championships in Nagoya, Japan held in 1971.
The communications, known as "ping-pong diplomacy", were considered a way of breaking the ice for two countries that did not establish diplomatic relations until 1979.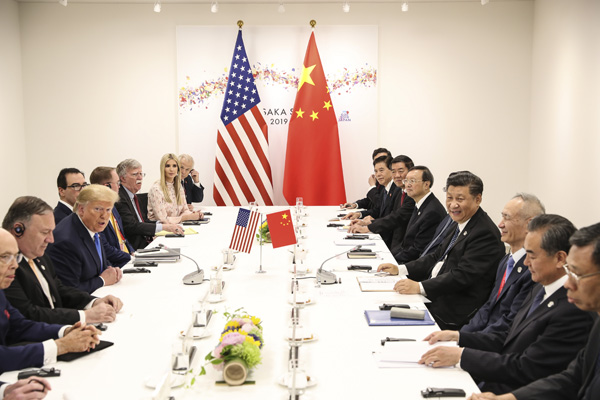 Noting that global situation and China-US relations have changed considerably in the past four decades since the establishment of diplomatic relations, Xi said that there is an unchanged fundamental fact that cooperation will benefit China and the US, while conflict will injure both sides.
Cooperation is better than friction, and dialogue is better than confrontation, Xi said, adding that he and Trump have maintained close contact through phone calls and letters.
Xi said that he would like to exchange views with Trump on fundamental issues in the development of Sino-US relations, set the direction for the development of bilateral ties, and promote the development of cooperation and stable China-US relations.
In a phone conversation between the two presidents on June 18, Xi said he stood ready to meet Trump in Osaka to exchange views on fundamental issues concerning the development of China-US relations.