January 3, 2019
Xi Jinping wants Taiwan reunification under one country two systems model.
China must be and will be reunified, President Xi Jinping said on Wednesday, warning against external interference in the Taiwan question.
Xi, also general secretary of the Communist Party of China Central Committee and chairman of the Central Military Commission, made the remarks at a gathering in Beijing to commemorate the 40th anniversary of the Message to Compatriots in Taiwan.
Chinese people's affairs should be decided by the Chinese people, Xi said, stressing that the Taiwan question concerns China's core interests and the national bond of the Chinese people. "We are all of the same family. Cross-Straits affairs are domestic affairs and should naturally be addressed through discussion and consultation among ourselves," Xi said.
The historical and legal facts, that Taiwan is part of China and the two sides across the Taiwan Straits belong to one and the same China, can never be altered by anyone or any force, Xi said.
China's reunification does not harm anyone's legitimate interests, including economic interests in Taiwan, Xi said.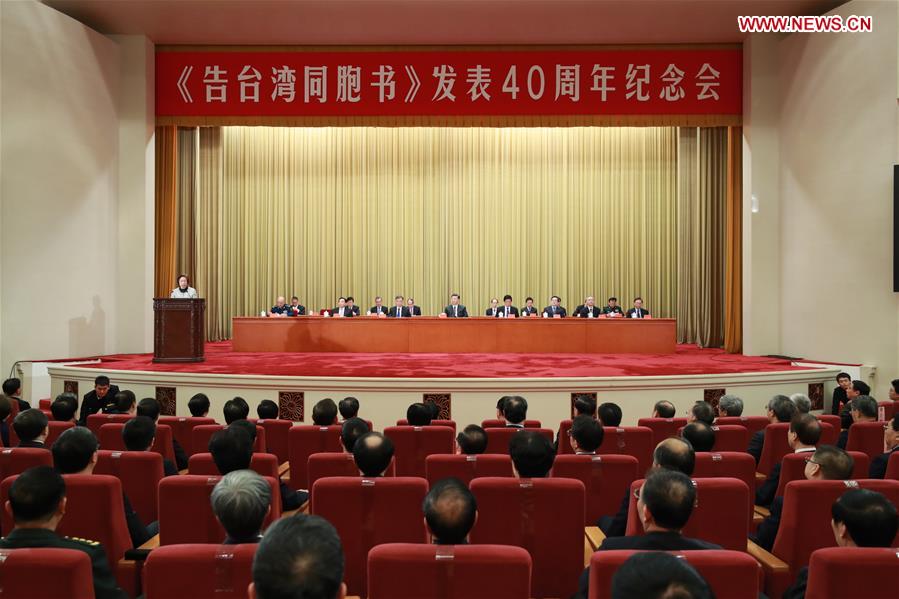 It will only bring more development opportunities to other countries, inject more positive energy into the prosperity and stability in the Asia-Pacific region and the world, and make greater contributions to building a community with a shared future for mankind, he said.
Xi said that the principles of "peaceful reunification" and "one country, two systems" are the best approaches to realizing national reunification.
On the basis of ensuring China's sovereignty, security and development, the social system and way of life in Taiwan will be fully respected, and private property, religious beliefs and legitimate rights and interests of Taiwan compatriots will be fully protected after peaceful reunification is realized, Xi said.
Xi called on Chinese people on both sides of the Taiwan Straits, as well as Chinese abroad, to work together for the Chinese nation's greater good and go with the tide of history by jointly pushing forward the peaceful development of cross-Straits relations and advancing the process of the peaceful reunification of China.
As long as the one-China principle is upheld, there will be no obstacles in exchanges between political parties and groups in Taiwan and the mainland, Xi said.
Liu Jieyi, head of the Taiwan Work Office of the CPC Central Committee and the State Council Taiwan Affairs Office, said the past decades have witnessed strengthened cross-Straits political, economic, cultural and personnel exchanges, and the mainland has been Taiwan's largest market and top investment destination outside the island.
On New Year's Day 1979, the National People's Congress Standing Committee issued its Message to Compatriots in Taiwan, stating major policies to help realize peaceful reunification of the nation.
The message reiterated that the firm stand of one China and opposition to an independent Taiwan are the basis for cross-Straits cooperation.