June 22, 2022
SINGAPORE – A $1.5 billion support package to help lower-income families and vulnerable groups amid rising global inflation was announced by Deputy Prime Minister Lawrence Wong on Tuesday (June 21).
They will receive an additional goods and services tax (GST) Voucher – Cash Special Payment of up to $300 to be given out in August, which is on top of the regular GST Voucher – Cash of up to $400 that had earlier been announced.
This will benefit about 1.5 million lower-income to middle-income workers, as well as retirees without income.
The package will also provide a $100 utilities credit to every Singaporean household and extend more help to local companies, among other measures.
For instance, eligible taxi main hirers and private-hire car drivers will get a one-off relief of $150 in August to offset higher fuel costs, while the Government will also provide one month of foreign worker levy waiver for Singapore's 11 chicken slaughterhouses, which have been directly impacted by Malaysia's chicken export ban.
There will also be a new energy efficiency grant to provide local small- to medium-sized enterprises in the food services, food manufacturing and retail sectors with up to 70 per cent support to adopt energy-efficient equipment and alleviate rising business costs due to higher energy prices.
There will be no further draw on past reserves to fund this support package, in part because the Government collected higher revenues in fiscal year 2021 from a stronger than expected economic recovery, Mr Wong said at a press conference.
"And we used less of the budget set aside for Covid-19 spending because the Omicron variant turned out to be less severe than anticipated," he added.
"So we will not pass a supplementary budget at this point."
As it is also still early in the financial year and Parliament had approved this year's Budget just three months ago, ministries will also reprioritise within their existing budgets to fund this support package, Mr Wong added.
The Government had anticipated rising prices at the start of the year, and had responded with a comprehensive package of measures in Budget 2022 to cushion the impact of higher prices.
Some measures were brought forward as well in April while other schemes were extended, Mr Wong noted.
But the ongoing war in Ukraine and protectionist measures by countries have disrupted supply chains, resulting in higher energy and food prices.
Singaporeans have to prepare for global inflation to remain high for some time and possibly to increase further before stabilising and getting better, said Mr Wong, who is also Finance Minister.
The effects of inflation disproportionately impact the lower-income and vulnerable groups, he added.
To counter this, the ComCare Short- to Medium- Term Assistance and Long-Term Assistance (LTA) schemes will be enhanced permanently.
This means a one-person household on LTA will receive $640 a month, up from $600 currently.
The allowance and monthly pension ceiling for pensioners who draw lower pensions will also be increased by $30 each, to $350 and $1,280 respectively.
The additional GST Voucher cash and that previously announced in Budget 2022, means that, all together, GST Voucher – Cash recipients will receive up to $700 in August.
All Singaporean households will receive a $100 Household Utilities Credit to help offset utilities bills.
For lower-wage workers, the Government will be enhancing the Progressive Wage Credit Scheme that was announced in Budget this year.
The Government will also co-fund 75 per cent of eligible wage increases this year, up from 50 per cent previously, for resident employees with gross monthly wages up to $2,500.
It will also fund 45 per cent, up from 30 per cent, for employees with gross monthly wages of above $2,500 and up to $3,000.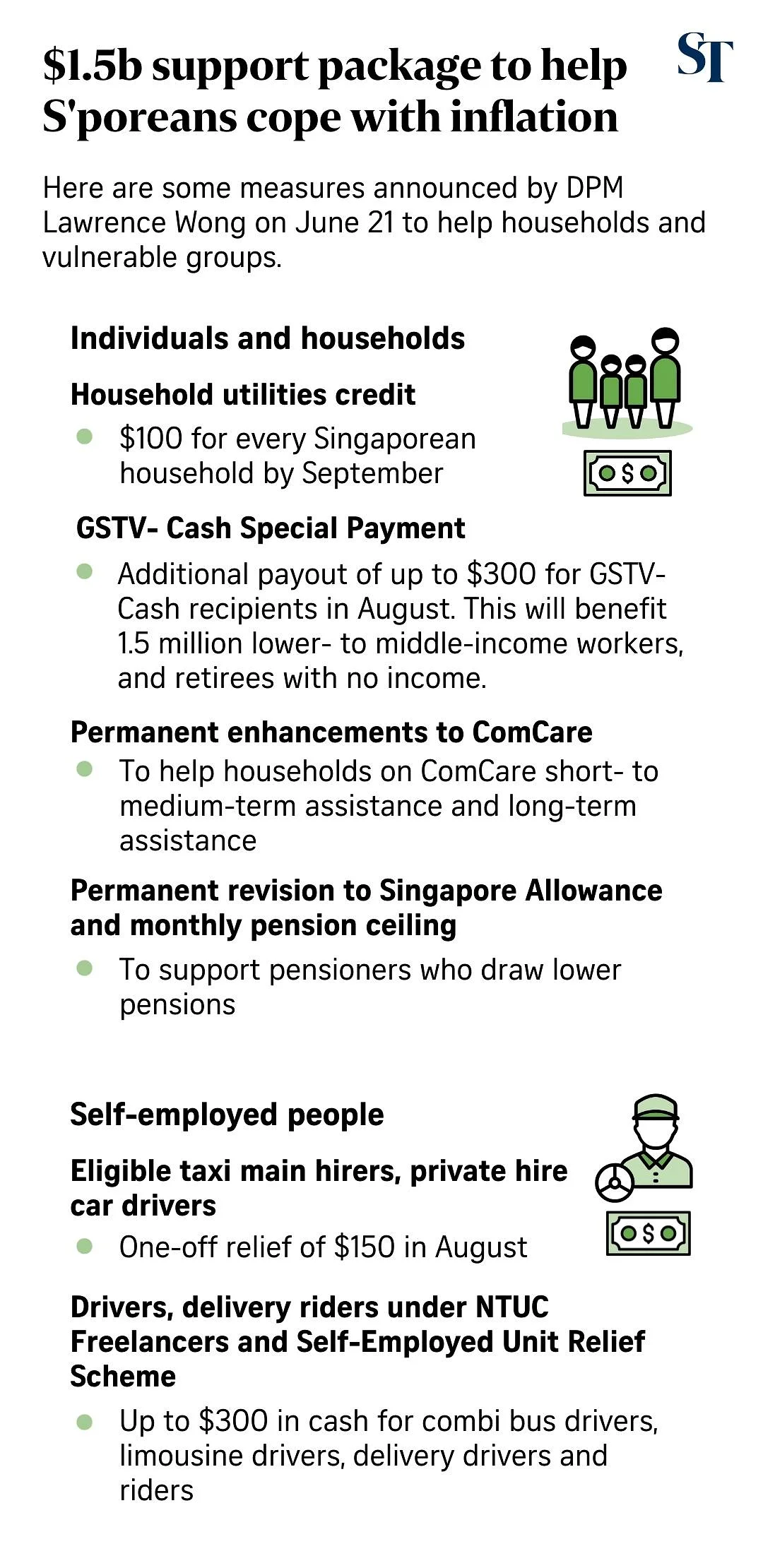 The Jobs Growth Incentive, which provides support for employers to hire mature job seekers who have not been working for at least six months, as well as people with disabilities and former offenders, will be extended for another six months, till March next year, added Mr Wong.
He said: "We will provide more help for businesses as well as specific segments, and the specific segments include self-employed persons who rely on vehicles for their livelihood, as well as those who are impacted by the export ban on live chickens."
"For businesses in this higher energy cost environment, they will need to continue to restructure and become more energy-efficient in order to remain competitive," he noted.
The Enterprise Financing Scheme – Trade Loan will also be enhanced to support local enterprises with cashflow concerns. The maximum loan quantum will be increased from $5 million to $10 million from July 1 to March 31 next year and the Government will continue to provide 70 per cent risk-share for the scheme during this period.
Firms can also tap the Temporary Bridging Loan Programme, which provides access to working capital for business needs, from now till end-September. After it expires, the Enterprise Financing Scheme – SME Working Capital Loan will also be enhanced, with the maximum loan quantum increased from $300,000 to $500,000 from Oct 1 to next March.

Mr Wong said he knows that many Singaporeans are concerned about the immediate issues of rising prices and the cost of living.
He said: "But please understand that the challenges before us are not just about inflation. They are also about adapting to major structural changes in our operating environment – rising temperatures and climate change, increased geopolitical contestation and tensions, and potentially moving into a more bifurcated and decoupled world.
"So we have to fundamentally restructure and transform ourselves for this new world, a world which is likely to be more uncertain, volatile and even more dangerous than before."