April 12, 2023
KUALA LUMPUR – The Malaysian government has confirmed it is going ahead with the plan to build a RM28 billion ($8.5 billion) port to significantly boost the handling capacity for both container and conventional cargo at the main shipping hub of Port Klang.
The new port planned for Carey Island is targeted at the future growth of international trade, with an eye on rival regional ports that are in the midst of expansion, including those in Singapore, Thailand and Vietnam.
More details were revealed by Transport Minister Anthony Loke in March after the project was revisited by Prime Minister Anwar Ibrahim in February. The project had been shelved in 2017 due to weak cargo demand in Port Klang.
"To support the growth of international trade, the government supports the proposal to develop a new mega port in Carey Island by the private sector. The project is expected to bolster Port Klang as a major shipping hub for the Asia-Pacific region," said Datuk Seri Anwar in February.
Captain K. Subramaniam, general manager of the Port Klang Authority, told The Straits Times that the additional capacity is also needed to meet rising demand within Malaysia, including the expanding industrial hubs in Selangor and neighbouring states.
Port Klang, located along the Strait of Malacca, is a major industrial city in Selangor, Malaysia's richest state.
The Carey Island port is slated to handle 36 million shipping containers, known in the industry as twenty-foot equivalent units (TEUs), per year, Capt Subramaniam said. In 2022, Port Klang handled about 13.2 million TEUs.
The new port's annual capacity for conventional cargo will be around 40 million tonnes, compared with 27 million tonnes in Port Klang currently.
In contrast, the Port of Singapore located at the southern tip of the Strait of Malacca can handle up to 37.3 million TEUs a year, and Johor's Port of Tanjung Pelepas has an annual capacity of 10.5 million TEUs, according to RHB Research.
Port Klang needs to quickly expand, said an analyst who requested anonymity, pointing out how Singapore is doubling its TEU capacity at the Tuas mega port to 65 million annually.
Unlike Malaysia's major airports, most of the country's ports are privately operated. There are currently two maritime facilities in Port Klang – Westports and Northport. The latter also controls the Southpoint port in the area.
Northport is controlled by billionaire Syed Mokhtar Albukhary, Malaysia's 10th-richest person on Forbes' 2023 billionaires list, while Westports is operated by billionaire G. Gnanalingam, listed as the country's 12th richest.
Westports itself is expanding its container cargo capacity by 50 per cent to 28 million TEUs annually by 2040. The expansion project is expected to start by the year end.
Maybank IB Research analyst Loh Yan Jin estimates the current utilisation of Westports will reach a bottleneck in three years, should there be a 5 per cent annual growth in container volume at the port.
"The idea is that when expansion of Westports reaches its full capacity, then we would need additional container port capacity from Carey Island, which is expected to be phased in by then," she said.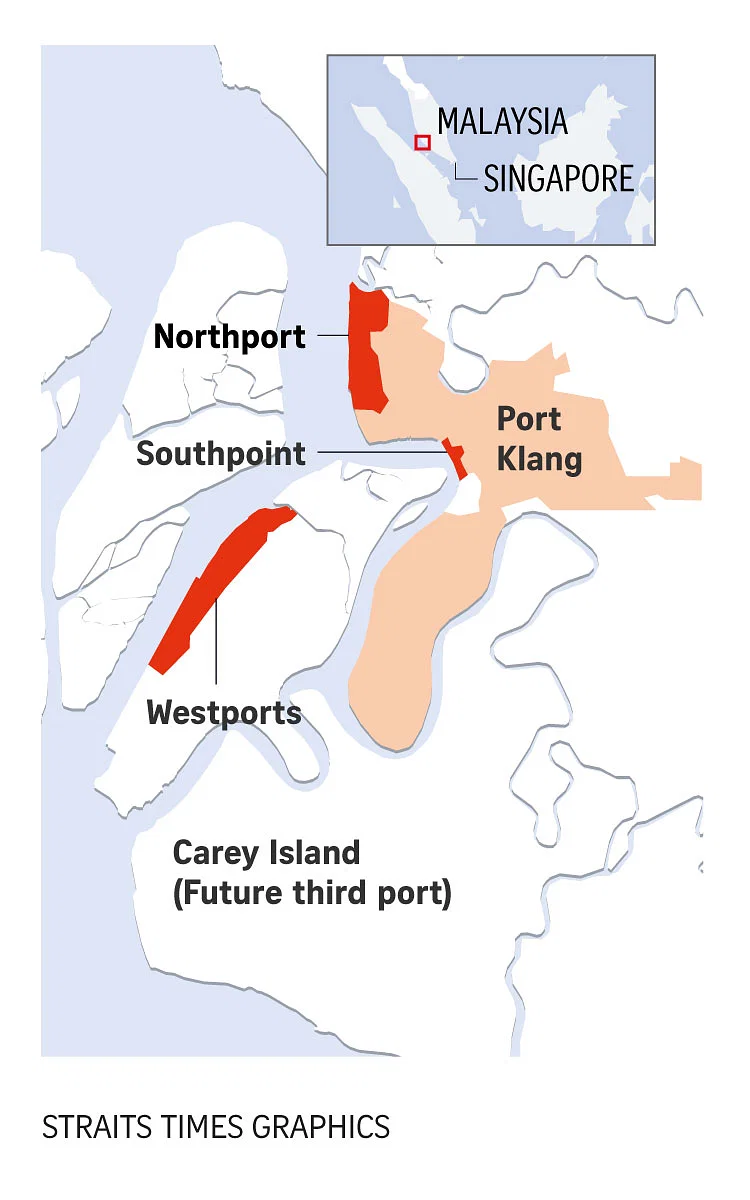 Despite the ambitious plan announced by Mr Anwar, there remains uncertainty about who will be involved in the Carey Island port. No further details have been released by the government. The Ministry of Transport did not respond to ST's queries.
"The decision on the development and operating partners will be determined by the government and the Ministry of Transport, but potential partners include international and Malaysian port operating companies, besides shipping lines as strategic partners," said Capt Subramaniam.
Industry sources say construction is unlikely to begin in the next two years, as procedures to build a port can be complex.
"Multiple studies need to be undertaken. Land needs to be acquired. Planning needs to be done. Starting construction in two years is really not realistic. Any consulting engineer will tell you that," said one source.
RHB Research analyst Alexander Chia said that global trade volumes are expected to pick up following the economic recovery after the pandemic. "We are excited for this development as Malaysia could attract more trade flows and ascend in the top global ports' ranking. We think that building another port would boost the confidence of investors."