March 15, 2023
BANGKOK – Move Forward Party leader Pita Limjaroenrat, who has boldly declared his intention to fight for the PM's post in the upcoming election, is a man of many talents.
Though his party is the second-largest opposition party after Pheu Thai, Pita has been outstanding in tackling complex arguments on the Parliament floor. Articulate, straightforward and a no-nonsense speaker, Pita fast became a rising star in the House, whose tenure expires later this month.
His young age, clean image and abilities have made this 42-year-old a popular new-face politician in Bangkok. An opinion survey conducted by the National Institute of Development Administration (Nida) last year found that he was the most favoured PM choice for Bangkok voters. His party has also often been among the top three in nationwide polls conducted by Nida.
Well-educated successful businessman
Pita is a successful businessman with an outstanding educational background before he entered politics at the invitation of then-Future Forward Party leader Thanathorn Juangroongruangkit.
Born on September 5, 1980, Pita is the eldest son of Pongsak and Linda Limjaroenrat. He is also the nephew of Padung Limjaroenrat, a close aide of former prime minister Thaksin Shinawatra.
Pita became the first Thai student to receive an international student scholarship from Harvard University. He did his primary schooling at Bangkok Christian College before heading to New Zealand for his secondary education. Then he returned to study at Thammasat University, where he graduated with a bachelor's in Commerce and Accountancy in 2002 with first-class honours.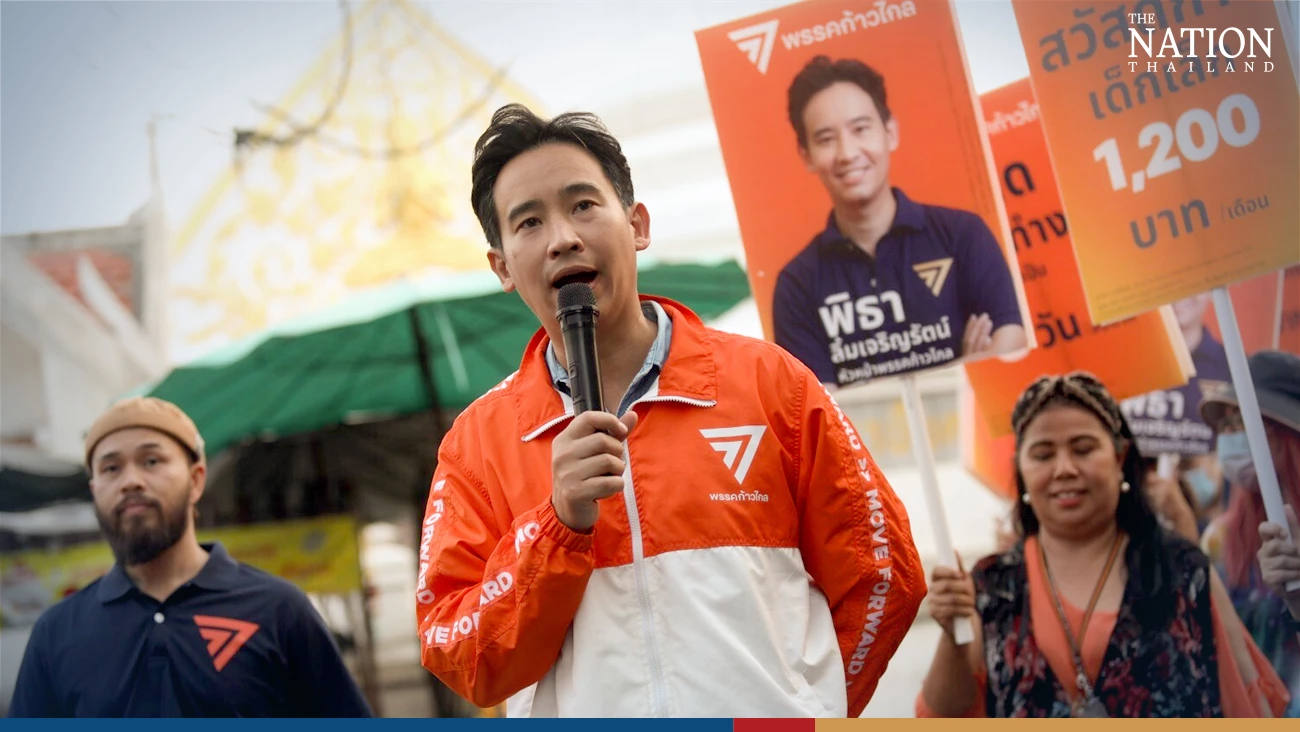 Pita followed this up with completing a Master of Public Policy degree at Harvard University's John F. Kennedy School of Government and a Master of Business Administration degree at Massachusetts Institute of Technology (MIT)'s Sloan School of Management.
After the death of his father, Pita returned to Thailand to take over CEO Agrifood, a rice-bran oil business owned by his family. He was 25 then.
Under his management, the company regained a foothold in the market within two years. This allowed Pita to return to the United States to complete a master's degree in 2011.
Upon returning, he also served as executive director of Grab Thailand from 2017 to 2018.
In 2008, Pita was named one of Thailand's 50 Most Eligible Bachelors by CLEO magazine.
However, he was not a bachelor for long after he married TV actress Chutima Teepanart on December 12, 2012, though they got divorced in 2019. The couple has a daughter called Pipim.
Pita made his political debut as Future Forward party-list MP in the 2019 election. He won the seat as the fourth party-list representative of his party.
In July 2019, he delivered a speech on the House floor talking about the issues faced by farmers in Thailand. He used the "five-button theory" to explain the problems in the agriculture industry. In other words, he called on the government to focus on five key matters, namely land ownership, farmers' debts, cannabis, agro-tourism, and water resources.
In fact, his ideas were so crisp and clear that even Interior Minister Anupong Paochinda praised him.
Pita came into the political limelight because of a political accident that hit Thanathorn. In 2020, the Constitutional Court dissolved the Future Forward Party after it was taken to court by the Election Commission for allegedly unlawfully acquiring a loan from Thanathorn.
Two weeks after Future Forward was dissolved, Pita was named leader of the Move Forward Party, and the 54 other MPs of the disbanded party followed him. He was officially announced as Move Forward leader on March 14, 2020.