December 15, 2022
BANGKOK – The South Korea – Asean solidarity initiative has been launched to expand the relationship not only for political, economic and social issues, but also to tackle global challenges such as the pandemic, health security and climate change.
Speaking at the the 2nd Vaccine Cooperation Forum in the Indo-Pacific Region, held in Seoul on December 7, South Korean Vice Foreign Affairs Minister Cho Hyun-dong said, "Over the past three years, we have experienced first-hand the importance of united action against the common threat of Covid-19. We have learned the effectiveness of joint response and the importance of equitable access to vaccines and treatments."
Southeast Asia acted quickly and launched the Asean Covid-19 Response Fund and the Regional Reserve of Medical Supplies, making a rapid region-wide response possible. Asean also took leadership in the region's recovery by adopting the Asean Comprehensive Recovery Framework. However, the South Korean vice minister stressed: "Further cooperation is still critical to deal effectively with possible future outbreaks. South Korea has provided strong support to Asean members for vaccine security, providing US$6 million [208 million baht] to strengthen detection capabilities. South Korea recognised the importance of sustained financing to prepare for future pandemics by pledging to donate $30 million to the World Bank's Finance Intermediary Fund."
Despite many countries currently treating the Covid-19 as an endemic, it continues to disrupt the world with its many variants and sub-variants. Dr Tore Godal, the founding CEO of Gavi, the Vaccine Alliance & Special Adviser to the Coalition of Epidemic Preparedness Innovations (CEPI), emphasised that developing effective and safe vaccines that can tackle the issues is important in terms of sustainability and security, especially in the Indo-Pacific Region to prevent and protect against not just Covid-19 but other diseases that may arise.
Godal, the keynote speaker at the forum, said South Korea and Asean have high potential in this area. "South Korea has a lot to offer. The country has its unique vaccine institutes and companies that are internationally recognised, such as the KBIOHealth [Osong Medical Innovation Foundation] and SK Bioscience; Global Innovative Vaccine and Biotech Company. Both are internationally oriented. While, Asean is very active, for example, Indonesia has Biofarma, Thailand contributes and delivers with high commitment towards research while Vietnam also offers capacities as a good vaccine production base."
Thailand, as a member of the forum, raised important issues in the global challenges on why vaccine security is crucial and how Asean and South Korea can create a sustained framework.
The representative from Thailand, Dr Sunate Chuenkitmongkol, deputy director of the National Vaccine Institute (NVI), talked about the importance of vaccine and immunisation that is well recognised as one of the most cost-effective public health measures in prevention and control of severe infectious diseases. The Covid-19 pandemic, which took millions of lives in the past three years, has raised the demand for vaccines while the world faces vaccine shortages.
Speaking on the issue of vaccine security, Sunate said that it must be conducted in a sustained and uninterrupted way to smoothly supply and ensure the quality of the vaccine.
"It doesn't mean that every country has to produce vaccines on its own, but every country should be able to access the vaccine whenever it is in demand," she said.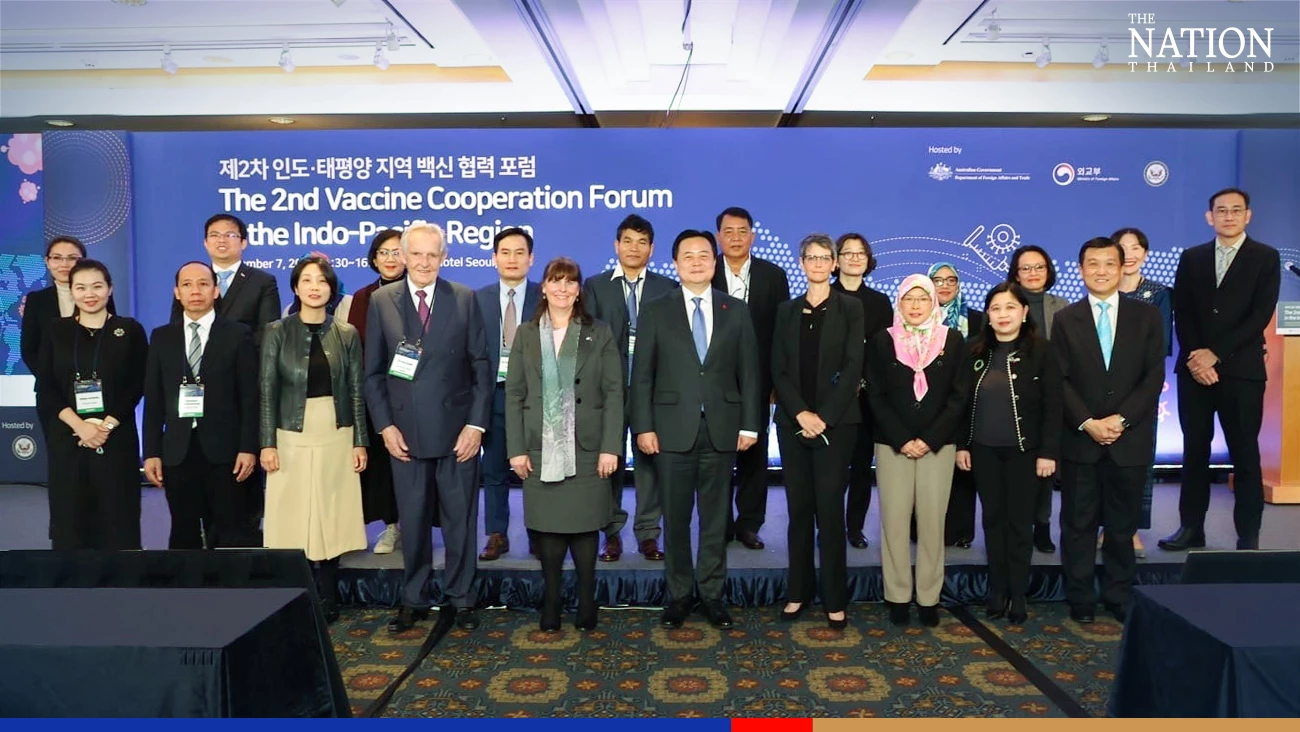 Thailand's perspective on ensuring vaccine security involves several key factors:
Work on vaccine policy in the country
Strengthen research and development, infrastructure in the country
Act as information and integrated vaccine knowledge and management centre in the country
Networking and training vaccine experts
Among regional initiatives, Asean adopted the Leaders' Declaration on Asean Vaccine Security and Self-Reliance on November 2, 2019, two months before the Covid-19 pandemic began. This initiative aims to integrate and develop collaboration on vaccine security amongst Asean members.
She said that during the pandemic, the demand far exceeded supplies. She said high-income countries are in a better position to access vaccines than middle- or lower-income countries.
Regarding implementation of the AVSSR Strategic and Action Plans 2021 – 2025, she said the NVI had received financial support last year from the Republic of Korea Mission to Asean and the Asean Secretariat to organise an "Asean-ROK Vaccine Webinar to support Regional Priorities and Advocacy on AVSSR" to find a constructive direction, solution for vaccine security and improve research in a sustained way so as to be prepared for future global challenges.