July 25, 2022
HANOI – An unplanned trip to Nha Trang gets an inveterate travel enthusiast to consider early retirement in the town. Bồ Xuân Hiệp explains the turnaround
Like all aspiring globetrotters, I dream of visiting every country in the world, including the remotest ones, and experiencing the stupendous cultural and geographic diversity that this would entail.
So it was a counter-culture shock of sorts that a recent trip to the beach town of Nha Trang in the south-central province of Khánh Hòa got me considering the very opposite – an early retirement.
I attribute this about-face to the beautiful beaches, perfect weather and low cost of living.
Once it happened, though, other thoughts cropped up, like: "What really makes for a worthy retirement place?"
While this can vary from individual to individual, there are some useful general indicators.
According to US-based monthly magazine International Living, climate, affordability, good healthcare and a healthy lifestyle make for a perfect retirement location.
No doubt that Nha Trang ticks all the boxes, I thought, still surprised that I was considering retirement in a place that I had not even planned to visit. The decision was made at the last minute since the town was quite close to Ninh Thuận Province that I went to for a two-day business trip last month.
So I took a train to Nha Trang Station, some 100km away from Ninh Thuận's Tháp Chàm Station. The journey took just an hour and a half and the downtown location of the destination station made things even more convenient.
I am not sure if I would have felt the same convenience had I set out to reach Nha Trang from HCM City, where I live, by train, because it would take an eight-hour overnight journey.
More likely that I would have taken a domestic flight from Tân Sơn Nhất Airport and arrived at Cam Ranh Airport in less than an hour.
No matter how you get there, or what you go there for – a getaway, a business trip or family adventure – Nha Trang's endless sunshine smiles on you.
Located at the gateway of the south-central coast and Central Highlands region, Nha Trang has been voted by Travel & Leisure magazine as one of the most beautiful bays on the planet.
Its annual average temperature is around 26 degrees Celsius. While the city has favourable weather conditions almost all year round, the best time to visit is from March to September.
While it has been a well-established tourist city for almost a century, it is known primarily as a seaside resort town serving fresh seafood, which is great. But what gives the town greater heft as a retirement spot, for me, are its lesser known attractions like waterfalls, pagodas and countryside lanes.
​That said, if you want to check the place out, the best time for a visit would be March to September; and the beach that stretches some 6km along Trần Phú Street that remains lively throughout the day and night is a good introduction. It gets livelier during the weekends, especially during summer vacation months, but this only adds to the town's charm.
Getting around the town in hired motorbikes or taxis is easy and not very expensive, but for long stays, public buses are a convenient option. They run from 5am to 6pm daily with fares at a very affordable VNĐ4,000-8,000 per trip.
Actually, the city is very walkable and you can get to most places in half an hour or less.
Eating out, nightlife
As a tourist hub, the town boasts the entire range of eateries from the street to high-end dining, serving both local and international cuisines (French, Italian and Russian in particular) with an understandable focus on seafood.
Ordinarily, a bowl of Bún chả cá sứa (rice vermicelli served with grilled fish and jellyfish) costs VNĐ40,000 (less than $2), a local sandwich costs VNĐ20,000 and a glass of lime tea, VNĐ25,000.
The nightlife in Nha Trang underlines the holiday vibe of the city, with bars, coffee shops, pubs, nightclubs and spas remaining open until late, and many hospitality outlets featuring live music.
The area popular among both locals and foreigners is located along the streets of Trần Phú, Hùng Vương, Biệt Thự and Nguyễn Thiện Thuật.
Retirement attractions
My retirement thoughts are well and truly backed by International Living magazine, which sets out in some detail why the town is a good place to settle down once one decides to call it a day.
"You'll love it if having a nearly perfect climate, a gorgeous beach, a wide variety of restaurants guaranteed to please every palate, a low cost of living, and a well-established community of expats is important to you.
"Two people can easily live in a well-appointed house or apartment within walking distance to the beach, eat every meal out, and live a solid middle-class lifestyle for around $1,100 per month."
This sum is calculated based on these outlays: $500 for rent, $45 for utilities, $6 for phone bills, $80 for transportation and $350 for entertainment (eating out five nights a week, including beer and soft drinks).
Living in Nha Trang is like being on a never-ending vacation, the magazine says.
Furthermore, "local cinemas offer the latest Hollywood blockbusters, fancy shopping malls stock trendy fashions and gadgets, and the quality of healthcare is above average."
But this is for foreigners. I found a more appropriate source of information for myself.
A 70-year-old motorbike driver told me: "You only need VNĐ10 million, including about VNĐ2-3 million per month for a budget studio apartment, to live quite comfortably here by yourself."
Compared to other places in the central region, which are exposed to constant floods and storms every year, Nha Trang is an attractive location for retirement, he emphasised.
At this point, I am not looking for second invitations. VNS
Institute of Oceanography
The Institute of Oceanography located on Trần Phú Street is home to 20,000 specimens of more than 4,000 types of marine and freshwater organisms.
It displays a giant whale skeleton nearly 18 metres long and three metres tall and weighs up to 10 tonnes.
Established in 1923, it is one of the country's first centres for scientific research. The institute has conducted a great deal of scientific studies in marine biodiversity, ecology and environment, marine geology and marine chemistry and biochemistry.
Trí Nguyên Aquarium
Located on Hòn Miếu Island, Trí Nguyên Aquarium presents a miniature ocean with diverse marine flora and fauna, making it one of the most popular attractions in the town.
Ponagar Chăm Tower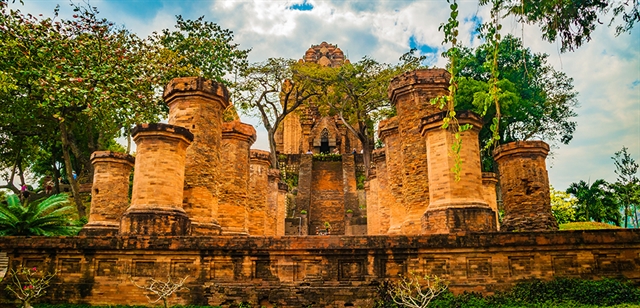 Outstanding monument: The Ponagar Chăm Tower, built between the 7th and 12th centuries, a great example of Chăm art, architecture and culture, is still actively used for worship by Chăm and Vietnamese Buddhists. Photo courtesy of Khánh Hoà Department of Tourism
The Ponagar Chăm Temple Complex, built on a 50-metre-high hill on Hai Tháng Tư Street, is a great place to visit, especially for those who love art and history.
Built between the 7th and 12th centuries, these impressive Chăm towers are still actively used for worship by the Chăm and Vietnamese Buddhists.
Originally the complex had seven or eight towers, but only four remain, of which the 28m-high North Tower with a terraced pyramidal roof, vaulted interior masonry and vestibule, is the most magnificent.
Nha Trang Cathedral
French Gothic: The Nha Trang Cathedral, a stone church with stained glass windows built almost 100 years ago, is a popular tourist attraction. VNS Photo Bồ Xuân Hiệp
A stone church with stained glass windows built almost 100 years ago in French Gothic style by Priest Louis Vallet (1869-1945) stands on a small mountain named Hòn Một. Vallet is buried at the foothills of the church.
Long Sơn Pagoda
Long Sơn Pagoda at the foot of the Trái Thủy Mountain has a peaceful, calm ambience ideal for spiritual retreats. It has on its premises a large white Buddha statue 24 metres tall. It is said to be the largest outdoor Buddha statue in Việt Nam.