August 4, 2023
JAKARTA – Aid has been arriving in Central Papua's mountainous Puncak regency to help residents endure the effects of months of drought, but bad weather and limited infrastructure have held back distribution efforts.
The districts of Agandugume and Lambewi in Puncak regency have been suffering from drought and cold weather since June, causing key crops to fail or rot and forcing locals to eat spoiled tubers. Some 7,500 residents of the two districts were affected, with six people, including a baby, dying of dehydration or diarrhea.
Puncak regency, because of its altitude, is one of the only places in the country where snow falls.
Humanitarian aid arrived on Thursday at the Sinak airstrip in Sinak district, the launching point for aid to nearby Agandugume. The supplies, which included 50 tonnes of rice, 13,000 packets of ready-to-eat meals and 10,000 blankets, were transported on a Cessna Caravan aircraft, whose total payload was around 900 kilograms.
Along with the aid came National Disaster Mitigation Agency (BNPB) head Suharyanto and Coordinating Human Development and Culture Minister Muhadjir Effendy, who were instructed by President Joko "Jokowi" Widodo to go to the affected districts.
Read also: Drought-induced famine kills six in Central Papua
The ministers and the supplies had arrived at Mozes Kilangin airport in Timika regency, Central Papua, on Wednesday with plans to fly to Sinak on the same day. But bad weather prevented the plane from taking off, forcing authorities to leave on Thursday instead.
"We will send the aid continuously," Suharyanto said in a statement on Thursday. "The BNPB will help in procuring and transporting the aid during the state of emergency period."
Muhadjir planned to check and evaluate health facilities in the affected region, including a community health center (Puskesmas) in Agandugume.
Authorities say they have been distributing relief supplies in the area for weeks, with the Social Affairs Ministry claiming to have delivered a total of 17 tonnes of aid to the Sinak airstrip since July 26. The supplies were then disbursed to the affected districts on military helicopters and chartered planes.
No security threats
Vice President Ma'ruf Amin noted in Jakarta that bad weather had been hindering the delivery of aid as the drought-affected region could only be reached by air.
He met on Wednesday with Coordinating Political, Legal and Security Affairs Mahfud MD, Indonesian Military (TNI) commander Adm. Yudo Margono and National Police deputy chief Comr. Gen. Agus Andrian to discuss the situation in Central Papua.
"All the [supplies] were ready, but there are no land routes \to reach the affected districts," Ma'ruf said after Wednesday's meeting. Apart from airlifting, the only way to bring the aid to Agandugume and Lambewi was by carrying it on foot from Sinak, he said.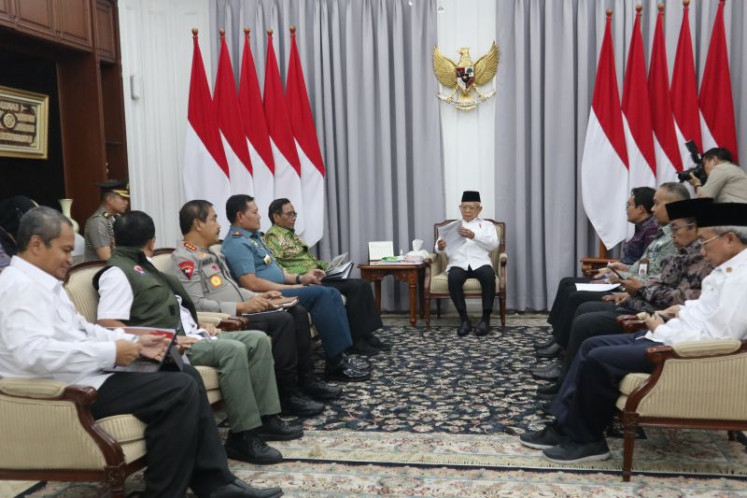 Vice President Ma'ruf Amin (center) leads a coordination meeting on drought and famine in Central Papua at the vice presidential residence in Jakarta on Aug. 2, 2023. Among the meeting attendees were Coordinating Political, Legal and Security Affairs Minister Mahfud MD (fifth left), Indonesian Military (TNI) commander Adm. Yudo margono (fourth left) and National Police deputy chief Comr. Gen. Agus Andrian (third left). (Antara/Desca Lidya Natalia)
The Vice President also said the government had extended the emergency period from one week to two so that authorities could dispatch the necessary resources to the affected districts. The government was also open to extending the state of emergency further if the situation did not improve.
Yudo claimed no armed groups or separatist militias would be able to threaten the aid disbursement process.
Papua has seen an increase in armed conflict in the past months, including the kidnapping of New Zealand pilot Philip Mehrtens.
"We have about 50 troops stationed there," the military commander said.
Long-term solution
At the meeting in Jakarta, Ma'ruf instructed the officials to prepare for the possibility that drought-induced food and health crises could occur in other parts of the country as well.
The famine in Puncak regency, minister Muhadjir said, was caused by drought from May to July accompanied by frozen hail and haze, causing the region's taro and yam crops to rot and become inedible.
He said officials would propose several long-term solutions to the President, including building a warehouse to store food near Agandugume.
"We can help anticipate by stocking up food from the BNPB or Social Affairs Ministry before May [in future years]," Muhadjir said. "Hopefully, the warehouse can help anticipate this periodic disaster."
Read also: Agriculture among first Indonesia's industries hit by climate change
This year's dry season is expected to be drier than usual because of the El Niño climactic phenomenon, in which a warmer tropical Pacific Ocean brings hotter air to the Indonesian archipelago, increasing the likelihood of drought.
The government had an ample surplus of 2.7 tonnes of rice to be used before September, said Agriculture Minister Syahrul Yasin Limpo after a limited cabinet meeting on Wednesday.
It had also prepared 500,000 hectares of land for rice cultivation to make up for an expected decrease in production, Syahrul said. The fields were located in several provinces, including North Sumatra, South Sulawesi, West Java, Central Java and East Java. (kuk)