April 5, 2023
DHAKA – The crowd of onlookers was the biggest hindrance to firefighting efforts and caused a delay in bringing the devastating fire at the Bangabazar Shopping Complex under control, said Brig Gen Md Main Uddin, director general of Fire Service and Civil Defence.
He was briefing reporters on the spot after 48 firefighting units brought the blaze under control around 12:36pm. The fire had started at 6:10am.
Apart from fire service officials, members of army, navy, air force, Border Guard Bangladesh and police took part in the rescue and firefighting operations.
Several thousand people thronged the spot soon after the fire originated around 6:10am.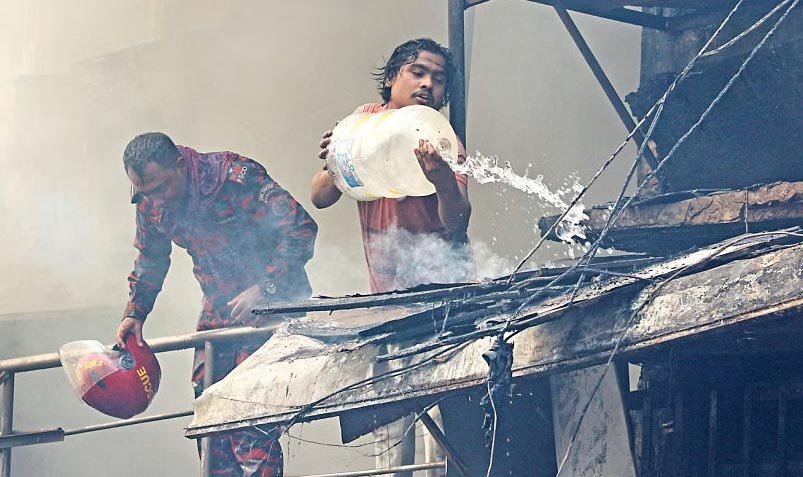 Many people were seen going on Facebook Live. Many were taking selfies at the fire ravaged site. The rescue teams were not able to bring in equipment and vehicles due to the overwhelming crowd, eye-witnesses said.
Police were struggling to manage the situation.
The director general said it was sad that people attacked the fire service headquarters and injured four firefighters even as they were trying to save lives and properties.
"I am very disappointed. We work for the people. We sacrifice our lives for the people… but they attacked us," he said while talking to reporters on the spot.
An unruly mob vandalised fire service vehicles, the building, and injured four firefighters as the fire raged at Bangabazar Shopping Complex, he said.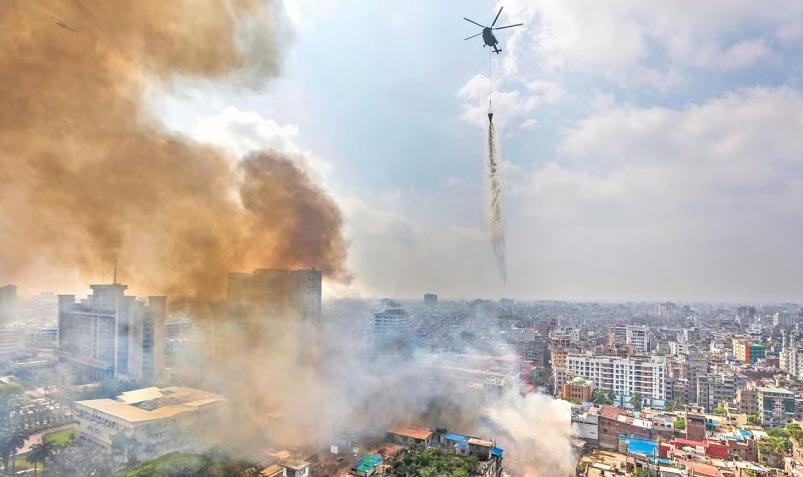 Two of the four firefighters — Rabiul Islam and Atikur Rahman — were rushed to Dhaka Medical College Hospital, said Rashed-Bin-Khaled, duty officer of fire service.
"Fire service officials give their lives for the people of the country. In the last one year, 13 officials sacrificed their lives," said Main Uddin. "I don't understand why they decided to attack fire service officials."
In the last one year, a total of 29 fire service officials were also injured in the line of duty.
The fire service DG also said they will form a five-member committee to investigate the fire incident, and that the cause of the fire and the extent of damage could be known after investigation.
Witnesses said a group of people including some shopkeepers, being frustrated that the fire was not put out, attacked the fire service headquarters around 9:30am.