May 25, 2023
THIMPHU – The Gross National Happiness (GNH) Survey for 2022, launched yesterday at the Centre for Bhutan and GNH Studies, unveiled an impressive finding: 93.6 percent of Bhutanese report feeling happy.
This marks a significant increase compared to previous years and highlights the country's ongoing commitment to prioritising the well-being and happiness of its citizens.
The GNH index, which measures overall happiness and well-being, registered a growth rate of 3.3 percent. The index value reached 0.781, up from 0.756 in the previous assessment in 2015. The positive trend indicates an overall improvement in the population's quality of life.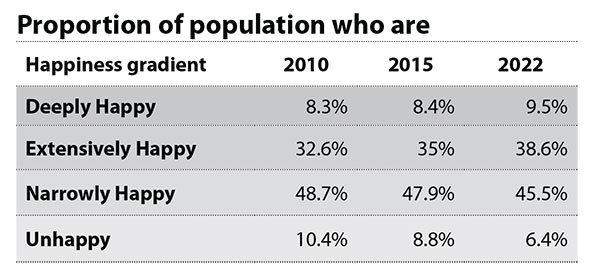 The index ranges from 0 to 1, with higher values indicating greater happiness and well-being.
Despite the challenges posed by the pandemic, Bhutan's GNH increase can be attributed to improvements in various areas, including housing, income, schooling, services, and literacy, as well as positive emotions.
However, the survey also highlighted areas of concern, as indicators related to healthy days, cultural and political participation, mental health, and adherence to Driglam Namzha (Bhutanese etiquette and dress code) showed signs of deterioration.
Of those categorised as happy, 9.5 percent were classified as "deeply happy," 38.6 percent as "extensively happy," and 45.5 percent as "narrowly happy." Meanwhile, 6.4 percent were considered "unhappy."
The percentage of individuals falling into the "deeply" and "extensively" happy categories increased by 7.2 percentage points from 2010 to 2022, demonstrating an upward trend in overall happiness.
While urban dwellers tend to report higher levels of happiness, the survey revealed that a significant majority of happy individuals, 56.8 percent, reside in rural areas than 43.2 percent in urban areas. This finding challenges the assumption that urban environments guarantee greater happiness.
The survey also shed light on gender differences, with females reporting a lower GNH index of 0.762 compared to males at 0.814. However, the rate of increase in happiness among females surpassed that of males, indicating progress towards achieving gender equality.
Prime Minister Dr Lotay Tshering expressed his expectations for a decline in happiness levels due to the Covid-19. However, he acknowledged the significant increase observed and emphasised the need to address the concerns highlighted in the survey findings.
Prime minister stressed the importance of realigning policies to restore declining indices, particularly in cultural participation and the perception of Driglam Namzha, as these aspects form the core principles of GNH.
For instance, the cultural participation indicator recorded a decline by 14.3 percentage points and Driglam Namzha by 12.2 percentage points in 2022 compared to 2015.
The GNH Index is a comprehensive tool that encompasses 33 indicators across nine domains: psychological well-being, health, education, time use, cultural diversity and resilience, good governance, community vitality, ecological diversity and resilience, and living standards. Each indicator is weighted, and individuals are classified based on their sufficiency scores.
Recommendations from the survey include policy interventions to improve the GNH of individuals who have not yet reached the 66 percent sufficiency threshold.
The survey's findings challenge the assumption that income and happiness are strongly correlated. While a breakdown by income groups revealed that not-yet-happy individuals were present across all income quintiles, with 41 percent in the richest group and 44 percent in the next richest group, the poorest income group showed a surprising 29.2 percent of people classified as GNH happy.
The GNH survey interviewed 11,052 respondents aged 15 years or older across 198 gewogs (village clusters) and 53 towns throughout Bhutan. The comprehensive data collection process spanned four months, from April 11 to August 9, 2022, with each interview lasting approximately one hour and 45 minutes.
The launch event featured video messages from esteemed international figures, including Achim Steiner, Administrator of the United Nations Development Programme (UNDP), Mathias Cormann, Secretary-General of the Organisation for Economic Co-operation and Development (OECD), and Professor James Foster from George Washington University, the USA. These messages underscored the relevance and significance of the GNH 2022 findings on a global scale.
The 2022 GNH Index Survey received support from the Japan International Cooperation Agency Bhutan Office, further highlighting the international recognition of Bhutan's unique approach to measuring and prioritising happiness.