May 23, 2022
ISLAMABAD – The vast majority of Karachi's sex workers do not enter or exit the trade on their own terms. That does not stop them from dreaming of freedom and a 'respectable' life. One woman who successfully got out has even launched an NGO to help sex workers. Can she inspire others who want to change their lives? More importantly, will society allow it?
At first glance, the Karachi-based office of a non-governmental organisation, MDG (Millennium Development Goal Achieving Organisation, unofficially named after the United Nations MDGs), looks like any other bungalow-turned-office. But as one moves through the premises, it becomes clear that this is no ordinary workplace.
A couple of women are standing in the lounge smoking cigarettes. Another woman is busy working on her laptop. There are more women here than men. And they do not look like the women you usually encounter at an office.
MDG works with sex workers in Karachi and is run by Naz*, a former sex worker herself. It has been a decade since Naz left the trade and started on her mission to make the lives of Karachi's sex workers a little better.
After leaving sex work, Naz couldn't simply walk away from that life and start anew. She knew these women's (and girls') pain all too well to leave them behind.
***
Naz was just 14 years old when she was married off to an older man. In a matter of years, she had three children. When she turned 23, her husband abandoned her. "There was so much hunger in my home. I couldn't even afford milk for my children," she recalls.
After several unsuccessful attempts to find a job, Naz went to an international fast food joint in search of employment. But this too was in vain. On her way back, a woman who used to live near Naz's home stopped her.
"Why are you so upset?" the older woman asked Naz. There was warmth in the woman's tone. Like a concerned matriarch asking a child a question. Naz told her everything.
Naz did not know at the time that this woman was a famous 'Aunty' — a woman who has built a strong network of sex workers, and provides them with clients and protection for a cut of their earnings.
"How will a job help you?" the Aunty asked Naz. "You will get your pay after working for 30 long days. Your children cannot wait for food for a whole month."
Aunty then got to the point. "Why not work somewhere where you can get paid right away?" she asked. "You have what it takes."
The rest, as they say, is history.
Like thousands of sex workers across the city, Naz dreamt of the day her sex trade work would be behind her. But no hero came to save her. She had to become her own saviour, with a little help.
Naz remembers being afraid the first time she met a client. She remembers feeling guilty. But she was luckier than many others. "He did not touch me until I was ready," Naz recalls her first client, who later became a regular. "We did not do anything that night. Instead, he took me to a grocery shop and bought milk for my children."
However, life took Naz to various places where she also had encounters with dangerous men.
She says that she is a "free woman" today but her past still haunts her every time she listens to stories of abuse from the women she works with. "It's like living in the present and the past at the same time," she says. "I can't get detached from the bitter reality that was once part of my life."
MOVING FORWARD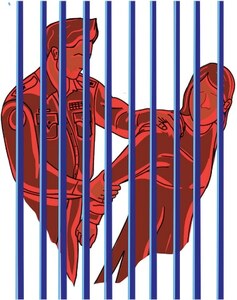 Like thousands of sex workers across the city, Naz dreamt of the day her sex trade work would be behind her. But no hero came to save her. She had to become her own saviour, with a little help. She now works day and night to return the favour.
While she was engaged as a sex worker, Naz came across people who were looking out for the health and reproductive rights of sex workers. When she decided to take the plunge and start an NGO, these individuals helped her tremendously.
Today, she has a large team which consists of supervisors, outreach workers and counsellors who help women sex workers get health support. The team keeps a check on hundreds of brothels and also provides treatment to sex workers who contract HIV/Aids. The organisation provides condoms and lube for safe sex, and Aids and TB (Tuberculosis) testing kits to the workers.
The day I first meet her Naz is visibly upset. "I am very disturbed today," she says. "There is a lot of pain in hearing the stories of the women active in the field."
Naz has just gotten off a call about a 19-year-old sex worker who has contracted multiple sexually transmitted infections (STIs). The other women want her to leave the brothel, fearing that the infections may spread.
This is exactly why the work Naz's NGO does is so important.
Since Naz was a sex worker herself, it was not very difficult for her to create a network of people for MDG. Her contacts, including a doctor who has been working with sex workers for years, help her with securing projects and support from reputable international organisations. But it is her relationships with the sex workers and the Aunties that is the organisation's secret to success.
These women hold a lot of respect for what Naz has achieved and what she is doing.
Accounts of their daily struggles show that while MDG has been providing support to the sex workers as far as protection from STIs is concerned, the problem is much bigger and there are also many other issues that still need to be addressed.
DIFFERENT JOURNEY, SAME DESTINATION
Thirty-year-old Aleena* is one of the outreach volunteers at MDG who is also a sex worker.
Aleena's story is different from Naz's. She was older when she got married. She was in love. She thought she had found the man of her dreams in her cousin.
The young woman was actually engaged to another cousin, but she fought with her father to end up with her future husband. "I was so in love with him. He was my aunt's son," she says. "I had no idea who I was dealing with."
Aleena was in her early twenties back then. Soon after the wedding, her husband took her to Dubai on their 'honeymoon'. But as soon as they landed at a seedy location, and Aleena saw men and women going inside rooms and coming out shortly after, she knew exactly the kind of place they were at.
"I was shocked and disgusted because, by then, things started adding up," she says. "Little did I know that my own husband, whom I loved a lot, would push me into this field."
Her husband then started to tell her about an opportunity that lay before them. He told her that she could earn thousands of dollars by 'servicing' 10 to 15 men a day at a massage parlour. In reality, the number would sometimes be much higher. Once Aleena started in this trade, there was no going back.
One day there was a police raid at the parlour. The masseurs and the men managing the parlour were arrested. Aleena too was thrown in jail for six months and later deported. She knew that it was time to leave her husband and move on.
"At the time when we were going through our separation, he already had another woman fooled by his marriage scheme, who he was going to use for the sex trade," she says.
But saying that you are moving on is easier said than done.
After returning to Karachi, Aleena started living on her own and hid from her family. Her husband had turned them against her anyway. She got a 'respectable' job, but there too her boss would proposition her for sex. She saw the same at another company and heard many horror stories from other women.
"So I thought, if that is my fate, why not work on my own terms under an Aunty who can protect me?" she says.
"I meet all kinds of men in this field," Aleena says. "Some are gentle, others are not. Some hurl abuses at us. They call us 'disgusting randiaan [whores].' That's fine, but then what are they? Why is there no similarly derogatory label for the men who come to us and use us?"
Aleena has bills to pay and responsibilities. It is her sex work that provides for her family that includes two children and a disabled man she got married to after coming back to Pakistan.
Her husband does not know about her past. He also does not know that she works as a sex worker. She fears the day he finds out how she actually runs their home.
He does know that she works with MDG. A job she does only because she is hopeful and wants to help women in similar positions.
NEED FOR PROTECTION

Laila*, another outreach volunteer at MDG, ended up in the sex trade in circumstances similar to Aleena's. She got married when she was 18 years old. But three years later, her husband left her because she could not bear a child.
After a short stint in the media industry following her divorce, Laila met an Aunty who offered her a better life and protection. Everything was going smoothly until a few months ago, when the kothikhana (brothel) where she worked was raided by the police. Laila was jailed for five days.
This was because she had upset a policeman. He first came to the kothikhana as a client. "I had sex with him," Laila says. "After we were done, he asked for my number. But I told him I cannot give him that."
Laila's Aunty had arranged the set-up. The young woman did not want to stay connected with the client afterwards. "So I declined," she recalls.
The policeman clearly did not like taking no for an answer. "Later he comes with the police, when we are not even doing anything and just sitting idly outside, and points towards me. During interrogation, I was grilled the most," she says.
The Aunty and men of the kothikhana were also arrested in the raid. The men also had to bear torture at the hands of the police officers.
Cases against Laila and her Aunty were registered under article 371-A of the penal code, that deals with "Selling [a] person for purposes of prostitution etc." They were released after paying a bail of Rs 100,000.
Harassment is a major issue these women have to deal with on a daily basis. They also face harassment at the hands of law enforcers, who look at them as sub-human. They are judged by a majority of healthcare professionals. And are treated as objects by many of their clients.
In such a scenario, the protection of an Aunty or a pimp is critical.
IN THE CARE OF AUNTY

Meera*, 43, is a well-known Aunty in Karachi. She is also a big part of the NGO and seems to genuinely care for her girls.
MDG's founder Naz works with Aunties because she is all too familiar with their importance in Karachi's sex trade ecosystem. Back when she was a sex worker, she once tried to bypass her Aunty to get her own clients. Aunties manage the business and have access to the clientele, taking a large portion of the sex workers' earnings. But, as Naz found out the hard way, it is dangerous to be in this business without an Aunty.
"I agreed to work for two men one night but, when I was taken to a house, there were four to five men," Naz says. The men gave her intoxicants. She remembers feeling dizzy and the men beating her up. "I was badly abused," she recalls.
Aunties and their men provide sex workers protection from such situations.
Meera almost looks at her girls like daughters. Ironically, it was taking care of her ailing mother at home that got her involved in this line of work.
When her mother was unwell, Meera had to constantly borrow money from people to pay for the treatment. One of her lenders suggested that she start renting out a room in her home.
"At first I did not understand what he meant," she says. "But I was in such need of money that I agreed. Parties started coming to my place and they would occupy the room for an hour or so."
The clients would pay Meera 5,000 rupees for this. "It was a big amount back then for me, given how much I needed money for my mother's medical expenses."
As time passed, Meera grew more cautious and curious. When the same couple rented the room for the third time, she started to catch on. Meera says that she was so sheltered that she didn't even understand what was happening until she peeked inside the room from the keyhole. Surprised at seeing a couple having sex, she went and told her acquaintance what she had witnessed.
He smiled at her and said, "It should not bother you as long as you are getting the money."
AN AUNTY IS BORN
With time, Meera started to recognise the opportunity that had knocked on her door. She started to adopt a more active role and, eventually, began managing kothikhanas.
She is thankful that she had the means to start renting out her place and never had to resort to selling her body. Today, Meera runs a kothikhana with her friend in a posh area and has a large number of clients who come to have sex with her girls. She is a partner at another kothikhana too.
"The youngest girl I have seen in the field was 12 years old," she says. "Generally, in this field, girls start sex work at the age of 14. Some are brought in by their fathers, others by their brothers and sometimes by their husbands. What a pity actually, that your husband brings you into the field to sell yourself."
The Aunties always have to be on alert to protect their girls from getting arrested, or harassed by the police or local goondas who usually belong to political parties.
Stability is another thing not on offer for the women in this trade. Kothikhanas are constantly on the move. "In a very short time, people realise what is happening in their locality," Meera says. "It is pretty normal for people to find out because the clients come in, they have sex, they take a shower. And the neighbours see their wet clothes. So, it's easy for them to connect the dots in some time," she says.
The longest that a kothikhana run by Meera lasted for was a year.
Meera recently rented a bungalow with a man who works at the airport. He told the real estate agent that because of travel and airport-related work, a lot of people will be coming and going into the house. In time, this cover too will be blown, like all others.
When the brothel is found out, people either call the police or show up in a mob, and beat up the women and the people working at the kothikhana. Aunties play a crucial role in these scenarios. They take their girls with them as they relocate. Their clientele, mostly connected via WhatsApp, follows them wherever they go.
Meera says that there are kothikhanas in neighbourhoods across the city. From Gulistan-i-Johar to the Defence Housing Authority.
Meera's friend who runs one of the kothikhanas with her gives weekly 'protection money' to both the police and the party workers. "The police get complaints from our neighbours and demand money for not raiding the place," she says. "The political workers in the area ask for cash or just ask us to give them liquor bottles. We arrange these for them."
However, even the weekly payments to the police and liquor for the party workers do not always buy protection for the women. Meera says that sometimes the police raid their premises when they have to "show that they are doing some work." Other times they demand a higher cut, and show up if the demand is not met.
Naz says that just a few days back, two persons belonging to a political party forcibly entered a brothel, hit the women there and made their videos. "Who do these women go to?" she asks. "The police? No, they cannot. The only reason for this incident was that the Aunty of this kothikhana had not been giving extortion money to the political party of her area," she adds.
The video of the incident, Naz says, was also widely shared on social media, showing faces of the women who were being interrogated. People commented and laugh reacted, as they judged the women, who were clearly in a vulnerable position.
A WAY OUT
Of course, the sex trade business is not only run by women.
Nasir* is a pimp who has accidentally landed up in his field. He calls the MDG team for support when any of the sex workers he works with gets sick or contracts an STI.
This was never meant to be Nasir's life. He was in the armed forces. Everything changed when, in his early thirties, he was diagnosed with an illness and found to be medically unfit. A friend of his suggested that the physically fit man try his luck managing sex workers. "I made my own network of women and clients with the help of that friend," he says.
Today, around 150 women work with Nasir, who arranges reliable clients for them. He was also arrested once and had to spend 14 days in jail on charges under Article 371-A. "My wife, who is a health professional, left me when she found out why I was arrested," he says. "I am still trying to get her back. I am trying even more to leave this work."
After he was released from jail, Nasir filtered the list of his clients. He now only provides sex workers to men who he believes are trustworthy. "My business is declining because I'm only catering to a few men these days," says Nasir.
Like the women, Nasir also dreams of his exit. "I started saving money to build a chai hotel, but my friends in the [sex trade] field found out and did not want me to leave this work," he says. Nasir's 'friends' sent a political party's workers to his kothikhana. The men hit people and made videos of the women. "I had to pay them 250,000 rupees to have the videos deleted," Nasir says.
Getting out on one's own terms is not easy. For the girls who start in this field in their teenage years. For the Aunties and pimps, who feel responsible for the girls' safety, and are in too deep. For the women whose past follows them even if they try to find other work.
But when the industry is done with the women, it also pulls the rug from under their feet. "Today, I am young and beautiful. But tomorrow I'll be old and frail," says Aleena. "I won't be able to stay in the field."
Aleena also aspires to open an NGO one day. She is not the only one striving to be a bigger part of the solution like Naz.
While the women mentioned in this story are protected by Aunties and pimps, and provide services to select clients in the relative safety of kothikhanas, other women walk the streets of Karachi in search of sex work. Many transgender persons have to also resort to unsafe sex work.
It is no wonder then that so many sex workers want to move towards helping others in situations such as theirs, or worse. It offers women such as Naz a way out. It offers them potential financial stability and a sense of purpose. But, most important of all, it offers them something sex workers are rarely offered — respect.