March 28, 2023
VIENTIANE -National Industrial Park in Laos launched in cooperation with Asia-Potash International
The Lao government and SINO-KCL on Friday signed a Memorandum of Understanding (MOU) on a project titled "Asia-Potash International Intelligent Circular Industrial Park" in Thakhek and Nongbok districts of Khammuan province.
The government and SINO-AGRI International Potash Co., Ltd. (SINO-KCL) signed the MOU in Vientiane, indicating that the government-enterprise cooperation project is about to get off the ground after more than one year's preparation.
Deputy Minister of Planning and Investment Mrs Khamchan Vongsenboun and SINO-KCL's Executive Director and General Manager, Tong Yongheng, signed the MOU on behalf of both parties, respectively.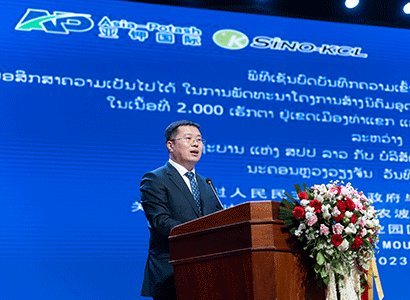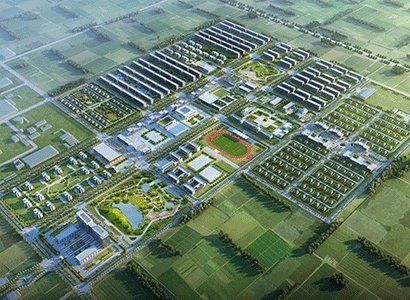 The signing ceremony was also attended by representatives of the Embassy of the People's Republic of China in the Lao People's Democratic Republic and representatives of Lao authorities, including the Prime Minister's Office, Ministry of Planning and Investment, Ministry of Energy and Mines, Ministry of Industry and Commerce, Ministry of Agriculture and Forestry, Ministry of Natural Resources and Environment, Ministry of Information, Culture and Tourism, Central Bank, Laos-China Cooperation Committee,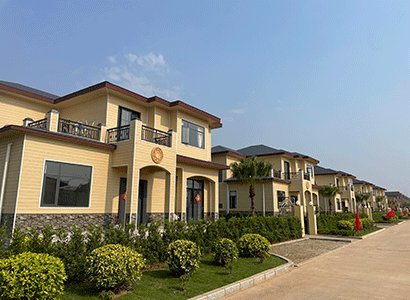 and the Khammuan government, as well as industry representatives from the Xinhua News Agency Vientiane branch, Lao-Chinese Chamber of Commerce, Vientiane Chinese Association, ICBC Limited Vientiane Branch, Bank of China Limited Vientiane Branch, and famous Chinese and Lao enterprises.
The project aims to promote industrialisation, urbanisation and investment in Laos while modernising agriculture and advancing the service industry.
Consisting of three sections: potash fertiliser industrial park, non-potash industrial park, and Asia-Potash Town, the project covers a total area of about 2,000 hectares, with an estimated investment of US$4.31 billion.
It will leverage the advantages of Lao government support, mineral resources, power energy, and labour and land cost to spur Laos to form an industrial pattern of import substitution and export, to bolster foreign exchange earnings.
Relying on the enterprise's potash ore resources, the potash fertiliser industrial park is poised to expedite the growth of the potash fertiliser industry and achieve a production capacity of 3 million tons by 2023, and 5 million tons by 2025, with plans to eventually reach 10 million tons. The industrial park embodies a vision to establish the enterprise as Asia's leading producer and processor of potash fertiliser and to propel Laos toward the world's fourth-largest potash fertiliser production base.
The Non-Potash Industrial Park will attract investment based on resources such as coexisting minerals of potash mines, coal mines and bauxite to develop the use of industrial chains and supply chains for resources and produce high value-added and diverse product clusters.
The Park is also equipped with self-owned power plants with wind or solar power generation to create electrical energy as its advantage. In addition, it will undertake the transfer of global industrial chains and supply chains to vigorously facilitate mineral resource development in Laos, thus contributing to the transformation of Laos from a resource power to an industrial power.
The Asia-Potash Town is built as a modern, multifunctional urban complex that includes facilities for healthcare, education, commerce, sports, and services.
On the one hand, it allows farmers to enter the town and be trained as industrial workers, thus leveraging the advantage of labour costs. On the other hand, it serves as a window for Laos to showcase itself to the world, thus attracting global investors and entrepreneurs to Laos.
At the signing ceremony, Tong Yongheng, Executive Director and General Manager of SINO-KCL, delivered a speech. He stated that the Asia-Potash International Intelligent Circular Industrial Park is a platform for developing industrialisation and urbanisation, as well as showcasing Laos' development advantages and providing a driving force for its economic and social development.
It Is also a platform for Laos to seize development opportunities, and undertake the transfer of global industrial chains and supply chains amidst a global economic downturn and geopolitical conflicts. Furthermore, it is a platform that gathers excellent enterprises and talents around the world to invest, start businesses, and seek common development.
After the Asia-Potash Industrial Park project is put into operation, Laos is expected to see an annual fiscal revenue of approximately US$320 million, an increase in foreign exchange reserves of about US$1.7 billion, and a drive of local employment for 30,000 to 50,000 people.
It will provide Important support for the high-quality development of Laos' economy and society, and play a significant role in consolidating the friendship between China and Laos and building a community with a shared future between the two countries.