April 26, 2023
BEIJING – The opening of the service is set to bring prosperity to people in both countries. Luo Wangshu reports from Vientiane.
What can a high-quality railway bring to a less-developed region? China has answered that question with decades of efforts to build railways across the country, and those efforts have borne fruit.
An efficient transportation network boosts the movement of people and freight nationwide, driving local development in several fields, such as logistics, tourism and trade, and also promotes urban development and economic growth.
Now, China has handed Laos the key to economic growth by building a modern railway in the country.
The China-Laos Railway, which China helps operate, has turned Laos from a landlocked country into a land-linked hub in Southeast Asia.
It was built according to Chinese management and technical standards, and is a landmark project of the Belt and Road Initiative.
The 1,035-kilometer cross-border line, which has a designed speed of 160 km per hour, links Vientiane, the capital of Laos, to Kunming, capital of Southwest China's Yunnan province, and then links with China's national railway network.
Travelers and cargo from every place the railway network extends in China can take the line to Laos, while passengers and freight are also carried in the other direction, of course.
The railway, which commenced operations on Dec 3, 2021, has driven significant growth in Laos' passenger and freight transportation sector.
As of April 18, the cross-border railway had handled 14.43 million passenger trips and 18.8 million metric tons of cargo, according to China Railway Kunming Group and the Laos-China Railway Co, the line's operators, on Wednesday.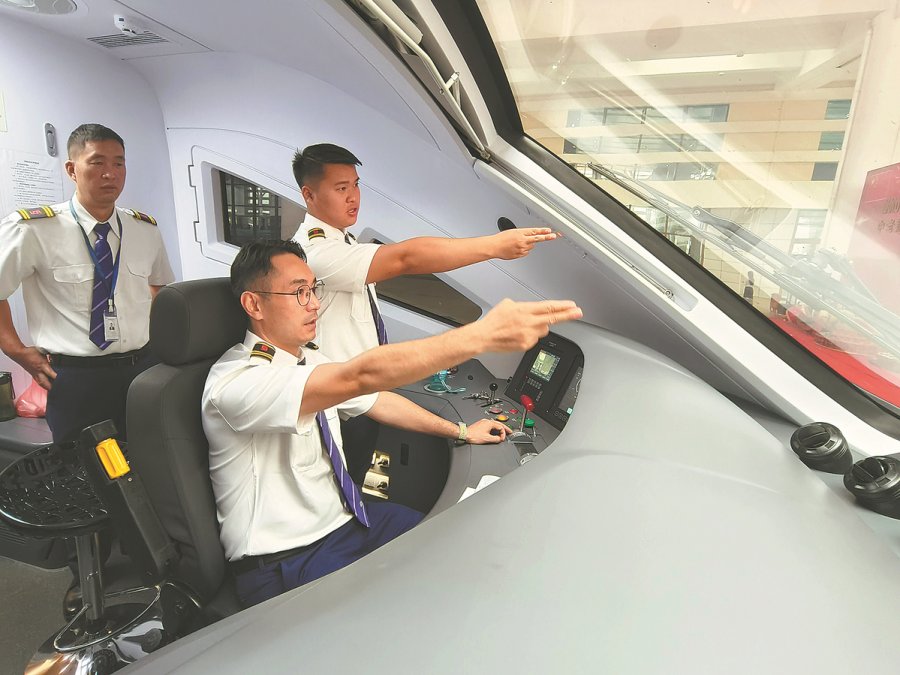 Welcome development
Meanwhile, on April 13, it opened an international passenger service — a long-awaited development for people on both sides of the border. The service had not been offered before because of the COVID-19 pandemic.
Now, passengers can travel between Kunming and Vientiane in 10 1/2 hours, including inspections at customs clearance stations at the respective borders.
According to China Railway Kunming Group, the line's international service handled 2,326 cross-border passenger trips between April 13 and 18.
As a landmark BRI infrastructure project, the railway aims to promote the movement of people and cargo between the two countries, and further play a role as a key corridor to boost communications in the Southeast Asia region, facilitating areas such as trade and logistics.
It also provides new opportunities for people in both countries, boosts economic potential and showcases how the BRI is a win-win endeavor.
"The service has not only further facilitated the flow of people and trade between China and Laos, but also presses the 'accelerator pedal' for the recovery of tourism and other industries, and injects new impetus to promote development between the two countries," said Wang Wenbin, spokesman for the Ministry of Foreign Affairs.
"The China-Laos Railway is a model project of China and the members of the Association of Southeast Asian Nations who are working on the BRI and promoting regional economic integration."
This year marks the 10th anniversary of the BRI, and China will continue to cooperate with ASEAN members to promote the initiative and benefit 2 billion people in the region, he added.
Su Yisheng, an expert in Southeast Asian relations with the Yunnan Academy of Social Sciences, said: "The China-Laos Railway, especially the cross-border passenger service, makes travel between Kunming and Vientiane very convenient. Compared with spending more than 40 hours on a cross-border bus, it is much more comfortable for people to travel by train. It benefits those with travel needs between the two countries, such as students, tourists and businesspeople."
He quoted a World Bank estimate that Laos' GDP will rise by 21 percent as a result of the construction and operation of the China-Laos Railway, adding that the line will create more jobs for Laotian people.
"It is a win-win project for China and Laos, and has already benefited people on both sides," he said.
Although Laos had a 3.5-km-long railway along its border with Thailand before the opening of the China-Laos Railway, many local people see the latter as the country's first railway, and have spoken about it and are proud of it.
The railway stretches 422.4 km within Laos, linking the northern border city of Boten and Luang Prabang and Vang Vieng, popular tourism sites, with Vientiane.
"The China-Laos Railway will make Laos a bridge between China and Southeast Asian countries, and in general a link between Laos and the world," said Suanesavanh Vignaket, Laos' minister of information, culture and tourism.
Bouncier Tangsinsomyong, a 50-year-old tour guide in Vientiane, said he had longed for the international passenger service to open.
"It's such good news for us, and I am looking forward to visitors coming," he said. "We Laotians are used to living a leisurely lifestyle. We do not hurry, we take our time, but that doesn't mean we don't want development. We also want our country to be better, more convenient, like China," he said.
Not only have local people praised the service, international tourists also see it as a convenient link.
"It was fast, efficient and pleasant," said Stuart Hart, who was visiting Laos from the United Kingdom and shared his firsthand experience as a passenger on the railway. He has taken the service twice.
Hart, who lived in Shanghai for two years, said the service was as good as those he experienced in China, while Juliet and Dean O'Reilly, also from the UK, said Vientiane Railway Station is big and beautiful.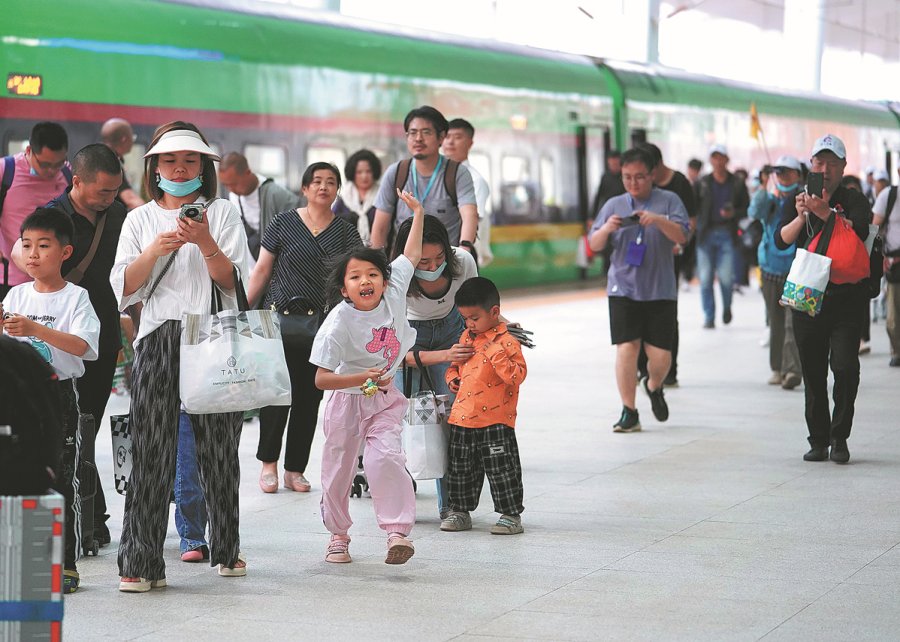 Employment opportunities
The railway is also bringing jobs for local people. Vongthong Somphavath, a former tour guide from the tourist hot spot of Lang Prabang, said she is proud to be a conductor on a regular train on the line. She lost her job because of the COVID-19 pandemic, but the China-Laos Railway project offered her another opportunity, and it is a nice opening, she said.
"It's a pretty stable job and the salary is decent," the 26-year-old said, adding that some of her friends also want to join the company and have asked her advice.
La Thor, a 23-year-old who works maintaining a section of the railway in Luang Prabang, received training from a Chinese civil engineer. He said he wants to be Lao's Zhan Tianyou, aka Jeme Tien-Yow, who is known as the "Father of China's Railways" for his contribution to the sector.
Wang Jujie, Meng Zhe, and Xu Panyiru contributed to this story.