September 20, 2022
KUALA LUMPUR – Vegetables, fruits, seafood and even rice are being used to camouflage drugs being brought into the country, with some drug syndicates even using p-hailing services both to smuggle and distribute the drugs.
In the age of the Internet, transactions are also being done over social media sites.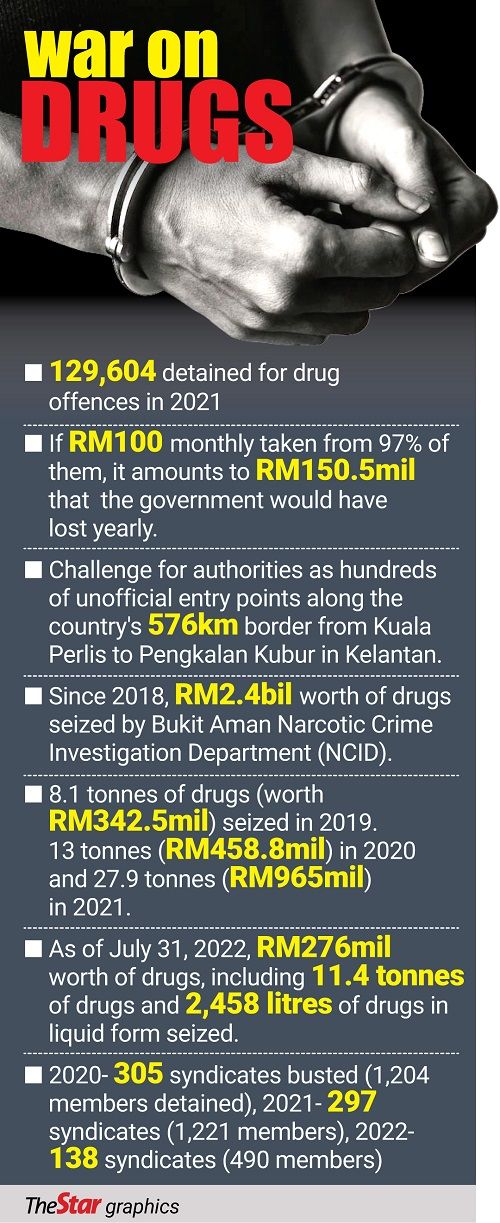 The smugglers are switching tactics all the time, making it challenging for anti-narcotics policemen.
Malaysia's land border with Thailand, which stretches for 576km from Kuala Perlis in Perlis to Pengkalan Kubur in Kelantan, is also full of "lorong tikus" or secret passages for smugglers to hide and transport their contraband.
"Along the 105km Kelantan-Thailand border, almost 200 unofficial bases are being used by smugglers to transport goods, including drugs into the country," said Deputy Inspector-General of Police Tan Sri Razarudin Husain.
"Syndicates are using the 'lorong tikus' and hide their drug supplies among basic goods like vegetables, fruits, rice and even seafood.
"While some have resorted to storing drugs inside special compartments in vehicles, others have used fibreglass and fishermen boats to transport drugs," he told The Star in an interview.
He said they are also using ehailing and food delivery services to send drugs to customers.
"We are aware of their modus operandi and we have to be one or two steps ahead to curb their activities," he added.
The Bukit Aman Narcotic Crime Investigation Department (NCID) is also facing the digital-age challenge, whereby syndicates are taking orders via chat applications such as WeChat, WhatsApp and Facebook, said Razarudin.
"Demand and supply are being conducted online, and social media sites are the new transaction channel used by syndicates.
"Syndicates are also using the dark web to conduct their activities. It can only be accessed using specific software and configuration.
"It is challenging for the authorities as the logins and user data are a secret, thus making it hard for authorities to track them," he said.
According to Razarudin, one of the major factors in the smuggling of drugs into the country is Malaysia's location near the "golden triangle" which is at the joint borders of Thailand, Myanmar and Laos.
"Such proximity is a major factor that contributes to drug smuggling in Malaysia.
"Thus, the NCID is working closely with other enforcement agencies to strengthen security at the borders to curb such smuggling," he said.
Malaysia's location, infrastructure and communication system made the country an ideal transit country for drug smuggling, he added.
High demand and prices of drugs that could reach up to three times more in a third country also contributed to Malaysia being used as a transit country, said Razarudin.
"Drugs such as heroin and syabu are sold at much higher prices and are in high demand in countries such as Australia and New Zealand.
"We believe international drug syndicates are cooperating with the local players to conduct large-scale drug smuggling," he disclosed.
He said the NCID had collaborated with foreign authorities to curb drug smuggling effectively.
"The department collaborated with various agencies overseas including the Australian police, the US Drug Enforcement Administration, Singapore's Central Narcotics Bureau, Indonesian police and Interpol," he said.
Razarudin said drug abuse and trafficking form a threat to the country.
"Syndicates are becoming more daring. The drug menace also jeopardises the integrity of enforcers.
"If those in positions of authority are easily 'bought over' by drug traffickers, how can society trust us to curb the drug problem?" he said.
He added that the police would not compromise in taking action against any of its personnel found to be in cahoots with drug syndicates.
"I would like to remind those in the police force not to tarnish the sacrifice and hard work of others by their actions.
"Stay away from corrupt practices that can ruin one's future as there is nothing good associated with corruption," he added.