March 3, 2023
DHAKA – The libraries are benefitting the poor people of these remote islands. Agricultural books will be added to the libraries soon. Besides, initiatives have been taken to add children's books.
— Al Asad Md Mahfuzul Islam Superintendent of Police
Sixty-seven-year-old Idris Ali is a farmer living at a remote char in Rolakata area on the Brahmaputra bed. He has to travel to Jatrapur market of Kurigram Sadar upazila every day because of his work and to buy essentials for his family.
Boat is the only means of transportation available, and he has to wait for at least an hour at Jatrapur terminal for a vessel.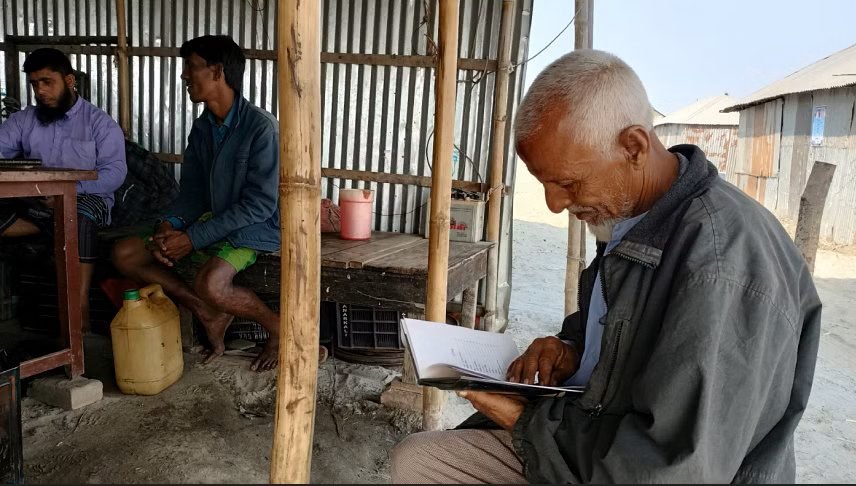 Interestingly, he doesn't mind the wait anymore. Now, he spends this time reading books. From January, he is getting the opportunity to read books right at the terminal, thanks to the "little free library", set up by the Kurigram district police.
Idris said he studied up to eighth grade. "I read books every day at the terminal. However, agricultural books have not yet been added to this library," he said.
Rabiul Islam, a small trader at the terminal, said, "The library has been set up in front of my shop. There are books on literature, education, Liberation War and biographies. Every day, 20 to 25 people visit the place."
Kurigram district police sources said 20 such libraries have been set up at various boat terminals in char areas in the district's Brahmaputra shoal.
A little free library is a free book-sharing box where anyone may take a book or share a book.
Each library has 20 genres of books. Local traders are maintaining these libraries.
Superintendent of Police Al Asad Md Mahfuzul Islam took this initiative.
Farmer Atiar Rahman, 60, who used Chilmari Ramna boat terminal for travel, said it has been a while since he read any books and that changed after he started using the library.
Every day, he travels from Char Shakhahati on the Brahmaputra riverbed to Raman market. He said he now passes his time by reading a book.
SP Mahfuzul said, "The libraries are benefitting the poor people of these remote islands. Agricultural books will be added to the libraries soon. Besides, initiatives have been taken to add children's books."