July 8, 2022
TOKYO – Former Japanese leader Shinzo Abe died on Friday (July 8), after he was shot during a rally speech in Nara prefecture in western Japan.
The death of the former prime minister was confirmed by his Liberal Democratic Party (LDP) officials to domestic media, about six hours after the attack at around 11.30am, and came after doctors struggled to save him.
Mr Abe had no vital signs when brought to the Nara Medical University Hospital, said medical officials at a press conference. He was reported dead at 5.03pm local time.
Doctors from the hospital at the same conference said more than 100 units of blood were used in transfusions to try and resuscitate Mr Abe. He had been in cardiac arrest when emergency responders arrived at the scene of the crime near one of Nara's main train stations.
In response to reporters' questions, they added that no bullets were found in Mr Abe's body during surgery, but one wound was "deep enough to reach the heart" which caused bleeding.
Mr Abe had suffered two wounds about 5cm apart on his neck, confirming earlier reports, and open-heart surgery was conducted to determine where the haemorrhage was to stop the bleeding, doctors explained.
More than 20 doctors and nurses participated in the operation, which lasted around 4hr 30min, doctors said. The cause of death was attributed to blood loss.
Current Prime Minister Kishida said he had "no words" to describe his feelings towards Mr Abe's death, adding that he has lost a personal friend who he spent a lot of time with.
He added that Mr Abe has left behind an "invaluable legacy" and had led the country with strong leadership.
After Mr Abe's death was confirmed, Mr Kishida said Upper House elections will take place as scheduled on Sunday under tighter security.
The prime minister condemned the shooting, which he characterised as an attack on democracy, adding that Japan "will not cave to barbarism and terrorism", with the need to "defend free and fair elections at all costs".
Parties will continue campaigning on Saturday, with Mr Kishida also going on the campaign trail at rallies in the Yamanashi and Niigata prefectures.
A man identified as Tetsuya Yamagami, 41, a Nara resident, has been arrested. Public broadcaster NHK cited Yamagami as telling police sources that he was disgruntled with Mr Abe and "wanted to kill him".
Fuji TV reported that the suspect was a former member of the maritime self-defence force, while NHK said he had served in the force for about three years until 2005.
A gun has been recovered at the scene and the suspect was arrested for attempted murder, NHK reported.
The broadcaster said police in protective gear raided the home of the man after he was arrested.
NHK footage showed several police officers wearing helmets and body armour and carrying protective shields filing into a building identified as the home of the suspect.
Japan votes in an Upper House election on Sunday, where 545 candidates are vying for 125 seats. The ruling Liberal Democratic Party (LDP) bigwigs have been fanning out across the country to campaign for the party candidates.
Earlier, Mr Kishida said Mr Abe was in critical condition.
"Everything that can be done is being done to revive him. I am praying from the depths of my heart that his life will be saved," the current premier said, struggling to hold back tears. He said he would not speculate about the gunman's motives and whether it signalled a trend of societal unhappiness.
Defence Minister Nobuo Kishi – Mr Abe's blood brother who was adopted into Mr Abe's maternal family when he was born – condemned the attack in the strongest terms, saying it was an "attack on democracy" and that he prayed for Mr Abe's recovery.
He added that whatever the suspect's background, the act was inexcusable.
Mr Kishi said he understands that doctors are working very hard to save his brother's life, including through blood transfusions.
NHK reported that Mr Abe's wife Akie has arrived at Nara Medical University Hospital, where Mr Abe is undergoing treatment.
Earlier, Kyodo news agency and NHK reported that Mr Abe appeared to be in a state of "cardiorespiratory arrest" when taken to hospital, after having initially been conscious and responsive, according to Reuters.
The term is often used in Japan before a feared death can be officially confirmed by a coroner.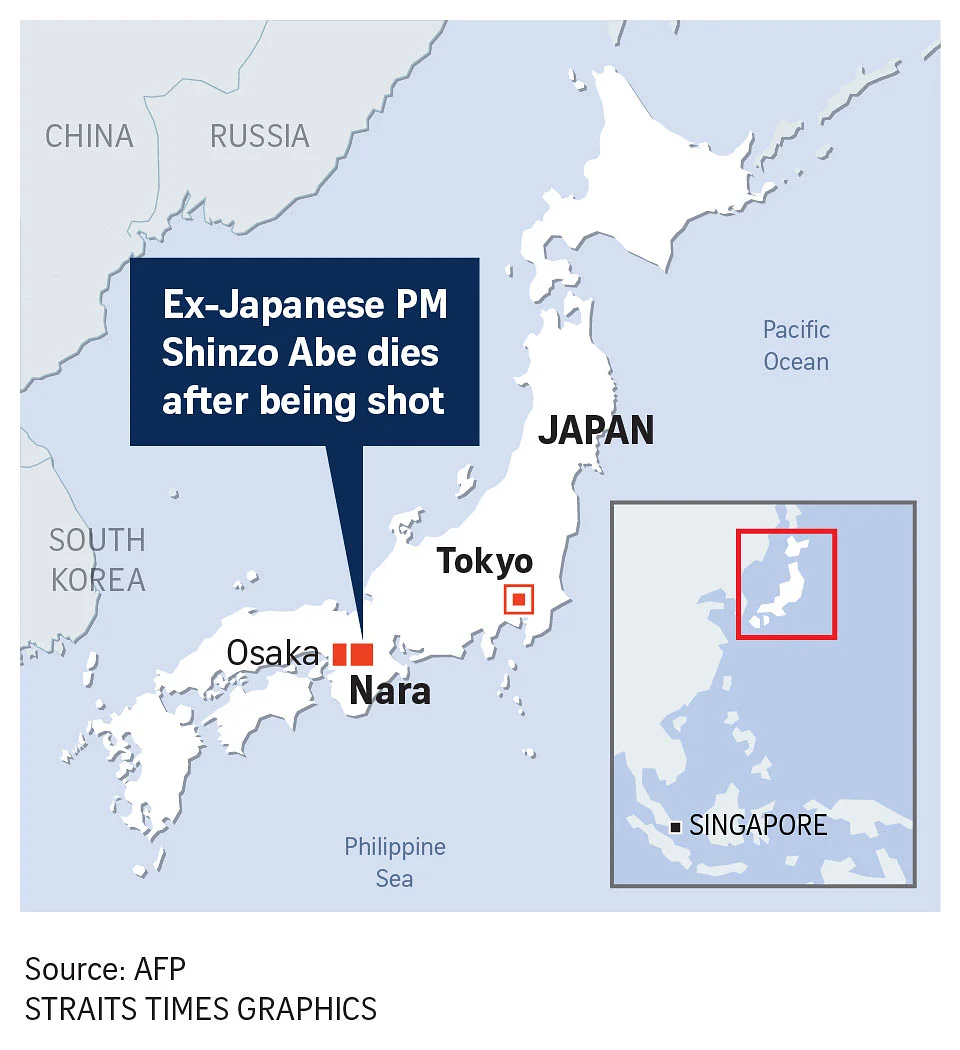 Political parties condemn attack
Both ruling party and opposition politicians were united in condemning the attack as barbaric and an act of terror.
Mr Kenta Izumi, who leads the main opposition Constitutional Democratic Party of Japan (CDP), said the shooting of Mr Abe was a deplorable act in a democratic country.
Reiwa Shinsengumi chief Taro Yamamoto said: "I really hope he survives the attack. While our political positions may be polar opposites, ex-PM Abe has been working very hard to create the Japanese society that he envisions."
Earlier in the day, Chief Cabinet Secretary Hirokazu Matsuno told reporters: "Former prime minister Abe was shot at around 11.30am in Nara. One man, believed to be the shooter, has been taken into custody."
Media reports said that Mr Abe collapsed in the middle of a rally speech in front of the Yamato-Saidaiji Station of the Kintetsu Line in Nara.
He had begun speaking at 11.29am (10.29am Singapore time) and was shot just one minute later, at around 11.30am outside the station.
Mr Abe was speaking on behalf of LDP candidate Kei Sato, 43, a current member of the Upper House running for re-election in Nara.
Screaming crowds
NHK showed a video of Mr Abe making the speech when two shots rang out, after which the view was briefly obscured and then security officials were seen tackling a man on the ground.
Mr Yoshio Ogita, 74, secretary-general of the Nara chapter of the LDP, was standing next to Mr Abe. He heard two loud sounds and saw a plume of white smoke rising to the sky, the New York Times (NYT) reported.
"I didn't know what had happened," he said in a phone interview. "I saw him collapse."
Businessman Makoto Ichikawa, who was at the scene, told Reuters: "The first shot, no one knew what was going on, but after the second shot, what looked like special police tackled him (the suspect)."
Mr Abe sustained wounds on the right side of his neck and his left clavicle, a technical term for collarbone, said Nara City Fire Department.
安倍晋三撃たれる瞬間 pic.twitter.com/OOpIYuEed7

— りりぃ (@llp78r) July 8, 2022
The crowds screamed and cries of "ambulance, ambulance", "AED" (automated external defibrillator) and for medical staff were heard, the Yomiuri Shimbun reported.
Bystanders rushed to Mr Abe while three men in suits, believed to be part of the former prime minister's security detail, pinned down a man in a grey T-shirt and khaki pants, NYT reported.
The man had tossed aside what appeared in video and photos to be a homemade gun.
A reporter for NHK who covered the speech said Mr Abe crumpled to the ground after the second shot, clutching his chest.
Kyodo News published a photograph of Mr Abe lying face-up on the street by a guardrail, blood on his white shirt, Agence France-Presse reported. People crowded around him, one administering heart massage.
Ambulances and fire engines rushed to the scene, and as emergency workers rushed to administer CPR, Mr Abe was covered with a large blue tarp, NYT reported.
He was moved onto a stretcher and then loaded onto a medical evacuation helicopter that took him to Nara Medical University Hospital.
Japan is a country with some of the strictest gun laws among leading economies and shootings are rare.
Senior Japanese politicians are accompanied by armed security agents but they often get close to the public, especially during political campaigns when they make roadside speeches and shake hands with passers-by.
Longest-serving PM
Mr Abe was Japan's longest-serving prime minister, with two stints in office from 2006 to 2007 and 2012 to 2020.
Mr Abe's first term was plagued by scandals and discord.
During both terms, he stepped down citing ill health, and acknowledged that he was suffering from an ailment which was diagnosed as ulcerative colitis.
But the former prime minister has remained a dominant presence in the LDP. He leads the party's largest faction and there is talk that he was contemplating a comeback if there is a chance.
Mr Abe's record-setting run as prime minister before he resigned in 2020 brought stability to Japan after a revolving door of six administrations, including a previous stint by him.
He helped Japan escape from a cycle of deflation, endured a Trump administration that questioned the nation's only military alliance, and worked to improve ties with its biggest trading partner China, which were at their most hostile in decades when he took office.
Mr Abe is, perhaps, best known for his plans to revive Japan's flagging economy through unprecedented monetary easing and regulatory reform that was eventually labelled "Abenomics".
He was seen as a steady hand who consolidated power during his record second run, and was able to overcome scandals. This included one that came to light in 2017 over questionable government land allocations for schools provided to associates of Mr Abe and his wife Akie.
Mr Abe played a major role in winning the 2020 Olympics for Tokyo, which was later postponed by a year to 2021 due to the Covid-19 pandemic.
Despite his reforms, the economy's bigger structural problems remained, and Japan was in recession even before the Covid-19 pandemic hit in 2020.
Mr Abe's popularity fell further during the pandemic, with critics saying that his approach to containing the virus was slow and confusing.
World leaders react
In a Facebook post, Singapore's Prime Minister Lee Hsien Loong said: "I am deeply shocked to learn that former Japanese prime minister Abe Shinzo was shot in Nara Prefecture this morning. This is a senseless act of violence. Mr Abe is in critical condition and doctors are working to save him. Mr Abe is a good friend of Singapore. I had just hosted him to lunch in May, on my visit to Tokyo. My thoughts and prayers are with Mr Abe and his family."
South Korea's Foreign Minister Park Jin conveyed his thoughts over the shooting to his Japanese counterpart Yoshimasa Hayashi, on the sidelines of Group of 20 meeting in Bali on Friday. Mr Park said the news was "very shocking" and that "I wish for Abe's recovery".
The United States said it is "saddened and shocked" by the incident.
"Abe-san has been an outstanding leader of Japan and unwavering ally of the United States," US ambassador Rahm Emanuel said in a statement. "The US government and American people are praying for the well-being of Abe-san, his family, and the people of Japan."
US Secretary of State Antony Blinken said the US is deeply saddened and concerned "about the attempt on the life of prime minister Abe", adding that "our thoughts and prayers are with him and his family, with the people of Japan".
British ambassador to Japan Julia Longbottom posted on Twitter that she was "shocked and saddened to hear of the terrible events in Nara". She said: "Former prime minister Abe is a close friend of the UK. Our thoughts and prayers are with him and his family at this time."
Australian Prime Minister Anthony Albanese also posted on Twitter: "Shocking news from Japan that former PM Shinzo Abe has been shot – our thoughts are with his family and the people of Japan at this time."
European Council President Charles Michel said he was "shocked and saddened by (the) cowardly attack" on Mr Abe, adding that he was "a true friend, fierce defender of multilateral order and democratic values".
"(The) EU stands with people of Japan and (Prime Minister) Fumio Kishida in these difficult times. Profound sympathies to his family," he said in a post on Twitter.
Separately, European Commission President Ursula von der Leyen wrote on Twitter: "Dear @AbeShinzo, stay strong! Our thoughts and prayers are with your family and the people of Japan."
French President Emmanuel Macron said he was "profoundly shocked by the despicable attack" on Mr Abe. "Profoundly shocked by the despicable attack that Shinzo Abe has been victim of. Thoughts for the friends and family of a great prime minister. France stands with the Japanese people," he wrote on Twitter.
Chinese foreign ministry spokesman Zhao Lijian said China was appalled by the shooting. "We hope that former prime minister Abe will be out of danger and get well soon, and (we) send our regards to his family," Mr Zhao said during a regular media briefing in Beijing.
Meanwhile, Taiwanese President Tsai Ing-wen said in a Facebook post: "Taiwan and Japan are both democratic countries with rule of law. On behalf of my government, I would like to severely condemn violent and illegal acts.
"Former prime minister Abe is not only a good friend of mine, but also a staunch friend of Taiwan's. He has supported Taiwan for many years and spared no effort to promote the progress of Taiwan-Japan relations," Ms Tsai said.
India's Prime Minister Narendra Modi said he was "deeply distressed" by the shooting of Mr Abe. "Deeply distressed by the attack on my dear friend Abe," Mr Modi wrote on Twitter. "Our thoughts and prayers are with him, his family, and the people of Japan."
Indonesia's foreign ministry spokesman, on behalf of Foreign Minister Retno Marsudi, said in a statement: "The minister has expressed her sympathies in the name of G-20 foreign ministers to the Japanese foreign minister."
Malaysia Prime Minister Ismail Sabri Yaakob said on Twitter: "I am shocked and deeply concerned after hearing about the attack on former Japanese PM @AbeShinzo. I condemn this heinous act. I pray for Mr Abe's recovery, and for the strength of the Japanese people during this difficult time."
Thailand's Prime Minister Prayut Chan-o-cha said he was very shocked by what has happened to Mr Abe, said Foreign Minister Don Pramudwinai. "Prayut and Abe are friends and they have a relatively close relationship as they met several times," he said.
Meanwhile, Philippines Foreign Affairs Secretary Enrique Manalo expressed "great shock and dismay" at the attack. "I extend my deep sympathy and pray for his early recovery," he posted on Twitter.
Calling the attack "monstrous" and an "act of terrorism", Russia's foreign ministry said in a statement: "We are convinced that those who planned and committed this monstrous crime will bear responsibility for this act of terrorism, which cannot be justified."
Former US president Donald Trump called the shooting of Mr Abe "absolutely devastating" and said he was praying for him.
【超速報】
犯人と倒れた安倍晋三の写真 pic.twitter.com/JYX8eVOCdU

— しぐまん🐻゛🧸゛ (@guma_bear) July 8, 2022
安倍元首相、撃たれた。
南無大師遍照金剛
天の御加護があります様に。 pic.twitter.com/1Ma8ZJSOFn

— 五香粉炒め (@eeWYTNa1QxcCudM) July 8, 2022
Shinzo Abe shot in the chest in Nara. Attacker caught. pic.twitter.com/WfkUDH9lfo

— Gordon Knight (@GordonlKnight) July 8, 2022
安倍晋三演説中にバズーカみたいなん3発撃たれて阿部さん心臓マッサージされてるしやべぇ…… pic.twitter.com/Cai5fAhgly

— ゆごㄘ (@Yu__GoChi819) July 8, 2022