November 15, 2022
PETALING JAYA –  A total of 108 independent candidates, the highest number in any election in Malaysia, are fighting all odds to secure their victories in the 15th general election.
However, their winning chances may be slim, as independent candidates are without resources and the support of party machinery.
Among the independent candidates, some boast high academic qualifications, while others are social activists, internet celebrities, a former deputy minister and elected representatives dropped by their respective parties.
Independent candidate P. Prabakaran won the Batu parliamentary seat in 2018 when Tian Chua, former PKR vice president, was disqualified on nomination day in 2018 due to a court case.
Tian Chua, a two-term member of parliament for Batu in 2008 and 2013, is attempting to win by leveraging on his past achievements and connections with the voters in Batu parliamentary constituency where a total of ten candidates are vying the seat this time.
Four of them are independent candidates: social media influencer Nur Fathiah Syazwana, lawyer cum social activist Siti Zabedah Kasim, Too Cheng Huat who opts to use a vulgar word in Hokkien "Too Gao Lan" as his name on the ballot paper. and Chua.
Chua chooses a chair as election symbol and his team of aides bring a plastic yellow chair to campaign.
Nur Fathiah, who has 200,000 followers on social media, attempts to leverage on her influence in social media to the battle in Batu, while Siti Zabedah, popularly known as Siti Kasim, is outspoken and bold.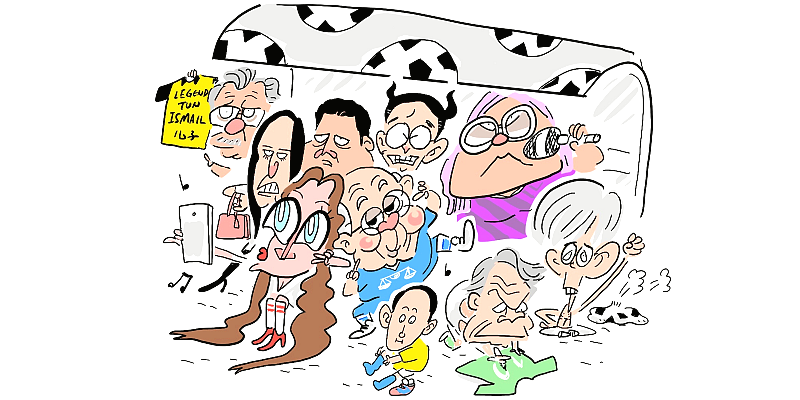 Too, reportedly the chairman of Koerasi Grand Ages Kuala Lumpur Bhd, caught public attention, especially the Chinese community, with the vulgar word which means "very pissed off" in a crude manner.
The vulgar word was used to express the ordinary folks' anger witnessing politicians party-hopping after the infamous Sheraton Move.
Another "mysterious" candidate is Choy San Yeh, which means God of Prosperity in Cantonese.
The candidate, a female who has opted to use God of Prosperity on ballot paper, is contesting the Seputeh parliamentary constituency but has so far not appeared in public.
A proxy showed up on nomination day on the ground that she had contracted Covid-19.
Lee Wai Hong, former youth chief of Kuala Lumpur and Selangor Chinese Assembly Hall, is another independent candidate contesting the Seputeh parliament seat where a total of five candidates are vying the seat.
Lee, who chose a rabbit as the symbol, is harping to win votes from those rejecting Barisan Nasional and Pakatan Harapan to win the seat.
Incumbent Teresa Kok from Pakatan Harapan is defending the seat she won since 1999.
Deputy communications and multimedia minister Datuk Zahidi Zaunul Abidin is contesting the Padang Besar parliamentary seat and Titi Tinggi state seat as an independent candidate after he was dropped by Umno.
Wong Tack, the incumbent for Bentong parliamentary seat, contested as an independent candidate after he was dropped by DAP.