September 20, 2023
JAKARTA – In the early 2010s, street style skyrocketed as an international fashion trend, with haute couture capitals from New York to Tokyo leading the charge.
Yet, the allure of leather boots and classic dress shoes persisted in the Indonesian market, with little attempt to level up the look of casual kicks.
Enter Zaki Winata and Fahmi Faisal, two fresh-faced graduates who boldly hijacked the formal footwear industry when they cofounded Hijack Sandals.
"We tried to counter the market by thinking, what if we make sandals?" Fahmi told The Jakarta Post on July 4.
Nothing mundane about utility
From the outset, Hijack Sandals has focused squarely on sandals. According to Fahmi, the market has overlooked the opportunity to make sandals, an indispensable footwear product in Indonesian households, "cool and progressive".
Hijack Sandals, for the most part, has espoused the colorful and comfortable "camping chic" style, while also appealing to consumers drawn to practicality.
Even as the company expanded its aesthetics beyond its renowned "gorpcore" look, the trace of its philosophical through line remains across its designs.
The beginning
Back in 2010, Fahmi was still in his final year of university, working on his thesis. At the time, he was amused by the fact that his now company partner, Zaky, kept wearing his beloved Tasikmalaya-made Tarumpah sandals to school.
"He wore open sandals and rode his sepeda onthel [roadster bicycle] to university every day," he recalled.
"Zaky was the most iconic [student] in my university at that time. […] He got kicked out for it, obviously."
But Fahmi was impressed with Zaky's unique style, and the two of them cofounded Hijack Sandals that same year.
"We got started in 2010: Zaky, three craftsmen and me in this tiny shack," Fahmi said.
"We didn't event rent the house. We shared the revenue with the homeowner, which was not a lot at that time."
Hijack Sandals began with a big vision and a small capital of Rp 5 million (US$330).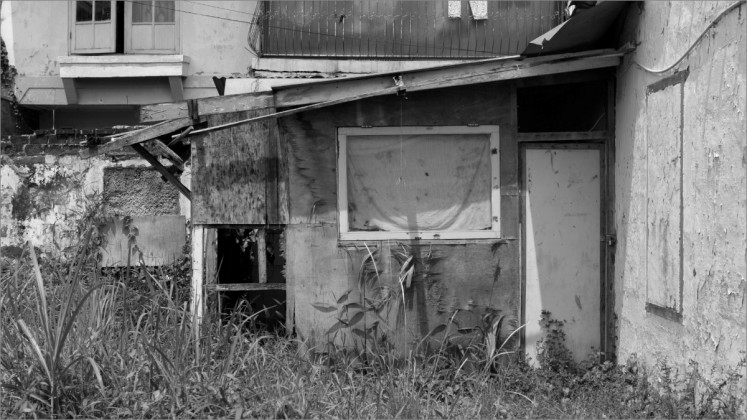 "We got started in 2010, Zaky, three crafters, and I, in this tiny shack," Fahmi recalls. (Hijack Sandals/-)
Fahmi and Zaky started out by touring Cibaduyut, an area of Bandung renowned as a hub of craftsmen, raw materials and shoe sellers as well as a local fashion landmark, to explore designs and materials as well as to recruit small-time craftsmen.
Though they have since expanded their horizon and now source some components abroad, their production center remains in Bandung.
"Finding suitable supplies and establishing perfect partnerships is important to us," said Fahmi, adding that they still maintained good ties with their early suppliers.
"Material selection is vital in our design approach."
Multimedia marketing
Following the path of exploring materials in a bid to set their sandals apart in the industry, the pair arrived at their signature style in 2014.
Fahmi explains that they continue to explore new fabrics and materials for upcoming collections, always trying to think ahead of the trend.
He said it took them around three years to finally gain brand recognition. Fahmi and Zaky attended trade shows and exhibitions, mainly in Jakarta and Bandung, and garnered positive reviews along the way.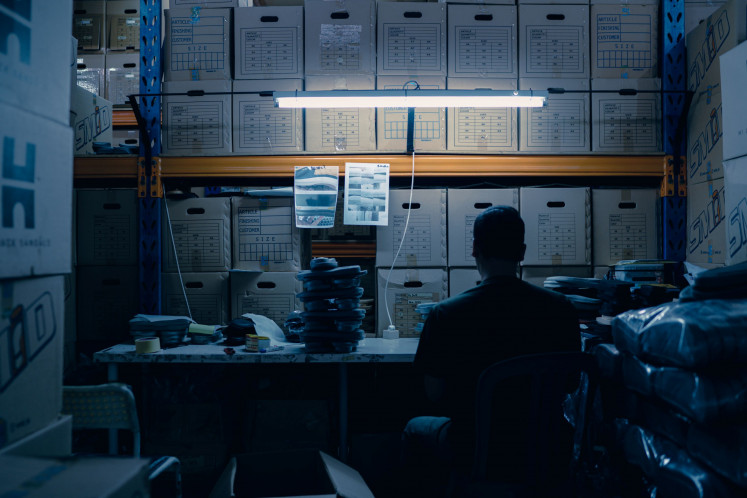 Fahmi explained that material selection lies at the core of Hijack's design approach. (Hijack Sandals/-)
In contrast to most early-stage brands, Hijack Sandals embraced the power of visual media like graphic design and cinematography when they entered online marketing in 2013, capitalizing on the rise of social media platforms in the country.
"We saw that people's response to our marketing was amazing, so we kept going," Fahmi said. Eventually, they felt confident enough to expand their market and took out an initial Rp 50 million loan.
Tokyo launchpad
Following a positive response in the domestic market, Hijack Sandals recognized promising demand from abroad through its outlets in Bandung, Jakarta and Bali.
The company expanded its reach to the ASEAN markets of Singapore, Malaysia and the Philippines, and then in September 2022, made inroads to the global market in Japan.
The Japanese audience "was really impressed", Fahmi said following the company's initial show in Shibuya, a major commercial hub in Tokyo popular among fashion enthusiasts. It "didn't take long" before the local market snapped up the fledgling brand: "They invited us to a meeting and asked, do you want to go to PARCO?"
Hijack Sandals accepted the opportunity to offer its goods at Shibuya PARCO, a famed 50-year-old shopping center, for six months starting in March.
That led to more retail offers, and in June, Hijack set up another pop-up shop, this time at Isetan Shinjuku, a heavily curated luxury department store over a century old, renowned for its trendsetting collections that attract the most fashion-forward buyers from inside and outside Japan.
Since then, Hijack Sandals had seized other opportunities to showcase its designs in Milan, London and Paris by "simply being" on the radar in Tokyo, Fahmi said, barely containing his enthusiasm over the prospect of entering new markets.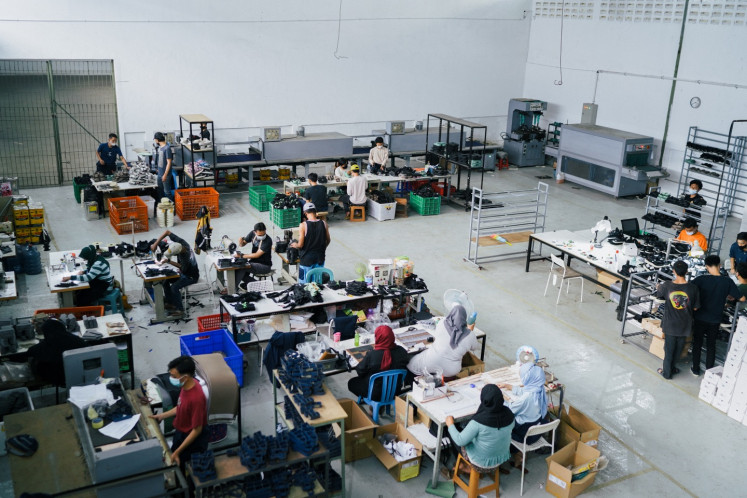 Even after going global, Hijack's hometown of Bandung remains the production hub. (Hijack Sandals/-)
New markets, new challenges
Breaking into the international market proved to be no small task, Fahmi said, with the brand encountering complex legal procedures, logistical considerations and pricing disparities.
"There's a threefold price difference between the Indonesian and the Japanese markets, for instance," he explained.
The transition to new markets also demanded adjustments, he said. Used to relying heavily on social media campaigns at home, the young company found that the Japanese market tended to be more "old school".
"We made printed materials and went around networking, like back in the old days when we started Hijack," he recalled. The shift in marketing strategy worked: "People would come just to see the poster and then go inside to see the products."
Fahmi also emphasized how the Indonesian diaspora in Japan helped the company overcome its initial hurdles.
"They provided assistance with filing documents and informed us about the necessary permits and certifications required for export-ready products," he said.
"Even though it was a bit complicated since it was our first time, things went smoothly afterward."
Hijack Sandals now boasts a thriving presence with three physical stores in Indonesia and more than 400,000 followers on Instagram. It employs around 100 individuals across its factories and retail stores. The company also has retail distributors in Australia, the Philippines, Singapore, Thailand, Russia and the United Kingdom.