January 25, 2023
TOKYO – With temperatures likely to drop sharply from Tuesday night due to this season's severest cold spell so far, the Japan Meteorological Agency is warning of possible disruption to public transportation as snow may accumulate in residential areas of the Kanto region, including Tokyo.
According to the JMA, a strong winter pressure pattern is likely to envelop all of Japan, and the coldest air of the season will likely flow into the archipelago. With the peak of the cold spell starting from Tuesday night, the estimated snowfall for the 24 hours to 6 a.m. Wednesday was 90 centimeters in the Hokuriku region and 70 centimeters in the Kanto-Koshin, Kinki and Chugoku regions.
Central Tokyo may see its first snow of the season, with an estimated accumulation of 2 centimeters. Saitama Prefecture is forecast to get 1 to 5 centimeters, and Chiba Prefecture 1 centimeter.
According to the MSA forecast announced at 11 a.m. Tuesday, the lowest temperature on Wednesday will be minus 4 C in Saitama City, minus 2 C in central Tokyo and minus 1 C in Yokohama and Chiba City. Caution will be needed regarding frozen roads.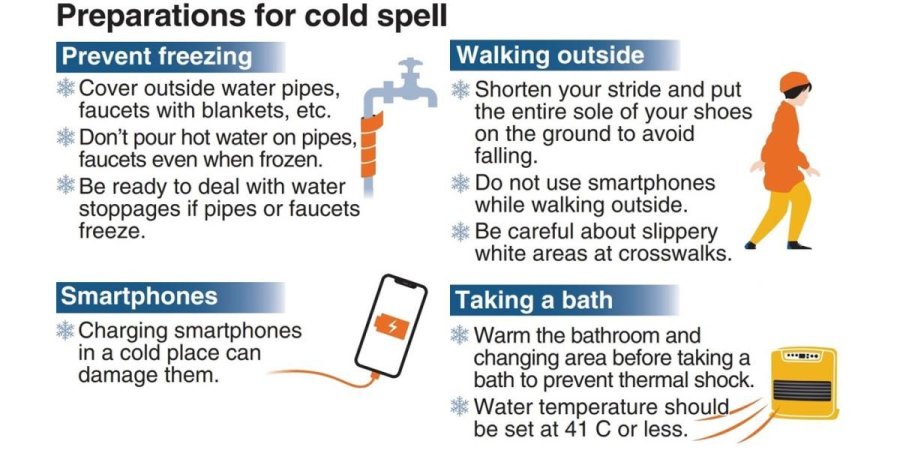 The Tokyo metropolitan government advises people to avoid walking on the slippery white lines at crosswalks. Wait areas for buses and taxis also are slippery because the snow there hardens after it is trod on by many people. To avoid falling, it helps to walk with a shorter stride, trying to put the entire soles of one's feet on the ground.
Caution is also needed against thermal shock, which is caused by sudden temperature changes going indoors and outdoors. Temperature changes can also lead to blood pressure changes, with a particular risk of cerebral stroke or cardiac infarction among elderly people.
On Tuesday, the Japan Weather Association and other entities set the warning for thermal shock at the highest of three levels.
As countermeasures, the Consumer Affairs Agency calls for warming the room where one changes clothes and the bathroom before taking a bath, and setting the temperature of the bathwater at 41 C or lower.
Attention should also be paid to the danger of smartphones malfunctioning.
KDDI Corp. said on Twitter there is a risk of the charging area shorting out due to condensation caused by a difference in the temperature of the area and the cooled smartphone surface. Recharging in cold places should be avoided, according to KDDI, and smartphone users should warm their devices with their hands when they enter a warm room from the outside.