June 8, 2022
MANILA – It was last January when the government allowed the importation of 60,000 metric tons (MT) of fish products to address the shortage in local supply which the Department of Agriculture (DA) blamed on Typhoon Odette (Rai) and the closed fishing season.
This June, more imported fish products are expected to make their way to local markets as the DA extended the validity of certificates of necessity to import to stabilize supply and prices in light of an expected shortfall of 90,000 MT of fish this year.
However, an alliance of fisherfolk, the Pambansang Lakas ng Mamamalakaya ng Pilipinas (Pamalakaya), said the shortage was the byproduct of two things—government's poor response to a continuing spike in oil prices and China's blockade of traditional fishing grounds in West Philippine Sea (WPS), which are part of Philippine exclusive economic zone (EEZ).
Based on data from the Philippine Statistics Authority (PSA), fisheries production in the first quarter of 2022 declined by 0.2 percent—from 973,620 MT in the same period last year to 971,501 MT this year—largely because of the lower output in commercial and marine municipal fisheries.
Commercial fisheries, the PSA said, posted an 8 percent drop in volume of production—from 192,672 MT a year ago to 177,165 MT. Marine municipal fisheries likewise registered a 0.9 percent decline—from 220,679 MT last year to 218,732 MT.
Gov't neglect
Fernando Hicap, national president of Pamalakaya, said "the latest low fisheries productivity is on Duterte who failed to address the issue [of] overpricing of oil products and just resorted to meager subsidies".
Last March, the Department of Energy said the 11 consecutive oil price hikes since January this year already translated to a net increase of P20.35 per liter of gasoline, P30.65 per liter of diesel and P24.90 per liter of kerosene.
Back then, Pamalakaya, which said that oil is already taking up 80 percent of the cost of fishing operations, warned that the relentless oil price hikes may force many fishermen to stop going out to sea because of the increasing cost of doing so.
To mitigate the effects of the crisis, the Department of Budget and Management (DBM) initially released P500,000 to the Department of Agriculture (DA) which was targeted at eligible farmers and fishermen, who are supposed to receive P3,000 in cash each as aid.
Hicap told ABS-CBN that "this is the sum of all our concerns," stressing that "the cumulative oil price hikes have sparked a domino effect on fisheries production, fish supply, market prices, and ultimately food security".
As a response, Agriculture Secretary William Dar, in an online interview with TV Patrol, said the problem was because of many reasons: "When did the typhoon hit? Hit were the boats of the fisherfolk. With limited resources, not all of them can receive boats." He said some commercial fishers also decided to stop going out to sea because of the oil price hikes.
China's fishing ban
Hicap told INQUIRER.net that the presence of Chinese vessels in WPS likewise contributed to the decline in fisheries production, saying that the income of fishermen fell by 70 percent because of China's encroachment—from P1,000 to P300 every fishing trip.
Last Sunday (June 5), he again expressed concerns, especially over China's annual fishing moratorium in the South China Sea which extended to some areas in Philippine territory.
"We believe that they have no right to stay in our territory, they have no right to implement a fishing ban. Chinese fishing vessels are there and our fisherfolk cannot compete as most of them are still on traditional fishing," he told ANC.
China's annual fishing ban covers waters down to the 12th parallel of the South China Sea, including the Paracel Islands near Vietnam and Panatag (Scarborough) Shoal near the Philippines.
The Philippines already filed and won a case against China at the Permanent Court of Arbitration in The Hague, Netherlands, after China took control of Panatag (Scarborough) Shoal in 2012. The area is a traditional Philippine fishing ground.
The July 2016 arbitral award invalidated China's assertions over the South China Sea and affirmed the traditional and legitimate fishing rights of Filipino fishermen within the Philippines' EEZ.
'Go beyond diplomatic protest'
The Department of Foreign Affairs (DFA) already filed a diplomatic protest against China's encroachment and enforcement of the three-and-half-month fishing ban in the South China Sea, saying the prohibition intruded into some parts of the Philippines' EEZ.
The DFA conveyed its protest in a diplomatic note on May 30, stressing that the moratorium, which runs from May 1 to Aug. 16, 2022, covers areas in WPS over which the Philippines has "sovereignty, sovereign rights, and jurisdiction."
However, Pamalakaya challenged the Philippine government to "go beyond diplomatic protest" and mobilize local maritime authorities to ensure the safety of Filipino fishers who will venture out in WPS amid the Chinese fishing ban.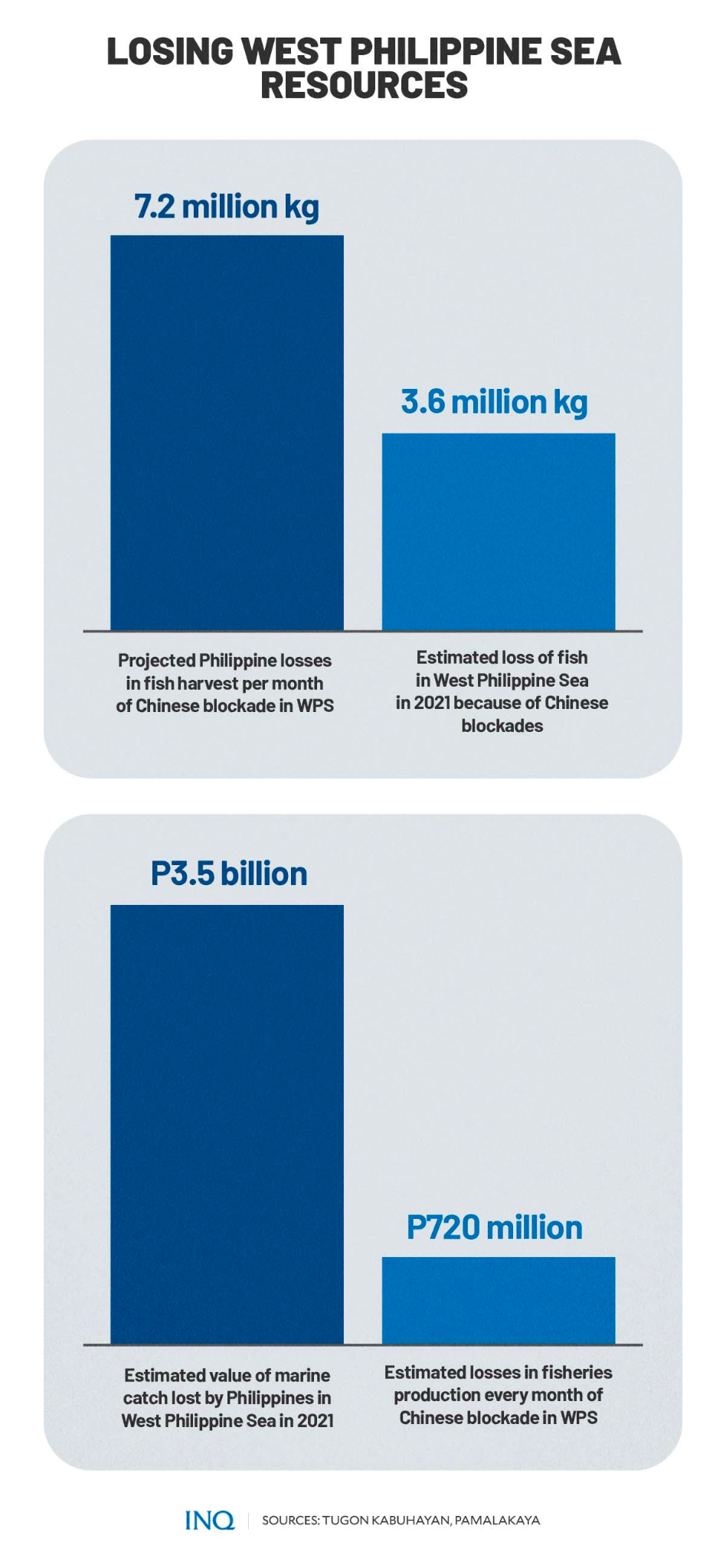 "Beijing's unilateral fishing ban will be recognized as it is. Our fisherfolk members will never comply as we affirm that China has no political and moral ascendancy to impose a fishing moratorium in our EEZ," Pamalakaya and fisherfolk in Zambales province said.
They denounced China's audacity to impose a fishing ban on the pretext of marine conservation when "it is the one plundering our marine waters through its aggression".
"If there's something that should be banned permanently in the WPS, it must be Beijing's destructive reclamation, artificial island-building, and massive poaching activities," they said.
PH's lost resources
Last year, as 220 Chinese fishing vessels were seen assembling in WPS, the group Advocates of Science and Technology for the People (Agham) said the continuous Chinese encroachment in the Philippine territory has negative implications.
Agham, which is a national alliance of science and technology professionals, said territorial disputes could lead to the collapse of the Philippine fishing industry, saying that China's encroachment in WPS is counterproductive to national and global efforts in ending illegal and irresponsible fishing.
Last year, food security advocacy group Tugon Kabuhayan said the Philippines already lost 3.6 million kilograms of fish because of the presence of Chinese vessels in WPS. This translates to P3.5 billion worth of marine catch.
It said then that the Chinese vessels, which are estimated to be each 60 meters long with a likely capacity of 700 gross tons, are bigger than the Bureau of Fisheries and Aquatic Resources' (BFAR) multi-mission offshore vessels.
With the basic rule of fishing operations, Asis Perez, a former BFAR director who is now a convenor of Tugon Kabuhayan, said ships catch at least four to five MT of fish to break even or recover their operational costs.
For Perez, the Philippines stands to lose 7.2 million kilograms of fish products for every month that Chinese vessels force Filipinos out of WPS: "If we look at even half the market price of this commodity today, then we are bound to lose P720 million a month."
He said if the area is managed well and limited only to Filipinos, it can provide more than the government's estimate of seven percent volume catch which is equivalent to P19.1 billion.
Imports, again
Pamalakaya said agricultural and fisheries commodities are spiking "all-time high," especially amid the constant drop in fisheries and even agricultural outputs, but Dar "floods our local markets with imported agricultural and fishery products at the expense of our food production".
Based on market monitors from the DA, a kilogram of bangus (milkfish) was worth P180 last June 3, P20 higher than P160 for every kilogram last April 4. Tilapia is still P120 for every kilogram.
A kilogram of local galunggong (round scad) is still P240, but imported galunggong, which was P200 for every kilogram last April 4, is not yet available, the DA said. Mackerel's price likewise rose from P270 to P300 for every kilogram.
The DA's last minute importation of small pelagic fishes is the third in a row—60,000 MT in the fourth quarter 2021, another 60,000 MT in first quarter 2022 and then the balance—38,695 MT—for second quarter 2022.
Pamalakaya warned of the possibility of importing "balikbayan" fish, or those caught in Philippine waters by China in the middle of the Chinese blockade of Filipino fishing grounds in WPS.
"By sourcing galunggong and other pelagic fish species from China, we are most likely importing fish returnees or balikbayan. Secretary Dar never fails to put our country into shame as being an archipelagic nation, importing marine and fishery species is just foolish and insulting," Hicap said.
Hicap said Pamalakaya is proposing "inclusive and holistic" measures to strengthen rural fish and agricultural production, including state subsidy for farmers and fishers who are beset with rising cost of production and natural calamities.
"Importation will never be an effective solution to rising prices and low production output. In fact, the losers in this case are small fishermen who are forced to sell their produce at lower prices because of competition," he told INQUIRER.net.