July 3, 2023
BANGKOK – A 29-year-old male elephant returned to his motherland to heal and rest, after he was given to Sri Lanka where he sustained injuries from 22 years religious parades and alleged neglect.
Plai Sak Surin, named "Muthu Raja" by Sri Lankans, landed in an Ilyushin Il-76 heavy transport plane at Chiang Mai International Airport at 2.03pm after an almost five hour flight from Sri Lanka.
The plane left the airport in Colombo at 7.30am Sri Lanka time.
After the plane landed, officials took almost an hour to prepare to unload the cage Plai Sak Surin was in and transfer it to the back of a trailer truck.
Plai Sak Surin is the only elephant the Thai government has recalled after giving one to a foreign government as a gesture of goodwill.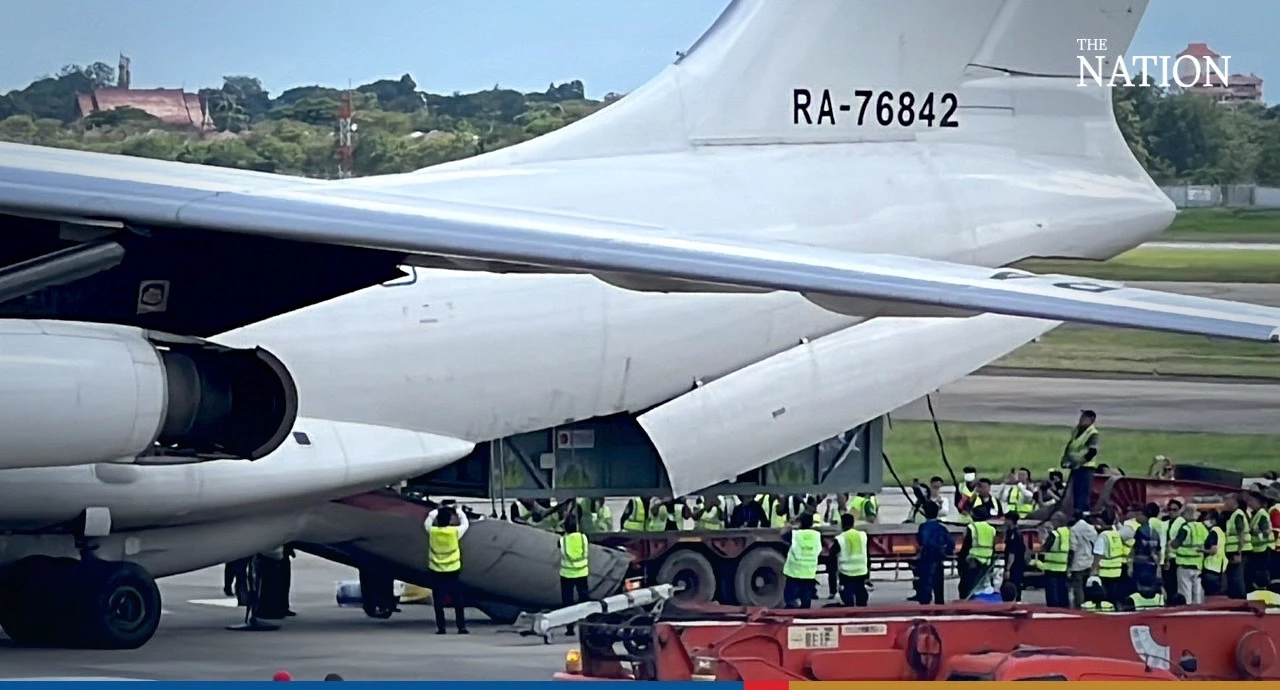 After officials fully secured the cage on the back of the trailer truck, the truck drove away from the plane at 3.07pm to the joy of the many people who had gathered to welcome the bull elephant home.
Officials then made final checks and sprayed water over the cage to cool the elephant down. They also provided him with water to drink.
The trailer truck left the airport at 3.51pm for the Thai Elephant Conservation Centre in Lampang province where Plai Sak Surin will receive treatment for the injuries he sustained.
The 80 kilometre journey was expected to take two hours.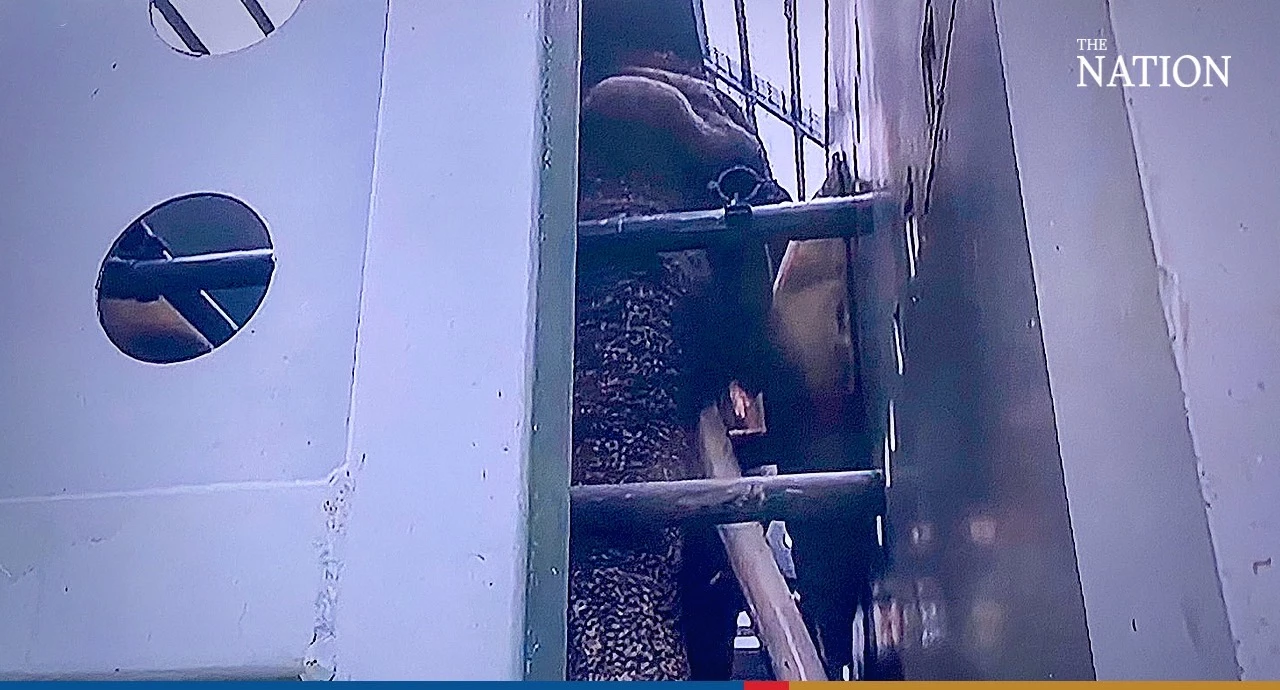 Natural Resources and Environment Minister Varawut Silpa-archa, and senior officials from his ministry, flew to Chiang Mai on Sunday morning to receive Plai Sak Surin and oversee the operation unloading him from the Russian transport plane.
Varawut and the senior officials were seen on the airport's runway.
They left the tarmac at 3.50 pm before the truck drove off.
Varawut told reporters that veterinarians had checked and found that the elephant was fit for the drive to the elephant hospital in Lampang's Hang Chat district.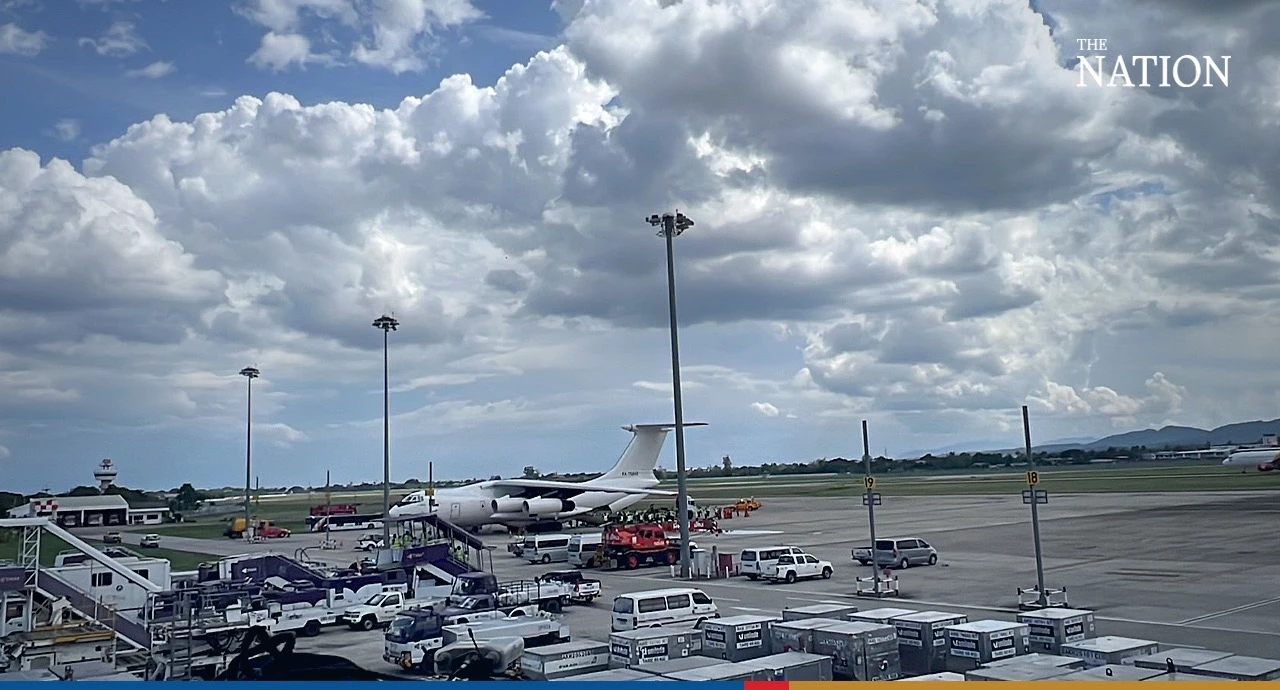 When the trailer truck started driving out of the airport, hundreds of people shouted in joy.
"Have a safe trip" and "get well soon" were the most common phrases shouted.
The elephant was in a special cage decorated with paintings of the Thai and Sri Lankan national flags.
He left Thailand when he was seven years old as one of three elephants the Thai government gave to the Sri Lankan government in 2001 as a gesture of goodwill. The two other elephants are still at a zoo in Colombo.
Officials said it was fortunate that it was not too hot and clouds partially blocked the sun so that Plai Sak Surin did not have to cope with high temperatures upon his arrival home.
Officials accompanying Varawut to the airport, included the ministry's permanent secretary, Jatuporn Burutpat, and Atthapon Charoenchansa, acting director-general of the National Parks, Wildlife and Plant Conservation Department.
Sak Surin's plight became known in May last year when the Rally for Animal Rights and Environment (RARE), a non-profit that advocates for animal rights in Sri Lanka, alerted the Thai Natural Resources and Environment Ministry that Plai Sak Surin was allegedly being mistreated in Sri Lanka.
"Muthu Raja is a Thai elephant in Sri Lanka being beaten, bull-hooked and abused. When he is wounded and injured, no treatment is given, and his nutrition and hygiene are neglected," RARE posted on its Facebook page on October 7 last year.
The Environment Ministry sought help from the Foreign Ministry to investigate.
Last month, the Environment Ministry sent a team of elephant experts to check on Plai Sak Surin and work with the Thai embassy in Sri Lanka to procure a travel cage and other equipment to bring him home.
The operation to transport Plai Sak Surin home started at 10pm on Saturday, Sri Lankan time.
The elephant was led inside the special cage with a grill over the top to enhance ventilation at 20 minutes after midnight.
A crane was used to lift the cage onto a trailer truck at 1.05am and the truck left Dehiwala Zoo at 1.05am.
It arrived at the airport in Colombo at 3am.
Veterinarians examined Plai Sak Surin's condition at 3.25am.
After clearing customs, the elephant cage was loaded onto the transport plane between 4am and 4.50am.
About 40 officials cooperated to ensure safe transportation for Plai Sak Surin for the second flight of his life – this one taking him home after 22 years in a cage in a zoo in a foreign country.
The trailer's motorcade was led by two police cars and followed by a vehicle of veterinarians, a truck carrying elephant food, a vehicle for staff, and a final police car. The speed limit was 70km per hour.
Plai Sak Surin will be quarantined for a month during which his blood will be checked regularly and his condition closely monitored, Varawut told a press conference after the motorcade left Chiang Mai International Airport.
After the one-month quarantine, officials will discuss how to allow members of the public to see Plai Sak Surin.
Varawut confirmed that members of the public would definitely be allowed the elephant centre to see him.
It will take about two weeks for Plai Sak Surin to heal and recover, but veterinarians will continue to monitor his health, the minister said.
The government spent 19 million baht to bring him home from Sri Lanka, Varawut added.
He said if people are concerned about the two other Thai elephants living well in a zoo in Sri Lanka, his ministry will work with the Foreign Ministry to try to bring them back.
Thailand will no longer use elephants as gifts to any other country in the future, the outgoing minister said.