February 1, 2023
MANILA — As gross domestic product (GDP) grew by 7.6 percent in 2022, economic officials expressed confidence that the Philippines will stay on a high-growth trajectory.
The economy grew by 7.2 percent in the last quarter of 2022, resulting in a 46-year-high full year growth, which Malacañang said was because of President Ferdinand "Bongbong" Marcos Jr.'s "good economic stewardship."
Socioeconomic Planning Secretary Arsenio Balisacan said improved COVID-19 risk management and the easing of restrictions "have created a positive economic outlook, boosting economic activity and creating more jobs despite external headwinds."
"Our strong economic growth performance for 2022 proves that our calibrated policies and strategies have helped put us on the path to recovery and on track to achieving our aspiration for an inclusive, prosperous, and resilient society by 2028," he said.
With the resumption of face-to-face classes, the boost for small and large enterprises, and the resurgence of local tourism, Balisacan said "we are confident that we will remain on our high-growth trajectory."
But the think tank Ibon Foundation said this may not be the case, stressing that the 7.6 percent growth was because the economy has finally reopened after overstretched and excessively harsh lockdowns.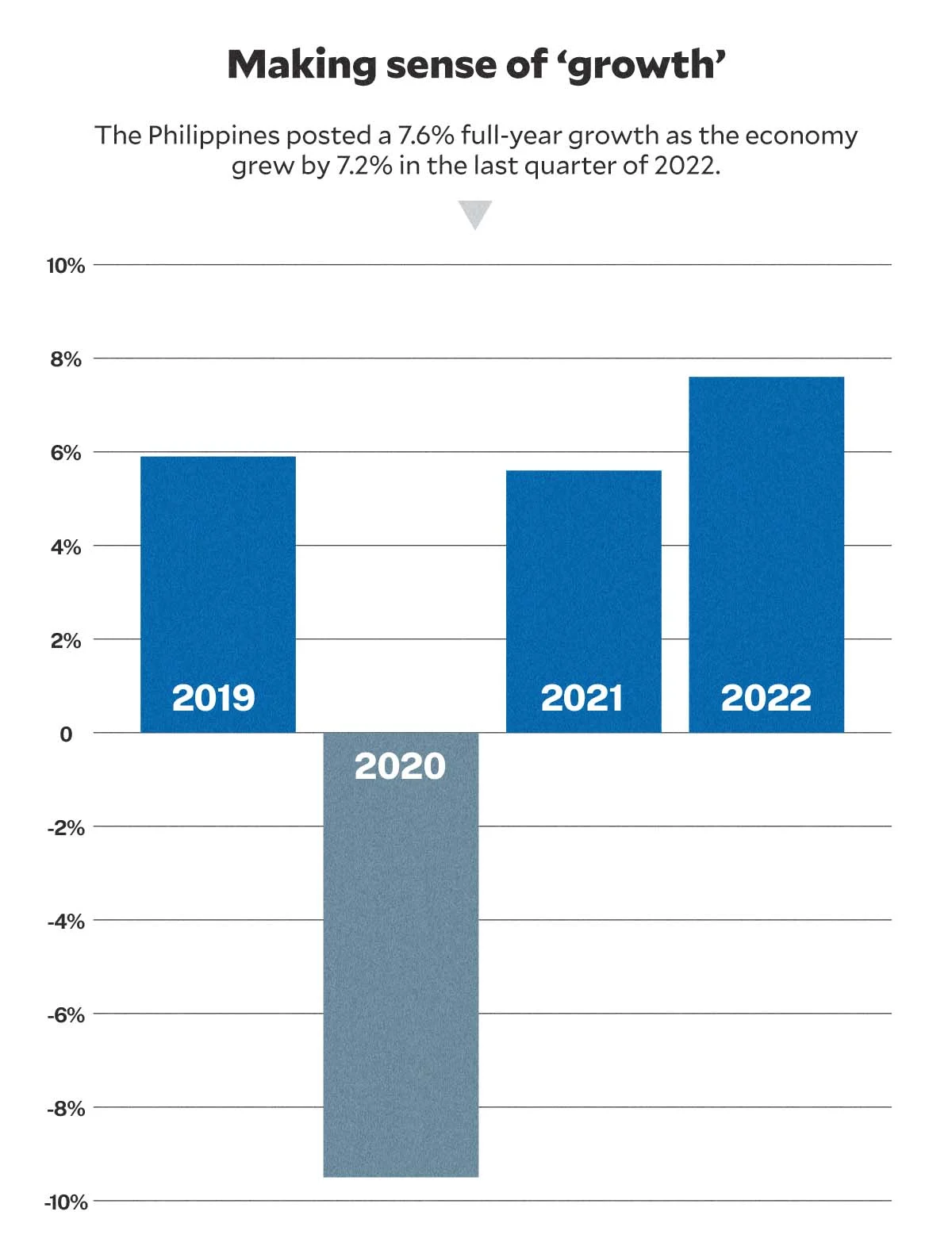 "It is only the economy returning to where it was three years ago in 2019 which means that, despite hyped growth, there are still three lost years of economic output," the think tank said.
It explained that the growth, which is the fastest since 8.8 percent in 1976, "will not be sustained as the rebound effect from the record 9 percent contraction in 2020 has been exhausted."
Looking back, it was in 2020 when the Philippines had its worst recession as the economy contracted by 9.5 percent. Then in 2021, GDP grew by a slightly faster 5.7 percent.
Ibon Foundation said the economy will start slowing down and then returning to its real trajectory of "slowing growth," which has been the trend before the COVID-19 crisis hit—6.9 percent in 2016, 6.7 percent in 2017, 6.2 percent in 2018, and 5.9 percent in 2019.
"This was despite the big infrastructure spending under the previous administration's Build, Build, Build and which the current administration is trying to continue with Build, Better, More," it said.
It stressed that the slowdown already started in the last quarter of 2022, saying that the 7.2 percent is the "slowest" for the year, compared with 8.2 percent in the first quarter, 7.5 percent in the second quarter, and 7.6 percent in the third quarter.
Bye, revenge spending
As stated by Balisacan, "our robust performance in the fourth quarter reflected strong domestic demand, with three-fourths contributed by household consumption and almost a fifth by investment."
"The improvements in labor market conditions, increased tourism, 'revenge' and holiday spending, and resumption of face-to-face classes supported growth in the quarter, further reflecting a solid rebound in consumer and investor confidence in the economy," Balisacan said.
But a close look at data would show that while "revenge spending" of high-income sectors at the start of 2022 resulted in a 10 percent growth in Household Final Consumption Expenditure (HFCE), this has been "steeply" slowing down since.
Ibon Foundation said HCFE, which consists of expenditure incurred by households on consumption of goods or services, decelerated to 8.6 percent, 8 percent, and 7 percent in the succeeding quarters.
This, it said, was a clear indication that "there was no holiday spending growth spurt," especially since high inflation and meager earnings of poor and low-income households hit spending.
"The relatively rapid growth in 2022 is only a rebound after the protracted pandemic lockdowns and there will be a steep slowdown this year," the think tank asserted on Friday (Jan. 27).
It likewise stressed that the "lackluster" performance of production sectors is also a sign that the fast growth will not be sustained, saying that agriculture, forestry and fishing barely registered a 0.5 percent growth from its 0.3 percent contraction.
While services registered a 9.2 percent growth, which is higher than 2021's 5.3 percent, industry slowed down to 6.7 percent from 8.2 percent, based on data from the Philippine Statistics Authority (PSA).
Ibon Foundation pointed out that growth in manufacturing likewise decelerated to 5 percent last year from its 8.6 percent rebound growth in 2021.
'Not recovering'
As stated in an article by the Harvard Business School, economic growth has raised living standards all over the world.
"However, modern economies have lost sight of the fact that the standard metric of economic growth, GDP, merely measures the size of a nation's economy and doesn't reflect a nation's welfare," the report said.
Balisacan stressed that the economy's growth remains "robust" as the government "continues to intensify its efforts to restore the economy to its high-growth trajectory, creating more and better-quality jobs and speeding up poverty reduction."
"Economic growth came with more jobs. We saw vibrant labor market conditions, with the country's unemployment rate down to 4.2 percent in November 2022 from 6.5 percent in the same period in 2021," he said.
This, he added, was the lowest joblessness rate since 2005.
"We also observed an improvement in the quality of employment relative to the same period last year as more workers found remunerative and stable work in private establishments and became employed in full-time jobs," he said.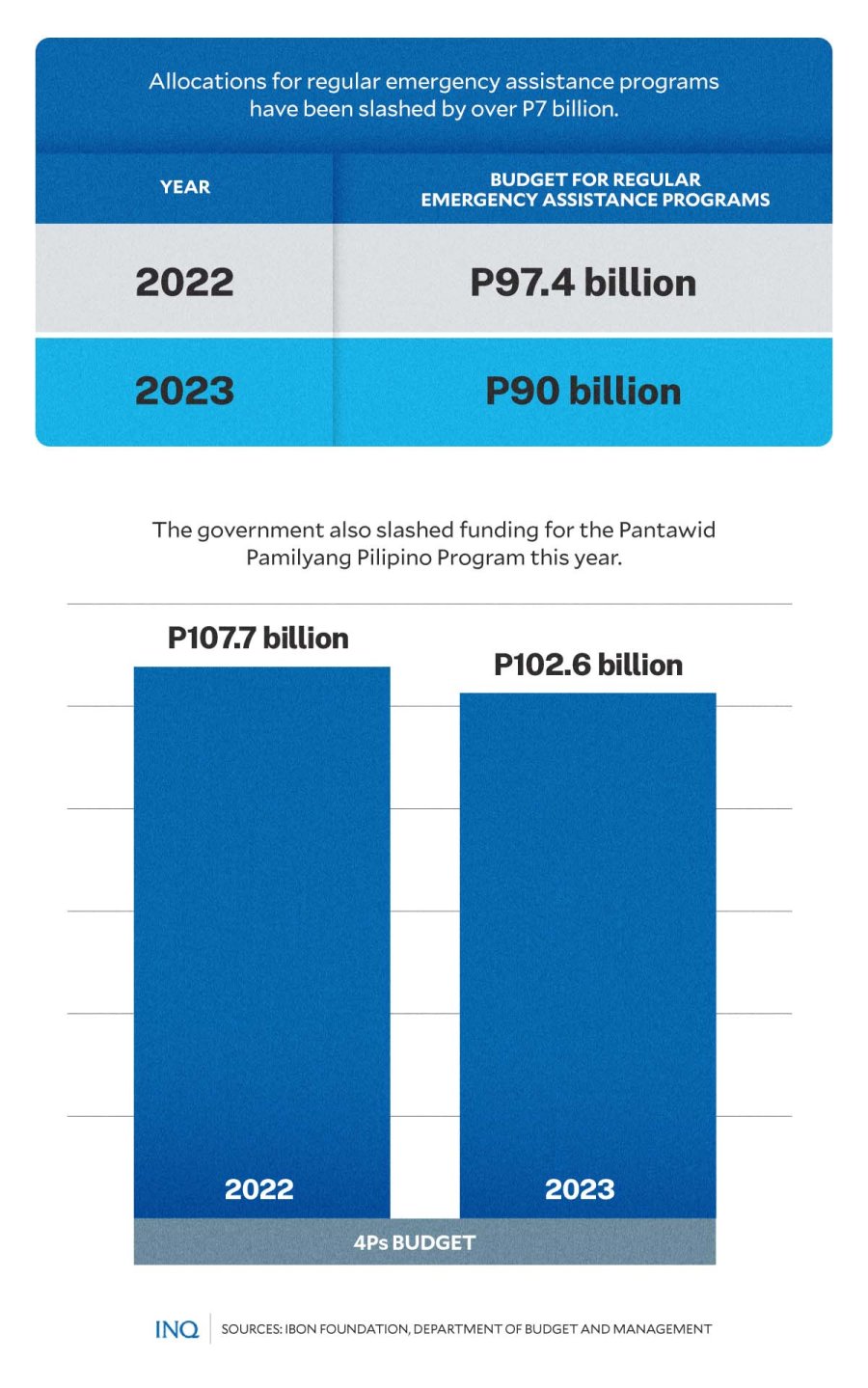 But Ibon Foundation stressed that the economy "cannot be said to be recovering because it is not creating sufficient decent employment despite so-called robust growth," saying that Filipinos are still struggling with worsening job informality and poverty.
It said the long-standing problem of informal employment worsened after the COVID-19 lockdowns, pointing out that 29.3 million, or 69.9 percent, of total employment was in informal work in 2019.
This comprised 16.8 million openly informal jobs, like self-employed, domestic workers, and those in own family-operated farms or businesses, and about 12.6 million in irregular work in establishments that are not registered.
After the lockdowns, this increased to 32.8 million informal workers, or 71.6 percent, of total employment in 2022.
"Added with the 2.6 million officially reported as unemployed, this means a huge three-fourths, 73.2 percent, of the labor force are either jobless or informal workers," Ibon Foundation said.
Since the start of the current administration, 79.3 percent or eight out of 10 jobs created have been in merely part-time work, with the think tank estimating that some 36.7 million of those reported as employed are struggling in informal work.
Likewise, it pointed out that despite the fast growth, the number of poor Filipino households increased by 700,000 since June 2022, when Marcos Jr. officially started his six-year stint as president.
Based on results of the Social Weather Station's study on self-rated poverty, the number of poor households slightly rose to 12.9 million in December from 12.6 million in October.
"This is over half—51 percent—of all families and is aside from the 7.8 million—31 percent—more who are at the brink of poverty or borderline poor," Ibon Foundation said.
Poor not feeling 'fast growth'
It was Marcos Jr. himself who stressed that the benefits of the 46-year-high GDP growth are yet to be felt by Filipinos, saying that this year, "we still have the problem of inflation."
This, he said, means "there is still a problem of certain sectors of society and of the economy (who) have yet to enjoy the benefits of that growth, and that is why inflation is something that we are attending to."
Ibon Foundation, however, said millions of poor and low-income Filipinos did not benefit from the fast growth last year because "the government tightened the purse strings on urgent cash assistance and only gave a negligible wage increase."
It said Filipinos had been deprived of much-needed assistance and wage hikes that would have increased their purchasing power aside from boosting spending and economic recovery.
This, as the government only distributed P18.3 billion in targeted cash transfers (TCT) out of the P37.2 billion budgeted and, based on the memorandum, meant only 12.4 million households will receive P3,000 each.
However, as the program concluded with the last payout earlier this year, the think tank said the government only gave P2,000 to 9.2 million families, indicating that less than three-fourths of beneficiaries received just two-thirds of the already "paltry" amount promised.
The government's "stinginess" with immediate relief and assistance programs will also continue in 2023 despite many Filipino households still in distress, Ibon Foundation said.
This, as allocations for regular emergency assistance programs have been cut by P7.5 billion from P97.4 billion in 2022 to less than P90 billion. This includes cuts to the budgets for families in difficult circumstances, displaced workers, and overseas workers.
Then even funding for the Pantawid Pamilyang Pilipino Program (4Ps) was also slashed to P102.6 billion this year from 107.7 billion in 2023, based on the General Appropriations Act.
"Ordinary Filipinos would also have felt the growth if the government had granted a more substantial wage hike to help minimum wage earners and their families cope with high prices," said Ibon Foundation.
As stressed by the think tank, "the government hype of growth means little if this is not felt by ordinary Filipinos."
"A more productive starting point for policy to address this is, first of all, being more candid about the real conditions of poor and low-income Filipinos instead of relentless spin and propaganda."