April 21, 2023
SINGAPORE – A record-smashing heatwave has been scorching South and South-east Asia, with temperatures so searing in places like India's West Bengal that people there are frying eggs under the heat of the noonday sun.
Meteorologists have been tracking temperatures of as high as 45 deg C in India, Thailand and Myanmar, and 42 to 43 deg C in Bangladesh, Laos, Vietnam, Nepal and China. These are temperatures that most of these countries have not experienced in decades.
Populations across the continent are cranking up their air-conditioners and electric fans, seeking shelter in shopping malls and in their offices, or praying for rain.
People are dying of heatstroke as they gather in thick, large crowds under the sun, and students are landing in hospitals as their schools bake in the heat.
Power grids are stretched beyond their capacities, and farmers are looking at failed harvests.
The continent is experiencing the "worst April heatwave" in its history, said climatologist and weather historian Maximiliano Herrera, who tracks extreme weather on his Twitter account.
"It will just get worse," he warned.
Climatologists and scientists say this is just the start of a long dry spell that will likely be exacerbated by the El Nino weather phenomenon forecast to hit later in 2023.
Asia will have to brace itself for even warmer days ahead, they warn.
Deaths and melting asphalt
At least 13 people died from heatstroke in India's western Maharashtra state after attending a state award ceremony on Sunday that drew over a million people.
In Ahmedabad, the most populous city in Gujarat state, the air had been so hot and humid that asphalt on a freshly laid road did not harden, but instead melted.
At least two other states in India – Tripura in the north-east and West Bengal in the east – have ordered schools to shut this week as the temperature rose above 40 deg C.
A video blogger in West Bengal cracked an egg on a non-stick pan, placed the pan on an open terrace and began cooking an omelette.
In Indonesia, someone in central Java's Sukoharjo regency – where the temperature has been topping 33 deg C – did the same, putting quail eggs in a pan and letting them cook under the sun. Others there have also tried heating water this way.
In the Philippines, where the temperature hit 37 deg C, close to 150 secondary schoolchildren in a province south of capital Manila suffered heatstroke after a power outage hit their school. Seven of them fainted; two had to be taken to a hospital.
The school has classrooms crammed with some 60 students each, and only electric fans to cool them.
Ms Dinky Rodriguez, 50, a digital content creator in Manila, told The Straits Times: "We try to bear with the heat as long as we can, but we really have to turn to the air-con when we can't put up with it any more."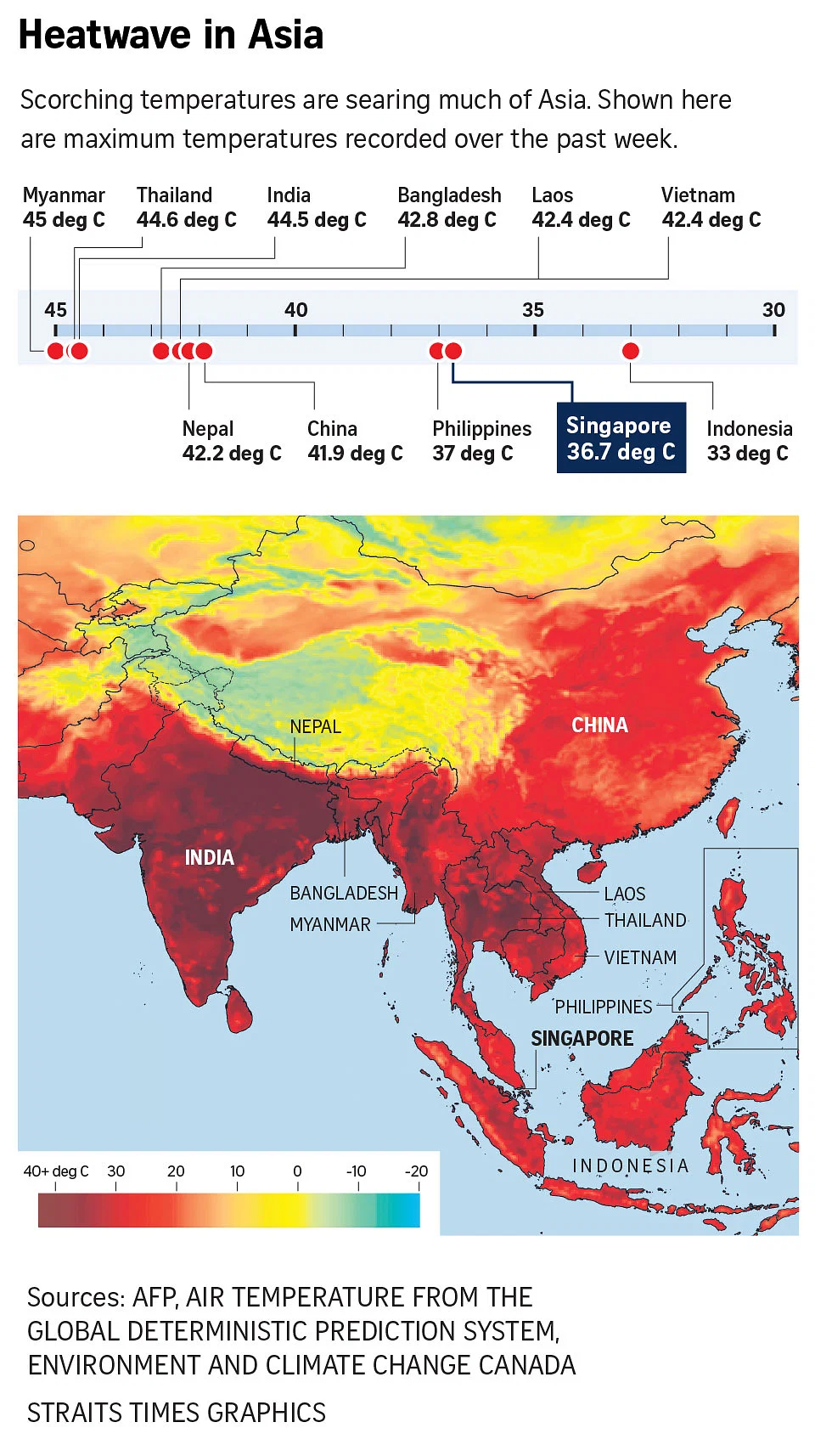 Mr Mon Lauron, a 52-year-old business consultant in Paranaque city, south of Manila, said he had been going to the mall more often, especially in the afternoon, when the temperature usually peaks.
"It is the cheaper alternative. Good thing there is a mall nearby," he said.
Influencers in the country are advising people to wear sunscreen, while companies like Grab are offering free iced coffee to get more people to sign up for its services.
In Myanmar's commercial capital Yangon, taxi driver Ko Thet Aung, 42, said he has has to stop driving when the sun is high up in the sky.
"I can't drive if the temperature is too hot during the day," he told Agence France-Presse.
The surge in power demand is already straining power grid capacities in poorer nations like Bangladesh, which is being forced to cut power to millions of people.
"It is difficult for us to sleep at night without power, and it is even more painful after fasting all day," said Mr Munna Khan, a resident in the town of Ashulia on the outskirts of the capital, Dhaka.
Hundreds gathered in Dhaka this week to pray for rain.
India is also warning of blackouts as higher use of air-conditioners and irrigation pumps depletes fuel used by its power plants.
In the Philippines, people are taking to social media to laugh the heat away.
"It is so hot! Satan, why so clingy?" said Facebook user John Michale Valdez.
Twitter account Oppa Philippines remarked: "It is so hot, it is like we are bathing in fire."
Not just an inconvenience
But scientists are not laughing. It is warmer now because of climate change, they say.
AccuWeather meteorologist Jason Nicholls said human-induced warming is making heatwaves last longer and at higher intensities.
Dr Fahad Saeed, regional lead for climate policy at Climate Analytics, said: "This year's record heat in Thailand, China and South Asia is a clear climate trend and will cause public health challenges for years to come."
He said the impact on vulnerable populations would be dire.
"The extreme heat that we have witnessed over the last few days will hit the poor the hardest," he said. "It may even be life-threatening for those without access to cooling or adequate shelter."
India's scorching temperatures are making its population of over 1.4 billion – set to become the world's largest – more vulnerable to illness and hunger, he said.
China has already seen major disruptions to industrial production in recent years because of extreme weather. It was gripped by a severe drought in 2022 that impacted the Yangtze River – a key conduit used to irrigate farms and power the massive Three Gorges Dam power station.
Mr Herrera, the climatologist, said this time around, Asia is staring at a "monster heatwave like none before".
El Nino is likely to make things worse.
Mr Carlo Buontempo, director of the European Union's Copernicus Climate Change Service, told Reuters: "El Nino is normally associated with record-breaking temperatures at the global level. Whether this will happen in 2023 or 2024 is yet not known, but it is, I think, more likely than not."
The world's hottest year on record so far is 2016, coinciding with a strong El Nino.
"If El Nino does develop, there is a good chance 2023 will be even hotter than 2016 – considering the world has continued to warm as humans continue to burn fossil fuels," said Professor Friederike Otto, a senior lecturer at Imperial College London's Grantham Institute.
With additional reporting by Mara Cepeda in Manila and Wahyudi Soeriaatmadja in Jakarta