May 30, 2023
JAKARTA – The government lifted a ban this month on the export of dredged sand that was in place for more than 20 years, in a move it claims will bring in badly needed revenue but that activists say will further degrade the country's vital marine ecosystems.
The regulation was signed by President Joko "Jokowi" Widodo on May 15 and took effect on the same date. It allows mining permit holders to collect and export sea sand provided domestic needs have been met.
The approved uses for the sand include land reclamation and private and state infrastructure development.
While miners welcomed the decision, environmentalists have slammed the policy, warning that it will lead to an increase in sand extraction, which they say will be detrimental to coastal dwellers dependent on ocean ecosystems.
"This reveals the true face of President Joko "Jokowi" Widodo, who doesn't care too much about protecting the sea and fishermen," Parid Ridwanuddin, a spokesperson for the Indonesian Forum for the Environment (Walhi), told The Jakarta Post on Monday.
Read also: Indonesia to allow Freeport, Amman Mineral to ship copper concentrate until 2024
Parid said sand dredging had caused a number of islands in the Thousand Islands regency north of Jakarta and the Riau Islands to disappear below the water, in addition to the 0.8 to 1 meter that was lost to rising seas each year. Many more islands were now at heightened risk because of the new regulation, he added.
Sea mining also harmed marine ecosystems and drove fish from the surrounding waters, forcing local fishermen to sail further away, which would be more costly and dangerous, said Parid.
He said he expected Singapore would be one of the countries to benefit most from the policy, as demand for sand for reclamation projects was still quite high in the city-state.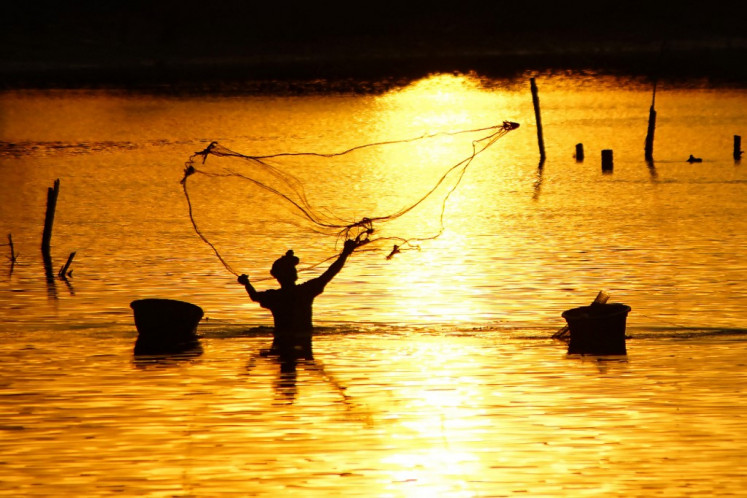 A fisherman casts a net at sunset at Cunda estuary in Lhokseumawe, Aceh, on July 15, 2022.
(AFP/Azwar Ipank)
Before the ban took effect in early 2007, more than 90 percent of Singapore's sand imports were from Indonesia, which at that time provided the city-state with between 6 and 8 million tonnes of sand, according to the Singaporean government.
Susi Pudjiastuti, then-Maritime Affairs and Fisheries Minister, wrote on Twitter that the government should revoke the policy as it would exacerbate the environmental harm of climate change.
Read also: We won't make it: Industries cast doubt on bauxite-export ban in mid-2023
Riau Islands' Sea Sand Miners Association (APPL) chairman Heri Tosa told the Post on Monday that Singapore was indeed the association's main market for sand exports.
While Indonesian exports had stopped, he said, Singapore had been importing sand from Johor Baru, Malaysia, at 15 Singaporean dollars per cubic meter.
Hong Kong, too, had been looking to import sand for a land reclamation project for its airport, he added. The project was estimated to require some 80 million cubic meters of sand.
According to the APPL, 80 of its members are already in possession of sand extraction licenses and are ready to quickly jump back into the business once the government clarifies the details of the policy shift.
"Let's put aside the politicking behind this policy. We know this country needs money and foreign exchange reserves," Heri said, adding that he believed the government had concluded its border dispute with Singapore, which was thought to be part of the motivation behind the previous ban.
Read also: Bogor villages suffer amid soaring demand for sand to build homes, roads in Jakarta, Banten
Greenpeace Indonesia sea campaigner Afdillah told the Post on Monday that the regulation was an attempt at greenwashing, as the government was treating sand exports as a conservation activity to control sea sedimentation.
Afdillah said this "fast and easy shortcut" to revenue would "violate the rights of ecosystems, coastal societies and fishermen".
A lack of proper supervision from the government would lead to even greater damage to the environment, he added.
According to a 2002 report by Kompas, sand extractors regularly falsified the figures they submitted to the government, including claiming they sold sand at the required rate of 4 Singapore dollars per cubic meter, when the real price was some 1.3 Singapore dollars per cubic meter, resulting in an estimated loss of 540 million Singapore dollars per year.
Wahyu Muryadi, a special staffer for the Maritime Affairs and Fisheries Ministry, defended the policy. He said on Monday that the policy would bring benefits to the country in the form of revenue, as quoted by tirto.id.
He also claimed the regulation would ensure that the extraction of sand and other ocean sediments was done with tools that were much safer for the environment than under the pre-ban regulatory regime.