August 16, 2022
SINGAPORE – We fall silent, treading into the dark passage. Distant cheers of spectators intensify. The gates fling open and we fall in line on the turf.
We meet our opponents, a barricade of brawny jersey-clad men.
They strike their thighs, whack their elbows and stomp the ground. "Ka mate, ka mate! Ka ora, ka ora!" they holler menacingly. Their tongues protrude, eyes bulge, veins flare. The room recoils.
This is the haka, the Maori war cry by the All Blacks rugby team before each match, and one of the world's most thrilling pre-sports displays.
It might feel like it, but we are not at a stadium.
My travel party has just observed the All Blacks life-sized in 6K resolution on a 14m-wide, 4m-high projection wall. This is already intimidating, and I can imagine how spine-chilling it must be at live games when adrenaline runs high.
One need not be a sports fan to thoroughly enjoy the All Blacks Experience, a stirring, multi-sensory showcase of how the iconic rugby team became New Zealand's national pride.
The All Blacks Experience was the first major tourist attraction to open in New Zealand since the Covid-19 pandemic, and audaciously launched in December 2020 when borders were closed.
For two years, New Zealand was shut off to the world due to its strict Covid-19 elimination strategy, earning itself the moniker "Fortress New Zealand".
Today, the drawbridge is lowered. On July 31, New Zealand's borders fully reopened to international travellers.
My return to New Zealand feels surreal. I last visited it in 2019, just before Covid-19 ravaged the world, and both trips bookend hopefully the worst of the pandemic.
Immersing myself in otherworldly, dramatic landscapes never fails to bring perspective and restoration.
One morning, we are boating on a lake in the South Island when a splendidly complete rainbow appears, framing the chestnut-hued mountains in the background.
I am told it has not rained here for weeks, but the skies shower serendipitously for several minutes almost just to bring the rainbow.
"A promise of better times ahead," I whisper to someone in my group.
Over nine days, I will explore new attractions and revisit beloved classics in New Zealand, relishing the views of windswept coastlines, lush greenery and chiselled mountains.
Between the ongoing crises of the world and the unyielding beauty of New Zealand, I marvel at how paradoxically, in under three years, so much – yet so little – has changed.
Notable north
On the North Island, I visit the Waitakere Ranges Regional Park where rugged black beaches and native rainforests converge, just a 45-minute drive from Auckland.
Muriwai Beach, at the base of the ranges, is a wild coastline with clifftop trails. Unlike typically postcard-perfect beaches with white powdery sand, the sand here is dark-hued, a result of iron content derived from ancient volcanoes in the area.
As I learn about kauri trees and silver ferns in the nearby subtropical rainforests, I am struck by the reverence Kiwis have for their native flora. I spot a wooden "rahui" sign, part of a Maori initiative to temporarily close parts of the forest to let nature heal.
"This part of the forest has never looked lusher and greener," our guide says.
New Zealand is encouraging travellers to follow the Tiaki Promise, a commitment to care for the country by treading lightly, caring for nature and embracing local culture.
To learn more about Maori origins, I travel further north to the Hokianga Harbour, known as the cradle of Maori nationhood, in Northland. I visit the newly launched Manea: Footprints Of Kupe, which tells the Maori creation story through an immersive 4D multi-sensory presentation.
"He Ao, he Aotearoa," cries Pikitia, a Maori performer who plays the wife of Kupe, the first Polynesian who, according to tribal narrative, discovered Aotearoa – the Maori name for New Zealand, or The Land Of The Long White Cloud.
The Maori experience feels heartfelt and authentic. With tears in her eyes, Pikitia sings a haunting closing song, the waters of Opononi beach glistening as a backdrop.
Queenstown classics
Arriving on the South Island, I board a jetboat transfer from Queenstown Airport to my hotel.
It is a thrilling ride, with our jetboat skimming the waters of Lake Wakatipu, sharply spinning 360 degrees several times, and offering us magnificent views of the Remarkables mountain range.
For those with limited time, the KJet transfer is an innovative way to include jetboating in their itineraries.
In Queenstown city, I try a burger from the renowned Fergburger, thankful for the lack of crowds compared with pre-pandemic snaking lines.
I prefer the pies at the Fergbaker next door. The crust of my Ferg Pie is buttery and flaky, cradling the moist filling of prime rump, hand-diced and braised in a caramelised onion gravy.
I revisit the iconic Skyline Luge, swiftly manoeuvring carts over 900m of banked corners, tunnels and tracks that overlook the Wakatipu basin.
Onsen Pools is my go-to stop in Queenstown to unwind after a day of soft adventure. This time, I try a sunset soak in outdoor cedar-lined tubs, heated to a delightful 38 deg C on a chilly evening.
Savouring the cliffside serenity, I enjoy a quiet conversation with a travel partner, watching the sun set beyond the mountains across the Shotover River.
Wanaka wonders
Wanaka is a photogenic alpine town with a local vibe and quirky spirit.
Along the dreamy waters of Lake Wanaka, children squeal while feeding ducks and spotting eels. One quiet evening, I relish my freshly fried blue-cod fish and chips by the shimmering lake, and stroll to the nearby skate park to watch adroit teenagers careening through clover leaf-shaped bowls.
My favourite experience is riding an e-bike along the tranquil waters of Lake Wanaka, under the burnt-orange and yellow autumn canopy of willows. The electric component provides an extra boost, allowing an effortless ride through the cool, crisp air.
My group cycles to Rippon Vineyard, possibly the most picturesque winery I have ever seen.
Overlooking the lake with views of Mount Aspiring, the enchanting vineyard extends down the slopes towards the water's edge.
There is an almost fairy-tale aura to the prime position of Rippon Hall, from which I admire the tiny Ruby Island magically emerging in the middle of the lake.
Produced organically, Rippon wines include the classic varieties of Central Otago, such as the Pinot Noir and Riesling. It is my first time tasting the Osteiner – a rare hybrid between the Riesling and Sylvaner – a sweet white variety with fruity and floral notes, balanced by crisp acidity.
Later, we cruise to Mou Waho Island, a secluded protected nature reserve in Lake Wanaka. Led by our guide Chris Riley from Eco Wanaka Adventures, we hike to the peak, surrounded by the chimes of bellbirds and trills of whistling frogs.
A weka, a flightless native bird, pops out of the bushes mid-hike. She totters adorably, trailing us, and eyeing our cookies covetously when we pause for tea.
At the Tyrwhitt peak, I am greeted by the sight of Arethusa Pool, which appears suspended 150m above Lake Wanaka, surrounded by scores of jagged mountains.
A tiny rocky island emerges from Arethusa Pool, a glacially-scoured freshwater lake.
"That," Mr Riley points dramatically, "is an island in a lake, on an island in a lake, on an island in the ocean."
I gaze at the panorama before his mind-boggling statement slowly makes sense: the rocky island emerges from Arethusa Pool, located on Mou Waho Island in Lake Wanaka, which is found on the South Island of New Zealand.
Before leaving Mou Waho, he leads us to do something meaningful by planting a pittosporum tree. Digging into the soil, my group bestows our tree with a Maori-inspired name – Roa Aroha (Everlasting Love).
"We plant a tree on every tour," Mr Riley says, adding that his groups have planted more than 8,500 trees over 16 years. "This leaves the island better than before we arrived."
This exemplifies the Tiaki Promise, and a new brand of "regenerative tourism" that New Zealand is encouraging.
Mr Riley tells me that the two-year pause in tourism, while undoubtedly challenging, has driven a timely reset.
Many tourism operators are pivoting from mass tourism – which was once hurting infrastructure and nature in popular areas – to offering more meaningful immersions in nature and local culture.
"We are extending guests the opportunity to give back to New Zealand – our ecosystem and communities they visit," he adds.
As I travel past towering peaks and dramatic landscapes of the country, and experience the familiar warmth and culture of the people, I consider how these are certainly worth preserving and giving back to.
And as for the tree we planted? I suppose I will just have to return to check on it.
Eat: Modern kiwi cuisine
New Zealand's restaurant scene has never been livelier. Top chefs are bolstering the Kiwi culinary identity by headlining local produce from New Zealand's land and waters.
With its diversity of geography and micro-climates – alpine, subtropical, fertile plains, to name a few – New Zealand offers chefs an immense variety of ingredients to craft outstanding dishes. The Tasman Sea and the Pacific Ocean that surrounds New Zealand also bestow a treasure trove of seafood.
The results include delightful interpretations of nostalgic Kiwi favourites, such as the paua (Maori word for abalone) and lamb.
The best dishes I taste in New Zealand are prepared simply – a testament to how the freshest produce can dramatically elevate a dish. Here are some restaurants I enjoyed.
Homeland, Auckland
Homeland, founded by Peter Gordon, New Zealand's father of fusion cuisine, is conceptualised as a "food embassy" that features produce only from New Zealand and the Pacific.
I am impressed by the staff's knowledge of the origins behind each ingredient, such as paneer and beef from Southland and pinole pine nuts from Malborough.
Gordon's distinctive style of fusion layering is evident in some dishes, such as my bowl of Cloudy Bay clams in a coconut ginger broth that is reminiscent of South-east Asian flavours.
But at Homeland, the dishes that shine are those that allow fresh produce to take centre stage.
Try the wood-roasted kumara (sweet potato), simply brushed with pesto made from the native herb kawakawa. It is divinely caramelised at the crust and creamy at the centre.
The creamed paua (abalone) on toast is served the old-school way – rich and luscious.
Depot Eatery, Auckland
Depot, founded by leading chef Al Brown, specialises in cooking over hardwood or charcoal. The casual restaurant is unpretentious with a boisterous vibe, serving up Kiwi food of exceptional quality.
The snapper sliders look modest, but the perfectly grilled local fillets, laced with watercress and lemon juices, and sandwiched between fluffy buns, are a delectable revelation.
Order the trevally ceviche. Fresh raw kingfish is mixed with horseradish, micro basil and soya syrup, resulting in an explosion of flavour.
The savoury lamb saddle chops, marinated overnight in a tandoori marinade then grilled over charcoal, are also worth trying.
Complete the meal with an order of sugar pie, a velvety, light custard nestled in a buttery pastry.
Aosta, Arrowtown
Aosta, helmed by respected chef Ben Bayly, is named after the alpine valley in Italy, where its climate, soils, flora and fauna are strikingly similar to Arrowtown and its surrounding Central Otago region.
While the cooking techniques are Italian-inspired, the ingredients are unmistakably local.
The star of the evening is the Stuart Island kina (sea urchin) pappardelle. Hen's yolk, stirred in with crispy leeks and blackfoot paua, indulgently coats each silky ribbon of hand-rolled pasta.
I enjoy the Foveaux Straits octopus carpaccio, refreshing and beautifully plated, and tossed with preserved lemon, crispy capers and saffron emulsion.
Prepare for theatrics when you order the house-style tiramisu, served with salted caramel ice cream at its core. Mascarpone cream is further forged in layers on a spinning dish, and fragrant expresso drizzled over.
Kika, Wanaka
Kika, owned by acclaimed chef James Stapley, is a tapas-style restaurant specialising in seasonal dishes, complemented by produce from its own kitchen garden.
Order the Lumina lamb shoulder, which is slow-roasted overnight and finished with lemon, rosemary and chilli. A local tells me later that he grew up eating his grandmother's slow-roasted lamb at home, and Kika nails this technique.
The beef tartare is remarkably fresh. We mix in confit egg yolk, miso mayo and crispy shallots, which give each bite an extra crunch.
Stay
Park Hyatt Auckland
In this hotel located by the iconic Waitemata Harbour, I wake up to waterfront views.
Opened during the pandemic, the luxury hotel is designed to let natural light flood the atrium, and alludes to traditional Maori culture. The rooms are ultra-modern, with almost all fixtures controlled by touch panels.
It is within walking distance from the vibrant shopping Britomart area, as well as dining and entertainment district Wynyard Quarter.
The Rees Hotel Queenstown
The Rees offers gorgeous lake and alpine views, undoubtedly the biggest draw to this hotel. Rustic with understated luxury, it is a scenic retreat from Queenstown's bolder adventures.
The city centre is a 25-minute stroll away, but I board the hotel shuttle that leaves on the hour to and from town, which makes shopping and dining out convenient.
Wanaka Lakeside Apartments
The hotel is a stone's throw away from the shores of Lake Wanaka, and a two-minute walk to the shopping and restaurant stretch.
The apartments evoke a home-away-from-home, coupled with splendid lake and mountain views.
Every apartment has three bedrooms. Equipped with a kitchen, living and laundry rooms, the apartments are ideal for families or groups of friends.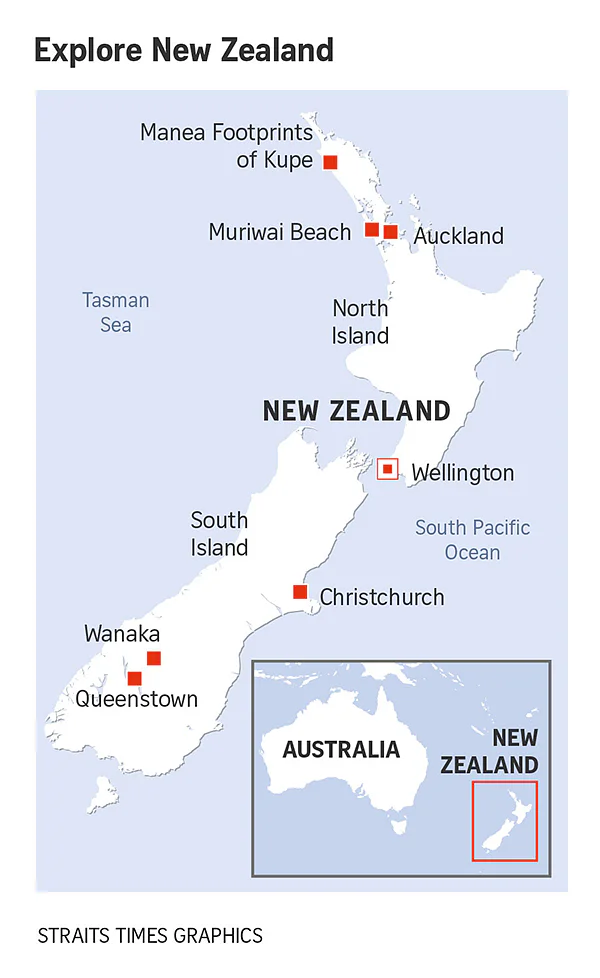 Getting there
Singapore Airlines operates daily non-stop flights from Singapore to Auckland and Christchurch. Air New Zealand operates daily non-stop flights to Auckland.
I flew with Air New Zealand on a nine-hour, 45-minute flight from Singapore to Auckland. Within Auckland, my group embarked on private tours with Time Unlimited Tours, which arranged our travels in the region, up to Northland.
From Northland, we boarded a domestic flight via Kerikeri Airport to Queenstown. From Queenstown, we flew on a small Cessna Caravan aircraft with Air Milford for a scenic flight to Wanaka, soaring above the peaks of the Southern Alps and glacier-fed braided rivers.
Later, we boarded a domestic flight from Queenstown Airport to Christchurch. From Christchurch, I flew with Singapore Airlines on a direct 10-hour, 50-minute flight back to Singapore.
Pandemic travel tips
Before flying to New Zealand
Singapore is on New Zealand's list of visa-waiver countries, so Singapore passport-holders do not need a visa. But they must apply for a New Zealand Electronic Travel Authority (NZeTA) and pay for an International Visitor Conservation and Tourism Levy. Go to this website. Allow up to 72 hours for processing, although it could take as little as 10 minutes.
Get your vaccination certificate digitally authenticated by logging onto the Notarise portal. Download a copy to your mobile phone or print it.
Complete the New Zealand Traveller Declaration to receive a Traveller Pass. Once approved, the Traveller Pass, which contains a QR code unique to you, will be e-mailed to you.
Travellers entering New Zealand no longer need to take a Covid-19 pre-departure test.
Keep track of this website for updates on evolving pandemic travel rules.
In New Zealand
At the airport in New Zealand, you will receive rapid antigen test kits (RAT). Take your first RAT test as instructed on Day 0 (day of arrival) or 1, and the second test on Day 5 or 6.
You will receive a reminder e-mail from New Zealand's Ministry of Health to report your results. Do so using the link in the e-mail.
If you do not receive the e-mail, call the Covid-19 test results line on +64-800-432-010 to report your results.
New Zealand is currently in "Orange" mode, which requires face masks to be worn in most indoor locations such as airports, supermarkets and malls, as well as on public transport (including taxis) and ride-share vehicles. Face masks are not required outdoors.
Before flying back to Singapore, submit your SG Arrival Card.
Denise Lim, a freelance journalist, travels with a fresh perspective post-pandemic, and feels like every destination is new.
The writer was hosted by Tourism New Zealand, in partnership with Singapore Airlines and Air New Zealand.
This is the first of a two-part story on New Zealand. This Sunday: Middle-earth journeys.