August 18, 2023
ISLAMABAD – Two days after Pakistan celebrated 76 years of independence, we are hanging our heads in shame. News of the vandalism, ransacking and burning down of five churches and many homes in Faisalabad's Jaranwala has struck a heavy chord in the hearts of people who believe Pakistan is for everyone.
A violent mob of hundreds ransacked and torched five churches, attacked the residences of members of the Christian community and the office of the local assistant commissioner, following an alleged incident of blasphemy in Jaranwala.
A truly heartbreaking message from Bishop Azad Marshall of the Raiwind Diocese called for justice and action from "law enforcement and those who dispense justice and the safety of all citizens to intervene immediately and assure us that our lives are valuable in our own homeland that has just celebrated independence and freedom."
Words fail me as I write this. We, Bishops, Priests and lay people are deeply pained and distressed at the Jaranwala incident in the Faisalabad District in Pakistan. A church building is being burnt as I type this message. Bibles have been desecrated and Christians have been… pic.twitter.com/xruE83NPXL

— Bishop Azad Marshall (@BishopAzadM) August 16, 2023
Actor Azekah Daniel strongly condemned the violence and said all places of worship should be respected. "This is NOT Jinnah's Pakistan," she wrote on social media platform X.
This is NOT Jinnah's Pakistan! I strongly condemn this atrocity against the Christian community. Why can't show some respect for Holy places be it a Church or a Mosque? I stand against these atrocities and unjust acts of violence!
I DEMAND JUSTICE FOR ALL https://t.co/agfgYOgyEp

— Azekah Daniel (@azekahdaniel1) August 16, 2023
Other celebrities also took to social media to condemn the horrific incident, including Mahira Khan and Shehzad Roy, who called on the state to arrest each and every person involved in the mob violence.
Shame on us! https://t.co/v2C7LyBTNN

— Mahira Khan (@TheMahiraKhan) August 16, 2023
Pehlay bolnay se dartay thay, Ab na bolain to dar lagta hai… "If the state does not arrest each and every person involved in it through video footage and make an example, then we are doomed @anwaar_kakar https://t.co/U25W1SEkTu

— Shehzad Roy (@ShehzadRoy) August 16, 2023
Artist Zulfikar Ali Bhutto Jr called on the nation to "grieve the injustices we inflict on our own brothers and sisters".
We as a nation must grieve the injustices we inflict on our own brothers and sisters. I demand that the Punjab government brings the perpetrators to Justice. https://t.co/lDlW6486M8

— Zulfikar Ali Bhutto ذوالفقار علي ڀٽو (@BhuttoZulfikar) August 16, 2023
Sajal Aly said there is no place for violence in any religion.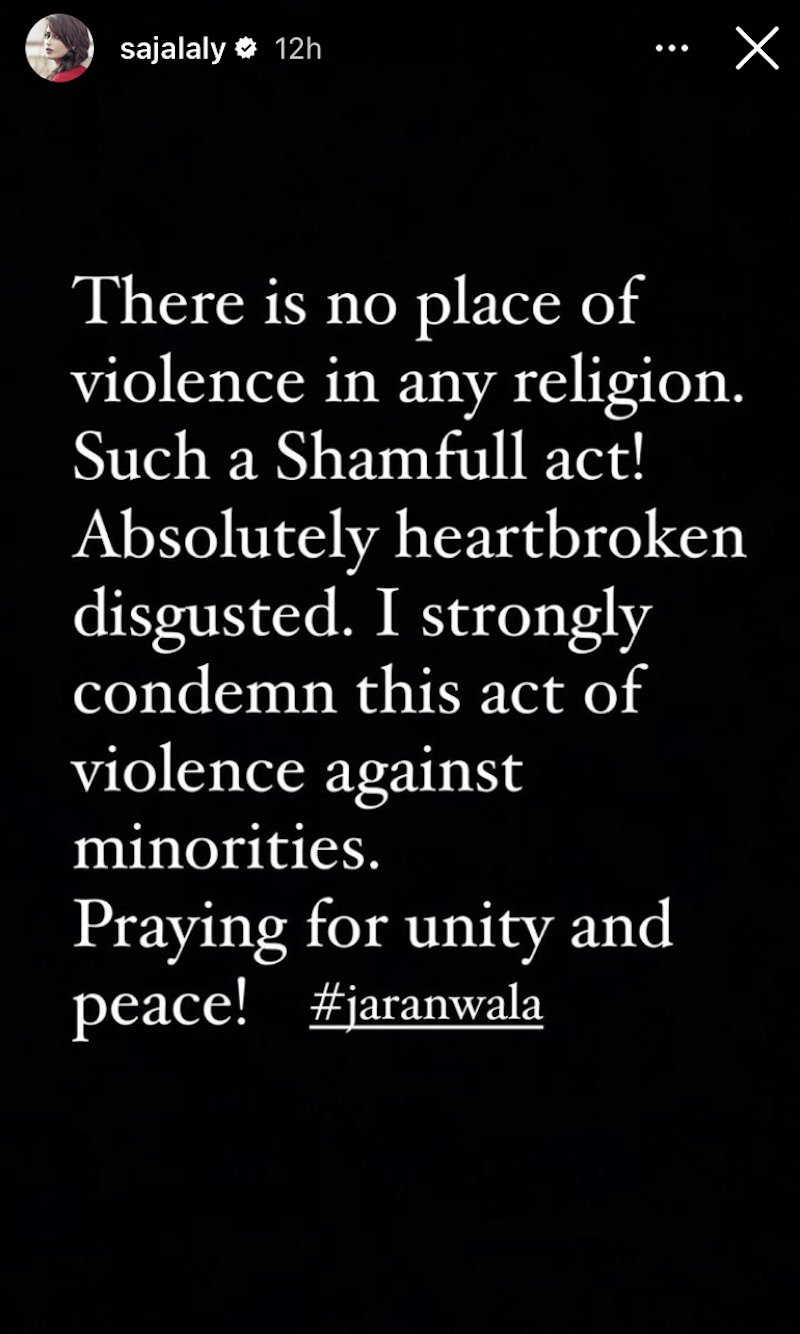 Armeena Khan rightly said that destroying places of worship is evil.
Literally exhausted from all the bad news I've consumed today. I condemn the persecution of religious minorities, destroying places of worship is EVIL. Please raise your voice and support your fellow citizens. https://t.co/99gAgkuW5J

— Armeena ✨ (@ArmeenaRK) August 16, 2023
Nadia Jamil and Fatima Bhutto expressed their shame over the incident and reaffirmed their support for the Christian community.
I am so sorry 😞
Deeply ashamed and stand with you Bishop Azad!
This is so shameful. https://t.co/yBS0cp23lC

— Nadia Jamil (@NJLahori) August 16, 2023
Horrific images coming out of Jaranwala and Faisalabad – this ignorance and violence is deeply shaming. My thoughts and support are with the Pakistani Christian community

— fatima bhutto (@fbhutto) August 16, 2023
Zara Noor Abbas voiced her frustration over this not being Jinnah's Pakistan anymore.
The condemnations may keep pouring in from celebrities, politicians and ordinary folk, but truly, no amount of condemnations will stop this madness. We need more than words from celebrities and people on social media — though celebrities using their voices is important too — we need action from the government and our law enforcement agencies, those entrusted with keeping Pakistanis safe.
As we rightly condemn the burning of the Holy Quran in Sweden, our outrage over what is going on in our own backyard should go way beyond condemnation. The state has a responsibility — one that it rarely fulfils — to protect all Pakistanis. The people responsible for these acts of absolute hatred will go back home and sleep comfortably, believing they have acted with impunity and they're partly right — when have people like them been caught and punished before?
Just days ago, we celebrated Independence Day and the founder of our nation. It reminded us of Jinnah's iconic August 11, 1947 speech to the Constituent Assembly of Pakistan — "You are free; you are free to go to your temples, you are free to go to your mosques or to any other places of worship in this State of Pakistan. You may belong to any religion or caste or creed — that has nothing to do with the business of the State."
We searched for the audio of that speech and found that this particular section has been lost to Pakistan, ostensibly at the hands of those who did not want Jinnah's secular ideology to spread. Attempts were made in the late 70s to erase that section from the speech entirely. How deeply symbolic that is on a day like today, when we mourn the loss of not just places of worship and homes, but of our own humanity.