July 20, 2023
SINGAPORE – Workers' Party (WP) MP Leon Perera and senior leader Nicole Seah have resigned from the party after initially lying about an extramarital affair, in the latest incident to rock the country's political scene.
Making the announcement at a media conference on Wednesday, WP chief Pritam Singh said that sometime around late 2020 and early 2021, he was informed by Mr Perera's driver through WhatsApp that Mr Perera and Ms Seah were meeting very often at restaurants and hotels, and had been seen hugging each other and holding hands.
Both Mr Perera and Ms Seah are married, and they initially denied the allegations.
"There was no evidence or corroborating information to support the allegations," said Mr Singh, adding that he asked Mr Perera whether anything was going on between him and Ms Seah.
Mr Perera said then he was in an ongoing dispute with his driver and was about to terminate his services.
He also said he had sought legal advice on the allegations of his driver, said Mr Singh.
Subsequently over the next few months, Mr Perera's driver also approached other members of WP with the same information, who all sought to verify the allegations with Mr Perera.
Mr Perera also told them there was no truth to the allegations.
Separately, other central executive committee (CEC) members approached Ms Seah, after being informed of the same allegations. Ms Seah replied there was no truth to the allegations.
When the video of the two sharing an intimate moment emerged on Monday, it was the first time the party members saw it, said Mr Singh. He immediately contacted Mr Perera and arranged to meet him in the afternoon. He also arranged to meet Ms Seah separately.
Both of them admitted they had an affair, which started after the general election of 2020. But it had stopped some time ago, said Mr Singh.
In his meeting with Mr Singh, Mr Perera acknowledged that he should have been more forthcoming when Mr Singh and other party members first approached him about allegations made by his driver.
The party received Ms Seah's letter of resignation on Tuesday.
Mr Singh said that Mr Perera resigned on Wednesday, and had also informed the Acting Speaker of Parliament.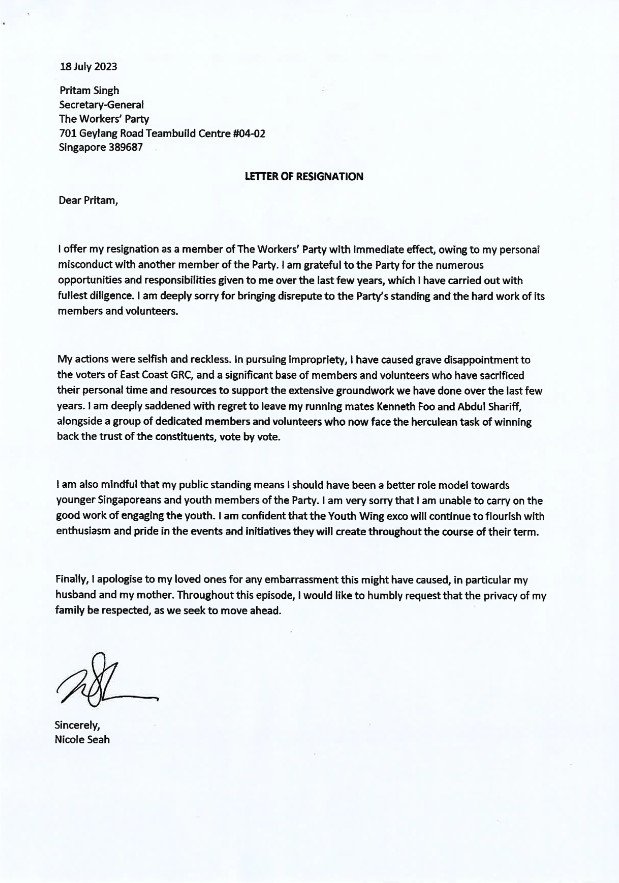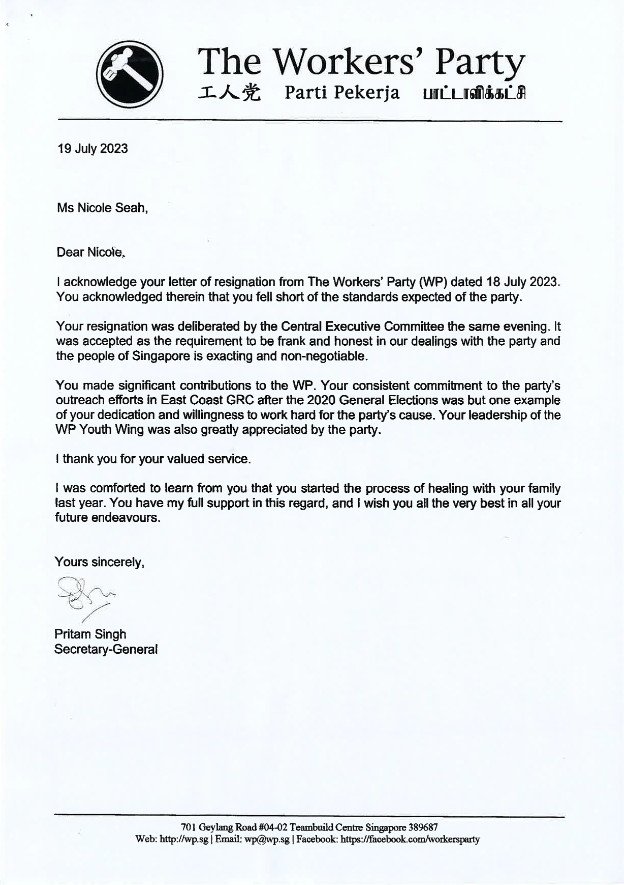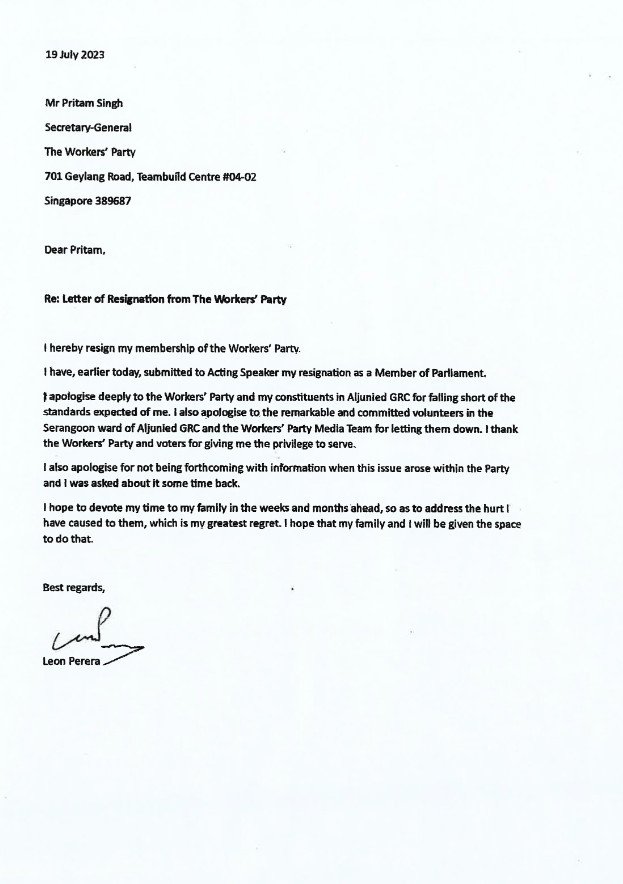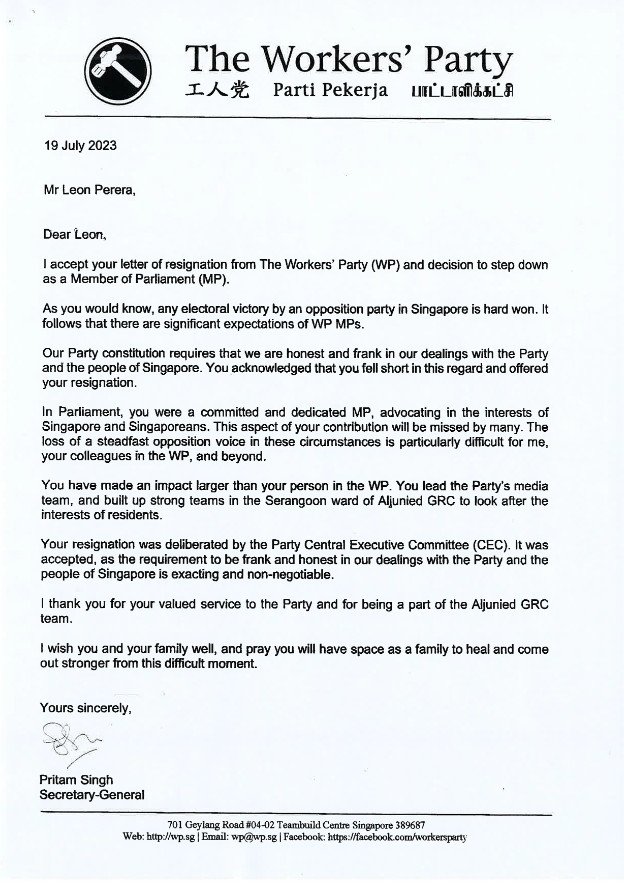 "The Constitution of the Workers' Party requires candidates to be honest and frank in their dealings with the party and the people of Singapore," said Mr Singh.
"Leon's conduct and not being truthful when asked by the party leadership about the allegations fell short of the standards expected of WP MPs. This is unacceptable. Had he not offered his resignation, I would have recommended to the CEC that he be expelled from the party.
"From the moment the party was made aware of the video, we moved as quickly as we could, bearing in mind that we needed to be fair to everyone, get to the bottom of matters and put things right."
On handover arrangements in Aljunied GRC, party chairman Sylvia Lim said that Meet-the-People sessions would go on as usual, and alternate MPs have already been rostered to the end of the year to cover the sessions in Serangoon.
She added that for other duties and groundwork, the MPs will be meeting with the Serangoon team of volunteers shortly to work it out.
On Monday, the WP said it was looking into a video clip circulating online that suggested "an inappropriate exchange between two senior party members".
It appeared to show Mr Perera sharing an intimate moment with Ms Seah.
The 15-second video showed Mr Perera stroking the hand of a woman who looks like Ms Seah, as the duo drank wine at a restaurant.
Both Mr Perera and Ms Seah were on WP's 15-member CEC – its top decision-making body.
Mr Perera was the MP for Aljunied GRC's Serangoon division and headed the party's media team. The 53-year-old ran as a WP candidate for East Coast GRC in the 2015 General Election and was a Non-Constituency MP until 2020.
Before joining politics, he was a civil servant, and later the co-founder and chief executive of a business research and consulting agency.
He has two children.
Ms Seah, 36, was the WP's Youth Wing president, and was one of the party's candidates in the team that contested East Coast GRC in the 2020 General Election.
They narrowly lost to the PAP team led by Deputy Prime Minister Heng Swee Keat.
She entered politics with the National Solidarity Party in the 2011 General Election, where she was the youngest female candidate.
She married in 2015, and had her second child in April 2022.
The resignations of Mr Perera and Ms Seah come two days after former Speaker of Parliament and Marine Parade GRC MP Tan Chuan-Jin and former Tampines GRC MP Cheng Li Hui resigned from the People's Action Party over their own extramarital affair.
Additional reporting by Goh Yan Han