February 10, 2023
SINGAPORE – From next Monday, travellers who are not fully vaccinated against Covid-19 will no longer need to show proof of a negative pre-departure test before entering Singapore.
There will also be no need to show proof of vaccination on arrival here.
This comes as the Republic prepares to lift all remaining border restrictions that were put in place during the pandemic.
Short-term visitors to Singapore who are not fully vaccinated will also not be required to buy travel insurance that covers Covid-19 medical treatment here, said the Ministry of Health (MOH) in a statement on Thursday.
However, these restrictions under the Vaccinated Travel Framework – which was implemented in April 2022 – may be reactivated if there are international developments of concern, such as new severe variants or signs that the healthcare capacity here is strained, said MOH.
"This will allow us to quickly adjust the risk classification of countries, as well as our border measures based on the travellers' vaccination status, should the need arise," said Minister for Trade and Industry Gan Kim Yong during a press conference held by the multi-ministry task force tackling Covid-19.
Currently, travellers may enter Singapore without testing or quarantine. But those aged 13 and above must show proof that at least two weeks before arrival here, they had received the minimum dosage of Covid-19 vaccines under the World Health Organisation's (WHO) emergency use list.
The minimum dosage would include at least two doses of the AstraZeneca, Moderna, Pfizer-BioNTech, Sinovac or Sinopharm vaccines, or a mixture of these jabs.
Under current rules, those who do not meet these requirements are not considered to be fully vaccinated and must meet additional requirements, such as pre-departure testing, before they can enter Singapore.
This changes from next Monday, with MOH saying it will lift the border measures in view of the stable and improving global Covid-19 situation, and the low impact of imported cases on Singapore's healthcare capacity.
The ministry said the coronavirus situation here has remained stable in recent months despite increased travel over the year-end holiday period, the Northern Hemisphere winter season and China's shift away from its zero-Covid-19 policy.
MOH added that the number of new Covid-19 cases has been declining since late December 2022, and viral variants of higher severity have not emerged.
Infection waves in the Northern Hemisphere and in China are rapidly subsiding, and there has been no significant rise in the number of imported cases locally, it said.
MOH also noted that the WHO recently acknowledged that the pandemic is nearing a turning point, signalling that the global Covid-19 emergency may be ending soon.
"The careful calibrated opening of our borders is not a public health threat to us," said Professor Kenneth Mak, Singapore's director of medical services.
At Thursday's press conference, Mr Gan was asked about the recent reimposition of testing requirements for some inbound travellers by countries such as India.
In response, he said every country's situation is different.
"For Singapore… our healthcare system is very strong. At the same time, our local vaccination rate is very high, our immunity levels are very high. And that gives us the confidence to open up our borders," the minister added.
He urged Singaporeans travelling overseas to check prevailing travel advisories for their respective destinations before flying.
Prof Mak said there has been a steady decrease in inbound infections among travellers entering Singapore from China, even as the number of flights between the two countries has increased since China reopened its borders in January.
He noted that in the past seven days, there were no reports of new cases here for travellers from China.
"We continue to look at where imported cases come (from). They come from all countries and all regions… At this time, because they (the cases) are not severe, they don't pose any burden on our healthcare system," Prof Mak added.
Mr Shukor Yusof, founder of aviation consultancy Endau Analytics, said Singapore has been moving towards normalising the aviation and hospitality sectors here since May 2022, and Thursday's announcement is an extension of this.
"Clearly, Changi Airport stands to benefit most with China's reopening, and generally with the dismantling of these health protocols," he said.
He added that the lifting of border controls will help reinstate and restore Singapore's position as a top tourist and business destination.
Singapore began imposing border restrictions on Jan 29, 2020, starting with a travel ban on those with passports issued in China's Hubei province or those who had travelled there recently.
This came after the coronavirus outbreak in the city of Wuhan began to escalate, and Singapore recorded several imported cases.
On March 23, 2020, all short-term visitors were barred from entering or transiting in Singapore.
Border restrictions started to ease later that year, with Singapore unilaterally reopening its borders to general travel from Brunei and New Zealand in September 2020.
Reciprocal green lanes were also set up with several countries, including Malaysia, Germany and South Korea, which allowed for essential business and official travel.
But these were later suspended as the global Covid-19 situation worsened in 2021.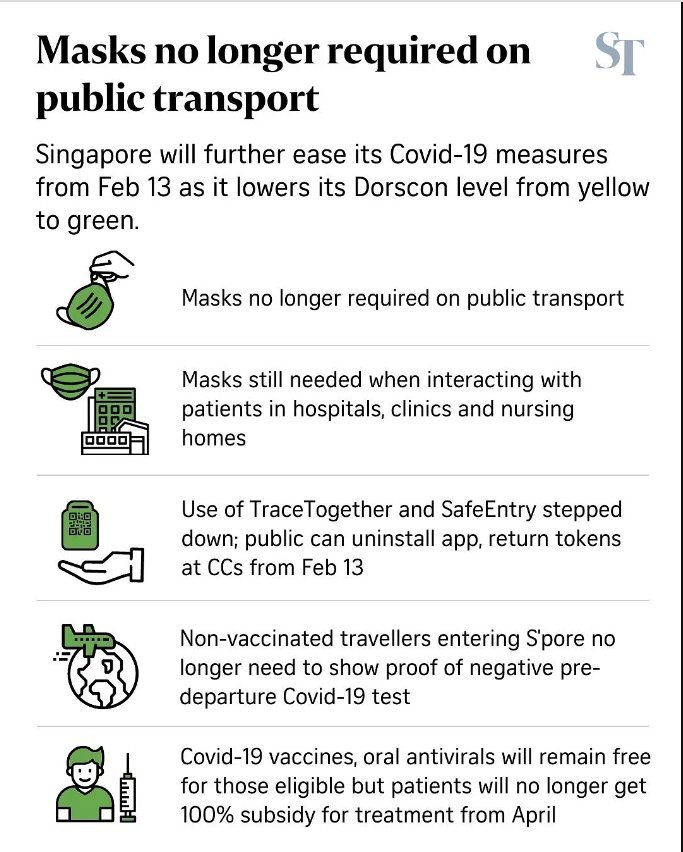 It was in September 2021 that the first vaccinated travel lanes were launched, allowing fully vaccinated travellers from lower-risk countries to enter Singapore on designated flights without the need for quarantine.
These travel lanes later made way in April 2022 for the current Vaccinated Travel Framework, which removed quotas on the number of daily arrivals to Singapore and abolished entry approvals needed for all vaccinated travellers.
On Thursday, MOH said the authorities will continue to screen travellers for other infectious diseases of concern, such as yellow fever, Middle East respiratory syndrome and Ebola.
All travellers entering Singapore via air or sea, and short-term visitors entering via land checkpoints, will still need to submit a health declaration using the SG Arrival Card platform.
Health Minister Ong Ye Kung had said in Parliament on Monday that the SG Arrival Card will be a permanent feature.