August 8, 2023
KUALA LUMPUR – Political parties have been aggressively courting the youth vote because this cohort could be one of the kingmakers in the six state elections on Saturday.
Statistics show that voters in the 18 to 20 age group turned out in large numbers in the 15th General Election last year.
According to political scientist Dr Bridget Welsh, 79% of eligible voters in the 18 to 20 age group cast their votes; of those aged between 21 and 25, 76% voted; while the rate was 72% among those aged between 26 and 30.
Her findings came from data analysis of the Election Commission's GE15 score sheet.
If this trend of high voter turnout continues among young people, they will have a strong influence on results as there will be 2.826 million voters aged between 18 and 29 in the six states, according to the latest Election Commission figures.
Youth voters make up 33% of the electoral roll in Kelantan and Terengganu; Selangor (32%); Kedah (30%); Negri Sembilan (27%), and Penang (25%.)
Welsh, who is also an honorary research associate at the University of Nottingham Malaysia, added that between November 2022 and April this year, some 400,000 young adult voters were added to the electoral roll.
"Youth power begins from their numbers.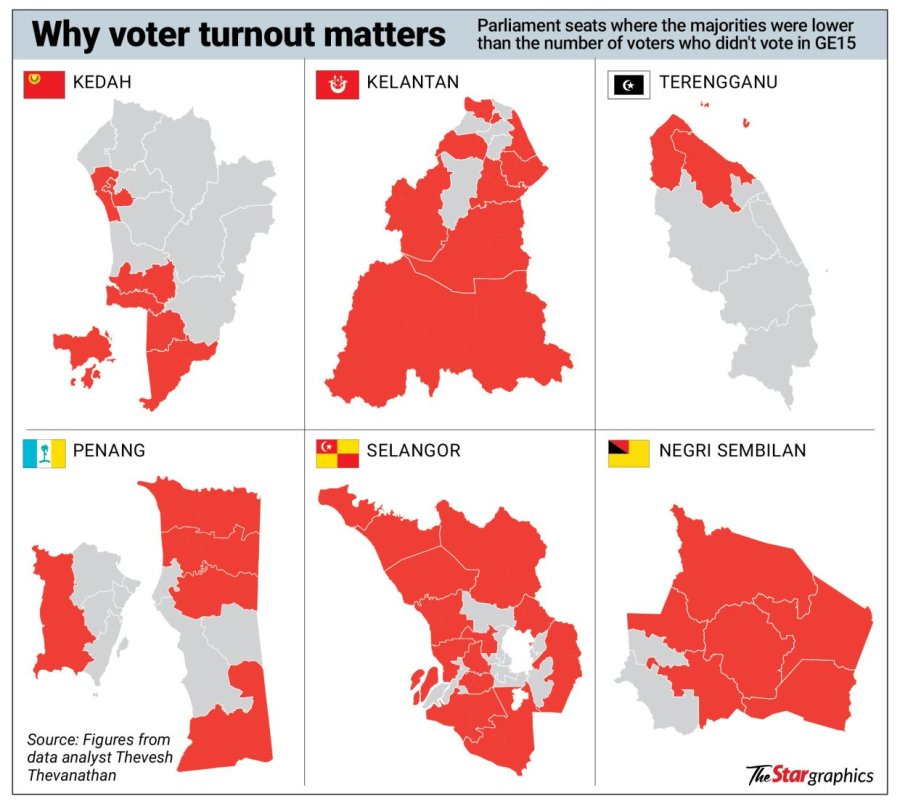 In Selangor, this number reached over 70,000 new voters, while Negri Sembilan added 13,000 new voters.
"As Malaysia has a young population, these numbers will continue to increase. Steadily, each state will have more youth who can vote, as the balance of power moves from older Malaysia towards its future,' she said.
Welsh also noted that remote and postal voting remain vital, pointing out that voter turnout among those in their late 20s and early 30s was only 72% probably because "these 'young-but-not-youngest' are often the group of people who are working outside" their hometowns, she said.
Clearly, many were not able to return to vote, probably for financial reasons, which only underlines how important remote and postal voting processes are, she added.
Another political analyst also believes the country's youth will come out strongly to vote.
Dr Tunku Mohar Tunku Mohd Mokhtar, from International Islamic University Malaysia, said he believes that four out of five young people had cast their votes in GE15.
"There's a strong enthusiasm in that cohort to carry out their duty as responsible citizens. Some of them who may have been first-time voters must have been excited to try a new experience.
"Also, I think, the campaign for them to cast their vote worked. Especially via social media," he added.
He, however, said politicians should not be complacent about the high youth turnout in the polls ahead.
"They would need a high turnout again to have a good chance at winning.
"For some reason also, these parties believe that the youth can make a difference and their social media messaging is tailored towards them," he added.