April 1, 2022
BANGKOK – Of the candidates, six are outstanding. They are Chadchart Sittipunt, Wiroj Lakkhanaadisorn, Suchatvee Suwansawat, Sakoltee Phattiyakul, Aswin Kwanmuang and Sita Dhivari.
Here, The Nation highlights the backgrounds of the six:
Chadchart Sittipunt
Chadchart, who received candidacy number 8 after a drawing of lots, had once pronounced himself as "the strongest man on earth" when he was transport minister.
He was also a prime ministerial candidate of the Pheu Thai Party. He is now contesting the Bangkok governor election as an independent candidate. He announced his intention to run way back in November 2019, making him one of the first to announce the candidacy.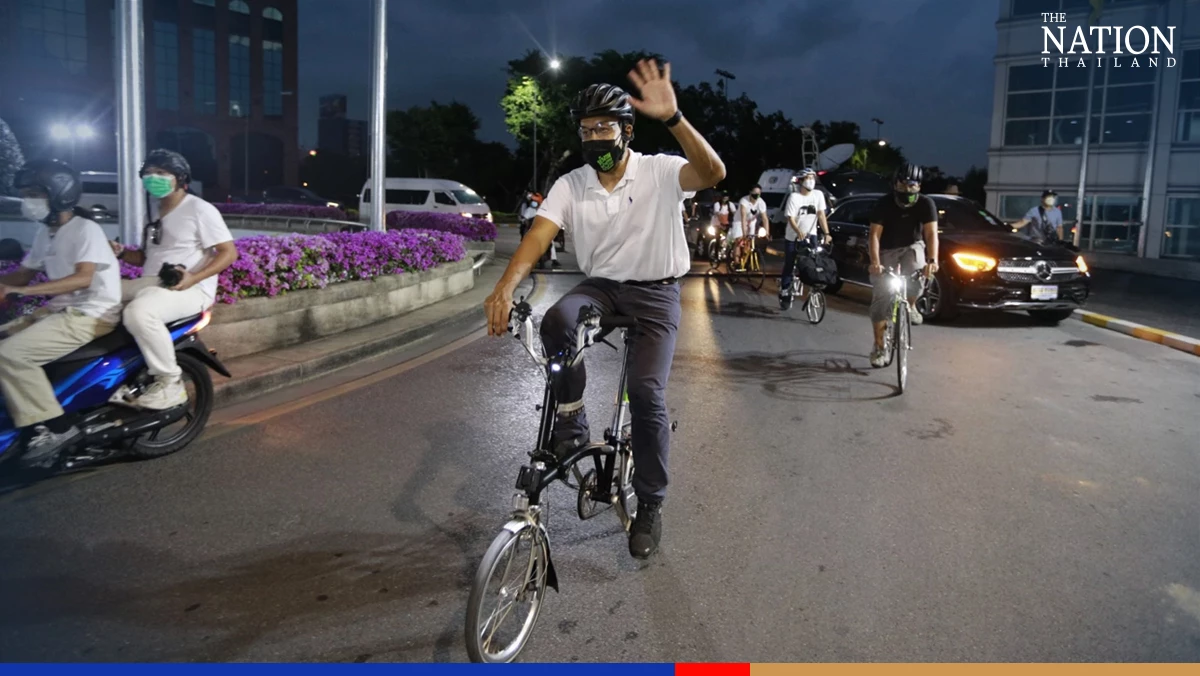 He has often been seen wearing a black T-shirt with the words "work, work, work" in shining green while jogging with his staff at Bangkok parks or on city roads on Saturdays.
He has been campaigning under the slogan of "Join me to make Bangkok a city nice to live in".
Chadchart, the first to arrive at Bangkok City Hall 2 to register, came on his bicycle.
He has been visiting several communities around the capital to hear problems specific to each community.
He said Bangkok's 50 districts have their own problems so the governor must visit every district in a bid to solve thorny issues.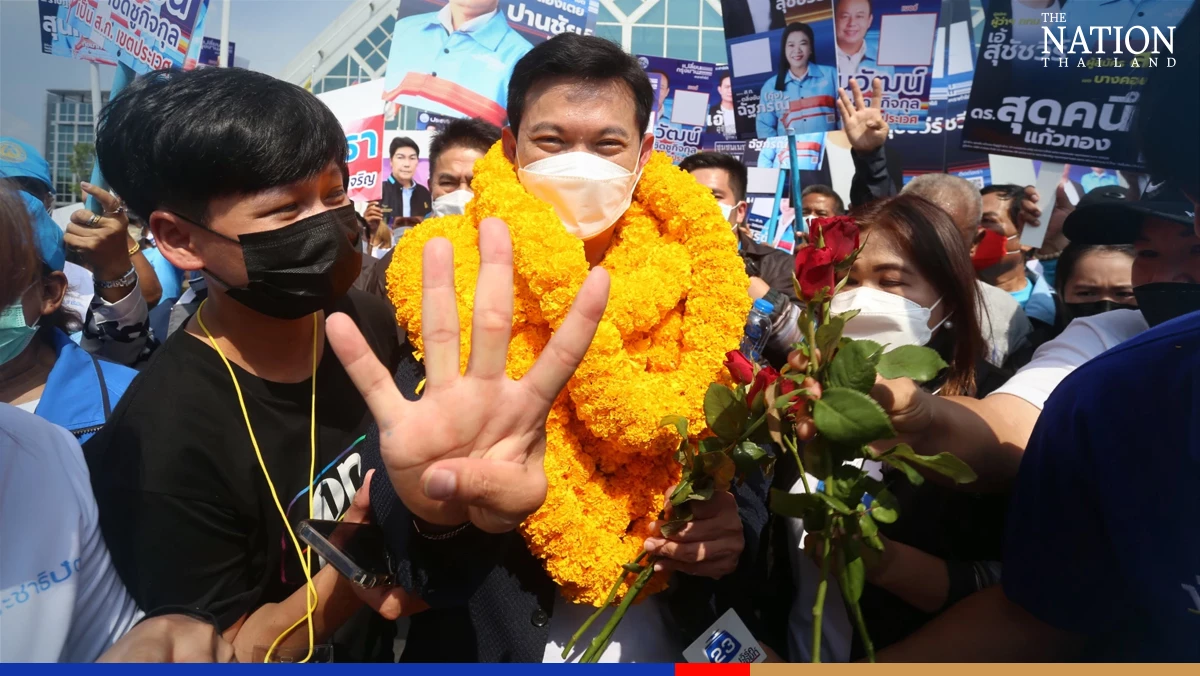 Suchatvee Suwansawat
Suchatvee, a candidate of the Democrat Party, drew number 4. He resigned as rector of King Mongkut Institute of Technology Ladkrabang to contest the election under the slogan "to change Bangkok".
The Democrat, who will also contest one of 50 Bangkok Council seats, stands to gain from his party's political base.
Suchatvee has been selling the idea that Bangkok must become a model welfare city in Asean. He believes all Bangkok residents must be treated equally with welfare from the capital.
Wiroj, the Move Forward Party candidate, received candidacy number 1.
He resigned as Move Forward party-list MP to contest the governor election, hoping to win Bangkokians' support for his party to enhance its chance of becoming a government coalition partner in the future.
His outspoken character prompted some to compare him with vocal former MP Chuwit Kamolvisit.
Wiroj Lakkhanaadisorn
Wiroj, who banks on support from a younger generation of voters, is running under the slogan of "Bangkok city of equality, I'm ready to fight for Bangkokians".
He and the party's other Bangkok Council candidates arrived in an orange bus in an apparent gimmick to show he is a down-to-earth governor candidate.
He started campaigning earlier, making headlines from his inspection of a zebra crossing, where a young doctor was killed by a speeding motorcycle late in January.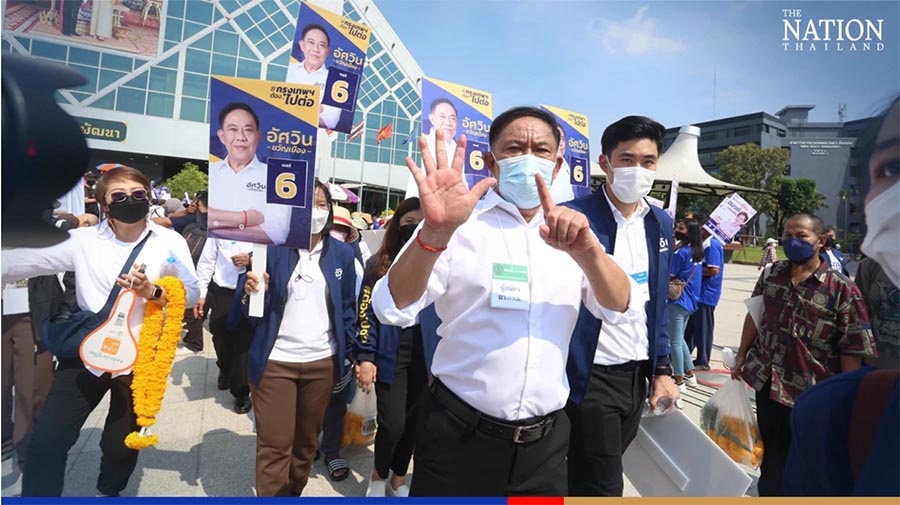 Aswin Kwanmuang
Aswin is candidate number 6. He was installed as Bangkok governor by the National Council for Peace and Order under the then coup, replacing MR Sukhumbhand Paribatra.
Aswin ran the Bangkok Metropolitan Administration for five years, five months and five days before stepping down to contest the election under the slogan of "Bangkok must go on".
He declared "I'll be back in three months" when he announced his resignation.
Aswin is running as an independent candidate but his Rak Bangkok (Protecting Bangkok) group has also fielded candidates for 50 Bangkok Council seats.
It is believed his group has established strong support among Bangkokians with its younger generation members.
Sita Dhivari
Sita, who received candidacy number 11, is the candidate of the Thai Sang Thai Party, which is led by former Bangkok MP Khunying Sudarat Keyuraphan.
Sita used to be a F-16 pilot before he entered politics and made his political debut as a Thai Rak Thai MP in Bangkok when Thaksin Shinawatra was the prime minister.
Sudarat gave Sita her blessing, declaring: "I can't contest the election myself so I selected the person I trust the most to do it. He is the most capable and he has always been behind my success. He is now leading the Thai Sang Thai army in Bangkok."
Sita is contesting the election under the slogan "Bangkok the metropolis accepted by the world".
Sakoltee Phattiyakul
Sakoltee is running as an independent under candidacy number 3.
He used to be a founding member of the Palang Pracharath Party and initially planned to contest the governor election as a PPRP candidate but eventually decided to quit the party and run as an independent candidate because of "internal problems".
His slogan is "Bangkok can be better".
Sakoltee used to be a leader of the now-defunct People's Democratic Reform Committee that organised protests against the Yingluck government.
He visited Soi Chaeng Wattana 14 recently to listen to complaints of the residents there.
Sakoltee said he would dare to push for amendments of some city regulations so that the capital is further developed to tackle old woes such as flooding.