March 30, 2023
JAKARTA – With more discussion around mental health, numerous local organizations encourage those struggling mentally to seek professional help. But some encounter barriers along the way
Mental health care, once a near-taboo topic, is emerging from the shadows and gaining wider acceptance. Stories about the matter, some going viral on social media, serve as telling testaments to the significant shift in societal attitudes regarding the critical issue.
As an attempt to break down the barriers that prevent individuals from receiving vital mental health services, community health centers in cities like Jakarta have taken a commendable step forward by making such services more accessible through affordable pricing schemes.
Diah Ningrum, a 27-year-old student living in Jakarta, resorted to such a service as her mental health deteriorated. Diah experienced anxiety, irritability and intrusive negative thoughts while working for a startup about two years ago. She said these symptoms significantly disrupted her concentration at work.
"When I became very anxious, I mean when my anxiety got really severe, I felt my shoulders and neck tighten up too," Diah added.
Other physical symptoms, such as shortness of breath and heart palpitations, appeared when she encountered "triggering" situations.
Diah decided to visit a psychologist to treat her symptoms. She chose a mental health foundation located in South Jakarta. However, the process was not smooth; she had to wait three to four weeks to meet the psychologist.
Since Diah noticed her symptoms had become "unbearable," she decided to register for a telecounseling session before her scheduled therapy session. This was when she talked with a psychologist via phone, and while she thought the psychologist did an "okay" job, she chose not to continue the sessions.
"I didn't have any problems with the psychologist's responses to my woes. However, counseling via phone didn't feel comfortable. I felt less close to her," Diah said.
"And then, when I asked her if I needed more sessions, she suggested, 'Wait it out first, let's see how things develop'. So I thought, 'Let's not continue with counseling by phone.'"
Unfortunately, when Diah finally met the psychologist she had waited for, she was not satisfied with the service given.
"When I told her about my problems, her reaction was cold," Diah recalled. "And for the first meeting, I felt that she was too confrontational."
"I thought that perhaps there were people who could immediately snap after such a confrontational encounter. However,I personally believe that the first meeting should be about the process of opening up."
Diah observed that the psychologist acted judgmental based on her facial expressions and body language.
Her dissatisfaction prompted her to look for another professional. She visited a psychology department at a private hospital in Jakarta which Diah said provided better treatment.
"I felt comfortable with her because she's attentive and empathetic. She also confronted me about my problems but did it in stages," Diah talked about the experience.
"I also felt comfortable with her treatment and responses. The way she delivered some psychoeducation was to my taste as well."
Diah met with the psychologist for five sessions, from the beginning to the conclusion of the therapy. In her second meeting, the psychologist suggested she meet a psychiatrist to help her manage intrusive symptoms. She referred Diah to her colleague at the same hospital.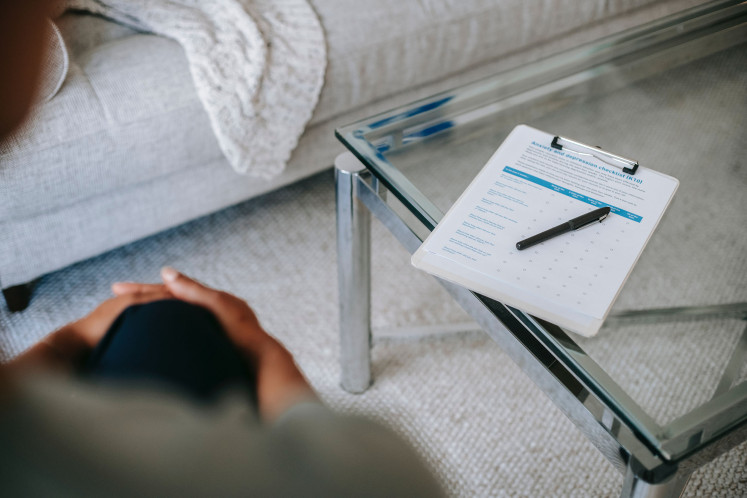 Navigating therapy: Dissatisfaction can happen because the therapist and client did not talk about the goals of the treatment before starting the session. (Pexels/Alex Green) (Pexels/Alex Green)
Unlike psychologists, psychiatrists are licensed doctors specialized in mental health, meaning they can prescribe patients with drugs to alleviate some psychological and physical symptoms.
Alas, Diah did not receive satisfying service from the referred psychiatrist. She told the psychiatrist that she was worried that the medication could negatively affect her job performance.
"I didn't think the psychiatrist really listened to me," Diah said. "His explanation about the drugs was too brief and didn't fully answer my questions." When she got her medication, Diah was surprised that the psychiatrist prescribed her a sedative, despite her concerns over this particular drug category.
Diah later scheduled an appointment with a different psychiatrist for a second opinion. While this one provided a similar treatment pattern, consultation and prescription, Diah said the psychiatrist was more attentive to her.
"The psychiatrist also listened to my concerns over the prescribed medication," Diah explained. "He understood that I didn't want certain drugs, like sedatives. But he also explained that based on my problems, I actually needed those drugs."
Unmet expectations
As a clinical psychologist with four years of experience, Elya Marfu'atun, 28, is aware that some recipients of mental health service experience dissatisfaction. Elya manages her own psychology bureau in Yogyakarta, called BuildUp Consulting, and teaches psychology at a public university.
In her bureau, approximately 50 percent of the clients do not return after the first counseling session, even if they are advised to have more sessions. So, her assistant will usually contact each client via text message for a follow-up, but some did not respond.
She explained that sometimes clients might not be happy with mental health services if their expectations were not met. This can happen because the therapist and client did not talk about the goals of the treatment before starting the session.
"So, the discussion regarding the client's expectations toward the counseling session must be done and agreed upon at the beginning of the session," Elya said. "At the end of the session, it will be a guideline to conduct evaluation while we're wrapping up the counseling."
Elya also said an incompatibility between the client and the mental health professional, in their personality type or worldview, creates a barrier during the counseling session.
"It's because psychologists' and clients' [relationships are about] compatibility," Elya explained. "It doesn't necessarily mean that the incompatibility is caused by bad psychologists or too-demanding clients."
Diah shared a similar opinion. She talked to other people disappointed by the mental health service they received. According to Diah, these dissatisfied clients choose not to approach other mental health professionals because they think the experience will be just as disappointing.
Meanwhile, Elya pointed out that mental health professionals are also humans with their own problems and boundaries. Conducting a counseling session is draining for her, she has to pour her soul, while her clients must also bear theirs.
When she does not think she is in good shape, Elya will postpone her counseling session because she's worried about not providing adequate service for her clients.
"I think a psychologist needs to have self-awareness," Elya mulled. "We need to know if we don't feel alright, and if that's the case, it's better if we don't handle any client at all."
In addition to unmet expectations, Elya explained that financial issues might cause clients to halt their treatment. For some, mental health services can be expensive. Community health centers can be cheaper alternatives, but the waiting list may be long.
Elya, who had also worked in a community health center in Yogyakarta, said typically, these centers only provide first aid, and they will refer clients with severe issues to bigger institutions.
Diah, who visited five mental health professionals, acknowledged that she had financial resources to support her mental health needs, unlike many others.
She studied psychology for her bachelor's degree and is currently training to become a clinical psychologist at a university in Jakarta. Her educational background makes Diah more aware of the importance of improving mental health.
"[Clients] need to be persistent because visiting five different professionals to the point of finding someone compatible with you means that you have to meet these five different people and must explain your problems from zero," Diah explained.
"And being probed by the psychologist or the psychiatrist is obviously draining, not to mention if the professionals aren't compatible [with us] or don't meet [our] expectations."