May 9, 2023
BANGKOK – The searing sun was starting to wane on Saturday when the emcee roared into his microphone: "Cheer for our 30th prime minister!"
Hundreds of residents gathered in the north-eastern province of Nakhon Ratchasima clapped and hooted as 60-year-old Srettha Thavisin strode on stage for the fourth time that day.
The former real-estate tycoon is not a prime minister – yet.
He is one of three prime-minister candidates put forward by the Pheu Thai Party, which, going by historical precedence and opinion polls, is expected to win the most seats in Thailand's May 14 election.
The other two Pheu Thai nominees are 36-year-old Paetongtarn Shinawatra and 74-year-old Chaikasem Nitisiri.
With one week to go before Thailand heads to the polls, political parties are racing to hammer home their key messages for Thailand's 52 million voters.
For Mr Srettha, that entails a visioning exercise about the party's pledge to give every citizen aged 16 and above 10,000 baht (S$393) in their digital wallets to spend in the vicinity of their homes.
He asked the rural residents to think about how their lives might change with such a lump sum, compared with the drip-feed of welfare payments given by the current government to low-income residents.
With 10 people in the family, the amount they receive would total 100,000 baht, he said.
"Think big. What will you do with the money?" he said on Saturday, his voice croaking from weeks of campaigning amid the heatwave. "Think big, have hope, have dreams."
The 10,000-baht giveaway, estimated to cost 500 billion baht to execute, is by far the most audacious pledge put forward by any party in this election.
It has been welcomed by Pheu Thai supporters still struggling with the fallout of the Covid-19 pandemic but slammed as populist by critics.
But Mr Srettha, the United States-educated former chief executive of listed developer Sansiri, told The Straits Times: "It is not populist. We take care of people."
Pheu Thai, which traces its roots to the now-dissolved Thai Rak Thai Party led by fugitive former prime minister Thaksin Shinawatra, was thrown out of government in the 2014 military coup.
The generals behind the putsch returned to power in the 2019 election through a new party called Palang Pracharath (PPRP).
For the May 14 election, former army chief and current Caretaker Deputy Prime Minister Prawit Wongsuwan is leading the charge for PPRP.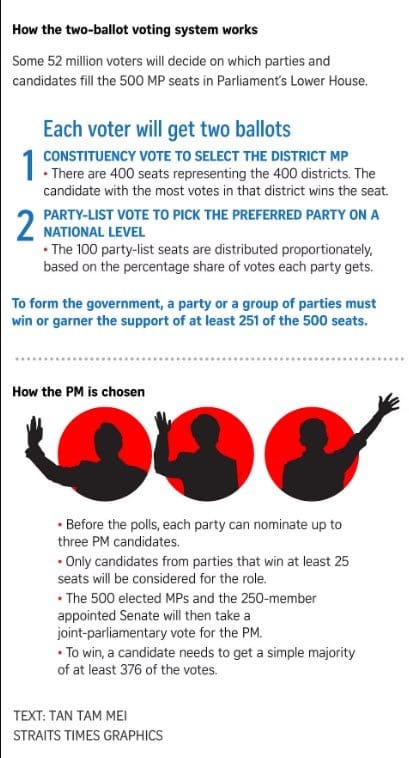 Caretaker Prime Minister Prayut Chan-o-cha, who led the 2014 coup, is fronting the campaign for another new party called the United Thai Nation (UTN).
Current rules mean that the 250-member appointed Senate – a hangover of junta rule – will get to determine who becomes the premier, alongside the elected 500-member Lower House, after the polls.
Pheu Thai has been dogged by talk that it could quietly team up with PPRP to secure its term in power.
Mr Srettha seemed determined to bury such speculation when asked on Saturday about what political factions Pheu Thai was willing to work with.
"We only work with parties that have the same policies… that are not responsible for the coup," he told ST.
It may take more than statements to dispel suspicions.
At a May 4 rally held by the Move Forward Party (MFP) in Nonthaburi province bordering Bangkok, the youthful crowd chanted in rock-concert style: "If you have uncle, you don't have us! If you have us, you don't have uncle!"
"Uncle" refers to Mr Prayut, who is commonly called "Uncle Tu" in Thai, and Mr Prawit.
Led by 42-year-old Pita Limjaroenrat, the MFP has pledged to end military conscription and amend the controversial lese majeste law.
The party has made clear it will not ally with coup-makers to form a government.
MFP's transparency stands out in a Thai political landscape long known for powerful patrons and tangled intrigues.
This is what appeals to first-time voter Nattanicha Treethong.
The 20-year-old student said: "Move Forward is a very straightforward party. It is not like Pheu Thai, which we do not know who it will join hands with."
If opinion polls are to be believed, MFP's star has been rising dramatically.
A National Institute of Development Administration poll of 2,500 people from April 24-28 showed that Mr Pita had surpassed Ms Paetongtarn in popularity rankings to rise to the top of the table for prime-minister candidates, with 35.44 per cent of votes compared with her 29.2 per cent.
Mr Prayut and Mr Srettha trailed far behind at 14.84 per cent and 6.76 per cent respectively.
Asked which party they would vote for, the biggest group continued to choose Pheu Thai.
Mahidol University political scientist Punchada Srivunnabood warns that the opinion polls may not reflect real voter sentiment.
"Most of the people who answered the poll are people who live in urban areas and also the young generation. But if you go to the remote constituencies, I don't think (Mr Pita) is that popular," she said.
This appeared to be the case in southern Thailand, where UTN is focusing its efforts.
Mr Prayut, who has helmed Thailand since 2014 as junta leader and prime minister, has a following there that far surpasses people's familiarity with the UTN.
Last Wednesday, when the 69-year-old candidate toured Surat Thani province, shopkeepers and residents massed around his lunch spot in Wiang Sa district hours before his arrival. Some sat on the kerb to wait, hoping to catch sight of him.
Asked by ST what he would do if his party did not win enough seats to secure his return as prime minister, Mr Prayut gruffly brushed aside the question.
Later in the evening, he was more endearing to the thousands of people who turned up at his rally.
"Love me for a long time," he said, holding up two fingers in each hand to remind voters of the number 22, the number allocated to the UTN on the ballot sheet. "I only ask that southerners don't abandon Uncle Tu."