August 1, 2023
SEOUL – Threads, the text-based social media platform built by Meta to rival Twitter, now called X, has seen a staggering decline in the number of daily active users in Korea, just within two weeks of its launch.
Last Thursday, Meta CEO Mark Zuckerberg admitted that Threads has lost more than half of its users globally, after attracting more than 100 million signups, calling the regression normal and pledging to add more features to keep users engaged.
The app has emerged as the first noteworthy social media platform after TikTok's launch in 2016. Part of the promise of Threads is that it will allow users more control over their privacy and platform allegiance than Facebook and Instagram because it will eventually use a decentralized protocol.
Experts said that Threads' appearance alone was enough to attract global social media users' attention as a new app, but its key feature of linking to Instagram, which has over 2 billion users worldwide, as the gateway to access easily led people to the service. They also analyzed that it was the right time to launch the app since there has been growing complaints over X after Tesla CEO Elon Musk took over the platform.
Fastest-growing app loses steam quickly
Threads took only five days to reach the threshold of 100 million users globally, according to Zuckerberg. Instagram's text-based conversation app became the fastest-growing app in history, overtaking OpenAI's ChatGPT, which reached the milestone in two months. China-owned video streaming app TikTok took nine months, while Instagram and X took about 30 months and 65 months, respectively, to reach that mark after their launches.
The question is how many daily active users can it continuously gain, while Threads has succeeded in attracting initial subscribers. In Korea, the number of daily active users on Threads has been decreasing every day within a week of its launch. As of July 11, the number of actual users marked its peak of 258,453 but the figure slightly fell to 252,289 on the next day. On July 25, three weeks after the launch, the figure fell to 102,062, according to the estimated data collected by a local market research firm Mobile Index.
The number of app downloads on Android and iOS devices also plummeted from 130,628 on July 7 to 3,337 on July 25. The average time a local mobile user spent on the text-based social media platform marked 9.78 minutes on July 7, but was almost cut in half to 5.82 minutes on July 25. This means that Threads is failing to get users in and engage with the app for a long time.
The launch has drawn in some high-profile figures in Korea, although influencers and celebrities here who are sensitive to trends do not seem very active on the platform.
Business moguls, including Shinsegae Group Vice Chairman Chung Yong-jin and Hyundai Card Vice Chairman and CEO Chung Tae-young, were some of the first Threads users, as well as governors and politicians. Major conglomerates such as Samsung Electronics, Hyundai Motor and Nongshim also opened accounts.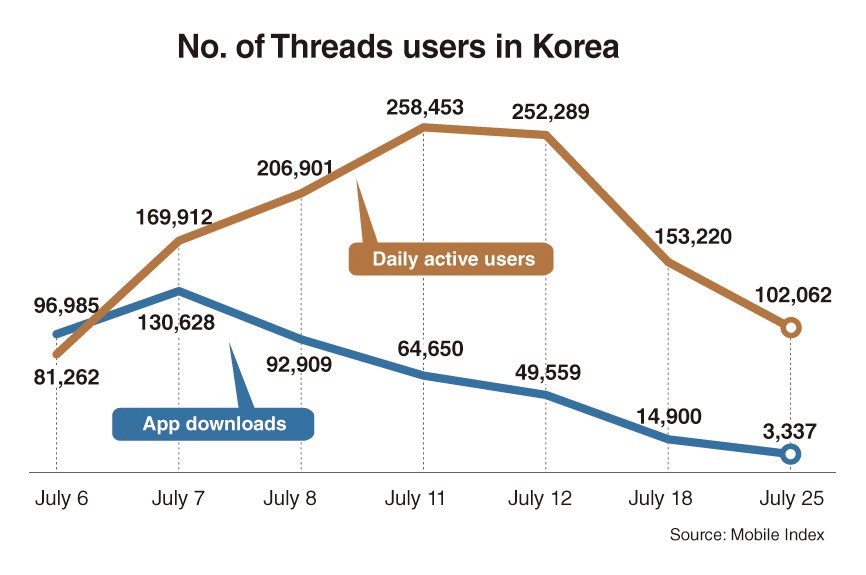 X's competitor or next Clubhouse
Since Threads is still in its early stages, experts are mixed on whether the app can grow in the Korean market. But to establish itself as a mainstream social media platform here, it requires fresh features to keep users' interest in the app, providing different functions from Instagram and differentiating itself from X, they said.
DS Investment & Securities analyst Jang Ji-hye told The Korea Herald that Threads' clear differentiation or advantages over Twitter have so far been "invisible."
"Meta will change Threads to an open platform and continue to add features, but we need to wait and see the updates. But Twitter rebranding itself to X and TikTok's recent announcement on introducing text-only posts can be variables (that would affect the usage of) the app," she added.
X users will unlikely use Threads simultaneously to communicate with others as the absolute amount of time people spend using social media platforms is limited, said Lee Hun-yul, a professor at the School of Media and Communication at Korea University.
But since X is mainly used among people with clear political orientations and K-pop fandoms in Korea, it remains to be seen whether Threads could take a meaningful number of users from X, he said.
"Since Elon Musk is making many changes to X, there is also a possibility that paid services will be strengthened to generate revenue on X. Meta will also be closely watching these changes to differentiate its identity to attract new users," the professor said.
Another key to Thread's success, the experts pointed out, is how much it differentiates itself from Instagram, which is centered on photos and videos, and how much information it provides.
Jeon Seong-min, a business administration professor at Gachon University, said Korean users' preference for text-based social media platforms is low compared to other media centered on photos and videos because the younger generation, aged 18 to 29, are the dominant users.
By creating a "network effect," as more young users stick with Instagram, it has become a place that others want to visit, which positively attracted even more users. If Instagram's text-based app can capture young users' hearts, it will become a mainstream social media platform here, Jeon said.
According to the latest data released by German data analysis platform Statista, the number of Instagram users aged between 18 and 24 and 25 and 34 were recorded at 7.4 million and 8.1 million, respectively, as of May this year.
Some experts forecast that Threads could see the same fate as Clubhouse, an audio-based social networking service that gained immense popularity during the COVID-19 pandemic and successfully drew Korean users as well. But as existing social media platforms such as X and Facebook introduced similar voice-based conversation features, Clubhouse's popularity waned.
Shinsegae Chairman Chung, who once was an active user of Clubhouse, also recently posted on Threads saying he was going to delete the Threads app soon.
"Threads is not fun. It's nothing different from Instagram. It's complicated and confusing," he said in the post.